The Aer Travel Pack 2 is a sleek urban backpack designed from the ground up for one bag travel, but its minimalist look makes it equally suitable for everyday carry.
Over several months of testing, I found myself reaching for it more often than expected before heading to work. Thoughtful touches like an external access laptop sleeve and a zippered shoe compartment make this bag a great option for post-work gym days. You can quickly access what you need at the office while keeping (smelly) running shoes stowed away from all else. 
Aside from surprising (and very welcomed) daily carry performance, this bag is a traveler's dream – I mean, it's in the name. It fits perfectly under airline seats, the main compartment has a clamshell zipper that opens wide for easy organization, and there are plenty of useful storage pockets like a collapsible water bottle holder and a wallet/phone sleeve. Again, the external access laptop sleeve makes security a breeze. 
Aer Travel Pack 2 Key Features:
1680D Cordura ballistic nylon build

Beefy YKK Zippers

Quick-access, external zipper laptop pocket

Quick-access top pocket

Separate zippered shoe compartment 

Side compression straps to narrow bag profile

Expandable water bottle packet

Removable hip belt (sold separately)
Aer Travel Pack 2 Review Breakdown
Design:
With humble roots as a crowdfunding project, Aer is a product of minimal, functional design. While the Travel Pack 2 is not the original crowdfunded project, Aer's approach to design shines through on this bag. With a monochrome color palette, rounded edges, and symmetric lines, this bag is meant to compliment your style – blend in rather than stand out. It is clean-cut and comfortable.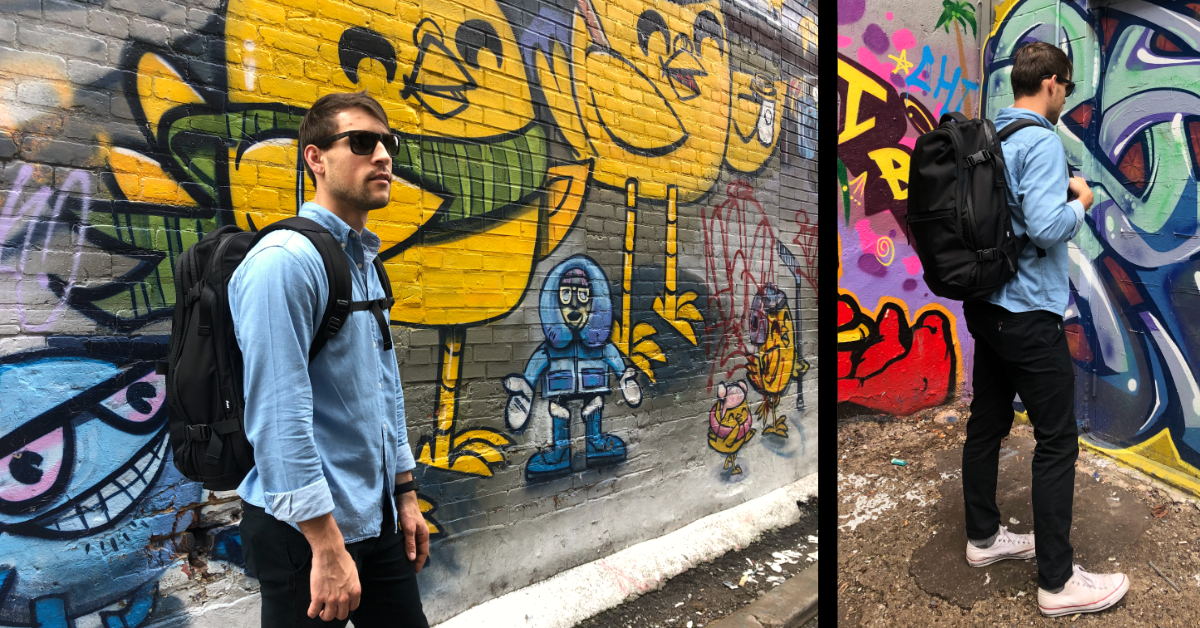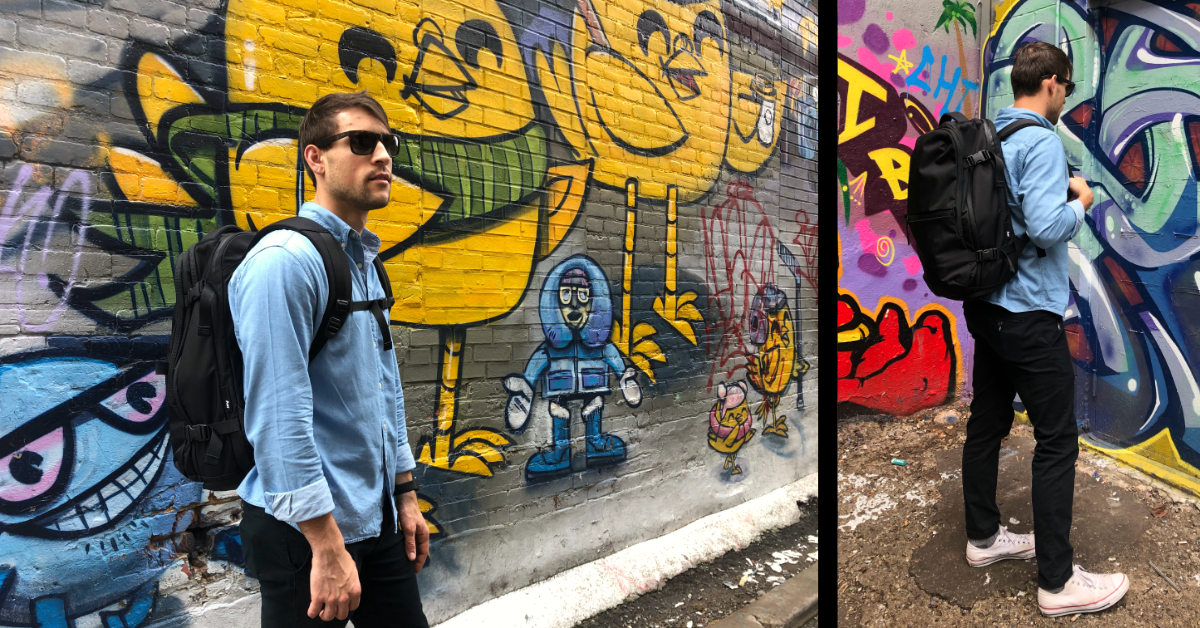 Unlike other bags designed for one bag travel, this bag has more structural integrity for lighter loads. Since my obsession with one bagging began a few years ago, I've tested several bags that really fall short in that category. The Travel Pack 2 has a reinforced back panel and side straps to compress the depth. On trips, I've found myself leaving some non-essentials behind in the Airbnb and using this as a daypack instead of bringing along a collapsible daypack. 
Another stand out feature is the zippered shoe compartment – if you're only bringing one pair of shoes on your trip, it can be repurposed for dirty clothes keeping unworn items fresh and clean. If I could change anything about the design, I would ask for dedicated water resistance. While the external materials are burly, it'll wet out in heavy rain. 
Strap System:
A lot of bags in this category feature stowable straps. In all honesty, stowable straps tend to be more of a gimmick than a feature as designers cut padding to make it work. Personally, I rarely use stowable straps even if I have them, so I appreciate that Aer went for a traditional set of straps. 
They are well padded without the bulk and feature easy customization in strap length and chest buckle. Aer does sell an optional hip belt for $20 that quicky clips into loops on the bag with a carabiner-style closure. Unfortunately, I didn't opt for this option so I cannot speak to its comfortability, but I am positive it is a seamless experience for those who do pick it up.
Comfort:
As mentioned in the previous section, Aer opted out of stowable straps, so the Travel Pack 2 is exceptionally comfortable for all-day wear. The straps are ergonomically designed and the back panel is equally as plush. The side compression straps really help to distribute weight properly when packing light. On traditional packs without structure or depth management, the load tends to move around and hang heavy on the shoulders. Aer's compression system allows you to keep items in place and tight to your back. 
The back panel also features a slot for airflow that doubles as a luggage handle pass-through for laying atop a roller bag. A popular feature for this class of bags, Aer snuck it in nicely without making it feel like an afterthought or disturbing comfort. 
Storage:
Storage is a sweet spot for this bag. Designing a do it all bag is a tall task for any designer, but Aer managed to pull off a truly functional storage system that is useful for a trip to the office and gym, a long weekend, or a 2-week stay abroad. 
The main compartment is spacious, with a few zippered pockets on the upper clamshell. They are easy to ignore laying flat if you don't need them, unlike other bags lose valuable space if you don't use all organization pockets. 
I've not encountered a designated shoe compartment in any bag I've used or reviewed previously – once you have it, you won't want to go back. The versatility of this separate compartment is unmatched. Use if for running shoes for an after-work gym visit, use it for dirty clothes on a long weekend, or try it for quick access items like a puffy coat so you don't have to open the clamshell. If you're reading this and think it is a gimmick, you will end up finding ways to utilize the feature.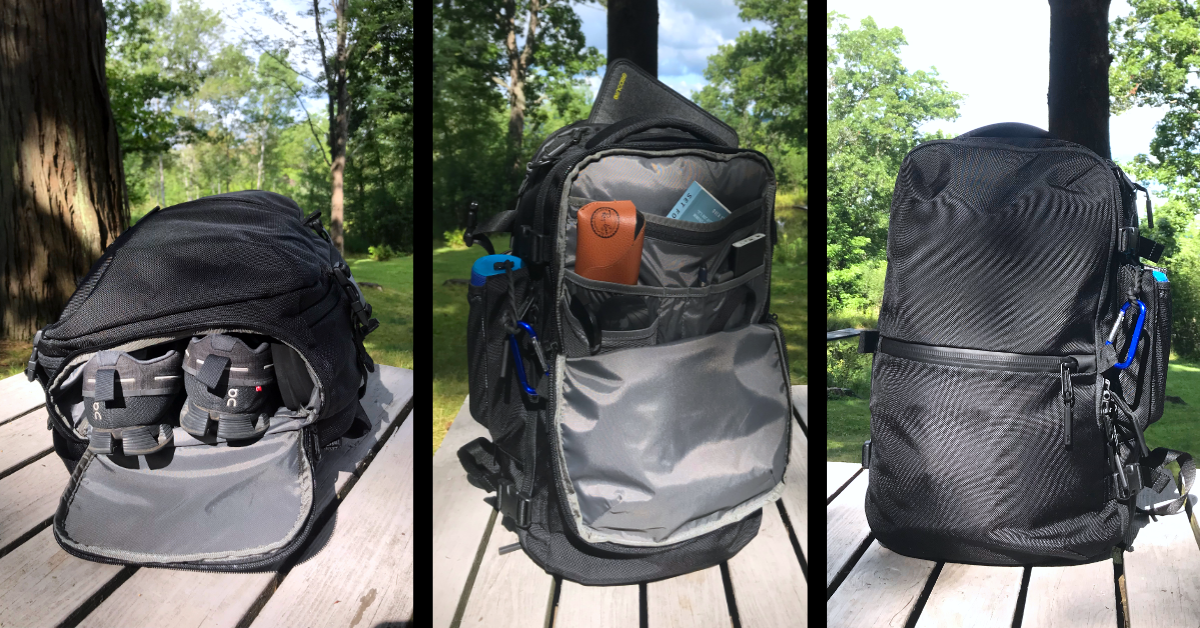 Another great addition is the external entrance laptop sleeve. Nothing is more frustrating than trying to rip your laptop out of a main compartment jammed with clothes and essentials. Whether you're walking into a meeting, hitting the airport security line, or your local coffee shop, the quick laptop accessibility is certainly appreciated. 
Lastly, the smaller front section of the bag has plenty of organization should you choose to use it. Like the inside of the clamshell, the smaller pockets of the smaller compartment lay quite flat and could also be completely ignored. While I admit I am more of a less is more kinda guy when it comes to the organizational features, I do think Aer did a nice job here. Lots of pockets designed to fit things like portable batteries, laptop mice, sunglasses, headphones, chargers and more. 
Durability & Value:
There is no question this pack will stand up to daily use. The shell material is burly, the zippers are oversized, and the build quality is more than solid. The only downside to this construction is the weight; this pack is 3.7lbs without contents. 
As an everyday carry, this won't be that noticeable, but as a one bag option, the bag itself claims a fair share of your precious 10kilos on Euro budget airlines. 
With that said, the extra features on this bag are worth the weight. I would certainly still reach for it for an international trip, despite the weight.
Buy now: $230, or browse all Aer products
Aer Travel Pack 2 – Gear Review
The Aer Travel Pack 2 is a sleek, minimalist backpack that is versatile enough for everyday carry or longer adventures. With plenty of useful pockets and monochrome color options, it'll blend right in with any lifestyle and personal style.
THE GOOD:
Unique shoe compartment
Rear access laptop sleeve
Collapsable water bottle holder
THE NOT SO GOOD:
Lacks water repellency
Hip belt is extra