Launched in time for the upcoming 2016 season, Adidas Golf has just unleashed their most ambitious and innovative version of the TOUR360 to date. The iconic three bar design may look familiar from the outset, but rest assured the new TOUR360 BOOST is a golf shoe that's packing some major performance features that have weekend warriors and pros like Dustin Johnson and Jason Day drooling.
Over the past 10 years, Adidas Golf has released seven different TOUR360 models. It all started in 2005 with a very innovative design from a company that made sneakers… not golf shoes. Since that time Adidas has quickly become a leader in the golf apparel industry. They've also quietly sold more than 2.5 million pairs of TOUR360's and racked up a total of 38 Tour victories.
Designed with comfort and performance in mind, we remember the original TOUR360 as one of the first golf shoes you could take out of the box and play a round of golf in without having to worry about the dreaded break-in period most golf shoes were (and in some cases still are) known for.
Since the original TOUR360 was unveiled 10 years ago, Adidas has found exciting and innovative ways to update the line almost every year. This time around is no different. The new TOUR360 BOOST has a slew of impressive features that golfers can appreciate. Here's a run down of what the TOUR360 BOOST is packin'…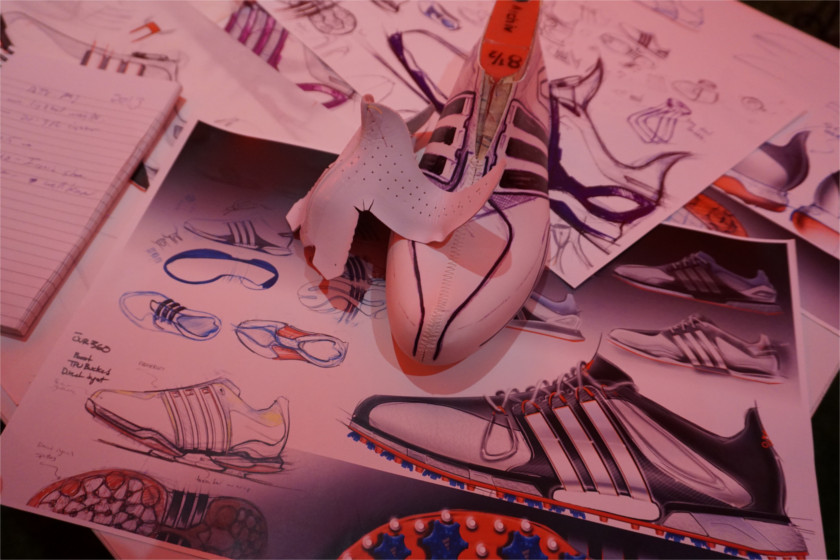 Key Features:
Full length BOOST™ Cushioning – delivering maximum comfort and lightweight construction
Improved 360WRAP – providing midfoot support
Dual-density 10-cleat puremotion® TPU outsole – creating increased stability and traction
Torsion Tunnel – provides independent flexibility and control between the heel and the forefoot, crating enhanced arch support and traction
Premium Leather Forefoot with Climaproof – delivers a soft and comfortable feel, and lasting protection and durability.
Iconic Adidas styling – the three bar design never gets old
Available with BOA Closure System – delivers micro-adjustability for a customizable and comfortable fit
CenTraXion and Thintech® Cleats – Adidas is one of the few brands that has their own cleats
While the TOUR360 BOOST was announced last Friday, Busted Wallet was among a select group of media who were invited to take a look at the shoe in advance. We were schooled on everything TOUR360. From the shoe's inception in 2005 to the latest design sketches and R&D notes, everything about the TOUR360 BOOST was laid out for us to see, and we were impressed.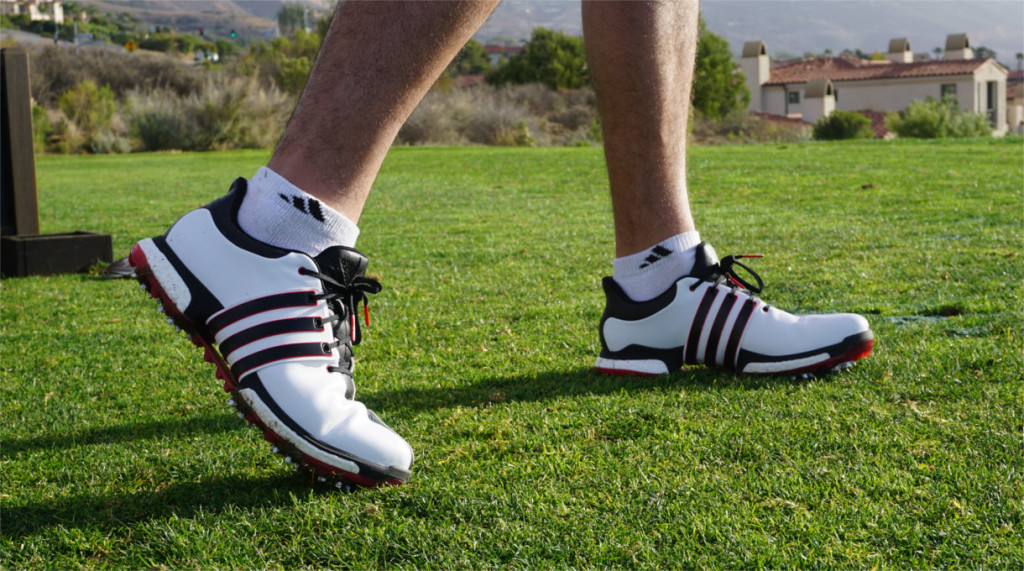 The design and launch of the TOUR360 BOOST has been Adidas Golf's longest product development in the brand's history. Totaling 14 months overall, the TOUR360 BOOST has been gone over with a fine tooth comb. When we asked the developers and engineers who were ultimately responsible for this shoe what are the main reasons a golfer should look to the TOUR360 BOOST as their next shoe we were met with a few simple answers… comfort, style and function. Surprisingly we didn't get a bunch of lip service about statistics or data. How odd… and refreshing!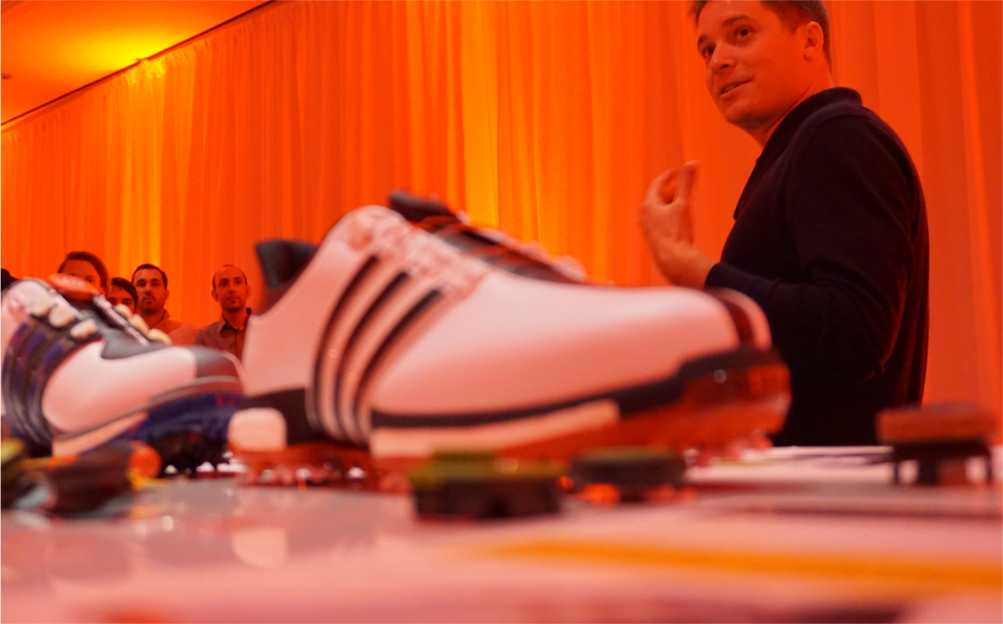 One of the standout features Adidas showed off at the launch event was the incorporation of BOA's Closure System in the TOUR360 BOOST. If you're not familiar with BOA, here's what you need to know… BOA is a system consisting of a tension dial and wires coated in nylon that replace traditional laces. BOA allows you to micro-adjust your laces for the perfect level of comfort. The dial utilized on the TOUR360 BOOST is special (and expensive), it allows you to dial-up the tightness and also dial it back. This premium BOA dial was only being used in high-performance cycling shoes before this golf shoe and will run you an extra $30.00 verses the regular non-BOA TOUR360 BOOST.
Let's talk performance…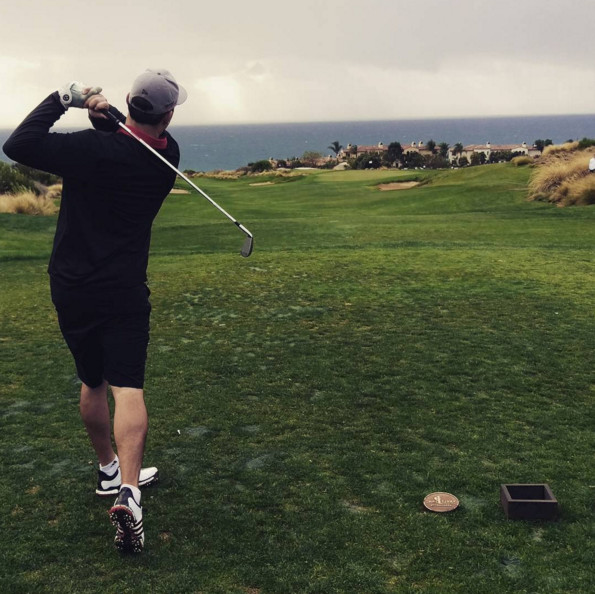 To put their money where their mouth is Adidas sent us out on the course in a fresh pair of TOUR360 BOOST's. The day was perfect for testing golf shoes, which means the weather was pretty nasty. Windy, rainy and chilly… not exactly what you expect in LA, but having traveled from Michigan we had nothing to complain about.
Right out of the box the shoes fit nicely and were comfortable. We walked the course so comfort was #1 on our hit list of important features. Adidas know's how to make a golf shoe that is comfy – this is not up for debate. The TOUR360 BOOST is light, springy and delivers a good deal of support. It's one of the few shoes we're not dying to take off at the end of a round. We give a lot of the credit to Adidas' BOOST technology. If you've read our ULTRA BOOST review, you know we're big fans of this energetic material.
Beyond the comfort, these shoes straight up preform and the traction is wonderful. The 10 spikes hold tight on almost any terrain and don't leave embarrassing cleat marks on the green. They do pick up a lot of grass on the course, but that never affected traction or stability on the tee box.
We were also impressed with the Climaproof waterproofing. As if a foggy, dew covered early morning round of golf wasn't enough, we got rained on for 20 minutes. We're happy to report the TOUR360 BOOST kept our feet dry and warm throughout the round.
While the TOUR360 BOOST didn't ensure flushed shots or birdies on every hole they did provide a nice level of comfort, performance and style. We'd like to play a few more round in them and see how comfortable they'll ultimately get. Stay tuned for an update on that!
If you're interested in these golf shoes, they'll be available starting January 8, 2016, the TOUR360 BOOST is launching in six unique colorways (in medium or wide widths) with a retail price of $200. TOUR360 BOA BOOST, will be available February 1, 2016 in three colorways at an MSRP of $230.
Buy Now: $200 or to learn more, head over to: AdidasGolf.com