With saw blades buzzing, drills zipping and air tools thumping, the jobsite can be a noisy place. What about when your favorite song comes on the radio and you just want to sing along? Is your jobsite radio up to the challenge? Or better question yet, which radios are up to the job?
Well, as you probably know there are a lot of jobsite radios to choose from. It seems like every brand has their own. If your a Bosch guy you'll probably end up with a Bosch radio, if you're a DeWalt guy you'll likely get yourself a DeWalt radio – but are you sure that's the right jobsite radio for your specific needs? We had the same question and decided to put the 7 best jobsite radios of 2016 to the test.
Over the past several months we've put many hours on each of these radios and tested them for sound quality, build quality and tested every last button and feature. Listed in order price (high to low) here's the full rundown…
Milwaukee M18 Jobsite Radio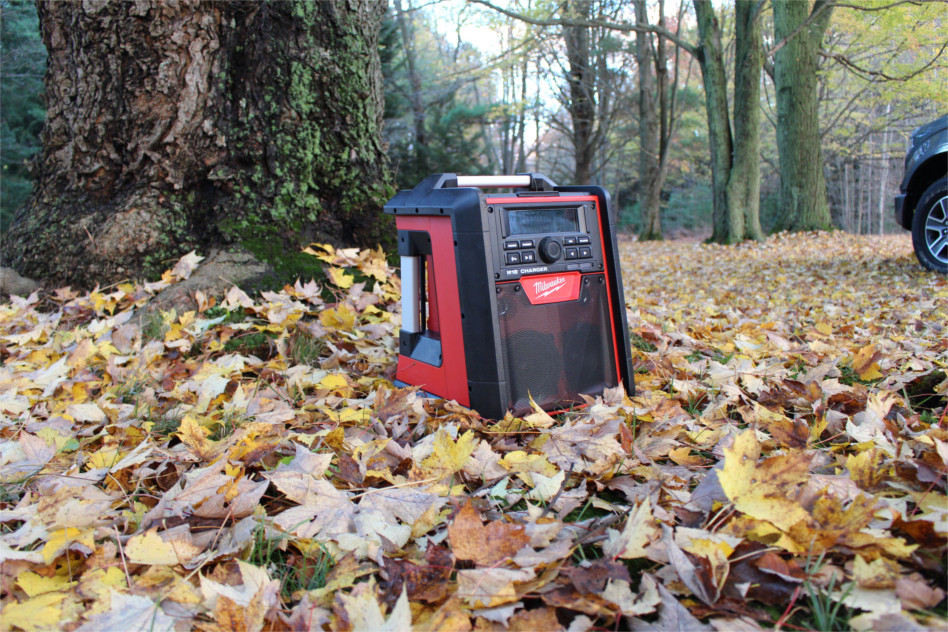 The Milwaukee M18 jobsite radio tips the scales on cost of our list. So we only have one question for those Milwaukee punks. Is it worth it? Let's find out!
All right, biggest question. How's the sound quality? It's really good. It didn't quite claim the top spot but it's really close and probably debatable. The 40 watt amplifier gives this radio a full and rich sound. One thing we didn't argue about is that this thing is LOUD! Jobsites are loud so a loud radio is great to drown out that noise. Upon first grab of the radio you can tell it's real sturdy, like my ex-girlfriend. The metal handles assure you it's all gonna be all right. I wouldn't be worried about minor drops with this guy at all. The radio can run off of typical power or an M18 battery which when fully charged (5.0 amp hour) will last you several work days. This guy will also charge your mobile devices via USB. Oh, lest we forget. This thing has an on-board bottle opener! For those late work days when you say,"One beer then back to work for another hour guys." And then that back to work part never happens. This feature is perfect to foster those moments. The dial volume control is something we liked as well as the 10 radio presets so everyone on your crew can have their own station. The display is very easy to see from a distance which is nice. Connecting to the radio via bluetooth is very easy and intuitive. The water resistant compartment on top safely stores your small mobile devices which is a great feature not observed on all our radios listed here. The lid opened also doubles as a stand for larger plugged in devices or tablets.
We've got one word for the bluetooth feature on this bad boy, RANGE! Wow, this radio is seriously impressive!! Advertised with a 100 foot bluetooth range we achieved an unobstructed range of over 140 feet! We observed an easy 80 foot range with strong signal and a house in between us and the radio as well. Nice work Milwaukee! This tops our list.
There has to be some not so great right? Yes, there is no perfect radio for every need or tradesmen out there. Back to that first grab. The metal handles are great and tough but when you pick this radio up it is heavy! It is the heaviest radio on our list. The one other ding on this radio is that is not very tool shed storage friendly. It's large and a slightly odd shape so you cannot easily stack things on top of it.
Overall, if you are already plugged into Milwaukee's amazing offering of M18 tools this is a no brainer buy. If you're not,  it's worth a strong look (maybe a blue steel?) even with the hefty price tag. With the full sound quality, great volume, sturdy construction, and unmatched bluetooth range we do not believe you will be disappointed.
Buy Now: $229.00
---
Dewalt ToughSystem Music + Charger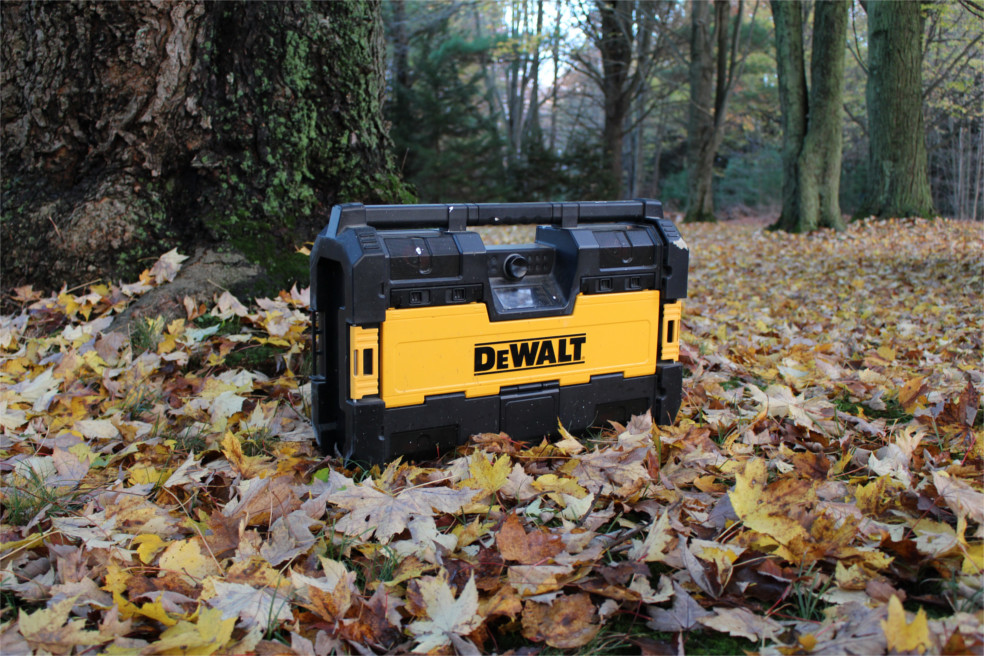 Producing the best audio quality we've ever heard from a jobsite radio, the Dewalt ToughSystem Music + Charger is a beast! The 4 full range tweeters, subwoofer and assisted bass resonator work together beautifully to create an epic listening experience whether you're inside working on a remodel or outside running the miter saw all day. It sounds good with factory settings, but also allows you to set custom EQ preferences for bass, treble, etc…
As with all the other jobsite radios we tested, this one comes standard with Bluetooth and an aux line-in. It has 6 programmable radio presets, the ability to play audio while charging either your DeWalt 12V MAX or 20V MAX batteries, and can be stacked onto DeWalt's ToughSystem modules. It can also be powered alone by your DeWalt batteries or be plugged in to an outlet. On top of all that it also has a handy storage area on the top that latches and can fit things like your phone, wallet, keys and other personal items to keep them secure and out of your pockets.
Overall, we really liked this radio on the jobsite. It proved to be loud and seriously rugged. With a IP54 rating for water and dust resistance you can leave this thing out in the rain and it will keep on pumping the tunes all day long. Stacking it in the truck is easy and because of its slim profile it fits almost anywhere. One bummer was the lack of play/pause and skip track buttons on the actual radio itself. This isn't a huge problem, but a little annoying when you want to skip tracks and your phone is in the truck.
It is also one of the more expensive radios you'll find on our list, but after more than a month of testing it on the jobsite we're happy to report it is worth every last penny.
On Amazon: $197.99 
---
Bosch Power Box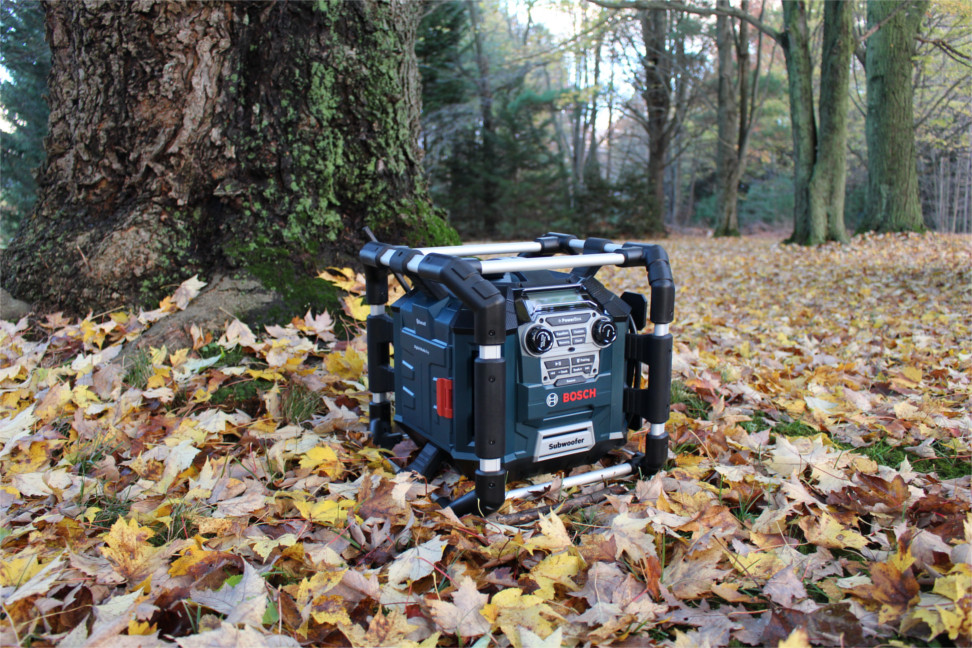 Engineered to be seriously tough while delivering power to all your tools, the Bosch Power Box is the most rugged jobsite radio we've ever tested. Surrounded by an aluminum roll-cage and thick rubber guards this radio is built like a tank. Once you get past its ruggedly handsome good looks you'll find a bunch of features that make this radio perfect for the jobsite.
Just like the DeWalt above, the Power Box runs on Bosch 18 V Lithium-Ion batteries or plugged into a 120 V outlet. Once plugged in, you can access the four 120 V outlest on the back of the radio. This allows you to use the Power Box as a power strip for up to 4 electric tools, other chargers or what ever the hell you want. It is a really useful feature that none of the other jobsite radios we've tested offer. The Powerbox also has a USB charging outlet, which is a nice touch.
The Power Box isn't all good looks and power outlets. Nope, this radio sounds great too. It has 4 tweeters and one subwoofer delivering 360 degree omni-directional sound. While most radios are one directional this radio fills space with audio in all directions making it easier to hear no matter where you are on the jobsite.
Some of the features we really liked about this radio were the volume dial and tuning dial which make it easy and fast to find the proper volume setting and the right radio station. This was the only jobsite radio we tested that had an individual dial for both! We also liked all the programmable radio presets and the EQ settings. The Power Box boasts up to 150 feet of Bluetooth range, which is big! The audio quality here isn't quite as good as the DeWalt, but it is still very good. It also has a media bay to keep things like your phone and keys protected from the elements.
Overall, the Power Box is a great jobsite radio. It's excessively rugged, delivers on all the bells and whistles and doubles as a power strip on the jobsite.
On Amazon: $179.00
---
ECOXGEAR SolJam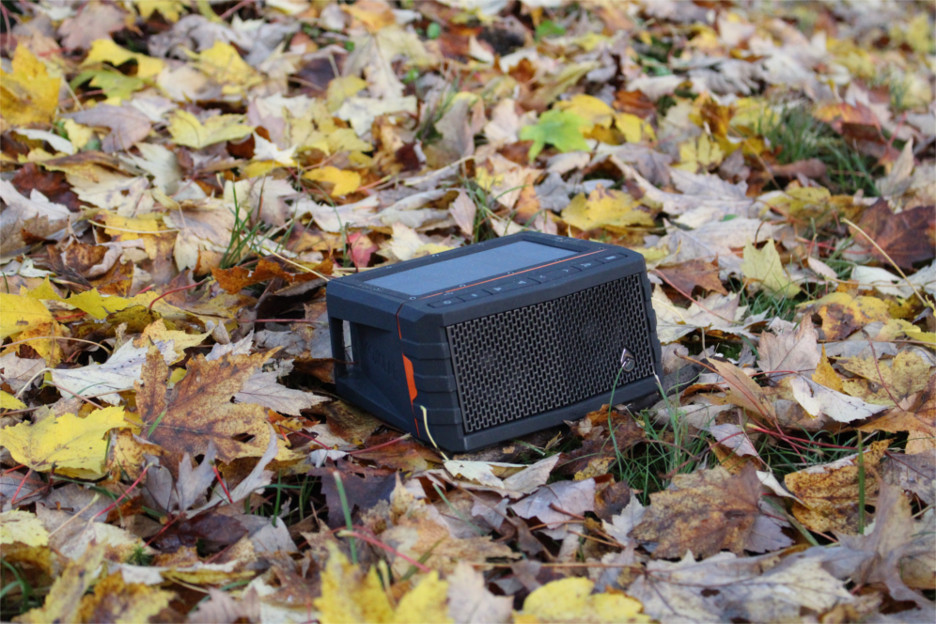 Not your average jobsite radio, the ECOXGEAR SolJam is a powerful little speaker that harnesses its power from the sun. That's right, the SolJam has a built-in high efficiency solar panel allowing you to play music for as long as you want… assuming the sun is out. If weatherman says it's going to be a cloudy day, you can charge the SolJam's internal battery which boats a 12 hour battery life.
Is it rugged? Um yeah… it's rugged. You may not be able to tell by looking at it, but this bad boy is not only coated in durable rubber, but it ships with an IP67 rating, which means it is fully waterproof, drop-proof and dust-proof. If you happen to drop it into a bucket of water or into a lake it floats and keeps on playing tunes. In fact the SolJam is totally submersible and ECOXGEAR tests each SolJam in three feet of water before shipping.
The SolJam also allows you to charge your phone or tablet using the sun or straight from its internal battery. All you need is the proper USB cord for your device.
So how does it sound? Good question. With two 10 watt front facing speakers and a small down facing subwoofer as you might expect the amplitude isn't off the carts, but for its size we were really impressed. The acoustics are clear and deliver a nice balance of highs, mids an lows. This speaker would be best for painters, carpet installers and basically any contractor who doesn't have a ton of loud tools constantly over powering it.
Buy Now: $149.99
---
Ridgid GEN5X 18-Volt Jobsite Radio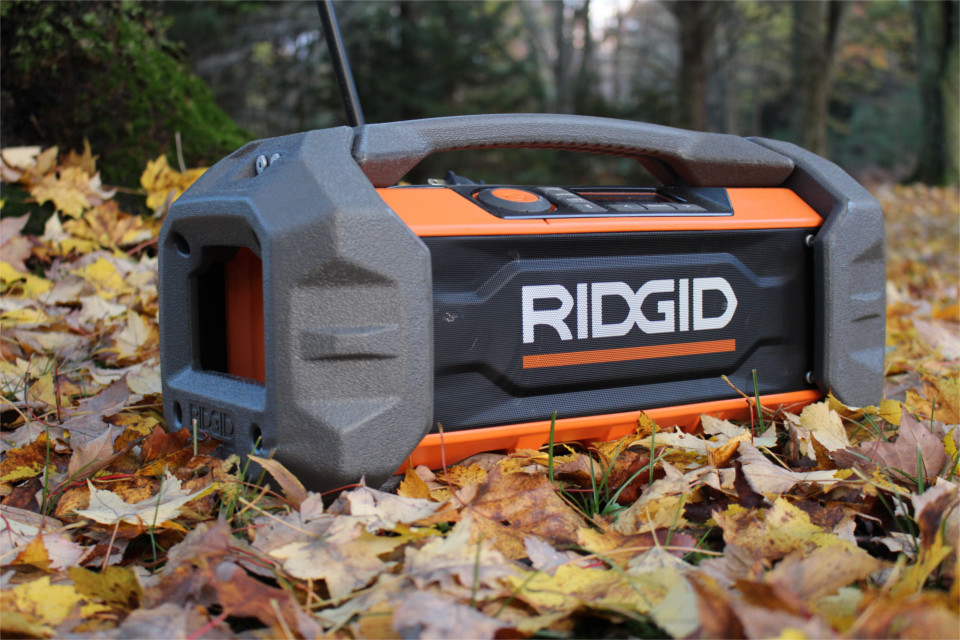 Rigid has put out our biggest surprise on our list. While still being on the lower half of our list price wise you are getting quite a bit in this radio.
So what's so great about this radio? Well, we were pleasantly surprised at the sound quality and volume this little Rigid could pump out. We put the sound quality of this radio near the top of our list with the more expensive Dewalt and Bosch. Not quite as great as those two but really close. It has a USB port for charging your mobile device. The radio can run off of an outlet or an 18V Rigid battery as well as charge a Rigid battery. We got over three work days off of one battery charge which was great. The back of the radio does not have a water resistant compartment but does have a soft rubber shroud to cover any connected Rigid battery in the rain. The radio has a dial for volume control which we seem to like opposed to buttons. It also has an equalizer to dial in your preferred sound. The unique aspect of this radio is that it has the Rigid Radio App which allows you to control certain features of your radio through your mobile device. Pretty cool. The construction of the radio appears and feels very rugged and I wouldn't be nervous if it fell off my saw horses or tail gate. I would also not be afraid of stacking tools and materials on this radio. The weight of the radio is much lighter than the Dewalt, Bosch, and Milwaukee. Which is nice when you're hauling around all your other heavy tools at the end of the day. Connecting a device via bluetooth was also very simple.
One big ding on this radio is the bluetooth range. In our testing the unobstructed signal started breaking up around  40 feet and was totally broken up at 50 feet. Obstructing the straight line signal with our body even at 20 feet the signal completely cut out. Not good!! This renders the cool Rigid radio app almost useless. When I'm on the job I'm often more than 40 feet from a radio AND working behind some wall or something. The radio does offer open storage pockets on each side they weren't big enough for any mobile device we had on us to completely fit into. This means you have to figure out how to rig up your phone if you aren't going wireless or charging. The radio doesn't offer flat surfaces to stack other tools or materials on in the truck but that's nothing major. The Rigid radio also does not have some of the features of the more expensive Dewalt and Milwaukee radios but we are all right with that because it's more affordable.
Overall, the Rigid Gen5X 18 Volt radio was our pleasant surprise of the bunch and wins best bang for the buck. This radio is right at the top of our list in terms of sounds quality and volume. It does lack some features of the big boys but if you're looking for a ruggedly built radio that sounds great for a decent price this is it!
Buy Now: $129.00
---
Ryobi 18-Volt ONE+ Dual Power Stereo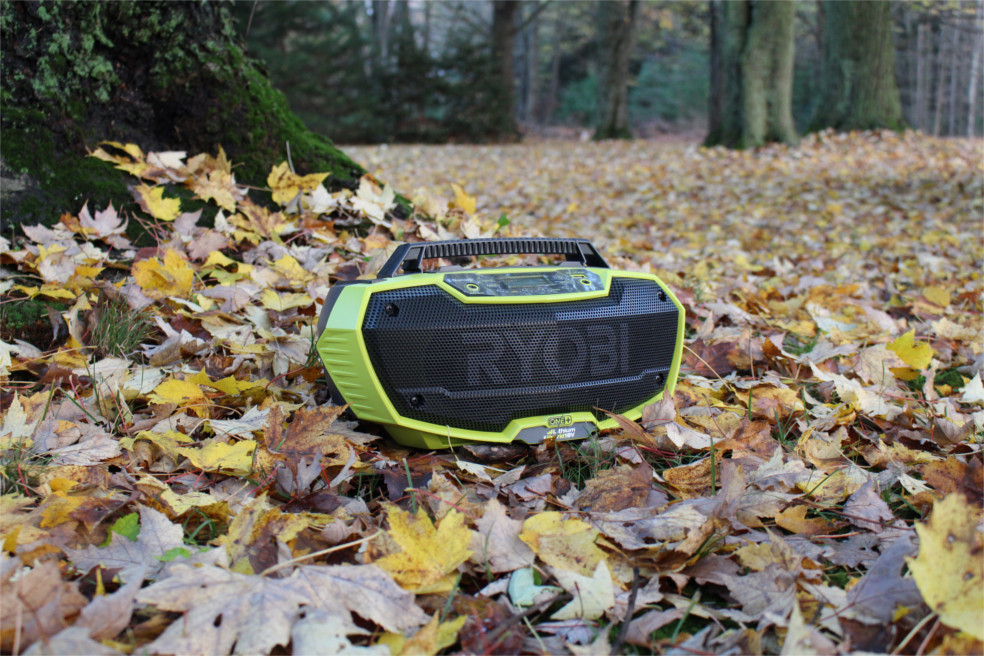 This affordable mid-sized jobsite radio is ideal for do it yourselfers and garage monkeys. While it doesn't have the power or sound quality of the DeWalt, Bosch or Milwuakee radios, it is a nice radio for someone on a budget.
Just like all the other radios we tested, the Ryobi 18-Volt ONE+ Dual Power Stereo comes standard with Bluetooth, AM/FM radio, a USB port for charging your mobile devices, audio EQ settings and an AUX-IN line. When connected to a 120 V outlet you can run this radio continuously. When there's no power around you can plug in your Ryobi 18-Volt ONE+ battery and get many hours of listening.
One concern we had during testing was the front grill. Unlike most of the other radios we tested this grill sticks out and isn't protected by anything. Overtime it will likely become dented if you are hauling it in the back of your work truck or van. Something to look out for at least.
Overall, this is a nice radio for the price and for its size it has a lot of features. The acoustics weren't what we hoped for, but if you're more concerned with price and less concerned with audio quality this would be a fine choice.
Buy Now: $99.00
---
Craftsman C3 19.2-Volt Stereo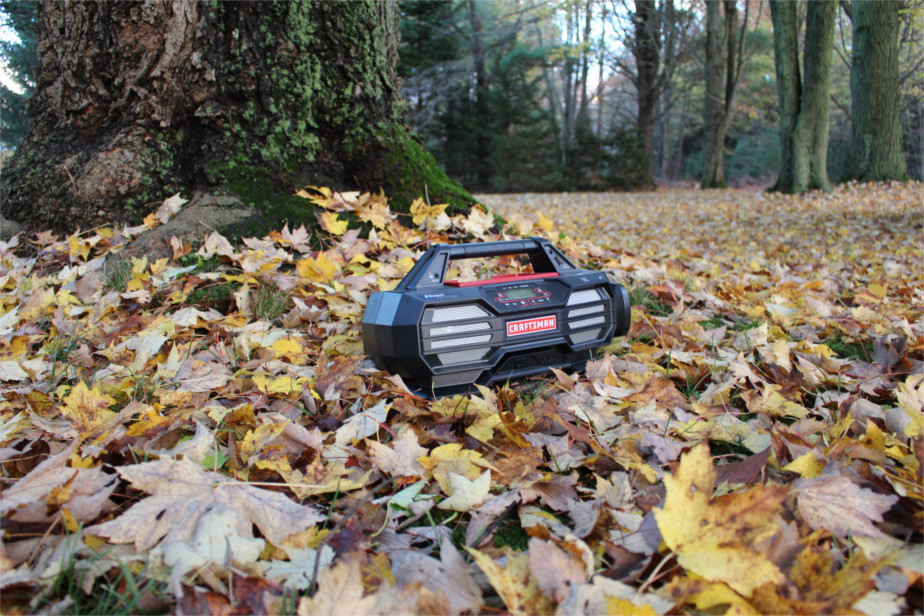 Labeled as the "most affordable" jobsite radio on our list, the Craftsman C3 19.2-Volt Stereo is small, but packs in a bunch of features. One of a couple budget friendly radios on our list.
Things we liked about the radio. First off, the price is great. In fact, it's the lowest on our list. It can run off of an outlet or a Craftsman C3 19.2 volt battery which is great. You can also charge the same C3 battery or your mobile device when plugged in. It does allow you to connect wirelessly via Bluetooth, play/pause and skip tracks from the radio itself. A feature that we like. You can't keep your bluetooth device out of the elements during those rainy days but it does have an open storage tray on top. This radio also integrates with Craftsman's wall organizing system which is cool because you can hang this radio right on the wall of your shop if you want. Connecting to the radio via bluetooth was simple and easy. The bluetooth range is not great but not terrible either. As tested, we got a good 55 feet clear signal and lost signal around 65 feet. Obstructed from the radio we lost signal at about 35 feet.
The not so great about the radio. There is no good way to say it but the sound quality of this radio is near the bottom of our list. It's not terrible sound but after hearing the full body sound of the higher end radios it just doesn't sound amazing. To be fair to this little guy it is also at the bottom of the cost category. We also like a radio with a dial for volume control, not buttons. Not a big deal but we like that feature. This radio also does not have an equalizer feature which is nice to have. The storability of this radio isn't great either for those of you that need every inch of space in your job trailer or truck. The construction of the radio does not seem very rugged so you wouldn't want to drop it. Finally, there are no weather / rain resistant features about this radio.
Overall, this radio is what you would expect for the price. Not bad but not great. Best suited for the shop or garage. The sound quality isn't near as good or loud as some others on our list but it's not terrible. Those looking for a deal shouldn't be disappointed though.
Buy Now: $89.99
There you have it… Our picks for the 7 best jobsite radios of 2016. Know of a radio that didn't make our list and should have? Drop us a line in the comments.