In the world of winter gear, there are handfuls of brands that can offer you what you need to have an enjoyable season.  Not many, however, are still "rider-owned" and independently operated. Six Eight Six, based out of California, was developed by Mike West.  West, growing up in California, spent his early days traveling the streets by skateboard.  When he was finally introduced to snowboarding, his addiction from skateboarding transitioned to snowboarding and that's when he got the inspiration to design winter gear that is fashionable and functional.  We were recently given the opportunity to test out some of their women's winter collection.  Here's a breakdown of what we learned.
686 WOMEN'S AUTHENTIC SMARTY CATWALK JACKET
Key Features: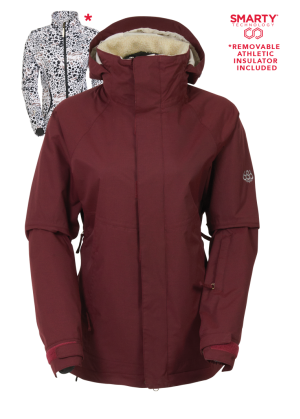 Removable SMARTY® Athletic Insulator Jacket Liner

Fully Taped Seams

Adjustable Powder Skirt with PJ Connect™ System

Air-Flo™ Mesh Lined Under Arm Vents

Internal Mesh Storage/Goggle Pocket

Innie Outie Smartphone Pocket with Audio Cord Outlet

Full Velcro Closure Sleeve Pass Pocket
Adjustable hems, hood, and cuffs
The Smarty Catwalk Jacket is a standard fit in 686's line of fitting styles. It gives you room to move and is still flattering. The outer shell is coated with 686's exclusive infidry fabric that utilizes a 3 step waterproofing process. With adjustable hems, hood cuffs and powder skirt, this jacket can function at top notch.
The Smarty Catwalk Jacket includes the innie outie pocket along the front zipper. This pocket is a great feature to hold your phone or gps etc. Free's up your standard side pockets and it doesn't get in the way.  The sleeve has a small zipper pocket to store any passes or your ID, credit card etc.  All the seams are fully taped to help keep out the wintery elements.  There were no issues with keeping warm in this jacket. It has a thermal rating of 7 which means it best suited for temps down in the 0°-32°F range. It repelled any snow and moisture and never showed signs of dampness.
The powder skirt is a necessity to minimize cold wind and blowing snow from getting under the jacket.  A common issue with using the powder skirts are dealing with them riding up all the time. This jacket has a PJ connect system with a snapping strap that works with snow pants that also have the PJ hoop feature.
While this jacket comes with a removable insulator jacket liner, we found it most comfortable to wear without the liner. The liner is nice to have to wear on those beautiful spring days when you don't need a full on winter jacket anymore, or even as a jogging coat when the bitter winter weather finally breaks. When worn with the jacket, it becomes awkward.  In addition to that, if you want to zip the liner right into the jacket, you aren't able to use the powder skirt. So while it's a great accessory to have on its own, we didn't find it to be the best liner to wear with the jacket as intended.
Buy Now: $250 or go to: 686.com to learn more.
686 WOMEN'S GLCR GEODE THERMAGRAPH PANT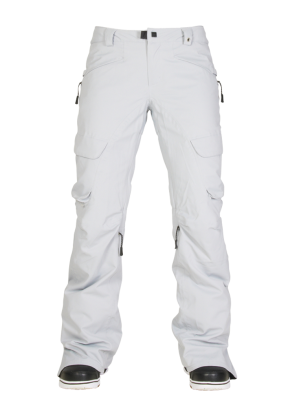 Key Features:
Comes with FREE Nikwax Tech Wash®
Thermagraph™ Body Mapping Insulation System
Fully Taped Seams
Air-Flo™ Mesh Lined Inner Crotch Vent
Boa® Compatible Leg Gaiter with Lycra Stretch Panel and Boot Lace Hook
Ghetto Slit™ Leg Gusset with Zipper Closure
PJ Connect™ System
Cordura® Reinforced Horseshoe Hem™
Internal Waist Adjustment
Inner Leg Lift System to Help From Drag and Shredding
With first impression, we weren't fans of the GLCR Geode Thermagraph Pant because of the exaggerated outer thigh area. They looked like those old english horseback riding pants. Once they were on it didn't look so bad and relaxed a bit once they were broken in. This design gives you room to move and bend. The internal waist adjustment is a great design feature and made it easy to properly size the pants.
Composed of just a zipper and a standard single snap closure on the front, we felt a little let down. We had issues with snap not staying clasped. It didn't matter how tight or loose the waist was adjusted to; with every slight bend it would pop right open. May have been just a faulty snap.
Plenty of pockets on this style pant.  The added goggle wipe found clipped in one of the pockets was a nice feature.  Inside the outer cargo pockets are pull strings that lift the pant legs so they don't have to drag on the ground.  The leg gaiter at the bottom of the pants did not have any option for you to adjust to different boot sizes. It only consists of a slightly stretchable elastic that you have to work pretty hard to get over your boots. We would have liked a little more stretch room to get the gaiter over boots. These pants do, however, have a Boa compatible opening in the gaiter and boot lace hook which are great features.  Besides making sure the pants stayed snapped, they felt cozy all day in the cold.  These aren't fully insulated pants, but do have a thermagraph body mapping insulation system.  This system keeps the heat in where it's needed the most.  The mesh lined inner thigh zipper vents can cool you off if you start to overheat.  With the shell being a water repellant material there were no issues with moisture.  Proper layering will make the GLCR Geode Thermagraph Pant a top notch snow pant.
Buy Now: $230 or go to: 686.com to learn more.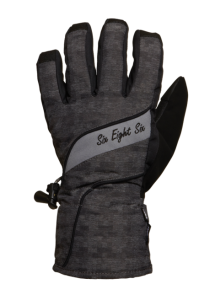 Key Features:

Smartphone Touch Friendly
Soft Touch Thumb Nose Wipe
Pre-curved Finger Construction
Knit Ribbing on Inner Cuff
Wrist Leash
These days it's almost a must for gloves to be smartphone touch friendly. Six Eight Six was sure to include that feature in these Puzzle Gloves. This feature wasn't used much though. Let's face it, the thick clunky snow gloves aren't the best for trying to navigate through a smartphone. A gross but welcomed feature is the soft touch thumb nose wipe. Yes, we all wipe our noses on our gloves once in awhile and it's nice to have a soft designated spot just for it.  These gloves never absorbed the amount of moisture that other gloves usually do. When we are out for the day, it is a known requirement to bring a change of gloves. We never had to switch gloves with the 686 Puzzle Glove.  While the repellant outer layer is a huge factor in keeping your hands warm, so is the insulation.  These are nice thick gloves, but in the coldest temps it may still be wise to throw in some hand warmers.
Buy Now: $50 or go to: 686.com to learn more.
686 WOMEN'S STARDUST BONDED FLEECE ZIP
Key Features: 
DWR Coated, water resistant fleece
100% Polyester Knit Jersey Face Bonded to Brushed Fleece Back
Ribbed Cuffs and Bottom Hem
Audio Cord Port
Soft fleece on the inside and DWR coated water resistant polyester knit jersey on the outside; the Stardust Bonded Fleece Zip is breathable, warm, and slightly fitted to avoid any bulkiness. Even has an audio cord port. Simple, yet very functional design.  This fleece was used as a midlayer under the coat when the temps were frigid.  Kept the heat in without getting sweaty.  It's even great to use as a light coat for Fall or Spring outings.
Buy Now: $80 or go to: 686.com to learn more.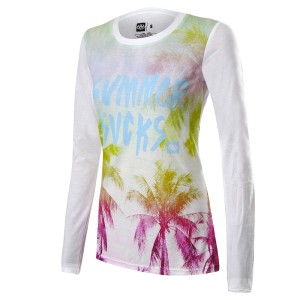 Key Features: 
93% Polyester / 7% Spandex 4-Way Stretch Jersey
Oversized Sublimated Graphic Print
One of the most comfortable long sleeve t-shirts.  The added length in the body and the sleeves of Tech T is a great design.    The cuffs on the sleeves are tight enough with a bit of stretch so you can push them up to get them out of the way when needed.  Overall it's a thinner material, so it is good as a base layer or worn alone for warmer days.  The material is much softer than traditional t-shirts, and has just the right amount of stretch to it.  It's a casual slim fit style.  Never caused any annoyance and laid just right without being too fitted.
Buy Now: $60 or go to: 686.com to learn more.
686 Women's Winter Gear – Collection
If you want more options, check out 686's full collection of gear. They have styles and fittings that will suit just about anybody. Finish out the winter season looking fashionable all while staying comfortable and protected from the winter elements.
GLCR Geode Thermagraph Pant
8.6
Stardust Bonded Fleece Zip
9.5