If you're anything like us, you've never needed a holiday to tell you when to drink. But for many novices people, St. Patrick's day is that one time of year getting sloppy at 10am isn't exactly frowned upon. For those people St. Patty's day isn't just a cultural and religious holiday celebrated annually on the 17th of March… no, no, no – it's a 24-hour party celebrating Irish heritage (whether you're actually Irish or not), green beer and poor decisions. While we choose to pass on the green beers… we do agree with the principals of modern St. Patty's Day celebrations. Which are fairly simple to understand and include; drink, be marry and drink some more!
If you're going to join in on the celebration this year we urge you to put down the green beer and sip on some whiskey – Irish whiskey! To help you navigate the good from the bad we've put together a list of 6 Irish Whiskies to Celebrate St. Patty's Day. Scroll though, enjoy and cheers!
This special limited edition is a triple distilled blend of all three types of Irish whiskey; golden grain, malt and pure pot still whiskey. It is characterised by its high content pot still whiskey finished in old oloroso sherry casks and comes to you at 55% ABV. Tullamore D.E.W. Phoenix is a medium bodied whiskey, with distinctive sherry notes and pleasantly spicy creamy pot still whiskey flavours nicely balanced.
Proof: 110 (55% ABV)
Age: 12 to 15 yrs. Blened
Appearance: Rich amber
Nose: Floral, oak, vanilla, sherry
Flavors: Caramel, oak, vanilla, sherry, spice
Taste: 9.2 out of 10
Finish: 9.4 out of 10
Mix–ability: 8.5 out of 10
Buzz Factor: 9 out of 10
Scoring an 9 out of 10, Tullamore Dew Phoenix is an Irish whiskey for the ages! Our panel absolutely fell in love with its truly sip-able profile, which is mystifyingly bold yet smooth simultaneously. Way-back-when, Daniel E. Williams knew what he was doing with this whole triple distillation/triple blend process. Who knew? And unlike the more popular names in the game (looking at you Bushmills and Jameson), Phoenix takes the bite out of sipping Irish whiskey for a truly enjoyable experience.
Don't fancy yourself sipper of whiskey? No fear, Tullamore DEW Phoenix does one thing better than getting poured neat… and that's served up mixed in a iced-fill cocktail. Tullamore's smooth profile and sweet complexities make it an dangerous ideal option for simple concoctions like whiskey and coke… or this tasty diddy we worked up below.
MIX IT UP… "Apple D.E.W."
Ingredients: 2 oz. Tullamore Dew Phoenix, 6 oz apple juice, dash of bitters and a lemon wedge.
Directions: Into a tall ice-filled glass, add the Tullamore DEW Phoenix, top with apple  juice, garnish with a lemon wedge and enjoy. Bottoms up!

Since 1782 the Teeling Family has been crafting Irish whiskey and it all began with Walter. In 1782 Walter Teeling set up a craft distillery on Marrowbone Lane in the Liberties area of Dublin commencing a 230 year tradition of distilling for the Teeling family. From Walter Teeling to the latest generation of Teelings in Jack and Stephen who are carrying on the family's legacy and forging a bright new future for distilling in Dublin and for Irish whiskey. Teeling Whiskey is proof that Irish Whiskey can stand the test of time.
Utilizing a small batch bottling process that consists of hand selected casks and further maturation in ex-rum barrels, Teeling Whiskey is bottled at 46% with no chill filtration.
Proof: 92 (46% ABV)
Age: Blended
Appearance: Golden
Nose:  Rum, wood, smoke
Flavors: Oak, rum, vanilla, spice
Taste: 9.5 out of 10
Finish: 9 out of 10
Mix–ability: 9 out of 10
Scoring a 9.1 out of 10 from our thirsty panel of whiskey fiends, Teeling is uniquely Irish and truly tasty. At 92 proof this whiskey is not to potent and not too dilute. A high percentage of our tasting panle enjoyed this whiskey as the distiller intended it… neat. While the rest preferred a splash of water to wake the spirit up.
No matter how you take Teeling Whiskey there's one thing that's not up for debate… and that's the fact that it is surprisingly smooth and genuinely tasty. You can really taste the rum casks in which this whiskey was aged in. It provides a slightly sweet finish that kept us coming back for more.
If you're looking to mix things up, Teeling also works well in a slew of mixed drinks. The one you'll find just below is one of our favorites for St. Patty's Day because it simple to make.
MIX IT UP…. "Nitty Gritty"
Ingredients: 4 oz Teeling Whiskey, 8 oz.  Ginger Beer
Directions: Over ice, in a tall glass pour the Teeling Whiskey and Ginger Beer. Garnish with a lemon twist, stir and serve!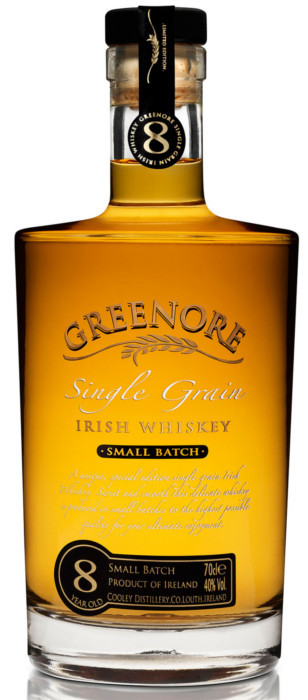 Produced from 93% corn and 7% malted barley, Greenore Irish Whiskey is one of the few true single grain whiskeys  you can find anywhere in the in the world. Greenore is produced in a column still at Cooley Distillery. After the whiskey is produced it is then matured for 8 long years in bourbon barrels to give it a smooth distinctive flavor.
Proof: 80 (40% ABV)
Age: 8yrs
Appearance: Deep golden yellow
Nose:  Oak, honey, grains
Flavors: Grain, caramel, barley, and oak.
Taste: 9.1 out of 10
Finish: 9.3 out of 10
Mix–ability: 8.5 out of 10
Buzz Factor: 9.3 out of 10
Scoring an 9.1 out of 10, Greenore is a delicious detour from more common Irish whiskeys. When sipped neat its age is clearly evident and complexities shine from initial sip though the finish. While this might not be a household name it is a whiskey worthy of your household bar! As for mixing… we'd actually encourage you to keep this single grain gem just for sipping, but if you must – we did discover Greenore is nice in mixture the classic recipe you see below…

MIX IT UP… "Irish Car-Bomb"
Ingredients: 3/4 pint Guinness, 1/2 shot Irish cream liqueur, 1/2 shot Greenore Irish Whiskey.
Directions: Pour the Irish cream liqueur into a shot glass, pour the Irish whiskey on top, pour the Guinness into a pint glass or beer mug 3/4 of the way full and let settle, and then drop the shot glass into the Guinness and chug!
Launched locally in Minnesota in 2011, 2 Gingers has since become the fastest-growing Irish whiskey in the Midwest. This 80-proof blend is twice-distilled and aged for four years, for a profile that is said to be smooth, malty and slightly sweet taste that is known to convert many skeptics into lovers of Irish whiskey.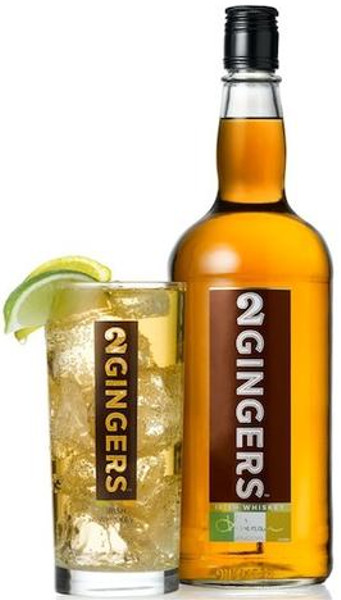 Proof: 80 (40% ABV)
Age: 4yrs
Appearance: Golden Amber
Nose: Fruit, honey and vanilla
Flavors: Grains, citrus and vanilla
Taste: 7.2 out of 10
Finish: 6.5 out of 10
Mix–ability: 8.7 out of 10
Buzz Factor: 8 out of 10
Scoring an 7.6 out of 10, 2 Gingers is a fine whiskey for mixing and concocting cocktails, but that's about it. At just four years old – it's a little to young for sipping neat in our opinion. When you think of Irish whiskey you're hoping for something a little more smooth and complex. 2 Gingers if given a little more time to mature could be both we're certain. But on the other hand we had a great time mixing it up. As its name might lead you to believe it's actually great straight-up with ginger ale. We found the butter-zone to be around 30% whiskey to 70% ginger ale.  Or as we later found out – with a little peach and cranberry…

MIX IT UP… "Irish Snapper"
Ingredients: 1.5 parts 2 Gingers Whiskey, small splash peach liqueur, top off with cranberry juice.
Directions: In a tall glass, over ice, add all ingredients – stir and enjoy!
Concannon's roots are steeped in Irish tradition (as if the family name didn't already give it away!) In fact, Concannon, which means "wisdom without compromise" in Gaelic happens to be the very 1st Irish-American winery in the United States – dating all the way back to 1883. Their founder – James Concannon was even born on Saint Patrick's Day. Need we say more?

Accolades: "Best New Irish Whiskey" at the 2012 New York ISC
Proof: 80 (40% ABV)
Age: 4 years in small bourbon-seasoned casks
Nose: Vanilla, apple, honey and light smokey-ness
Flavors: Honey, vanilla, touches of fruit and spice
Taste: 9 out of 10

Finish: 8.6 out of 10
Mix–ability: 9 out of 10

Buzz Factor: 8.9 out of 10

Overall, we give Concannon Irish Whiskey an 8.9 out of 10. It's a fine example of traditional Irish Whiskey, but with a unique twist that helps it stand out. We found Concannon's sublet sweetness and touch of fruit to be welcoming and easy to sip on the rocks. While many of us enjoyed Concannon straight or on the rocks, it was quickly apparent that the  majority of our tasting panel agreed it's best enjoyed mixed. If you're a connoisseur of Irish Whiskies or looking for something new to try Concannon is a great place to start. Especially on St. Patty's Day!
MIX IT UP WITH… "Concannon Cobbler"
Ingredients: 1.25 oz. Concannon, 1⁄4 oz. Concannon Sauvignon Blanc, 2 orange slices, 2 lemon slice, blackberries, raspberries, blueberries, 1⁄2 oz. simple syrup.
Directions: Serve in a rocks or tumbler glass with fresh berries piled on top of drink. Press fruit in the bottom of the glass, and add crushed ice, then other ingredients and mix.
Kilbeggan Irish Whiskey is comprised of three key ingredients: pure clean water, with which Ireland is fortunately blessed; cereals of grain and barley; and most importantly experience, which Kelbeggan has 100s of years to fall back on!

Proof: 80 (40% ABV)
Age: 3yrs minimum – blended
Appearance: Rich yellowish-brown, almost golden.
Nose:  Grains, honey and citrus
Flavors: Honey, malt and some wood
Taste: 8.7 out of 10
Finish: 8.3 out of 10
Mix–ability: 8.4 out of 10
Buzz Factor: 8.8 out of 10
Scoring an 8.6 out of 10, It's crisp, and refreshingly different! Some might knock this whiskey as being a Jameson impersonator, but we didn't get that impression at all. It's a light whiskey that is easy on the pallet (Ideal for whiskey novices!) and can also mix a strong drink when called upon. Add a nip to your morning coffee and you'll find out what we mean!

MIX IT UP… "Irish Kiss"
Ingredients: 2 parts Kilbeggan Irish Whisky, 1 part DeKuyper Dar Creme de Cocoa, 2 parts Cream, Heavy Simple Syrup and Choclate Sprinkles.
Directions: Wet the edge of a chilled cocktail glass with heavy simple syrup and gently roll in choclate sprinkles. Add Kilbeggan irish Whskey, Creme de cocoa and cream to a shaker over ice. Shake vigorously and strain ingredients inot the rimed cocktail glass