The trusted name in blending, updated with modern comforts. 
The Ascent Series A3500 pairs Vitamix's famous high-performance chopping, blending, and pureeing power with teach-forward features including touch controls, automated programs, Self-Detect containers, and wireless app connection via Vitamix's Perfect Blend™ smartphone app (iOS, Android). 
With a growing list of Ascent Series specific accessories, Vitamix has designed a growing system of smart accessories designed to outfit kitchens with a full suite of versatile tools. From small nut butter cups to personal smoothie cups and a food processor attachment to an odor-resistant metal blending container, Vitamix's smart series is here to make the home chef's job just a bit easier and quicker, too! 
For those serious about smoothies, smoothie bowls, homemade spreads, nut butters, soups, and more, keep on reading our Vitamix A3500 blender review. 
Vitamix A3500 Key Features:
6 modern finishes to pick from

Streamlined touch button control

Endless-scroll speed control knob

5 self-timed/speed controlled programs

Wireless app integration

Container self-detect system 

2.2 peak horsepower

14.92 lbs, heavy-duty design

Plastic tamper included 

4-foot long cord
Vitamix A3500 Blender Review Breakdown
Design
While the A3500 is loaded with technology, the brand's roots are still alive in well in this tech-centric option. With a 2.2 peak horsepower motor and a traditional tamper – Vitamix's secret performance weapon – the legendary blending power that consumers have come to love and expect is very much unchanged. 
However, Vitamix has worked hard to ensure their offerings are up to spec with the "do-it-all" competitors that are currently on the market. The A3500 features responsive touch controls that work with wet fingertips, an infinite-scroll speed knob, 5 automated self-timed/self speed-controlled blending programs, and 6 attractive brushed metal finishes to match modern kitchen designs. While touch controls are a departure from the brand's distinctive, tactile switches, the interface is fun & easy to use without sacrificing performance. Not all switches are lost, though! There is a nice tactile power switch on the right-hand side of the device. 
One of the best optimizations made for this particular line of products is the versatile line of Self-Detect containers. While Vitamix's standard containers will do just about any job you ask of them, having a few job-specific containers amplifies and harnesses the power of the A3500. This growing list of smart accessories makes easier work of tough jobs in smaller portions if needed. Currently, Vitamix offers: 
A 12-Cup Food Processor

Blending Bowls & Blade

Blending Cups & Blade

A Stain/Oder Resistant Metal Container

And various sized plastic containers 
Blending Performance 
For those familiar with the Vitamix name wondering about Vitamix's flagship device, this section might not be much of a surprise. For those looking to invest in their first Vitamix machine, stay tuned.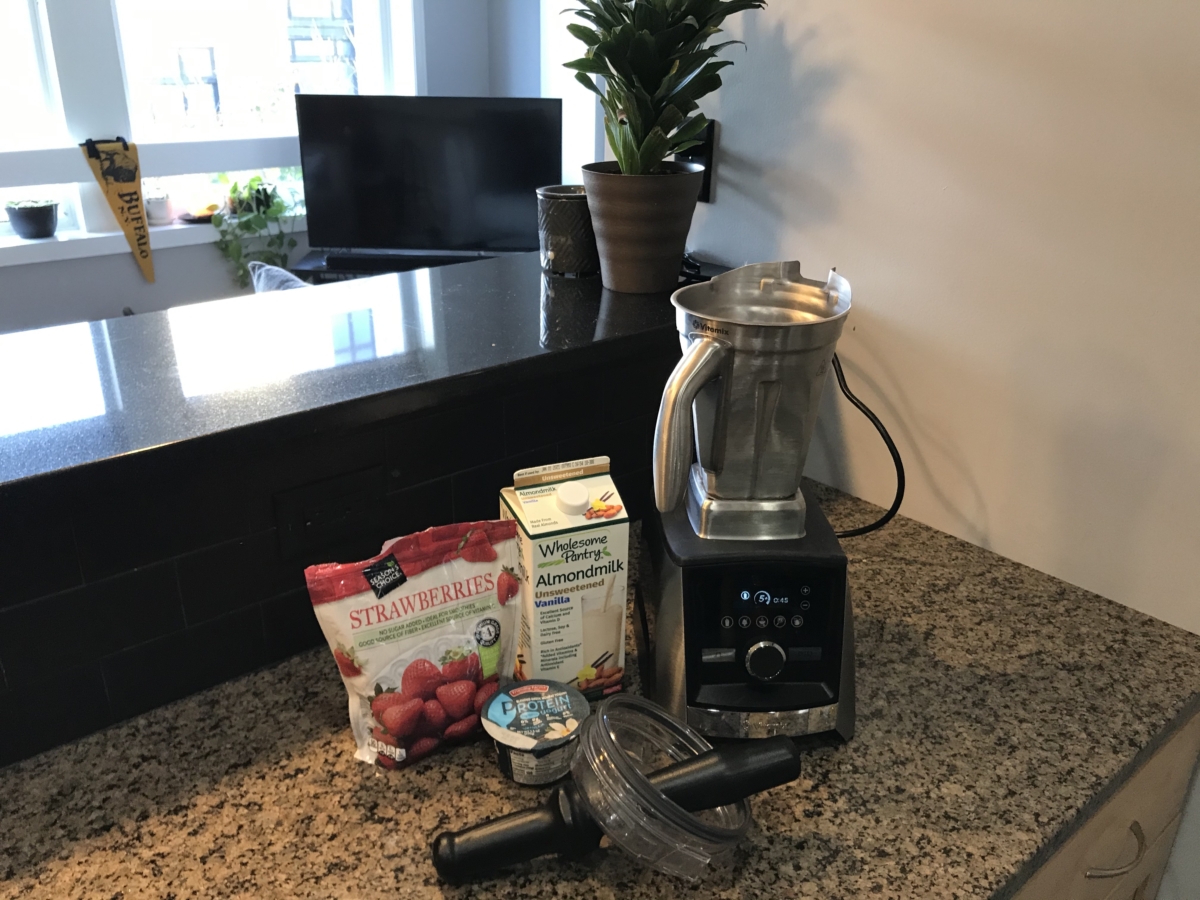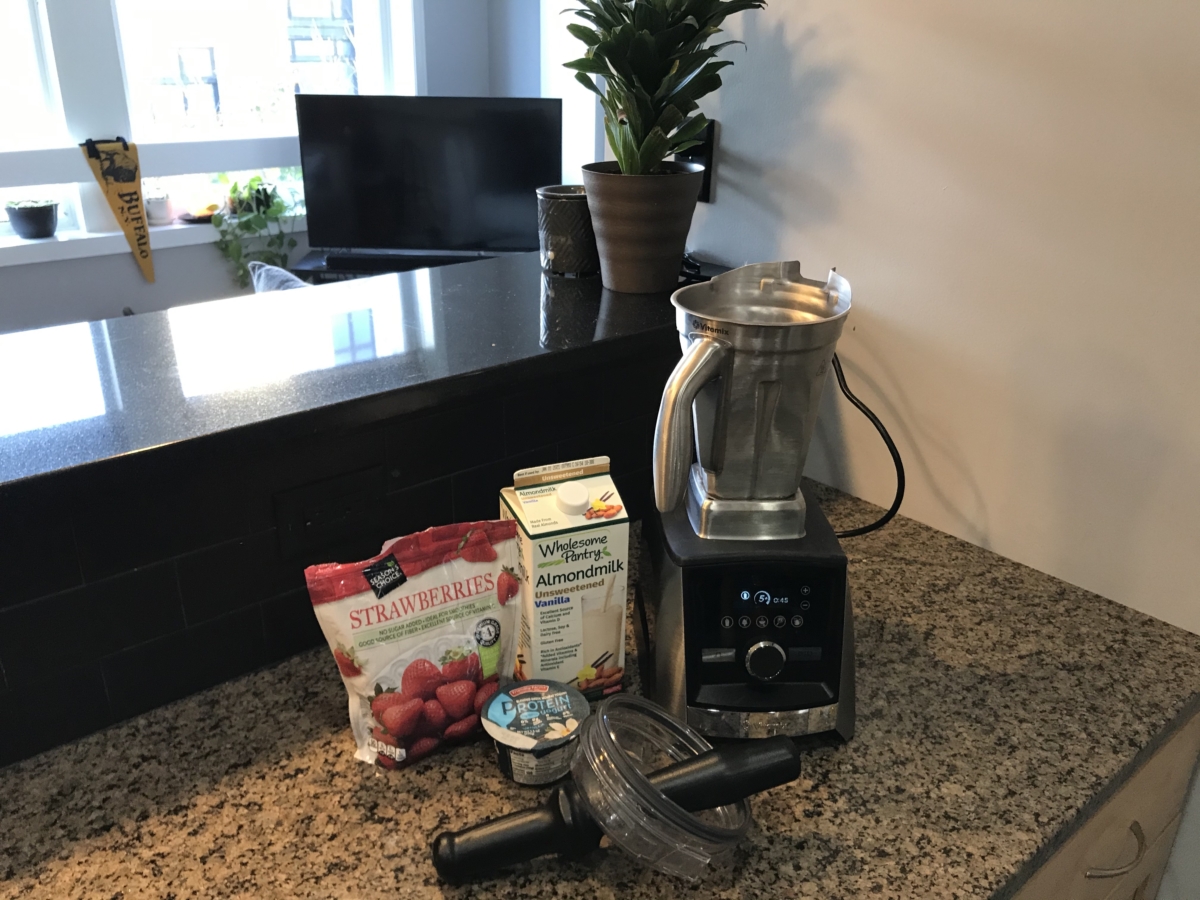 To say the A3500 is powerful is an understatement. The A3500 is nearly unstoppable! (That is if you're not afraid to use the included tamper.) Vitamix machines are a bit intimidating to use at first, but the tamper is the key – or secret weapon as I called it before – to a well-blended product. The tamper allows operators to push ingredients down toward the blades to alleviate the air pocket that forms during the blending of frozen or hard to blend ingredients. Once you get used to using the tamper – and learning various Vitamix noises and motor pitches – you'll confidently blend up things you could only dream of in your other blender. 
Now, onto the actual performance. When the A3500 first arrived at Busted Wallet HQ, I went a bit crazy with the recipes. I tried it all – fruit smoothies, oat protein shakes, smoothie bowls, almond butter, peanut butter, cashew-based nacho dip, hummus (with and without bean shells), and a few soups. To ensure a comprehensive review, I'll touch upon a few categories.  
Smoothies/Smoothie Bowls – smoothies come out perfectly homogenized with minimal to no unblended ingredients. I found that I usually do not need the tamper for a fruit smoothie if there is an ample amount of almond milk (or any other liquid). My old bullet-style device frequently left large flakes of greens and unblended chunks of protein power, which was particularly un-enjoyable. 
Smoothie bowls are a bit more intimidating to make, but they come out thick just like your favorite cafe makes them. The A3500 can power through a few frozen bananas and cups of frozen fruit with only a minimal amount of liquid, it just requires a lot of tamper use. I love the inverted container test – after blending a smoothie bowl, I flip the container upside down to see if the mixture stays suctioned inside the container – to ensure a thick consistency smoothie bowl.   
Nut Butters – I was especially excited about this one as I love natural, no sugar added peanut butter. I attempted to make peanut butter in my old food processor, but it was so labor-intensive I vowed to never try again. It took about 15 minutes of on and off blending, with a few cool down periods in-between ingredient pushing with the old blender. 
The A3500 powers through 3-4 cups of dry roasted peanuts in about 1 minute. With heavy tamper use, the peanuts are pulverized into a rich, creamy, perfectly spreadable peanut butter. Almond butter is just as easy, but just make sure your almonds are roasted before attempting to blend. I made this mistake on my first batch of almond butter with the A3500. 
Long story short, this one does take a little practice to get it right, but it is super fast and rewarding once you've got it down. 
Hummus – this was another one I was super excited about. Store-bought hummus is often a bit garlic-y for my liking, so I was looking forward to customizing recipes. Like peanut butter, you can have fresh, delicious hummus in about 1 minute of blending time using shelled or deshelled garbanzo beans. The difference isn't blend time, but rather texture. Shelled garbanzos offer a very smooth mouthfeel, whereas deshelled offer a chunkier/grittier mouthfeel. Both are great, and leaving the shells on still delivers great Hummus if you're in a time pinch. 
Soups – I am still working on this one. Since I've reviewed this machine over the summertime, I've not tried many soup recipes, but the ones I tried didn't have a ton of flavor. Making the soup is the easy part, the Vitamix just works! After 6-7 minutes of blending at speed 10, you end up with a steaming container of ready-to-eat soup. It is honestly one of the cooler features of the Vitamix, but don't be mistaken, there is no heating element in this device – the friction of the blades heats the ingredients over the course of the blend run. The Vitamix will also not cook raw meat ingredients, it is best to add those pre-cooked, and mix at a low speed after making the soup base.   
With some more practice over the winter, I am sure the Vitamix will become a go-to over my InstaPot quick, warm meals. 
Automated Programs 
When my Vitamix machine first showed up, I found the automated programs to be super helpful in learning how to properly use the machine. The A3500 has 5 programs – smoothies, hot soups, dips & spreads, frozen desserts, and self-clean. You simply power up the device, tap the program, and tap the start button – easy as that! 
Watching the programs run taught me how to interact with the device, when I needed to use the tamper, and what some of the common noises of the machine are – different pitched whines, chugs, or if there's free-spinning blades or air pockets around the blades. 
Now that I've had it over 3 months, the only program I consistently use is the smoothie function, as it is perfectly timed for a great consistency. Making most other things, I use manual mode always starting with a rough chop at speed 1, then ramping up to speed 10. 
Don't be afraid to run at speed 10! It is actually easier on the machine at this speed, even though it sounds a lot worse. 
48oz Low Profile Metal Container
I opted to add Vitamix's 48oz Stainless Steel Metal container to my order. It is solid in the hand and looks nicer on the countertop than the plastic container – that is if you store your Vitamix on your countertop.
There are a few benefits to the Metal container over the container included with the A3500. First and foremost, it's 16oz smaller, so it might fit under your cabinets a bit better. Secondly, the stainless steel doesn't get cloudy over time and does not retain any smells from the previous blend. Thirdly, the container is about 2lbs heavier, so it doesn't wiggle around as much during blending. Finally, the metal is a bit more insulating than plastic, so it keeps cold blends nice and cold and hot blends nice and hot for a bit longer than the plastic. 
It is not noticeably louder, it actually has a more muffled sound than the plastic as it is a thicker and stronger container. However, I will admit it is a bit harder to see the blend progress without the clear sides, so I don't use it for trickier blends like nut butters. All in all, it's worth the $199.99 price tag. It makes a fantastic machine even more fantastic. 
Value
At $599.95, the Vitamix Ascent Series A3500 is an investment. It is not the blender for the occasional user, but it is a blender that'll be on your counter for decades to come (as long as you take care of it!). It's a near commercial-grade blender for any home chef.
Buy now, or browse Vitamix.com
Vitamix A3500 Blender | Kitchen Review
Vitamix's A3500 performance blender is their flagship, tech-centric, modernized version of their tried and true performance blenders. While it has all the bells and whistles, it still delivers the punch expected from the brand. You could even argue Vitamix DOES still make things like they used to.
Stainless Steel Container
9.5
THE GOOD:
Premium materials and build quality
5 automated programs good for beginners
Touch controls are intuitive and responsive
THE NOT SO GOOD:
Price is investment level
Some might miss the tactile feedback of real switches