Like it, love it, or just endure it, winter is officially here.  Shoveling might be a great way to exercise in these chilly months, but let's be honest, it gets old quick!  Living in a prime lake effect snow area, shoveling snow every day, for weeks on end, can literally kill a person (DANGER).  Thanks to Troy-Bilt and the Squall 208XP Snow Thrower, we won't have to this year!
With over 75 years of American heritage, Troy-Bilt is rooted in America.  They started by revolutionizing the farming landscape, then they took their talents to products we use at home on a daily basis.  We've already been hit by a few winter storms and have been putting this 21″ single-stage snow thrower to the test.  Let's discuss the performance thus far.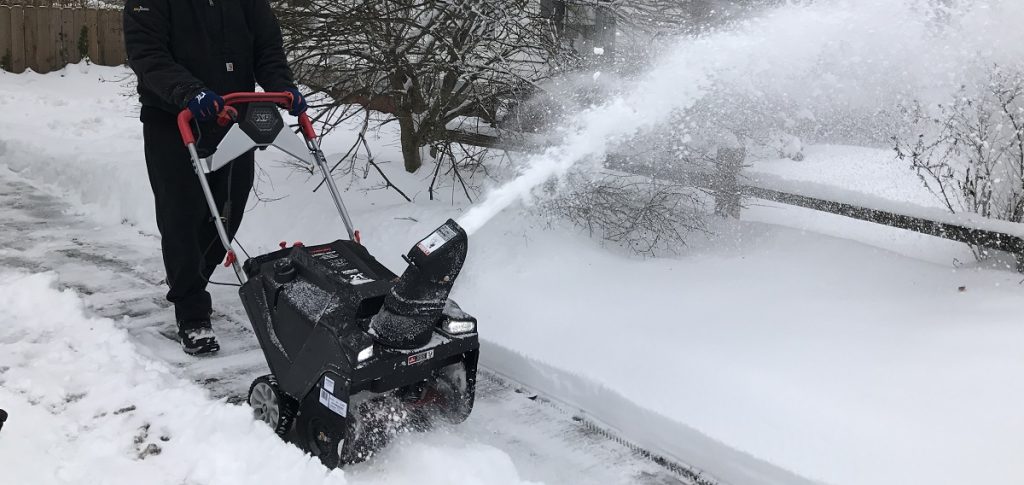 Key Features:
Push Button Electric Start
AugerAssist™ Drive System
21″ clearing width
13″ intake height
Comfort grip ergonomic and foldable handle
208cc* OHV Troy-Bilt engine with alternator
3-year limited warranty
Squall™ 208XP Snow Thrower – Troy-Bilt Engine
Assembly:
First things first; this is a piece of power equipment with moving parts and lots of ways to injure oneself, even the most experienced should at least take a look through the manual.  You can even download the operators manual if paper isn't your thing.  The Squall 208XP arrived to us in pretty darn close to working order.  After removing the packaging, there were only three things left to do. Secure handle with wingnuts, attach chute, and fuel it up.  Technically four, because you need to fill up the oil AND the fuel, no need to mix with the 4-cycle 208cc Troy-Bilt engine. Overall it was a very simple set-up, the oil is even provided for the first fill.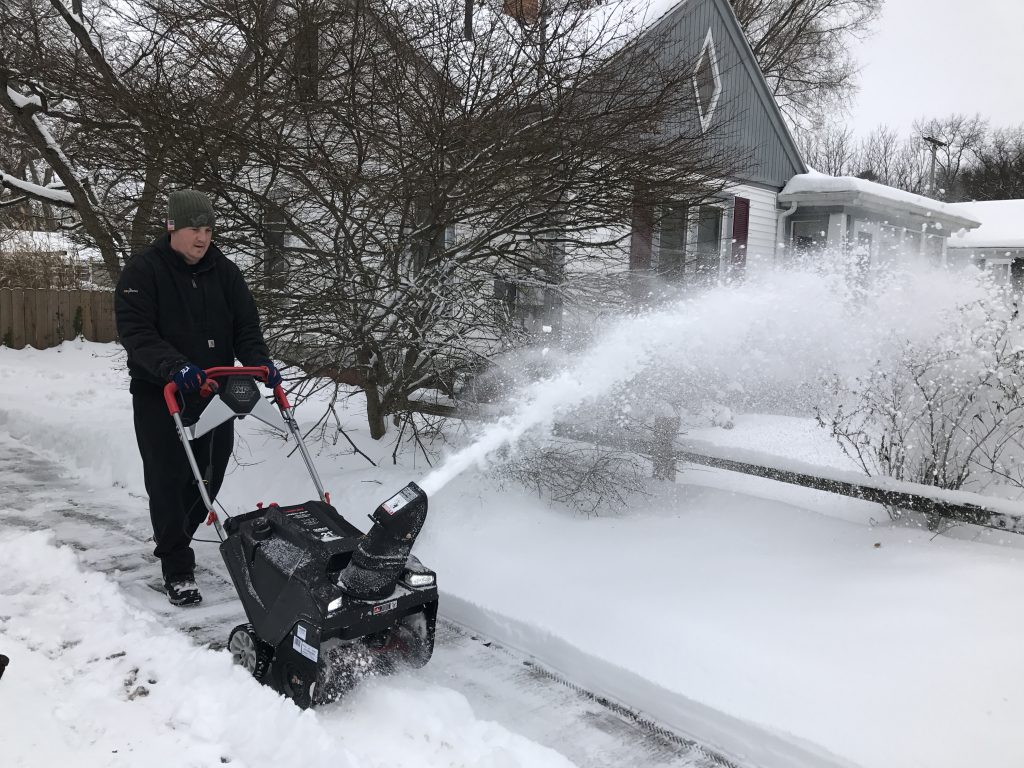 Design:
This may be an odd thing to say about a piece of power equipment, but it is kinda sexy looking.  No, that may not equate to anything performance wise, but it does look good throwing snow and sitting in the garage.  Being a single-stage snow thrower it's not gigantic and only rated for snow up to 6 inches deep, so in big winter storms you're going to need to keep up with snowfall.  That being said, it's compact size is ideal if you are limited on space and don't have a large drive to clear.
A great feature of the Squall 208XP Snow Thrower is it's a 4-cycle engine, and the step of mixing oil and gas is not needed. And since darkness and winter seem to go hand in hand, the 2 LED lights are a nice bonus to help navigate when visibility is poor.  It is equipped with a remote chute control allowing you to adjust the direction of snow discharge on the fly, up to 190 degrees.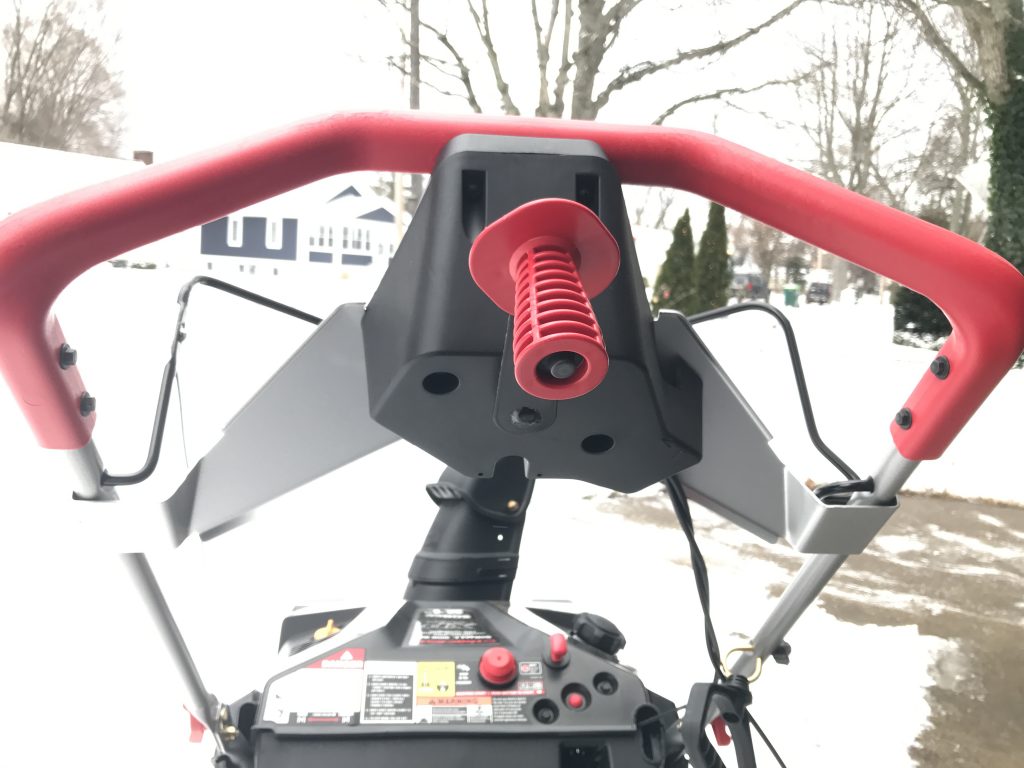 Operations:
The Squall 208XP has two options for getting that engine humming.  1st the good old recoil pull starter, which we used for the initial start and it came to life on the second pull.  2nd is an electric start option.  Simply plug in a heavy-duty extension cord and push the little red button and boom, snow throwing power is literally at the tip of your finger.
We have been hit with some decent snowfall already this year and put it to a pretty good test.  The 21″ clearing width and 13″ intake height didn't have a problem clearing our drive and sidewalks.  The initial test was only a few inches but we have since cleared at least 6″ inches of semi-wet snow.  The end of the drive did take a little "rocking" to get through the city plow's piles, but it was still capable.
The remote chute control is an amazing feature of this singe-stage thrower.  The chute control along with the AugerAssist Drive System allows you to keep moving forward with one hand and controlling the discharge with the other.  Not many single-stage snow throwers are capable of this.  Since we can't always take time in the middle of the day to clear our the snow, the 2 LED lights are more than capable of lighting the path.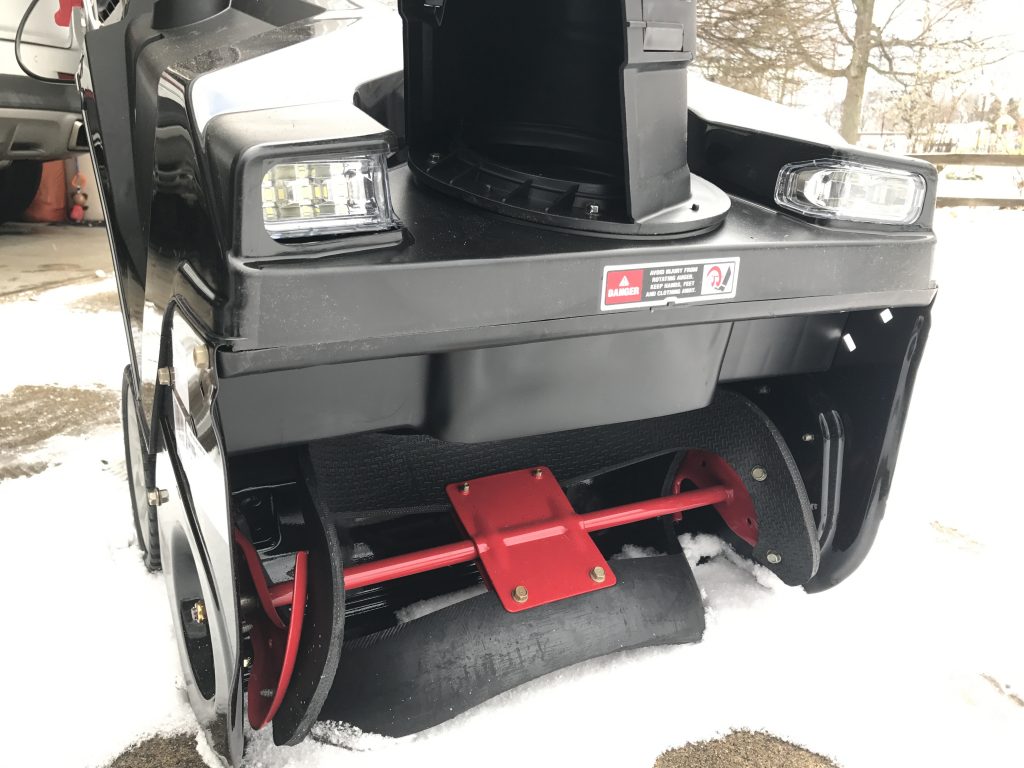 Power:
It may be a single-stage thrower, but with the 208cc OHV Troy-Bilt engine it packs a punch.  The first snowfall this season was very fluffy powder which it blew through like dust.  We don't recommend blowing into the wind – it may have looked pretty, but we also created our very own white out.  The true test was in just about 6 inches of fairly wet snow.  It had no problem at all when clearing the main part of the drive, the Auger Assist drive system does its job and pulls the machine right along.  To no surprise, it was a little more of a work out where the city plows had piled up the heavy wet snow, but the Squall completed the job.  

Value:
Coming in at $599.99 this isn't your cheapest single-stage machine. The Squall 208XP is an incredibly light-weight, single-stage snow thrower worthy of the price tag.  It has some of the features not normally seen on the single-stage machines, such as remote chute control and LED lights.  The 4-cycle 208cc engine not only packs a good punch, it eliminates the need for having mixed gas on hand.  Troy-Bilt designed a heck of a machine and we are looking forward to continually putting it to the test the rest of the winter.  At least till the end of February, then it can warm up… wishful thinking.
Buy Now: $599.99 or to learn more, head over to TroyBilt.com
Squall 208XP Snow Thrower Review
If you have a smaller drive and/or are restricted in storage space, then The Squall™ 208XP is a perfect fit. It's sharp looks along with a powerful and effective engine will bring years of joy to the eye and back. The unique features on a smaller machine such as remote chute control and LED lights really sets this snow thrower ahead of the pack.
The Hot
Remote Chute Control
Sleek Design/LED Lights
208cc of power/AugerAssist Drive System
The Cold
Hefty price tag, get what you pay for though
It has to be cold to use it