Hey Nerds – the SPY Marshall Goggles are for you!!

Most riders and skiers like to be able to see when shredding the knar. If you're a four-eyed nerd who can't wear contacts (like me) you need a pair of goggles that fit over your glasses.  The SPY Marshall Goggles do just that, while also maintaining the wearer's dignity with the low-profile fit and bitchn' design.  They are the next best thing to prescription eyewear . . . which SPY Optics does too (and this writer would love the chance to take those for a test drive)!   SPY is known for being trendy and functional.  Their goggles aren't designed to just be used on the bunny hill, but built to perform under the extreme conditions of the Rocky Mountains – waist deep powder, blizzards, trees, bumps, you name it, SPY gear is built for it.  The SPY Marshall Goggles are no exception!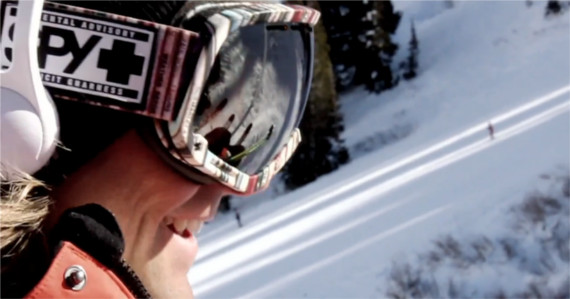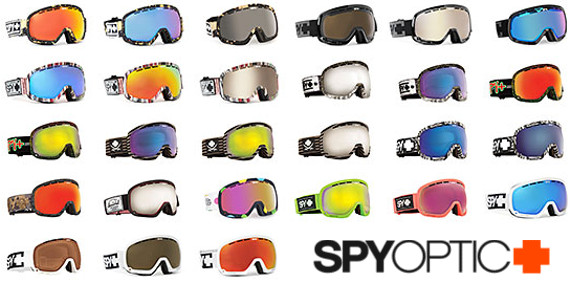 The SPY Marshall Goggles are available in 27 frame/lens combos!!
Key Features:
Low profile
Fit comfortably over glasses, even nerd-like glasses
Stylie
Great for various light conditions
Flexible frame conforms to any face for a comfortable fit
Patented Scoop ventilation system to combat lens fogging
5.5-base ARC spherical dual-lens system with anti-fog & anti-scratch protection
Triple-layer Isotron face foam featuring moisture-wicking Dri-Force fleece
Dual-adjustment, silicone-ribbed strap
Available Flight Strap
100% UV protection
Helmet Compatible
Amazing ventilation
Overall comfy
– SPY Marshall Goggles Review –

Design: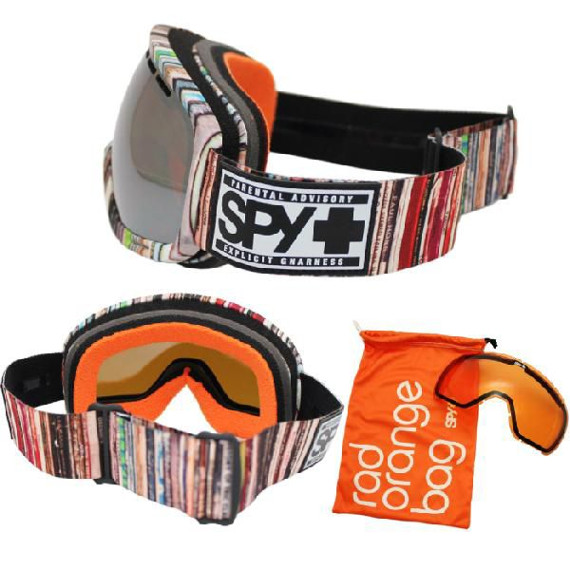 (10 out of 10) I'll start by saying I too am a nerd – although I like to think of myself not as the Omega Mus type of nerd, but more the librarian type . . . complete with large, thick, plastic frame glasses.  For that reason, it is not an easy feat for me to find a cool pair of goggles that fit over my glasses without making me look like I'm ready for a mission to Mars.  I was super impressed by the fact that the Marshall's fit over my glasses without smashing them against my face or getting caught on the edges of the goggles.  This was true both when I put the goggles on without my helmet and with my helmet.  They are wide enough to accommodate glasses, but not so wide that didn't fit comfortably in my helmet or make me look like nothing but goggles.   Besides fitting over my nerd glasses, they are also comfy.  They have a very cushy foam padding with a fleece like lining (Dri Force Fleece) that sits against your skin to wick away sweat.   My helmet has been through a lot – I'm an ok snowboarder, and back in my Winter Park, CO, days I used to like to push my abilities a bit; somehow the snap-tether in the back of the helmet that is supposed to hold the goggles securely in place has been ripped off.  However, with these goggles, that is not an issue!  The goggles have a thick layer of silicone all around the inside of band to keep them in place.  My prior goggles had a couple small thin cord like lines of silicone that never really held them in place without the helmet tether.   The SPY Marshall Goggles also have the benefit of a dual adjustment strap – there are two separate places that can tighten or loosen the strap.  The cool thing about this feature is that the strap can be adjusted pretty easily on the fly by just a quick tug on each buckle – no more having to stop, pull them off, adjust, etc.   Finally – they just look cool!  If you're a chick (or dude… these goggles are unisex!) looking for something to match your outfit, we recommend the "Hi-fi" frame option as they have every color under the sun incorporated in them.  The print is a picture of a stack of vintage vinyl record case bindings, including Bob Marley, Rolling Stones, Blood Sweat & Tears, and Cream to name just a few.  
Optics & Venting: 
(9 out of 10) I was very impressed with the ability to see well in all light conditions.  They are reflective so you can wear them in the bright light, yet when the sun starts to dip – or if you're in the Mid-west and haven't seen the sun since October – the flat light doesn't get the best of these goggles.  The "blue contact" lens (which we tested) put a bit of a yellow tinge on things, but this allowed for the ability to see depth – which is important if you plan to do any kind of off-the-groomed-runs riding or skiing!   Additionally, they have some great ventilation.  There is a thick foam padding all along the lens frame, which is not atypical for goggles. There are vents at the top and bottom of the goggle lens, and the foam venting wraps all the way around the bottom of the lens for full ventilation – SPY calls it their Scoop ventilation system.  This ventilation combined with the Dri-Force fleece makes fog a thing of the past!   *Disclaimer – I remained upright the throughout our testing sessions and didn't do any face plants or take any huge spills where I would get snow on the inside of the goggles, but when that happens I'm not sure there is much that can help you except a cold beer and warm fire!   As for the field of vision the SPY Marshall Goggles were pretty typical.  I didn't notice any major blind spots, and could see all I wanted to see.  
Comfort: 
(10 out of 10) The combination of the flexible frame, "Triple-layer Isotron face foam" with the Dri-Force Fleece makes these feel like you're getting a face message . . . not that I know what that actually feels like, but that's what I imagine!   Again, as mentioned above, the fact that they fit over my glasses without smashing them against my face is amazing to me.  Goggles I've had in the past would get hooked on the edge of the glasses, have to sit a little off my face, or would bend my glasses – with these I had none of these issues!   And if you are not a nerd like me, just super cool and want to wear your sunglasses under your goggles (or if you would rather people couldn't see your bloodshot eyes caused from the medication you take for your Glaucoma or your previous nights activities), I'm guessing they would fit too; there's room to spare!  
Durability: 
(8 out of 10) As stated above, I didn't do any impressive unintended back-flips, nose dives, barrel-roles, or other such acrobatics, so didn't really beat these up much.  However, I did do a fair amount of pulling, removing, putting on/taking off, etc., and I never felt in danger of breaking them.  The frames are flexible but not flimsy.   One concern I do have is the durability of the strap adjustment pieces.  They are made of plastic that does seem a bit lacking in toughness . . . the plastic is thin and is a bit bendy, which is concerning.  If one of those breaks when you're in the back-country, and you've got a sloppy fit, it could be a long ride down!  
Value: 
(8.5 out of 10) The Marshall's retail on SPY's website for $109.95 – $129.95 (depending on the lenses), but I was able to find them online (good old Amazon) for just under $90.  That being said, I'm conflicted.  I'm a cheapskate/bargain shopper, but I also believe that you get what you pay, and these goggles certainly fall into that category.  
The Bottom Line

:
If you're looking for some comfy goggles that will fit over your glasses, yet not dominate your face in a bad way, the Marshall Goggles by SPY are for you!   Buy Now: $90 – $110 or go to: SpyOptic.com