SinFire Cinnamon Whisky - Drink of the Week
From the fine folks over at Hood River Distillers comes a new and exciting cinnamon whisky they've dubbed "SinFire" for its fiery cinnamon taste that is said to be smooth and incorporate rich notes of good, balanced whisky and warm, spicy-sweet cinnamon flavors. Luckily (for us) our good friends at Hood River Distillers reached out to us a few weeks back with an opportunity to put their new Cinn-full whisky through the paces at our tasting table. Being the booze hounds connoisseurs we are – we eagerly gracefully accepted the challenge.
In recent years the flavored whisk(e)y market has exploded with a slew of uniquely flavored whiskies for consumers to enjoy both straight-up or mixed, including (but not limited to): maple, cherry, honey and a select few distillers opting to go the cinnamon route . Most of these bottlings can be chalked up as a response to trending fads or ingenious marketing campaigns designed to lure consumers and peak their interest in whisky… and why not? It works! Just look at Jack Daniels' "Jack Honey" or Jim Beam's "Red Stag".  If you're a whisk(e)y fanatic there's a good chance you've tried both.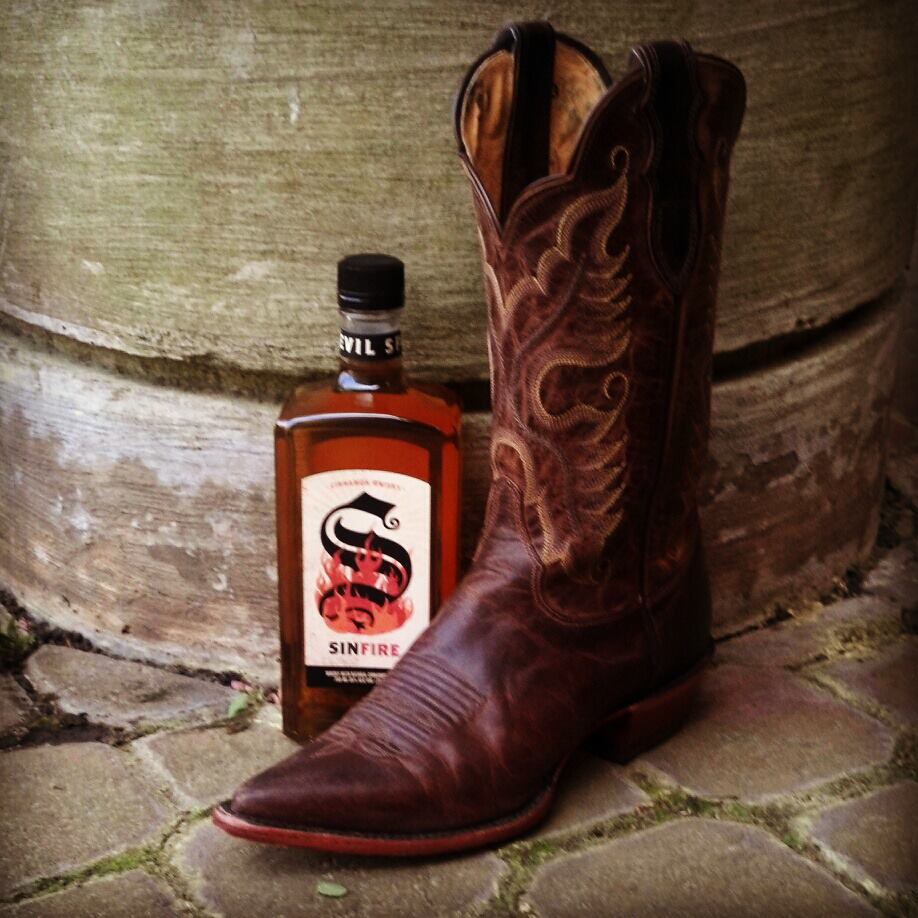 "Flavored whisky continues to be a growing category in the spirits market, and our experience and success with Canadian whiskies makes this a natural endeavor for us, with the development of SinFire Cinnamon Whisky, our goal is to offer our distributors and off-premise partners a great-tasting, flavored whisky, at a great value." -Ronald Dodge, Hood River Distillers president and CEO
Recent Accolades:
Silver Medal at the 2014 Los Angeles International Spirits Awards.
Silver Medal at the 2012 Canadian Whisky Awards.
Best of Class "Platinum"  at the 2012 Spirits International Prestige Awards.
Well, now that you know a little about SinFire, lets dive-in! I'm sure by now you're wondering how it tastes, if it's too spicy or can you mix it? Well… you're in luck, we're about to answer all that and more. Here's our review of SinFire. Cheers!
– SinFire Cinnamon Whisky Review –

Proof: 70 (35% ABV)
Age: N/A
Appearance: Dark golden hues
Nose: Cinnamon, vanilla and alcohol
Flavors: Cinnamon with hints of caramel and vanilla
Buy Now: $16.99 USD (750ml.)
Overall: We give SinFire a B (Recommended) As expected, this cinnamon whisky (like most) is best served chilled (we kept our sample in the freezer) in the form of a good ole fashioned shot, and best of all… no chaser required. When chilled, SinFire starts out cold then slowly transforms in to a warm subtle burn as you swallow and oddly leaves you thirsty for more! It's a uniquely spicy flavor that even non-whisky drinkers can appreciate. To mix SinFire properly you're going to need to be creative. Its undeniable cinnamon overtones are unmistakably spicy and that's exactly what Hood River Distillers intended. SinFire in our opinion is best mixed in a "Hot Toddy" and the recipe you see below is a fine example of that… Cheers!
Ingredients: 1 oz SinFire Cinnamon Whisky, 1 oz Raspberry Liqueur, 1 cup Hot Coffee, Splash(es) of Chocolate Syrup.
Directions:Mix all ingredients in a warm mug. Top with Whipped Cream and garnish with a Cherry.