SA1NT is a company that has designed a line of motowear apparel for riders that care about safety, looking good, and staying comfortable all day while on or off their bike. They've figured out a way to craft a single layer protection within their clothing to eliminate the bulkiness you would normally see and feel in abrasion resistant material. The denim is made of abrasion resistant fibers that are meant to be worn all day and night. The single layer protection is made by "stretching, spinning, and blending ballistic, industrial military application threads with wearables like merino and cotton".  Sounds great right? We thought so too. So when they offered to send over a line-up for us to test, we were eager to see just how well this "single layer protection" denim held up.
Unbreakable Denim Shearling Collar Jacket
Key Features:
Unbreakable 6.0 fabric – Key impact zones*
5.9 second slide time – Key impact zones*
Removable 100% Polyester faux fur collar – black and white included
Burst, impact and abrasion resistant
All day, all night wearable
No liners or layers
66% UHWMPE / 34% Cotton – Key impact zones – *sleeves and back yoke
12% UHWMPE & Cotton/Viscose blend – Rest of jacket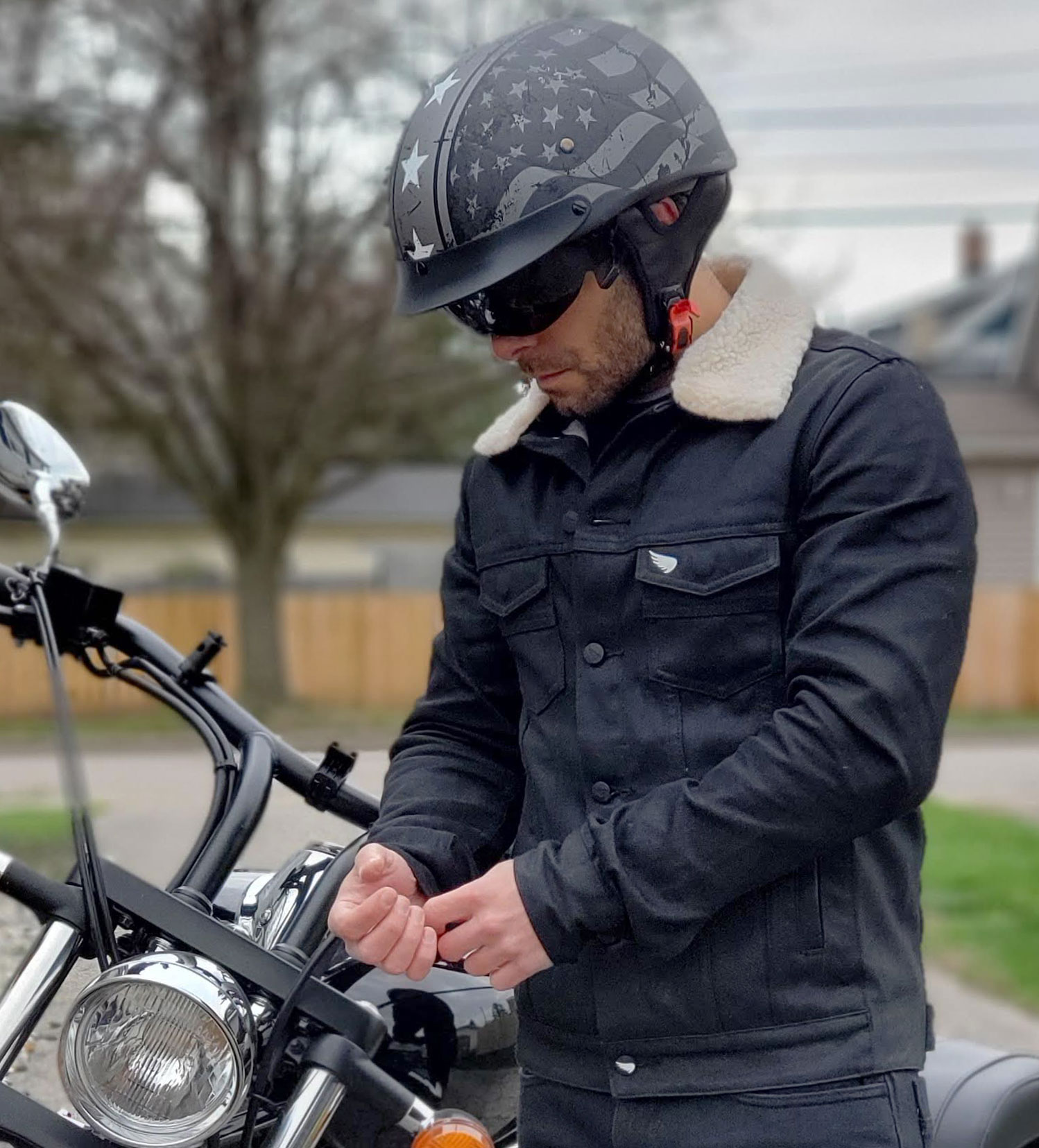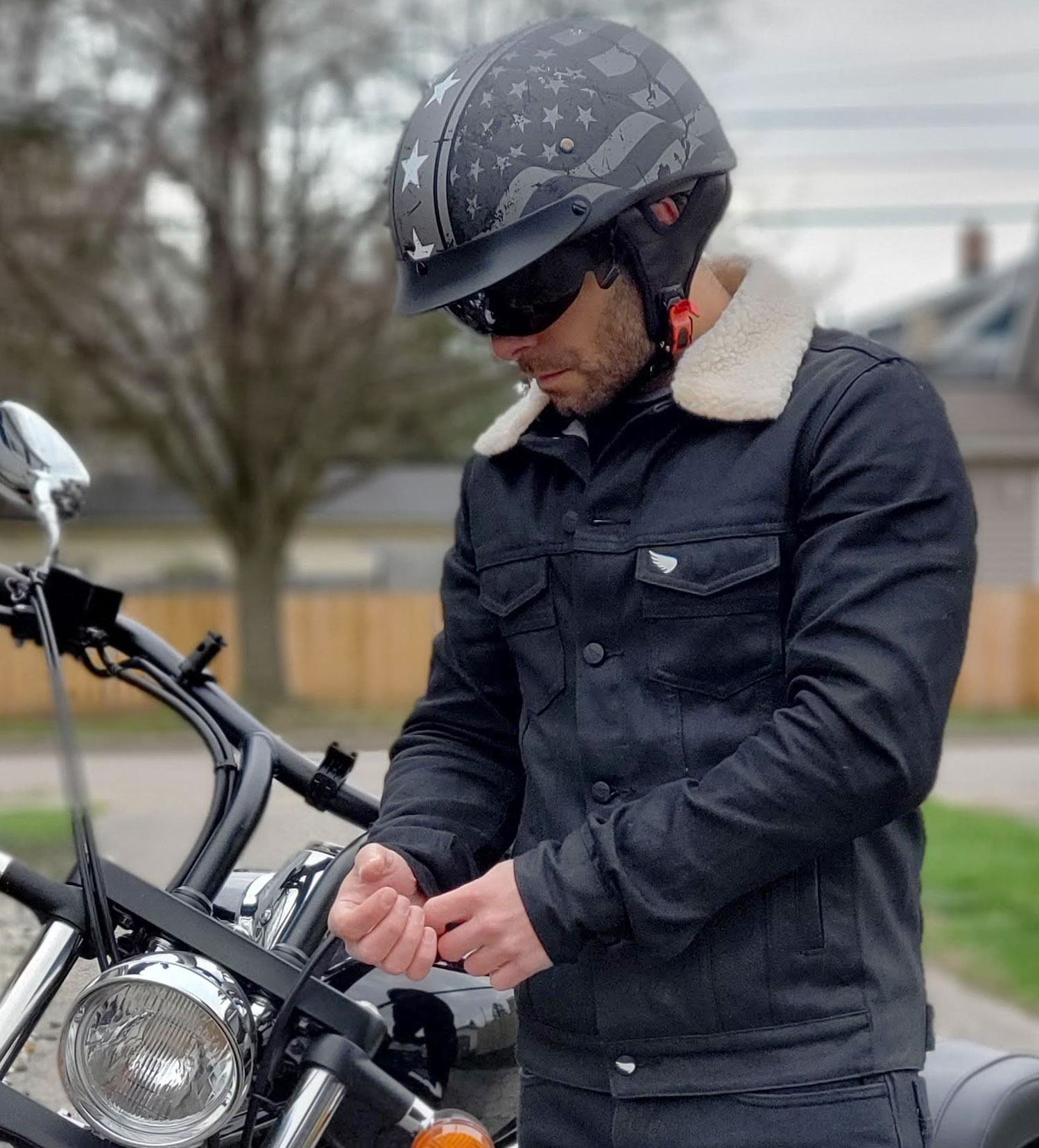 The throwback design of the Unbreakable Denim Shearling Collar Jacket pays tribute to the original US ranchers and railroad workers, while staying relevant in todays pop culture trends. Made of the resilient UHMWPE blended black coated fabric, it also comes with a swappable faux fur shearling collar (1 black and 1 white). It has a "moto cut", which has slightly elongated sleeves and a slight drop tail for proper coverage while riding. The buttons on this jacket are heavy duty and can be a little difficult at first to squeeze through the slots. But this becomes a little easier after the break-in period.
There are two chest pockets that could hold a few spare keys or a packet of gum . The lower two pockets double as inside pockets big enough to store your phone. Clever double usage of the same pocket with very good stitching.  While this single layered jacket is made of very heavy duty denim material, it is rather light and very easy to wear.
Depending on your ideal fit, I would recommend sizing up if you want a "relaxed fit" since there is very little stretch in the durable denim. If you prefer a more snug fit, then it does run true to size. Just be aware that mobility may not be as great at first since there is a longer break-in period with this jacket.
Buy Now: $500.00 or to learn more, check out: us.saint.cc
Key Features:
Saint's Dyneema® fibres are 7 times stronger than steel
5 x stronger than regular 12 oz denim
360º impact, burst and abrasion resistant
Twin needle stitching and reinforced bartacks
Saint branded rubberised buttons
60.5% Cotton / 36% Polyester / 2.5% Dyneema®, 1% Lycra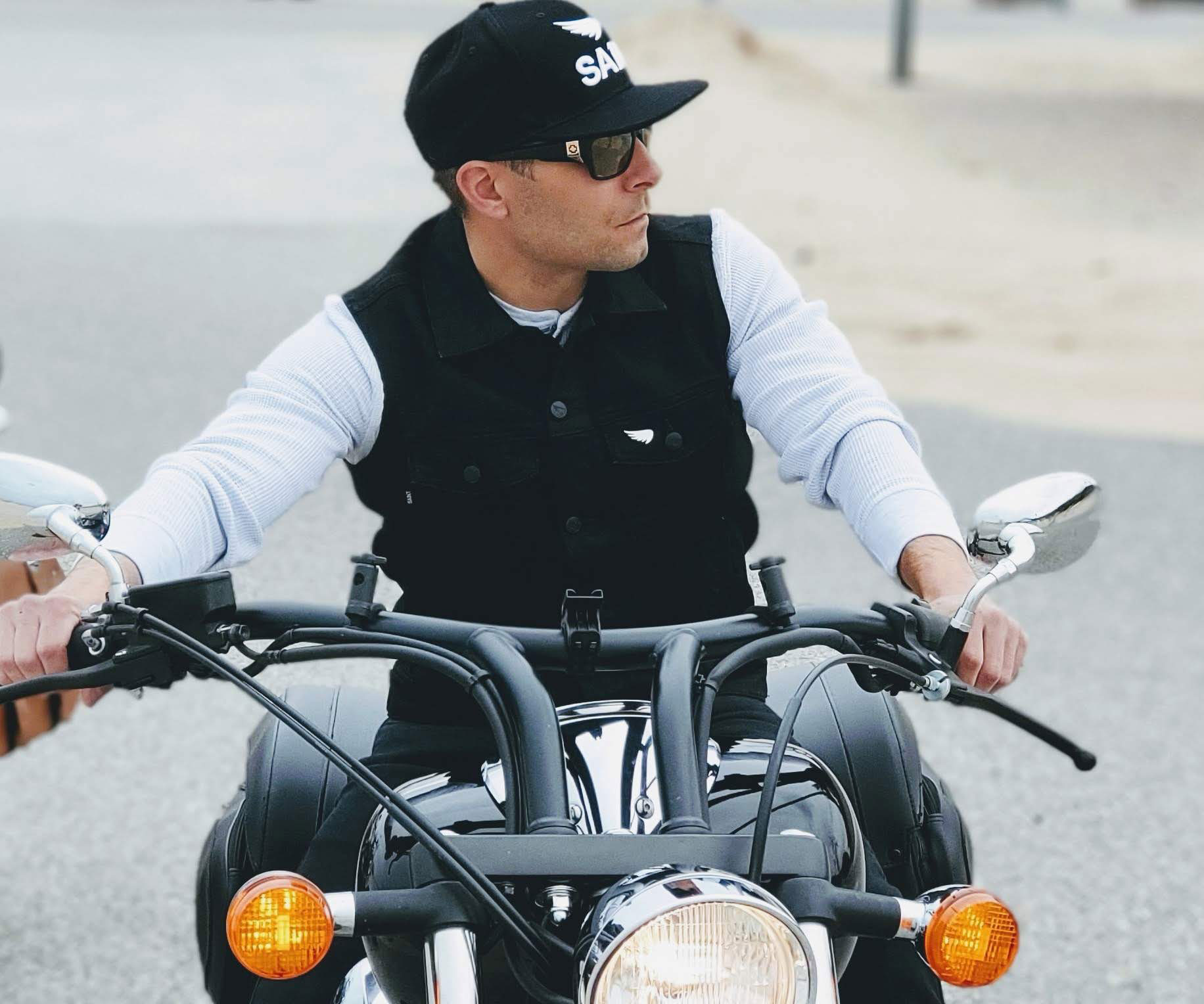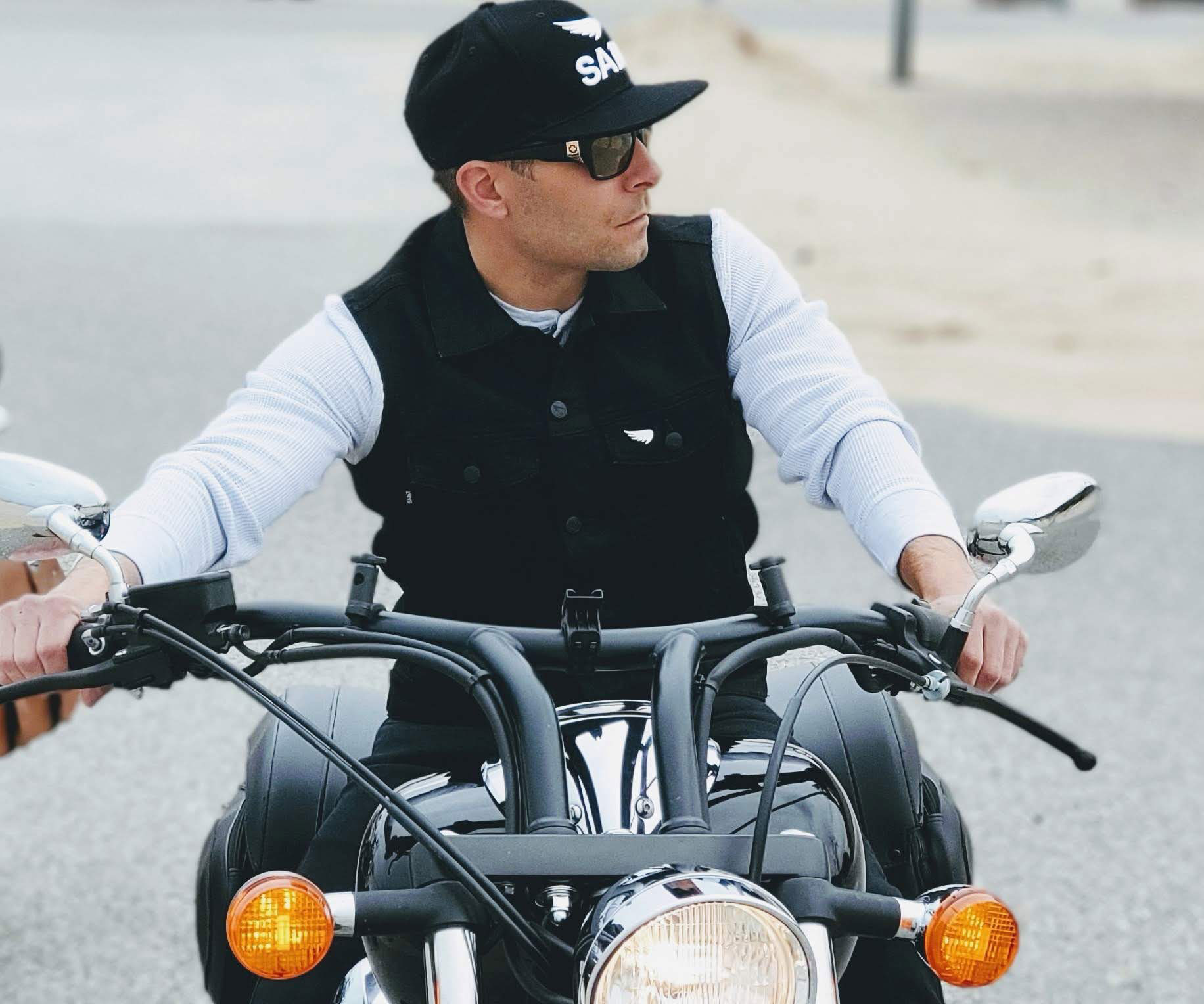 For the days where it's warm enough to leave the Jacket on the coat rack, but you still want some protection while looking like a real G, the Moto Denim Vest is where it's at. This Vest is made of the same SA1NT denim that is 5 times tougher than any other standard denim vest. Plus it actually has real comfort and style. The denim is impact, burst, and abrasion resistant. So you can rest assured knowing you are protected while sporting the symbol of youth, rebellion, and freedom. Similar to the Jacket, there are two chest pockets and two lower pockets that also double as inside pockets for easy and ample storage. Lightweight, single layered, heavy duty built-to-last denim, and stylish AF. This is one of my favorite pieces from this collection.
Buy Now: $139.00 or to learn more, check out: us.saint.cc
Key Features:
100% Cotton Jersey 170 GSM
Peached on inside for comfort
Ribbed crew neck
Water-based printed then treat washed
Quality tested and assured
Cold wash separately. Do not tumble dry, dry clean, bleach or iron on print

If you are looking for a shirt to go under the Jacket or just wear on and off the bike, this is it. The SA1NT NO. 1 Tee is made of 100% cotton for all day comfort. The logo is water-based printed then brushed on the inside for additional comfort. Pair it with the Snapback Cap and you'll be looking like a real SA1NT!
Unbreakable Slim Jeans (Amour Pocket)
Key Features:
25% Dyneema® double face black stretch denim
Denim Fabric tested to AA Rating on impact abrasion resistance (Darmstadt) prEN 17092-1:2017
Vintage trim suite
Leather Patch on Waistband & Leather tab on coin pocket
Hip & Adjustable Knee Armour Pockets fitted for D30 LP1 Ghost Armours (sold separately)
EN17092-5:2020 Class "B" Garment Certified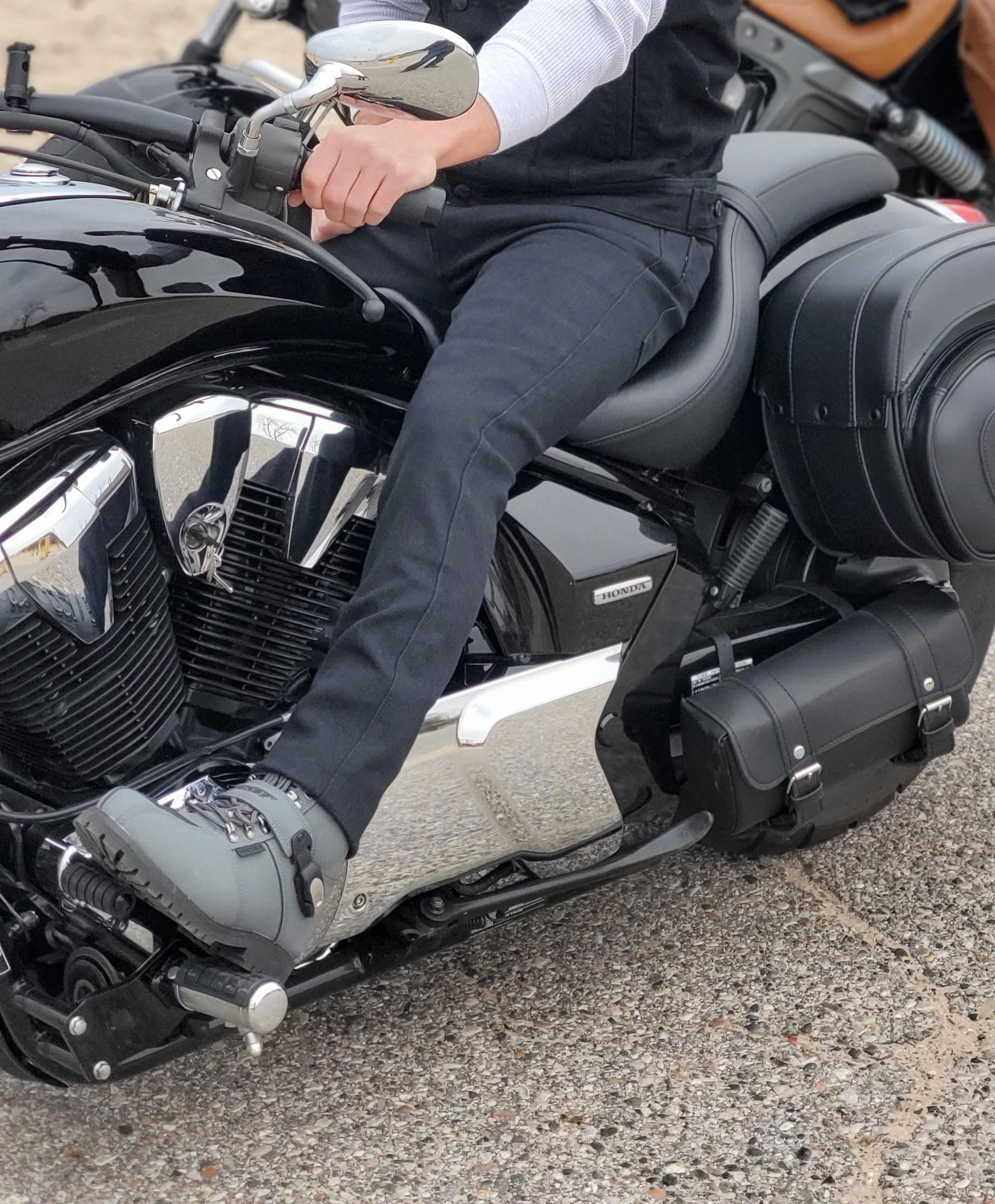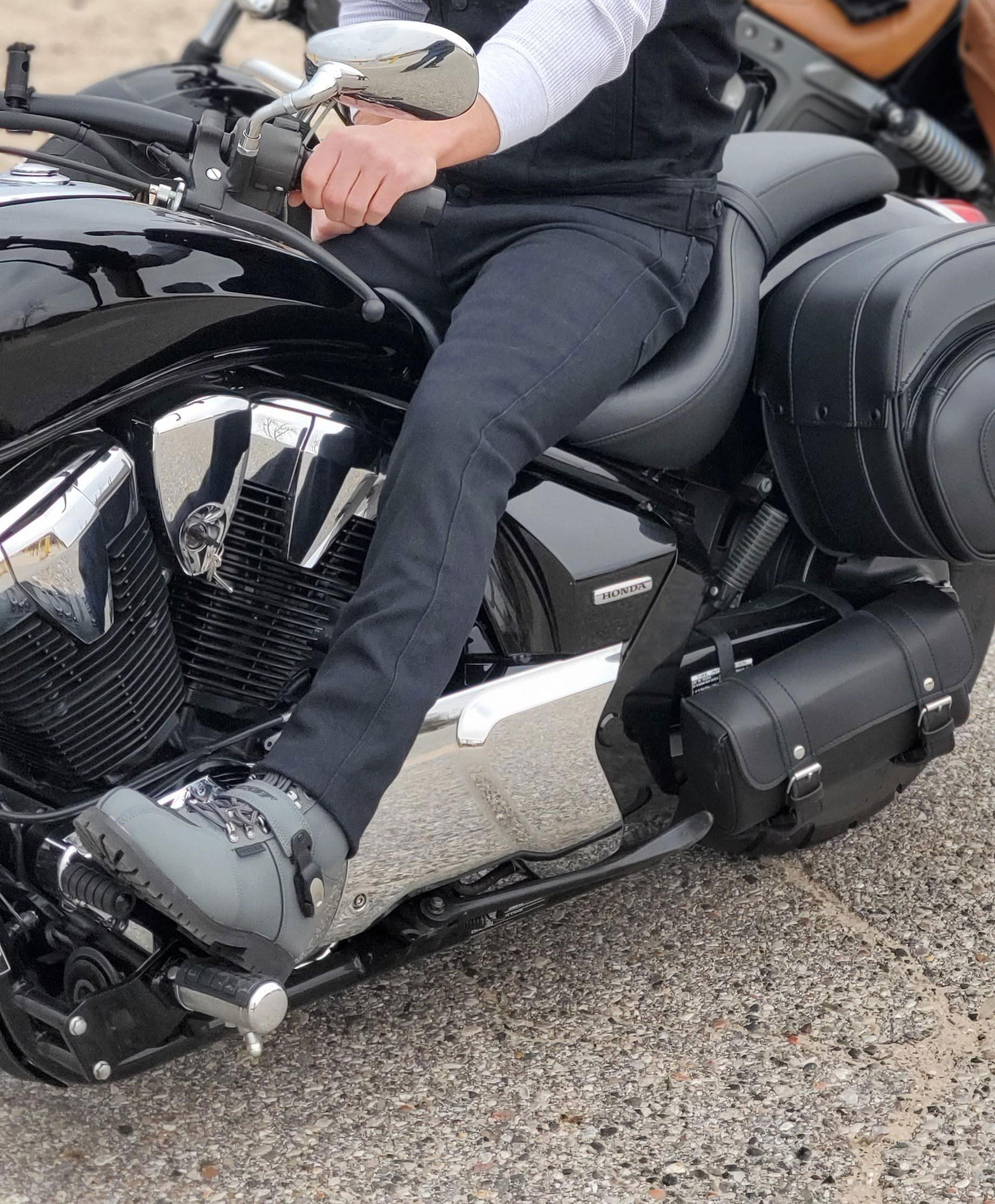 Put them big boy pants on and ride like a real man (with added protection) in these Unbreakable Slim Jeans. It can be hard to find riding jeans that look like actual jeans off the bike while still having the incredible protection that comes with these Unbreakable Slim Jeans. The woven Dyneema® fibre is the same material that "stops bullets, tethers space shuttles and armors helicopters." While these pants may not actually be bullet proof, they are made of a single layer denim with elastane for stretch that provides comfort and protection without looking like you are wearing football padding. These pants are meant to hold the D30 Ghost armour that give you even more protection in the hips and knee area.
Buy Now: $399.00 or to learn more, check out: us.saint.cc
Key Features:
CE certified to EN 1621-1:2012, Level 1, for Ambient and Wet conditions
Type A coverage
Superior breathability and low-profile design
Recommend to place limb protector with the fabric side facing to the jeans to ensure no read through of the protector
Market-leading flexibility, with geometry which conforms to the limb, fitting perfectly against the body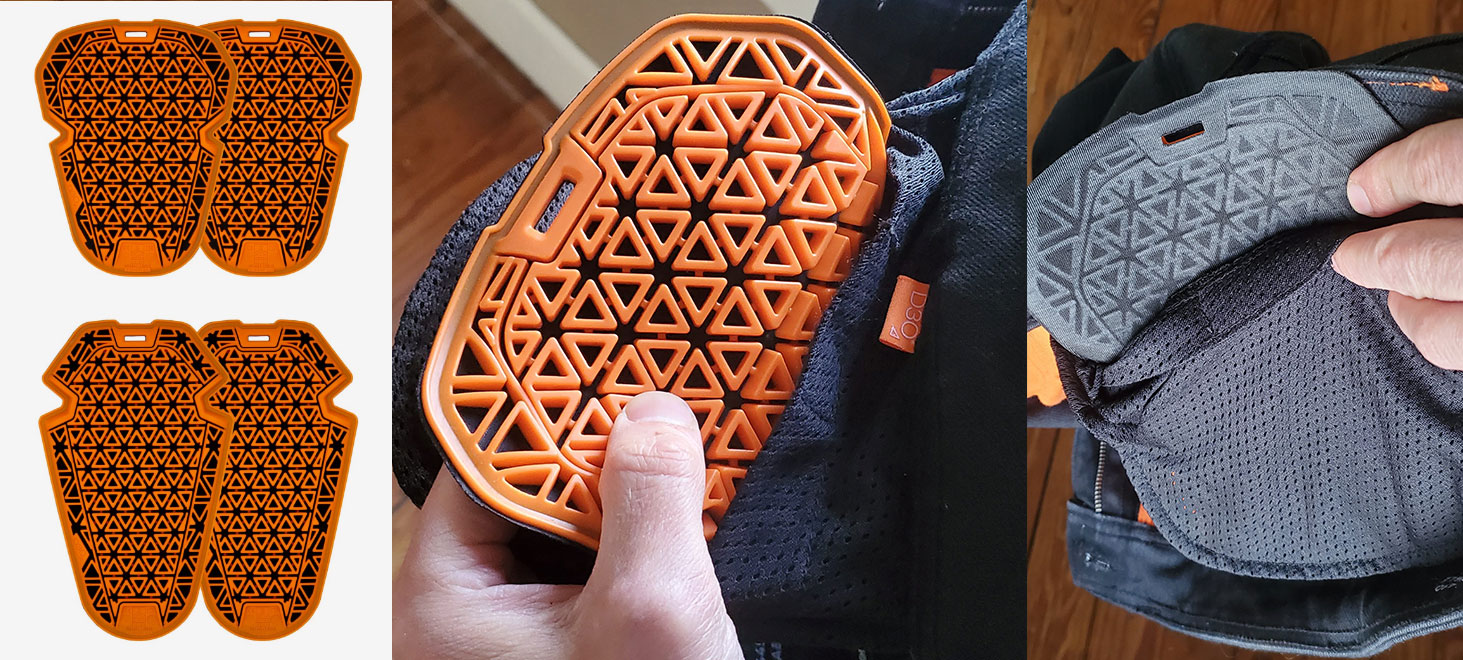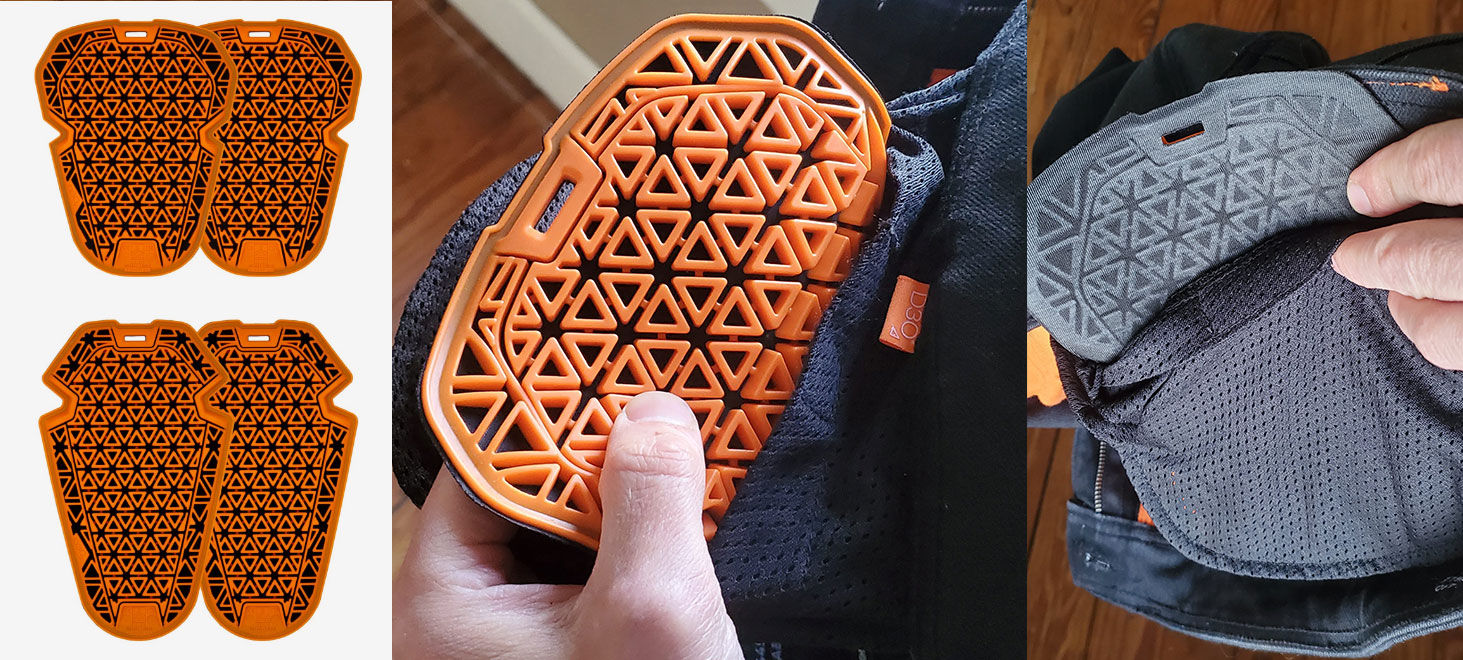 The D30 Ghost armour set is the answer to protecting your hips and knees when combined with the Unbreakable Slim Jeans. This set is made with new Impact Print technology that allows for freeform geometry and flexibility, which is crucial when riding and moving on and off the bike. The low-profile design fits perfectly inside the Unbreakable Slim Jeans. They have superior breathability and are made for ambient and wet conditions. If you want more protection, it's worth investing in the duo D30 Ghost armour set and Unbreakable Slim Jeans.
Buy Now: $70.00 or to learn more, check out: us.saint.cc
SA1NT 3D Logo Snapback Hat
Key Features:
3D SA1NT Logo Embroidery on Front
Snapback
Brushed Twill Fabric
SA1NT Monogram Internal Lining
Wing Deboss on Internal Button
Flat Brim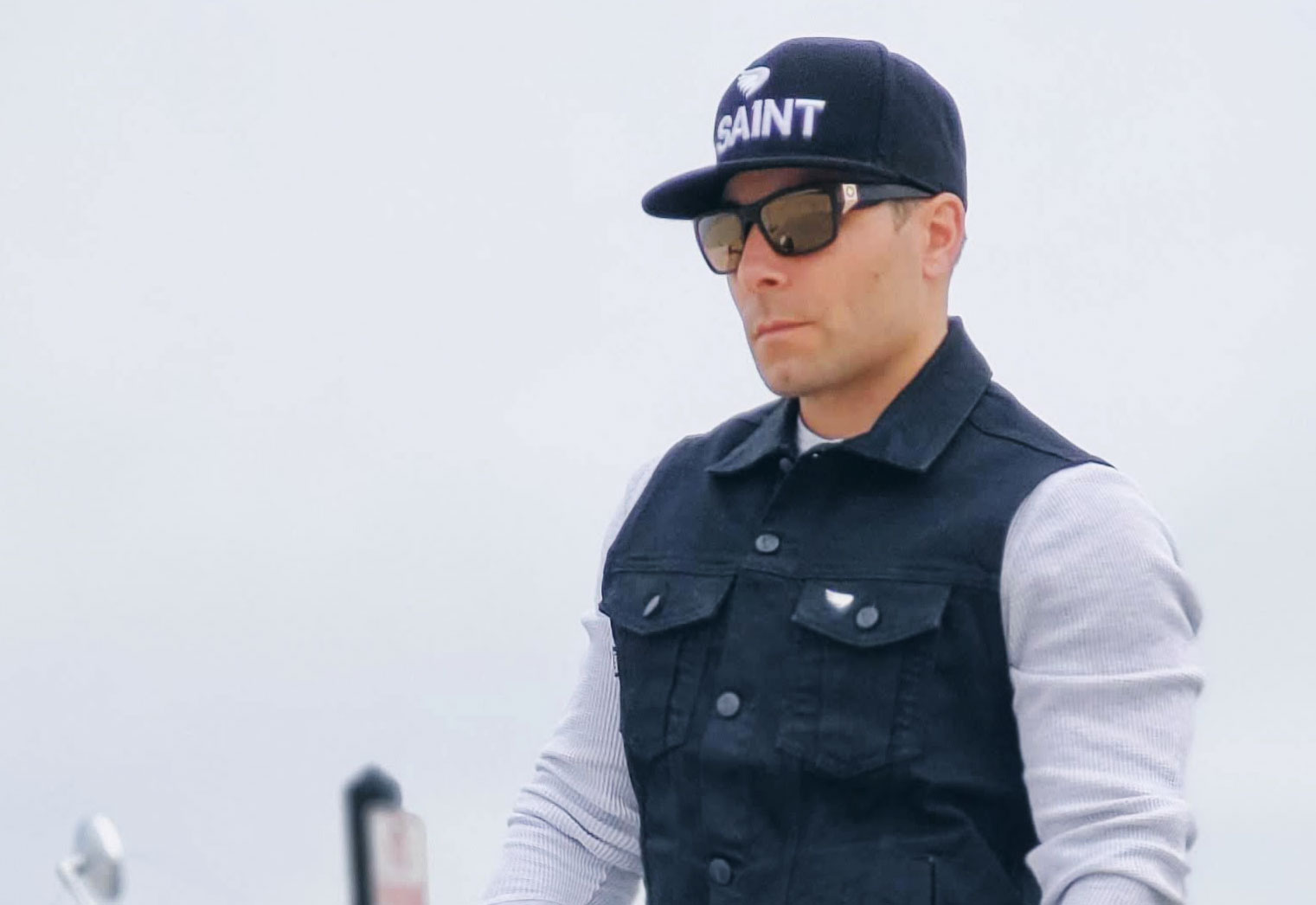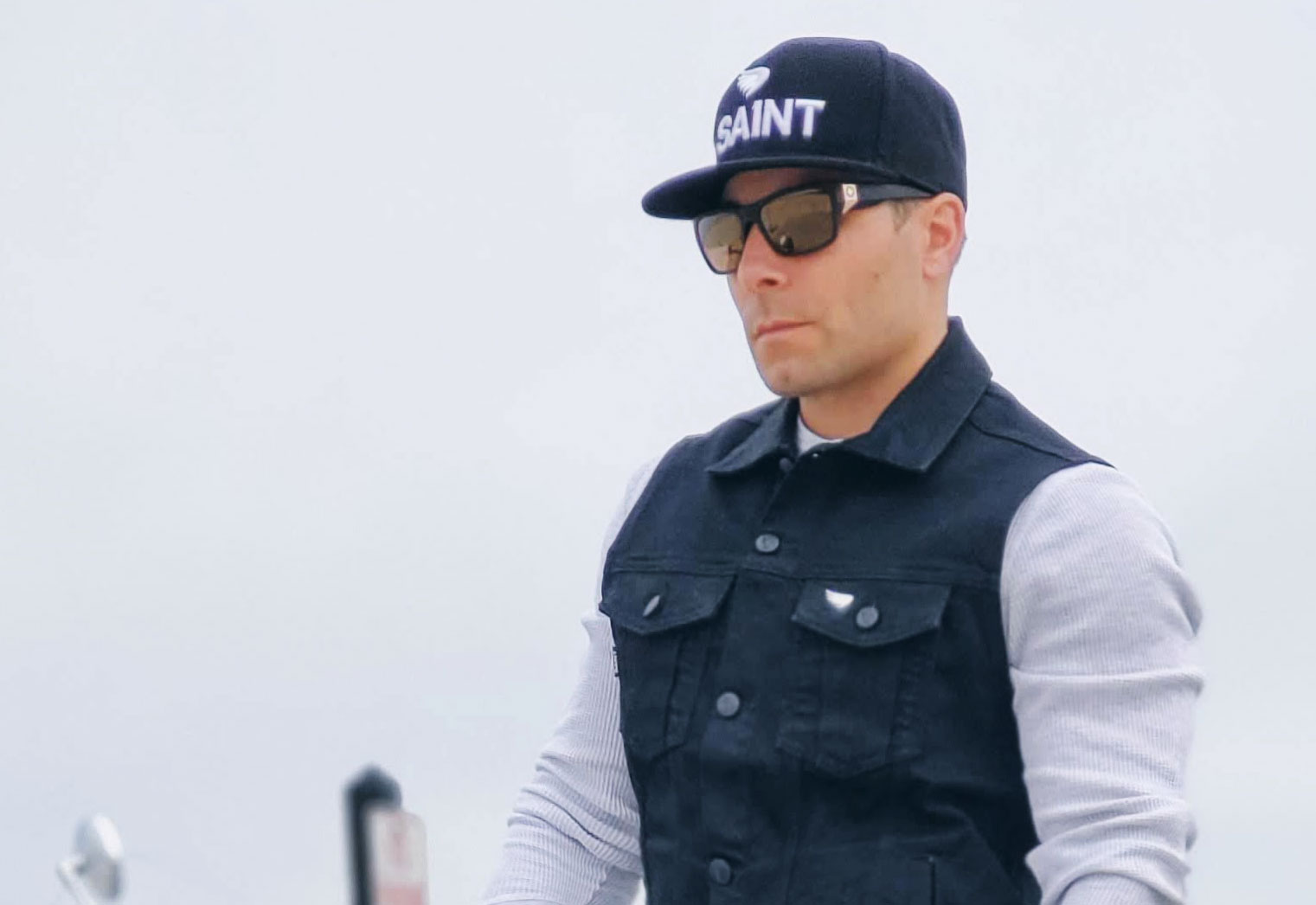 Hopefully you wear a helmet while riding, so when it comes time to hop off your bike and remove your helmet, you can cover up your helmet hair with the stylish flat brim SA1NT 6-panel Snapback Cap. It's simple, it's clean, and it's built to last like the rest of the SA1NT gear. Even the logo is a 3D embroidered symbol of over built quality and style. Hop off your bike, toss on your cap, and party like a rockstar.
Buy Now: $40.00 or to learn more, check out: us.saint.cc
Key Features:
Bamboo and Elastane
Crew Length
Black x 2 pairs
Thick Terry on Heel and Toe For Comfort
SA1NT Logo on Ribbing
SA1NT Wing Motif on Ankle
All Weather Moisture Wicking


If there is one item of clothing I take for granted, that would be socks. When I have a generic pair of socks on, it becomes noticeable when doing certain activities. It's the times you don't notice any hindrance or performance issues that make having a solid pair of socks worth it. The SA1NT bamboo crew socks have all day comfort but with anti-bacterial and moisture wicking features built in. The lightweight and breathable design makes it so that you forget you are even wearing socks. The last thing you want are sweaty and uncomfortable feet while riding. The SA1NT bamboo crew socks are the perfect pair of socks to go along with the rest of your SA1NT gear.
Buy Now: $25.00 or to learn more, check out: us.saint.cc
SA1NT Motowear Collection Review
SA1NT has proved that they can deliver style, durability, and safety in their single layered denim. We are excited to see what they come out with next!
Unbreakable Denim Jacket
9.3
Unbreakable Slim Jeans with Armour
9.1
SA1NT 3D Logo Snapback Hat
9.8
SA1NT Bamboo Crew Sock
9.8
The Good
Durability
Style
Single Layered
The Not So Good
There is a break-in period with the Denim