There is a fine line separating practicality and style when it comes to choosing a leather travel duffle. Or so we thought… let us introduce you to Buffalo Jackson. A brand that has nailed down style and practicality, without breaking the bank. Recently, we took their Roosevelt Buffalo Leather Travel Duffle Bag and put it to the test as only Busted Wallet knows how. Constructed from 100% full grain water buffalo hide, this is the high quality travel bag we've been searching for.
Never heard of Buffalo Jackson? We're not totally surprised. They are an up an coming clothing / gear brand that prides themselves on providing handcrafted, top on the line products made from only the best materials.  So could a duffle with great style, craftsmanship and functionality really be able to hold it own against the test of time? Here's what we discovered…
Key Features:

Handcrafted from 100% Full Grain Water Buffalo Hide
Water Buffalo Top Flap with Straps for Security
Tanned in Dark Brown Color (Ages with Time)
Genuine Brass and Iron Hardware
Zipper Closing Main Compartment
3 Exterior Buckled Pockets
Canvas Lined Interior
Adjustable Shoulder Strap with Removable Clips
Carry Handles
Imported
Specs:
Dimensions: 24″ L x 11.5″ H x 11.5″ W
Weight: 5 lbs
The Roosevelt Buffalo Leather Traveler Review Breakdown
Design:
The Roosevelt Buffalo Leather Travel is constructed with a thick, 100% water buffalo hide. The hide for the duffel we reviewed was tanned using a dark brown color and will continue to age with time.  The bag features 3 exterior pockets that are buckled, which provides added security and style. The main compartment is canvas lined to ensure your belongings will not discolor from the leather.
Even though the design on this traveler is larger and heavier than a typical weekender, you can use it as a carry-on bag, which was fantastic. It even fits comfortably in the overhead compartment. Personally, we are not about to let a bag this nice be checked.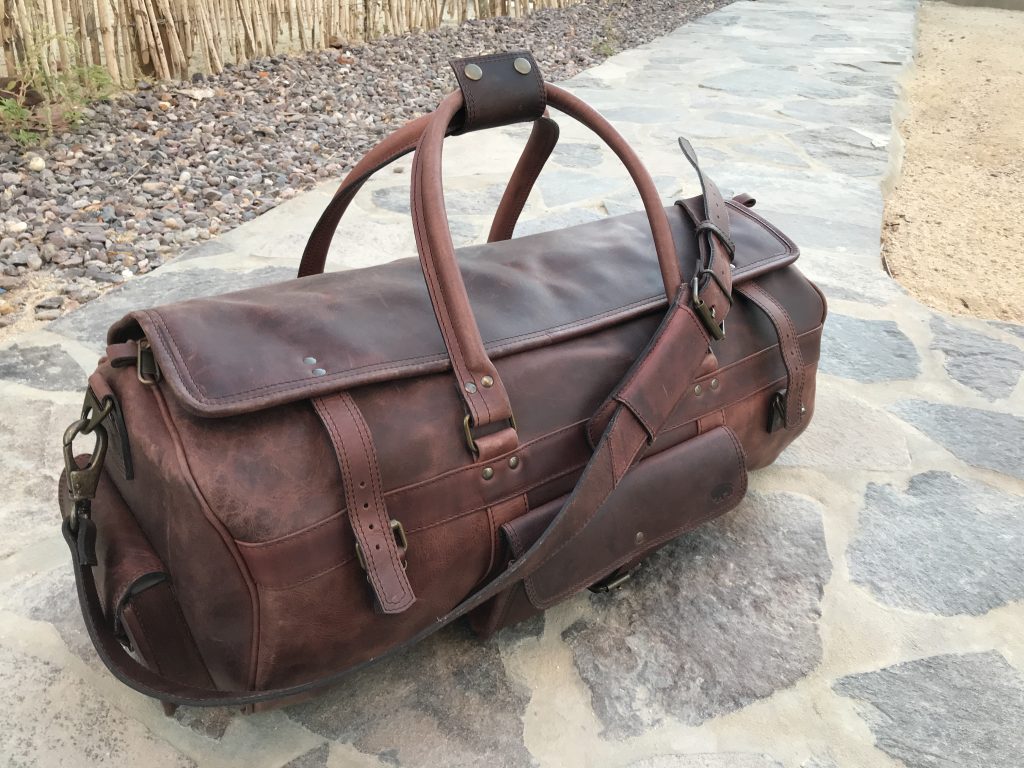 Comfort:
As mentioned, the Roosevelt Buffalo Leather Travel Duffle Bag is going to be heavier and larger than a weekender. That being said, having the removable and adjustable shoulder strap are a life saver. It is a bulky bag and can be heavy when fully packed. The strap options made it much easier to carry. If it is getting too heavy on the shoulder, it is easy to switch back to carrying with the handles. The leather is firm but not hard and uncomfortable against your skin. However, this duffle might not be the best option for traveling that will require long distances of walking.
Durability: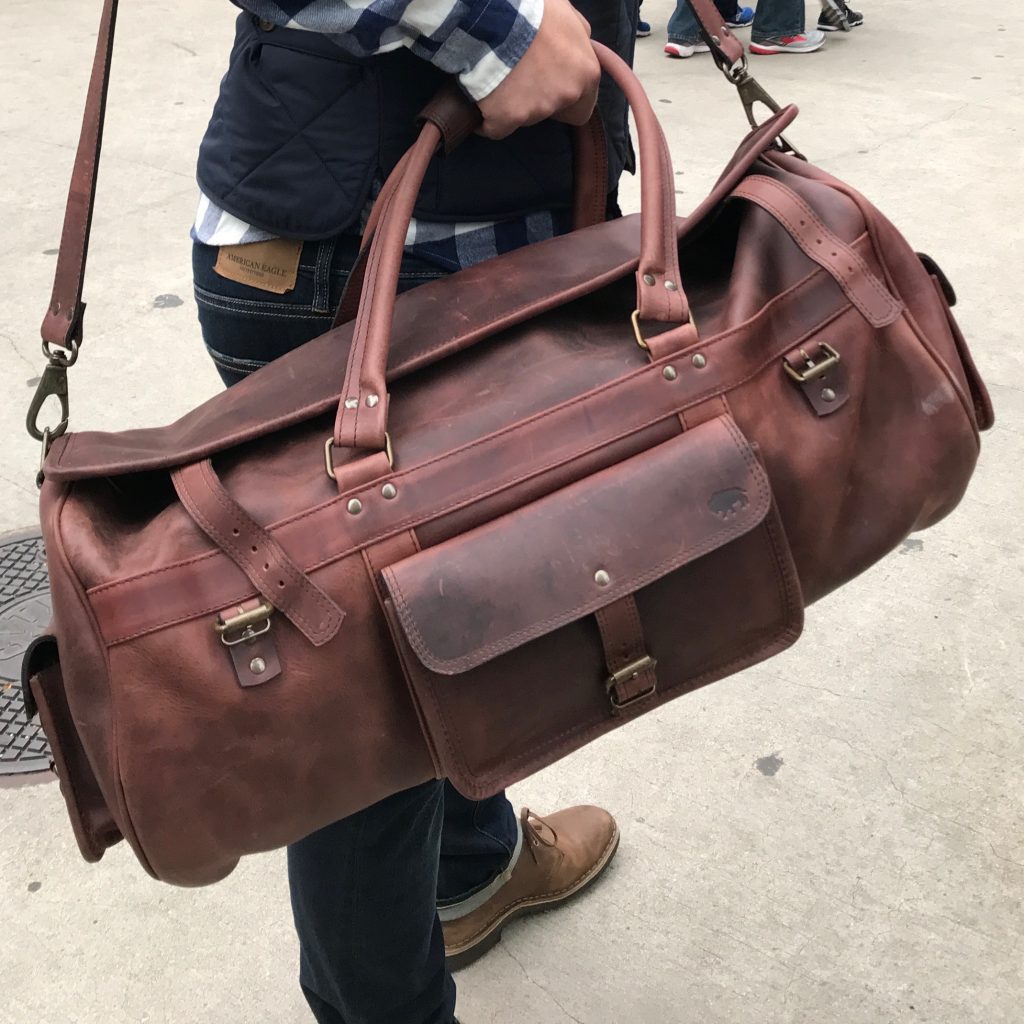 This bag features some great craftsmanship, beginning with the leather. Its thick and can stand up to some serious wear and tear. Finished with genuine brass and iron hardware to ensure long-lasting durability, this duffle is built like a tank.
Throughout testing we took The Roosevelt Buffalo Travel Duffle Bag all over, including a getaway were we traveled from home, to car, to taxi, to subway, to plane, to taxi, to destination and back!  Between all that transferring, the bag held it's own still keeping us looking stylish.  While traveling with the duffle we actually received a lot of compliments.
While we're talking about durability, we have to mention that Buffalo Jackson is so confident and willing to stand behind their product that they offer each bag a warranty that will cover any manufacturing defects in materials or workmanship for the first two years of the life of the product.
Storage:
The larger size of this duffle came in handy for a getaway we took that extended from 3 days to 6 days.  We were able to fit all the necessities not to mention a couple back up outfits just in case.  There are pockets on each end of the bag that work great for small books, cords, or chargers. Then there is a larger pocket on the front, which was handy to slip a gift or bottle in that we picked up along the way. This pocket could be used as an additional space to put clothes, but it didn't seem as practical for the size.
Now, for the important part, the main compartment of the bag. We had plenty of space for shoes, toiletry bag, and a blazer all in addition to our clothes.  There are also interior pockets. One with a zipper, which works great for valuables like a passport, keys, wallet, etc., and another easily accessible pouch-like pocket on the end of the bag.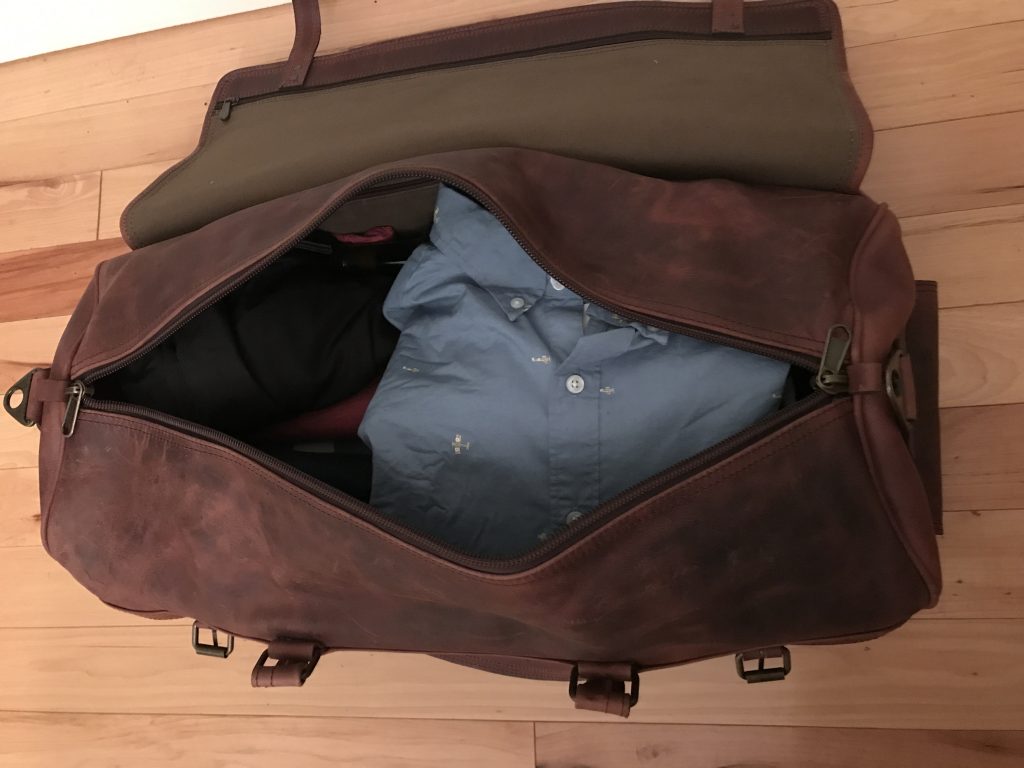 Value:
To find a good quality, genuine leather travel or weekender bag you can be expected to pay $300-$700+. The Roosevelt Buffalo Leather Travel Duffle Bag is priced at $329.95.  We feel it has been priced very reasonably for the quality and craftsmanship that comes with the brand.  In addition the functionality of the bag serves and capacity makes it a must have.  This is a bag that has been built to last for years to come.
Buy Now $329.95 or check out other options at Buffalo Jackson.com
Roosevelt Buffalo Leather Travel Duffle
The Roosevelt Buffalo Leather Travel Duffle Bag was put to the test and it did not disappoint. We did a couple of weekend getaways and even a trip out of the country. This bag is great! It fits in overhead compartments and we never had to check the bag. Additionally we were able to fit everything wended to pack. Aside from its weight, its a great bag to travel with. Just don't plan a trip where you will be carrying the bag for long distances.
The Good:
Handcrafted from 100% Full Grain Water Buffalo Hide
Great bag to travel with. Plenty of space for outfits and personal belongings
The quality craftsmanship ensuring a durable, reliable bag
The Not So Good:
Its leather, so it still scuffs easily. It is important to take good care of the bag.
The weight and size can be a bit much for traveling when long distances of walking occurs