Spring is in the air and summer is just around the corner, we've watched winter slowly release it's chilly grasp and all the pageantry of The Masters. Our boy Rickie Fowler didn't come home with any new sport coats so now we will shake the rust off of our own golf games. Although, a lot of us will never shake the rust off so why not at least look and feel good hacking away out there? Puma Golf might not have a green jacket for you but they can help you solve that golf fashion problem for 2017. We've been testing out some of Puma's new offerings for 2017 over the last month during several rounds of golf. Here's what we think.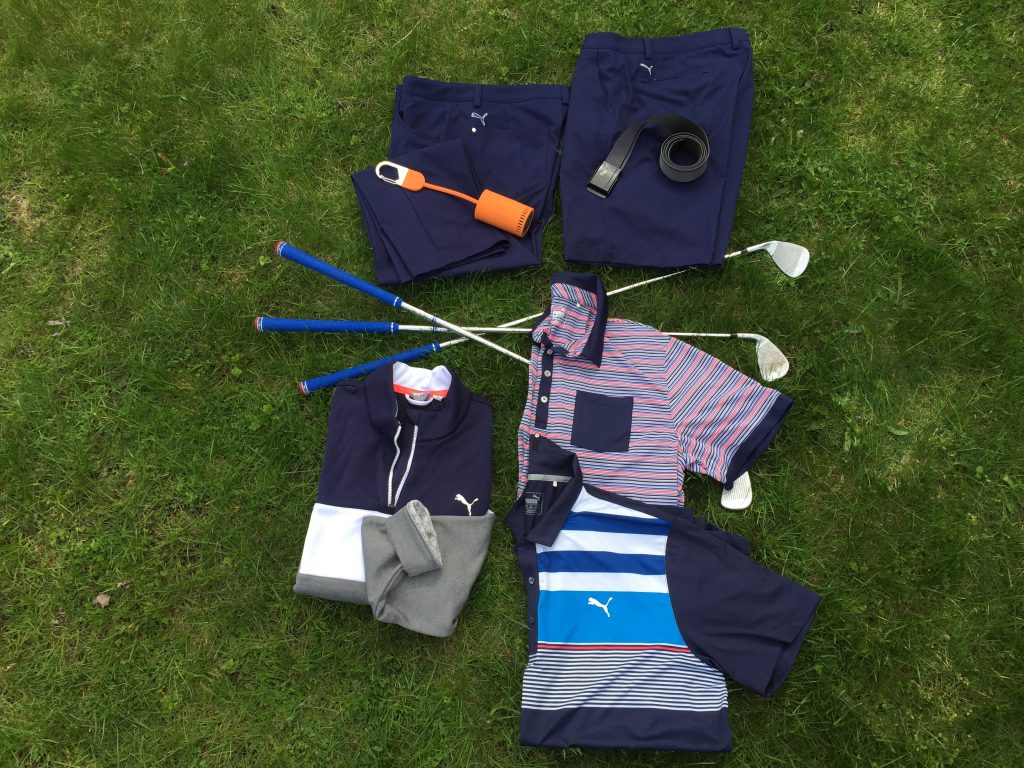 Essential Pounce Golf Shorts
Key Features
For me, there are some things you just pick up and say, "This is well made. " These Puma shorts and pants fit that bill. Very well made and they look great. Very breathable, flexible, and most importantly comfortable. The soft and flexible waistband is super comfy. The slide and lock snap closure at the waistband is a nice feature as well. My only personal complaint is that they are a little long for my liking. I prefer a short that sits just above my knee when standing and these sit just below. Maybe you are taller or just like a longer short. Other than that these are amazing. Coming in a wide variety of color options everyone needs a good pair of golf shorts and the Puma Pounce Golf Shorts are an Ace!
Tailored Pocket Stripe Polo
Key Features
The Puma Tailored Pocket Stripe Polo is a polo that is spot on with the current golf trends and fashion. Available in three different color combos to suit your preference too. On a recent trip, we put the dryCELL technology to the test out on the course for a few rounds down in the Florida Everglades area a few weeks ago. At tee time the actual temperature was 94 degrees with humidity ringing in at 90%. This polo does not come with built-in A/C so yes it was hot. I sweat a lot when I'm hot. While I was no doubt hot, the Tailored Pocket Stripe polo was not wet with sweat. Everytime Mother Nature graced us with a breeze it did feel like the A/C was on. I also forgot to put sun screen on so while my forearms got fried the UPF 40 polo kept the rest of me more like medium-well. Overall, a great polo for you to consider in your golf arsenal.
Key Features
Every serious golfer needs a nice pair of golf pants for those cool days or if you happen to be a PGA Pro it's kind of required. Made the same as the Essential Pounce shorts these are very well made pants that come in a nice variety of colors. Made with the same comfy waist band and slide and lock snap too.  These pants block that cool brisk spring or fall breeze pretty well, keeping you warm. Fit and style wise we have no complaints at all about these pants.
Key Features
Just like the Tailored Pocket Stripe polo the Road Asym polo is another sharp polo in Puma's 2017 arsenal to compliment your wardrobe. The polo is pleasantly stretchy. I think it's that 8% Elastane that makes the difference. Not quite as much Elastane as the Tailored Pocket Stripe but it's still nicely stretchy. The Road Map Asym comes in 5 color combos to match up with your mood for the day. The dryCELL Technology keeps you cool as possible in the heat and the UPF 40 finish keeps the sun off your back jack! The Road Map Asym polo is a welcome addition to your closet.
Powerwarm 1/4 zip Popover
Key Features
OK, so what about when it's gets really chilly out on the course? What do you just stay home and not go golfing? I used to just sit home looking out the window wishing it was warm out until the Puma Powerwarm Popover entered our lives. Like all Puma's collection, the popover is both stylish and really comfortable. The popover is available in 5 color combos. After our golf trip to Southern Florida we returned to the springtime chilly golf of the Midwest. One of our rounds of golf had a tee time temp of 45 degrees with plenty of wind. So would the popover be enough to keep us from freezing? I'm gonna say yeah. With a good amount of wind at 45 degrees I can say I did not feel cold. Much colder though and I would want something warmer. The Puma popover is not marketed as something that can get you through winter-like temps though. The popover also does not block the wind 100%, just FYI. On a calm day at temps in the mid 40's up to high 50's I think it would be just fine. Get into the 60's and this thing is too hot. We highly recommend this guy.
Key Features
The Puma reversible web belt is a nice belt especially for the price. For one price you pretty much get two belts, boom! Available in 6 color combos to match your flashy shorts or maybe provide some pop to those classic color combos. I really like the clasp buckle instead of notches to fool around with which you can really dial in to your exact sizing. This also makes for quick release and recovery when you need to find a tree to take care of urgent business out on the course. I like the contrasting Puma cat logo inside the buckle as well. Last but not least this thing has a bottle opener on the back side of the buckle! You never again have to live in fear of not being able to open your favorite libations! No complaints about this belt here.
Key Features
The Puma sound chuck mini is marketed as a golf specific bluetooth speaker. So what makes it golf specific? Well, the sound chuck mini comes with an integrated silicone cord with a carabiner. The carabiner allows you to attach the sound chuck to your golf bag or whatever you got to keep you rockin' all through your round. One knock on the carabiner size is that it cannot attach to much on a golf cart except for the wire basket behind the seat. So carabiner size could be increased. We did find the battery lasted more than six hours which should get you through a round of 18 and then onto the 19th hole. During testing someone asked me if it could be dropped so I dropped it onto the paved cart path a couple times from shoulder height. It appears you can drop it from a five foot distance with no issue. Don't get me wrong this is not a speaker you bring to a party but you do not want a super loud speaker on a golf course. We found that the sound chuck mini provided all the sound we wanted and at 75% volume could easily hear it from the tee box 10 feet away. I would say this speaker is designed for golf very well and for the price would recommend it. If you want some more gusto you can go get yourself the full Puma Sound Chuck which is basically two sound chuck mini's tied together. This one you could also drape anywhere on the golf cart.
So, how do these clothes wash up? Well, during our testing we've gotten them dirty with mud, sweat, and a few tears shed after those gimme putts missed. We've washed and dried all these garments three times as recommended by Puma. We did not find any stretching, shrinking, color bleeding, or that thing were those little fuzz balls accumulate occurring. I'm sure in the long run some of these thing eventually happen but feel rest assured they shouldn't anytime soon after you buy them!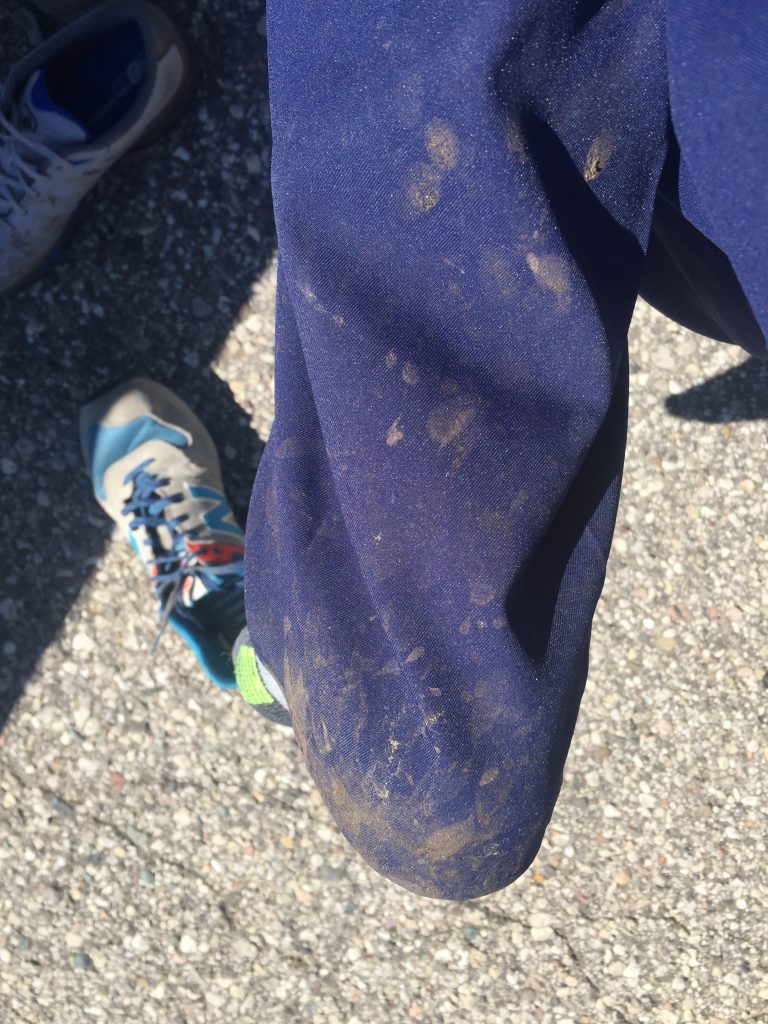 Puma Golf Spring / Summer '17 Collection
The 2017 Puma Golf Clothing line is a high quality and very comfortable collection of golf clothing.
Essential Pounce Golf Shorts
9.1
Tailored Pocket Stripe Polo
9.5
Powerwarm 1/4 zip Popover
9.4
The Good:
Great Polos with dryCELL
Overall great quality
Soundchuck Mini is great for golf
The Not So Good:
Shorts are a little long for me
Soundchuck carabiner could be bigger