It's old school tech meets new school tech. Photos directly from your cell phone, right now, while you are anywhere. I think it is neat. People I've shown it to thought it was really cool. My kids love it.
For more than 75 years, Polaroid has been the world's fastest method of sharing moments with family and friends through photography. The 'Polaroid' photo paper is iconic. They now make instant and digital cameras, mountable video cameras, tablets, and TVs. You could say the original share button was the release button on the first Polaroid cameras. Recently Polaroid let us try out the Polaroid Zip Photoprinter and here's what we discovered:
What comes in the box:
Polaroid Zip Photoprinter
10 sheets of Polaroid ZINK Paper
USB Charging Cable
Instruction sheet
Key Features:
Prints directly from your mobile phone or tablets
Free App
No Ink required!
Photos are smudge-proof
Photos have a peel back to turn the photos into stickers
Print time per photo is about 1 minute
Lithium Ion battery
Prints up to 25 photos on a single charge
Full Charged in 1.5 hours
Bluetooth connectivity for transfer of photos
Works with i devices and android phones
Photos size is 2×3 printed right up to the edge
Polaroid Zip Photoprinter Review Breakdown
Design:
It's sleek and compact. Available in Black, Blue, Red or White and measuring approximately 4.75" long x 3" wide x just less than an inch tall. It's thicker than my moto X smartphone, but otherwise about the same size. It charges using a micro USB cable so for most android phones you wouldn't need to carry a separate charger. It charges in about 1.5 hours. It would even fit in a shirt pocket (even if it is a bit heavy for a shirt pocket).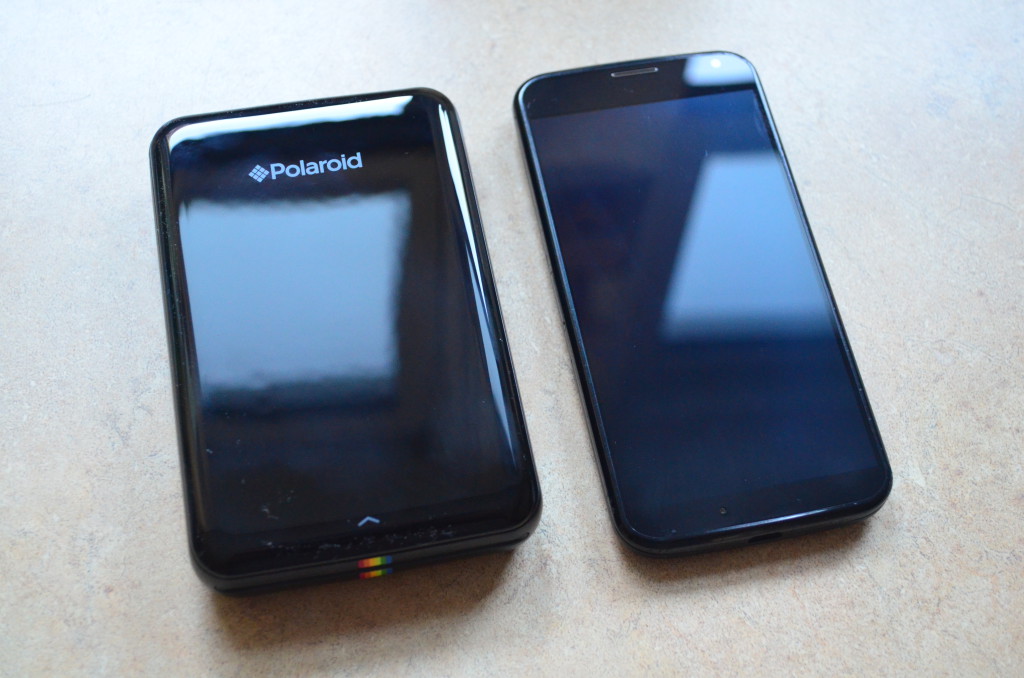 App: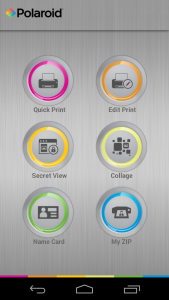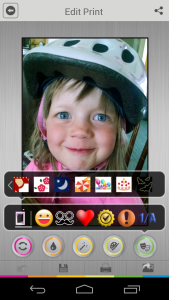 The app to run the printer is included/free and is called "Polaroid ZIP". If you have NFC (near field communication on) on your android phone turned on, you can lay your phone on the top of the printer and it will take you to the app store for installation, or there is a QR code you can scan. It installs quickly and it connects to the printer over Bluetooth, so you have to make sure you have or keep that on when in use also. Once downloaded it didn't look like it used any wifi or data to do its thing. The app is actually pretty good with several modes for printing.
Quick Print lets you quickly print a photo, works as described, the only option is to crop the photo if it doesn't fit perfectly.
Edit Print lets you apply filters, correct color/brightness/contrast, rotate, scale, draw, add borders or icons to the photo before printing. It also includes a save feature to either share your creation somewhere else or print it later. This is super useful and I usually edit each photo in some way. Most often I use the 'Instant Fix' fiter to get better color on the print, but also to crop or rotate the photo.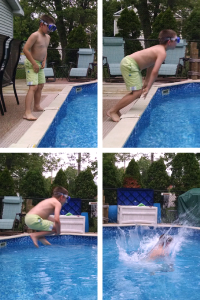 Collage is my next favorite mode, used for making collages of photos. You select a photo, then you select the style of collage you want from the top row. After that you go back to selecting more photos and eventually printing or saving your collage. You can use up to 9 images on one photo.
Secret View for sharing photos with other users of the app, that include text, web addresses, or voice recordings. Anything you add in this mode won't print out and is only visible/retrievable by the person you shared it with through the app.
Name Card for creating a business card like photo. This is a great idea actually for creating some full color possession labels to put on things, but the execution is awful. The photo only goes in one spot, it can be cropped but can't change size or placement. The text can be anything you want, but there is no option for color or fonts or placement. Which doesn't work well with most of the backgrounds in the app. This mode is basically useless and I would love to see an update with more light colored backgrounds, the ability to change the text color, AND the ability to move the text once typed in. Personally, if I wanted a business card from this, I'd take an actual photo of my business card with my smartphone and just print that.
My Zip is the control panel mode for the printer. You can buy paper, get help, turn on Bluetooth or NFC, or make setting changes to the device. It will also tell you how many pages you have printed, battery and paper status.
Photo Quality:
The photo quality is not always awesome. It ranges from better than a photo booth, to Hey, that looks good. Using the instant fix filter helps a lot, having bright colors helps a lot, avoiding white helps a lot. I think the key, as with any photo printer, is to start with a good photo. We are working with smartphones, they have limits but can do a respectable job.
The photo paper is very nice, heavy gloss, great shine, nice and thick. The backing paper that you can peel off to turn the photo in to a sticker is hard to get started. This means that it isn't likely to fall off easily, but it is also not a quick process to take the back off to make a sticker.
So how does the paper work? Why isn't there ink? According to Polaroid: "The key to the ink-free system is the patented ZINK Paper®, an advanced composite material embedded with cyan, yellow and magenta dye crystals and with a protective polymer overcoat. Before printing, the dye crystals are colorless making ZINK Paper® look like regular white photo paper. The ZINK-enabled Printer uses heat to activate and colorize these crystals. The result is full-color, high quality, long-lasting and smudge-proof images without ink cartridges, ribbons or toner." This also means, don't leave the photos or blank paper out in the car or in direct sunlight. See the warnings about heat on the paper package. It says that optimal temp is between 68°F – 77°F but it appears to be much more flexible than that.
Ease of Use:
Setup of the device was easy enough but I would avoid the NFC and just scan the QR code or search for the app in the app store. I don't leave NFC on, so while I did turn it on to check that out, it wasn't needed.
Pairing with the Bluetooth is next, and it is just as easy as any device to pair.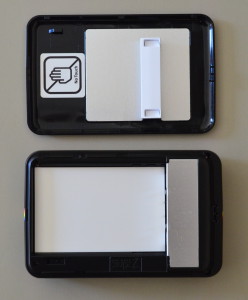 Printing to the device is easy. Range is as far as your Bluetooth will take you, but you'll want to be near the printer to move the photo off the end of the machine before printing the next one.
Paper loading is easy enough. It comes in foil/plastic bags of 10 sheets with a blue loading card with barcodes on it. This is important, the blue card tells the printer what paper you have put in it. You'll want to make sure you buy the right paper for the printer. If you damage the card, the printer won't run the paper you have in it. Remember there isn't any ink, so the tech is partly the paper. In the end I was able to find a deal for 100 sheets (10 ten-packs) for less than $24 including free prime delivery. That worked out to less than 24¢ per photo. Expensive? Not really. Remember, you are printing only what you want, and you are getting it on demand. I'd say 24¢ is a deal. (Pro tip: You'll want to save a barcode card that works, just in case you damage one of the blue barcode cards from a future package.)
There is only one button. On or off. There are two lights, charging and power. The instruction 'sheet' isn't a full blown manual, but in the end, it doesn't need to be. The machine works and I didn't have a lot of questions.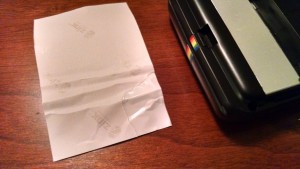 So far I've experienced one paper jam. The backing came off part of a photo while printing, which, based on how hard it is to remove the backing in the first place was a huge surprise. I unloaded the rest of the paper, pulled (really hard) the photo back out of the machine, then reloaded a blue card and the paper. I sent another photo to the printer and it read the blue card, pushed out a piece of backing paper left in the machine, and then printed the photo like nothing had happened. It did require some force to remove, but it did come out without damaging the machine.
Value: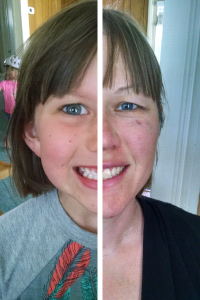 It's an amazing piece of tech if you think about it. It is exactly what made Polaroid to begin with, a photo in your hand right as you take it. Sure, it's the digital age and we share photos on facebook and send them via email and post them on websites. But people still like printed photos. My favorite photo I printed so far is this one: a collage of a photo of my oldest daughter and my wife. And because you can also save it to a folder on your phone I was able to also share it with facebook, and so far it has 60+ likes.
This would be fun at a party to take photos of guests and print out the photos right now for a book to sign for memories. You'd need someone dedicated to run it, but it's possible.
It would be useful in a classroom to print photos of students to mark their changes and progress throughout the year.
You can provide photos on the spot for relatives. We took our kids to our in-laws pool and when we left we laid out on the counter several pictures of each kid having fun in their pool. They can hang them on the fridge or post them on the cork board. It's instant. We were there and it is done. We don't have to remember to share photos later, or get them printed and dropped off.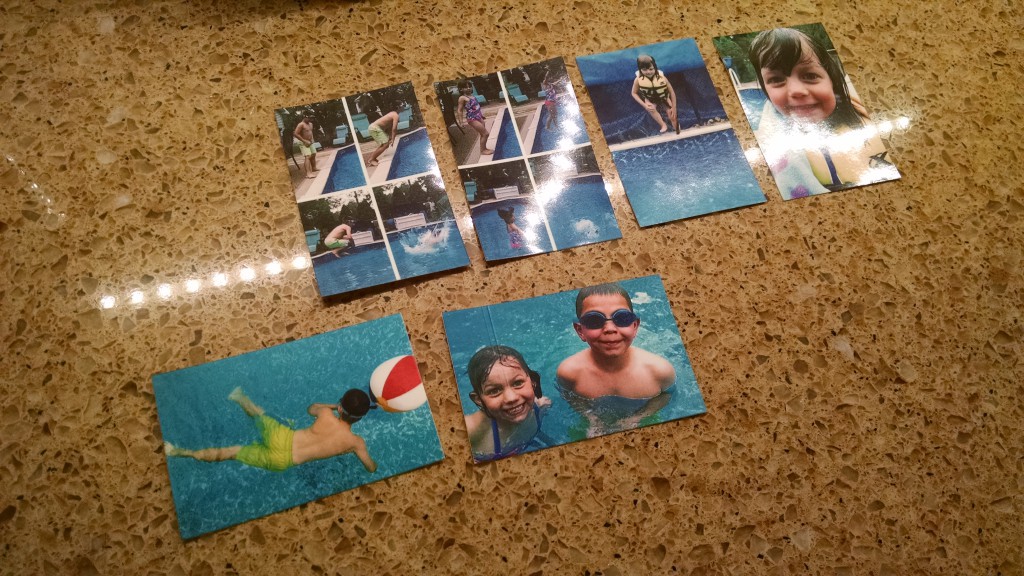 Or, you can just have fun with it. I printed 2×3 photos of my wife and I, my kid and some of my kid's artwork and stuck them to my computer at work. As I said earlier, my kids love it. They beg for their photo to be taken and printed. Not every child has a personal electronic device or camera or tablet to take and share photos, with the Polaroid Zip Photoprinter I can print photos to their hearts content and not worry about ink or paper in our home printer.
Buy now for $129.99 or for more information visit: Polaroid.com/zip-instant
Polaroid Zip Photoprinter - Tech Review
While you are paying the full cost of a home printer, you aren't getting the expensive ink costs, damaged print heads or frustration of smudged prints. It is portable, wireless, and does exactly what it says it does. At the end of the day this isn't a must have gadget, I think that it is absolutely fun to have and my kids and I enjoy it. It's a novelty, but I like it. I would like one that printed 3x4, or 3x5 or even 4x6, but I imagine the cost per photo would increase and so would the weight and size, along with a decrease in battery life. So for right now, I'll appreciate what it is: An instant wallet size photo printer that I can take with me and share memories outside of the digital world.
The Good:
Instant photos
Portable
Good interface
The Not So Good:
Bigger photos would be nice
Paper only comes from one supplier