Ole Smoky Charred Moonshine - Drink of the Week
Matured in toasted ex-bourbon barrels for 3-4 months, and then blended for consistency, Ole Smoky Charred Moonshine is one of the newest whiskies to come out of Old Smoky's Gatlinburg, Tennessee distillery (aka "The Holler") since their island-inspired pineapple flavor was introduced in April. Since then the brand has continued to innovate with new sweet tea and watermelon concoctions, and even has plans to open a second distillery at the Island in Pigeon Forge. To say this whole legal Moonshine business has taken off would be an understatement – and Ole Smokey has been at the forefront since the beginning. 
In fact, the original Ole Smoky Moonshine recipe is one that dates back nearly 200 years when moonshinin' in the Great Smoky Mountains was a way of life. Today Ole Smoky is Tennessee's first legal moonshine. In true southern style, each Ole Smoky Moonshine flavor is inspired by the hand-crafted recipes of the Tennessee families who have been bottling moonshine in the smoky mountains for more than a century.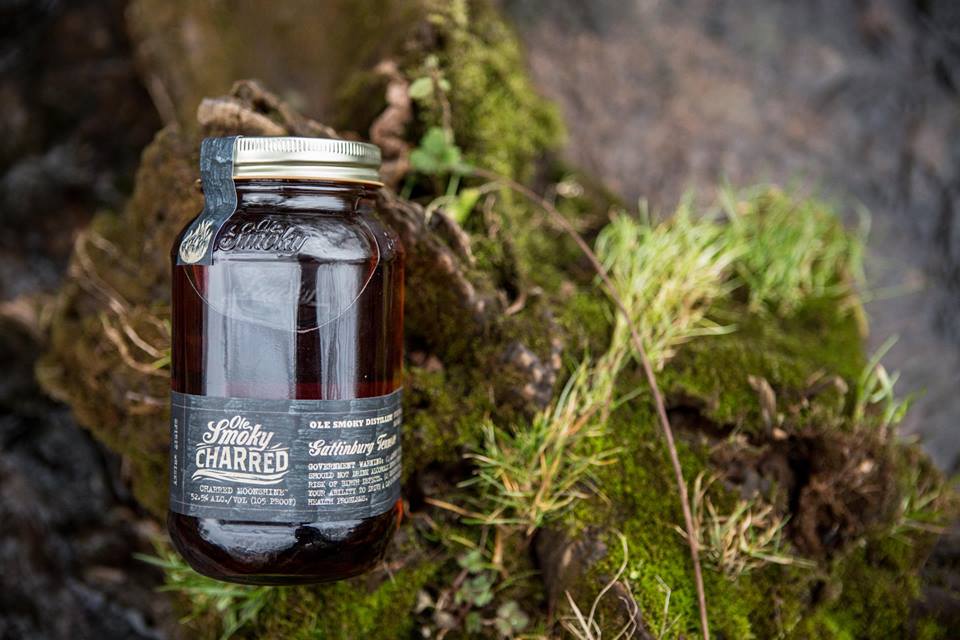 While it was quicker and more profitable for shiners back in the day to run as much white lightnin' as they could, it wasn't totally uncommon for some of the good-ole-boys to age their whiskey for added flavor and a touch of smoothness. An inspiration Ole Smokey has embrassed with a limited run of 3500 cases spread out over 49 states. 
"Our mission at Ole Smoky is to bring pure Tennessee mountain whiskey to the world by perfecting the recipes that our ancestors have been working on for over 100 years. We have spent the last five years giving consumers an unaged craft whiskey product in a variety of flavors, and a barrel-aged premium product is a natural next step. We can't wait for America to try Charred!" -Joe Baker Ole Smoky Founder
Bottled at 105 proof and aged just enough to give it some color, we were eager to get a chance to sit down at our tasting table with some samples of Ole Smoky Charred. Here's what we discovered… cheers!
Ole Smoky Charred Moonshine Review Breakdown
Age: 3 – 4 months
Appearance: caramel brown
Nose: vanilla, caramel, corn, wood
Flavors: caramel, vanilla, oak, grains, spice

Price: $29.99

 USD (750ml.)
Scoring a 7.8 out of 10 this "moonshine" is truly unique. It's a big departure from what Ole Smoky has been producing over the past 5 years, which is both good and bad if you ask us.

In our opinion, if you're going to mature a whiskey you might as well hit the 4-year mark and really give the spirit some character. Whisky needs years, not months, in the barrel to become something special. The 3 – 4 months Ole Smoky Charred has undergone leaves something to be desired when compared to traditional aged whiskies.
That's not to say this whiskey isn't enjoyable, don't get us wrong! While it's begging to be sipped straight from the mason jar, we found this whiskey to be best served as a mixed drink. Lacking the age and character we'd like for sipping, Ole Smoky Charred on the other hand delivers an excellent cocktail experince. From the simple whiskey and coke to a Manhatten it's goes down quite nicely – even at 105 proof.
MIX IT UP… "Smoked Apple"
Ingredients: 1 part Ole Smoky Charred Moonshine, 1 part Ole Smoky Apple Pie Moonshine, 1/2 part of Ginger Ale.
Directions: Mix ingredients in glass and pour over ice and drink responsibly!