MSR's Evo Ascent 22 snowshoes are marketed as an all-terrain snowshoe that work great on a variety of snow conditions. Last week we decided to test this claim by taking a pair with us on a hike up Whiteface Mountain in Lake Placid, NY. Whiteface Mountain is the fifth-highest mountain in New York, and one of the High Peaks of the Adirondack Mountains – we couldn't think of a better place to put theses snowshoes through the paces… quite literally!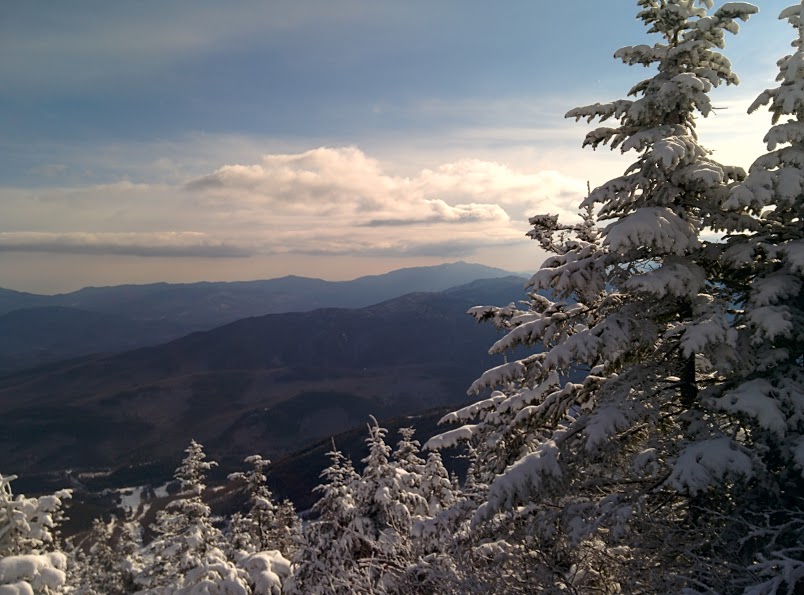 Key Features:
Lightweight, plastic unibody deck with an ergonomic shape that maximizes your stride and reduces fatigue.
PosiLock AT Binding System – a two piece urethane body that fits a wide range of footwear and offers easy to use straps that are claimed to retain flexibility in temperatures as low as -40 °F.
Televator heel lifts that reduce heel drop on steep slopes, which reduces stress on the calfs, lowering calf muscle fatigue.
Pivot crampon and horizontal grip bars for increased stability.
6'' Modular flotation tails that easily snap in to provide additional flotation.
Made in the USA
Specs:
Colorways: Red, White, Black
Weight: 4 lbs / 1820 g
Width: 8.2 in / 20.3 cm
Footwear size range: Men 4.5 – 15, Women 5.5 – 16 
Weight Capacity: 180 lbs (80 kilos) or 250 lbs (114 kilos) w/ flotation tails
*It is worth noting that I did not use the flotation tails on this trip. For the most part, conditions were icy with packed snow.
MSR Evo Ascent 22 Review Breakdown
Comfort:
The Evo Ascent snowshoes weigh in at 4 lbs. 1 oz. for the pair, roughly 2 lbs. each. With winter boots on, these shoes felt very light. Our hike was approximately 8.5 miles, and although I did not wear them the entire time (more on this later), I did hike several miles with these shoes on and only noticed slightly more fatigue in some of the steep, uphill parts of the mountain when compared to microspikes. Using the Televator™ bar significantly reduced this fatigue. The Televator bar seemed to shift stress from the calf muscles to the quadricep muscles, making it easier to climb.
Design:
The flexible unibody design allows the snowshoe to flex on uneven surfaces, which is great for trails with packed snow, ice, and small rocks. The trail we hiked on was not very even, and I was concerned that this might be a factor, but overall, I was very impressed with how these shoes handled the icy and rocky terrain.
The PosiLock™ AT Binding System worked well. Adjusting the binding straps with gloves on was very easy, and the strap locks worked well to secure hanging straps.
There is a right and a left snowshoe, which is something you will want to be aware of. On our way back down the mountain, we decided to quickly strap back into our snowshoes, and I had accidentally put the wrong snowshoe on the wrong foot. This made it more difficult for me to get the straps to secure tightly, and one of my snowshoes ended up falling off because of this. This is not a negative of these snowshoes, but rather a reminder to pay attention to which boot you are strapping into if  you are moving quickly to minimize your breaks to reduce heat loss.
The Televator™ bar was one of my major complaints that I had about the design of these snowshoes. The bar works great, and is very useful, but I wasn't happy with how difficult it seemed to get the bar to collapse after raising it. Although it was easy to grip the small pull tab to raise the bar, I struggled getting the bar back down. If I stopped and pressed very hard on the heel bar, it would not move. Towards the end of the hike, I discovered that the bar went down easier with a quick, forceful snap, such as hitting it with the handle of a trekking pole. On the MSR Lightning Ascents, the heel bar moved smoothly, and was significantly easier to lower.
Traction:
Overall, these snowshoes performed well on snowy and icy terrain. However, there were a few times where traction became an issue.
On our way up the mountain, there was a small, steep segment of ice that was covered in a couple inches of snow. It probably would have made more sense to use microspikes or crampons during this small part of the trail, but I figured this would be a good test for these snowshoes. The first two attempts I made to climb up the ice failed, and I slid down. Underneath the snow was a thick layer of ice that was very solid, and the pivot crampons on the front of the binding had trouble digging in. However, on my third try, I really tried to slam and dig the crampon into the ice and made it up. The path on the bottom of the image that heads off to the left is the part where I slid.
When hiking down the mountain, there were a few spots where there was hard, slick ice that caused my snowshoes to skate. The horizontal traction bars on these shoes are made of plastic, and were not ideal for this situation. My friend had a pair of the MSR  Lightning Ascents which have a metal traction bars with teeth, and had no problem navigating through these icy sections.
I ended up taking off the snowshoes while hiking down the mountain and put on my microspikes instead. I felt that I had much better traction, and was not slipping while in my microspikes.
Flotation:
As I mentioned above, the trail we took was mostly packed snow with ice. There were some spots with light powder. I had no issue on these spots. I weigh approximately 150 lbs, and was probably carrying 10-20 lbs of additional gear in my pack.
MSR gives the following chart for determining flotation needs based on weight:

Durability:
The Evo's were able to withstand the ice, rocks, and steep terrain of this trail. The steel traction rails have some minor scratches in them, but it doesn't appear to be anything more than cosmetic. The plastic is also scratched in a few places, but this is not surprising. None of the scratches appear serious enough to cast doubt on the durability, and seem reasonable considering the conditions we were hiking in.
Value:
Overall, I was very impressed with the MSR Evo Ascents. Considering how they handled the hike up Whiteface, I would definitely consider them at $199. I plan on carrying this pair with me on my future winter trips. They seem very adaptable, and if I were going to hike in an area with significantly more fresh powder, I would consider buying the additional flotation tails to add support. The additional tails cost $39.95 on the MSR website.
Based on my friend's experience with the MSR Lightning Ascents, if you are someone that does more mountainous hikes in icy terrain and you can spare the additional $70, it might be worth picking up the Lightning Ascents due to their greater traction in icy conditions, especially when it comes to hard blocks of ice. The metal horizontal traction bars with teeth outperformed the plastic horizontal traction bars on the Evo Ascents.
At the end of the day, after hiking to the top of Whiteface Mountain and back, I was extremely happy with my experience with the Evo Ascents.
MSR Evo Ascent 22 Snowshoes - Gear Review
The MSR Evo Ascent's are a great snowshoe that can handle a variety of snow and trail conditions.
The Good:
Lightweight, compact modular design
Easy-to-use binding straps that are easier to secure with gloves on.
The Not so Good:
Televator bar can be difficult to lower.
Horizontal traction bars are plastic, which do not grip as well as the steel bars.