We have extensively reviewed the Mizuno running shoe lineup over the last few years here at Busted Wallet. Recently, our friends at Mizuno threw us a curve ball when they sent over their new TC-01 training shoes. These shoes feature the debut of the Mizuno COB (Center of Balance) Technology. This marks the first foray into the training category for Mizuno. Mizuno has assured us that they did extensive innovated performance research to understand the benefits of balance and body awareness on athletic performance to deliver a sophisticated advanced training shoe. We are used to pounding the pavement when we get a new pair of Mizuno's in stock, so this required a change up with our workouts. We hit the gym for a multitude of workouts to break in these TC-01 cross-trainers. How did they perform? Here's the scoop…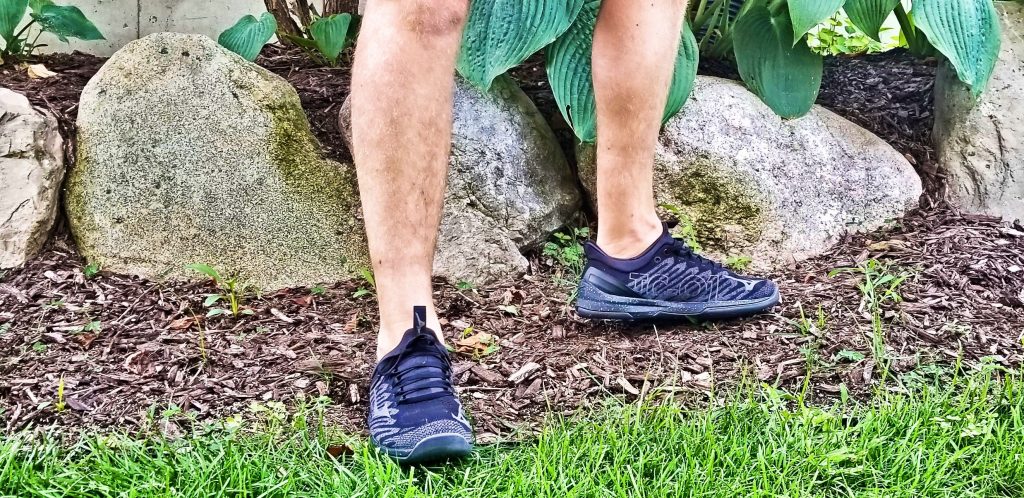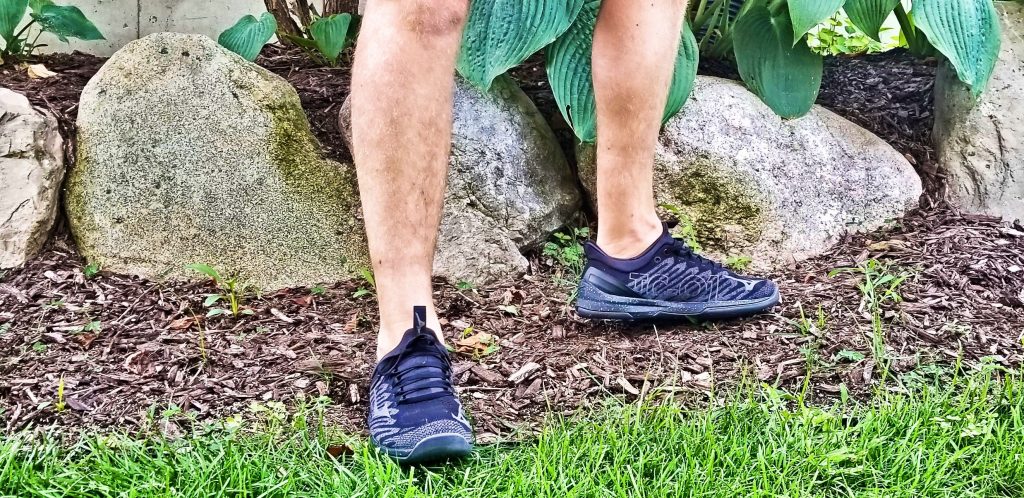 Key Features:
Mizuno C.O.B. Technology: Mizuno COB midsole has a textured upper surface.
Knit Upper: Completely knit upper construction for a 3 dimensional smooth fit for all types of feet.
Booty Construction: Located inside the shoe to provide a soft and secure fit.
Soft PU Midsole: Allows for natural flexibility that works with your body's movements.
Low Drop (4mm): Provides optimum stability during static exercises.
Internal Support Straps: Strategically placed in the midfoot to keep the fit close to your foot during active movements.
MEN'S Mizuno TC-01 TRAINING SHOE Review Breakdown
Design:
Before we get too far, lets understand Mizuno's new COB technology and how we got here. Mizuno tells us that the initial concept began with a study among trainers across 15 different sports. The results revealed that trainers think the most important element in training for improving athletes' performance is balance. Based on these findings they developed the TC Series, that is a shoe designed to improve balance and improved performance for athletes that work to improve their basic physical abilities in their gym training.
With balance as the forefront issue, we get the Mizuno COB Technology. The COB introduces sensor pod clusters that enable increased feedback to transfer from the feet to aid balance. Used in the soles of the TC Series training shoes, the patent pending Mizuno COB activation pods designed on the surface of the midsoles are linked with the design of the outsole – the part of the shoe that's in direct contact with the ground. These activation pods should allow for information to be transmitted to the bottom of the feet which can lead to increased foot sensitivity and improved performance.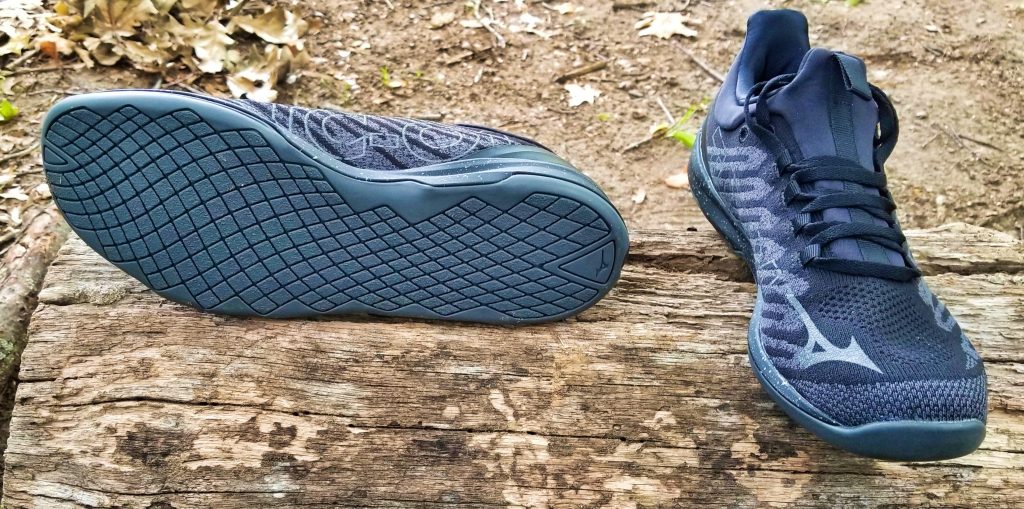 To confirm they achieved what they attended, Mizuno conducted a joint study with Biomechanigg Sport & Health Research. Together, they confirmed a significant increase in foot sensitivity and a trend to increase their balance capabilities and reaction time for athletes training in footwear using Mizuno COB Technology. Test results showed that the transmission of sensory information to the bottom of an athlete's feet appears to be linked to improving balance and the potential to enhance athletic performance.
The Mizuno TC-01 also features a host of other technical designs designed for flexibility, comfort and stability. Starting with the knit upper construction that provides a nice, smooth fit for all types of feet. Inside the shoe you will notice booty construction that provides a soft and secure fit. The midsole has some soft Polyurethane that is supposed to allow for natural flexibility that works with your body's movements. There are also some support straps that are strategically placed inside the shoe at the midfoot to keep the fit close to your foot during active movements. Finally, the shoe also has a very low drop at 4mm which is again is designed for stability during your workouts.
Comfort:
When you first put on a pair of the Mizuno TC-01's get prepared for a different experience. Your initial thought may be discomfort but it's because your feet need some time to adjust to a new feel. When I first started to walk in them I felt an odd stretching feeling in my feet. This took some time to get use to. The shoe fits very snug because there is no tongue, which I enjoyed. If you have wide feet, you may struggle getting these on your feet.
The bootie design really helped lock in the heel and the internal support straps really locked in that midfoot. You can feel the COB technology as you walk in them which provides a nice cushion. Probably the best feature is the maneuverability and flexibility the shoe offers. The midsoles really responded to pressure points from the outsole and allowed my foot to feel like they were in contact with the ground while still providing comfort.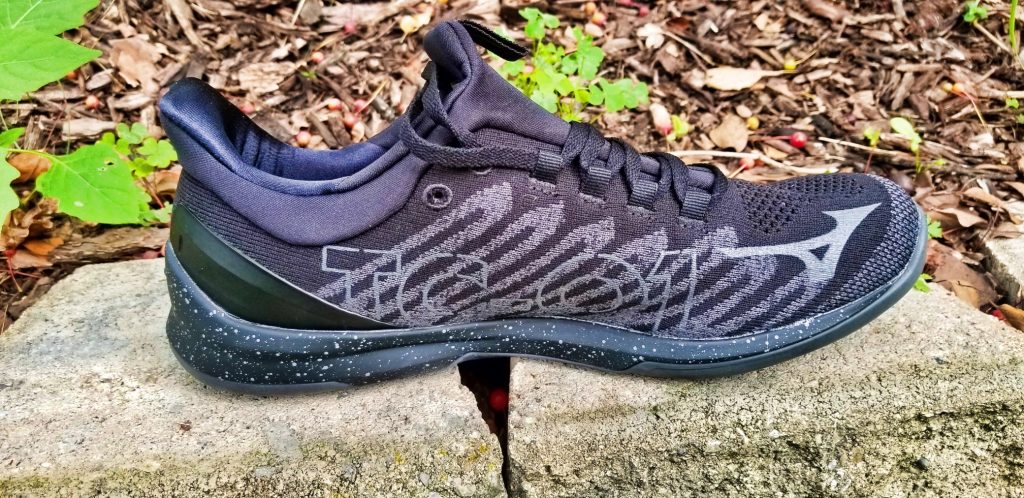 Durability:
We have mostly kept this shoe as our go-to gym shoe so it has held up quite nicely. Other reviewers found it so comfortable that they turned into their regular walking around shoe. They liked the style and versatility of the Mizuno TC-01. After a few months of usage, I have found little wear in the treads the uppers seem to be holding up well. The shoes take very little time to break in because they are designed to have a unique fit so your feet do the adjusting versus the shoe adjusting to your feet. The fit and the hold also seem to be holding up well. So far I have not seen any slippage in stability or weakening of the fabric.
Value:
Priced at $140, the Mizuno TC-01 do carry a somewhat high price tag for the cross-training market. However, I think the value is in how quickly you will come to like these shoes. If you are looking to supplement your runs with a variety of gym workouts, HIIT, or crossfit workouts, then these will become your go-to shoe. The shoes are very comfortable that you could easily turn them into your day-to-day sneakers. While they are on the higher end of the price spectrum, I think they will hold their value over time. Mizuno has put a ton of technology and research into these shoes. This is an excellent foray into the cross-training market for Mizuno. Given their success and improvements on the running shoe side of the house, I am excited to see the evolution these cross-trainers in the future.
Buy Now: $140 or learn more at: MizunoUSA.com
Mizuno TC-01 Training Shoe - Fitness Review
The Mizuno TC series marks Mizuno's first take at the cross-training market. With balance at the forefront of their research they came up with an innovated COB design that is engineered to give you supreme balance in your gym workouts. These cross-trainers pack a whole bunch of research and technology in a lightweight and comfortable shoe.
The Good
Nice, snug fit that locks in the foot
Durable and comfortable
COB design provides premium balance for cross-training work outs
The Not so Good:
Higher price tag for cross-trainers
Wider feet may struggle to get these on