This is a sponsored post written by me on behalf of A/C Pro. All opinions are 100% mine.
Summer is already nipping at our heels, the temps are starting to rise, the days are getting longer and sooner or later you're going to need to flip the switch from FAN over to A/C in your vehicle to make the commute to work and back not so miserable. But what happens when you flip the switch and nothing but hot air blows in your face? Had this happen before? We have.  It is down right tragic. You start to sweat, you push the A/C button a few more times to see if that works, and then, if you're like me, you pop the hood and stare at the compressor and think… "hmmm, I have no clue what I'm doing." Sound familiar?
This is where A/C Pro Recharge steps in. Their professional formula is an all-in-one solution for your A/C woes. Best off all… you can do it yourself, no special tools are required and only takes 10 minutes!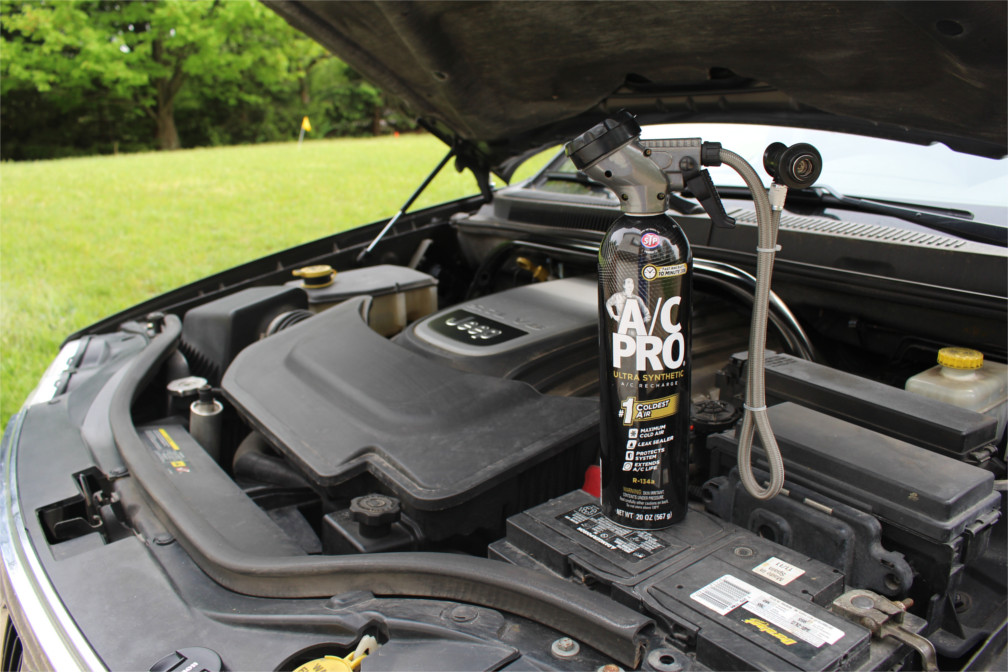 If you're driving around in a vehicle that is 6 to 10 years old (or older) the fact of the matter is that you may run in to A/C problems in the near future. Compressors break down, leaks occur and refrigerant runs low. It is impossible to avoid. When it happens you really only have two choices: head over to the local dealership and fork over hundreds or potentially thousands of dollars for a fix that may or may not keep your A/C pumping for years to come. Or you have the choice to spend $49.99 on some A/C Pro. If you know anything about Busted Wallet, I bet you can tell which choice we call on.
How does A/C Pro work? Good question. After purchasing A/C Pro from your local Walmart, Auto Zone or any  other local retailer you can pop the hood of your car, locate the A/C low pressure service port (using the Port Finder) and begin restoring your A/C. It might sound too easy, but that is basically it. However, there are a few more instructions, rules and safety precautions you need to account for. For more on that, take a look at the A/C Pro video below, which walks you through the 10 minute process.
After reading or watching to the instructions you're ready to rock. We utilized A/C Pro on an aging 2005 Jeep Grand Cherokee that lost its A/C last Summer. Did it work? Yes! It was super easy too. We were a little skeptical, but after a couple weeks on the road the A/C is pumping out as cold as ever.
If your A/C takes a dump on you this Summer we recommend going out and finding A/C Pro at a local retailer. It is easy to use, takes 10 minutes and delivers really cold A/C even on the hottest days.
For a small investment of $49.99 you can make your commute to work and back something you'll enjoy instead of dread each and everyday. Ok, well maybe you won't enjoy it… you're still going to work afterall, but you surely won't dread it because of your A/C anymore.