We are no strangers to Indian Motorcycles here at Busted Wallet. In fact, we've been following them for several years now and are continuously impressed with their new models. However, this is the first time we are reviewing their Clothing & Gear. Thankfully, the quality from their bikes carries over to their clothing and gear. In other words… the apparel is built to not only look good and function well, but also built to last.
Men's Casual Bomber Jacket
Key Features:
Classic bomber jacket style with Indian Motorcycle branding
Comfortable rib knit collar, cuffs, and hem
Convenient snap close waist pockets
Two interior pockets
Antique brass zips for smart style
Embroidered branding on front and back
Outer Shell: 100% Cotton Wadding
Interior Lining: 100% Nylon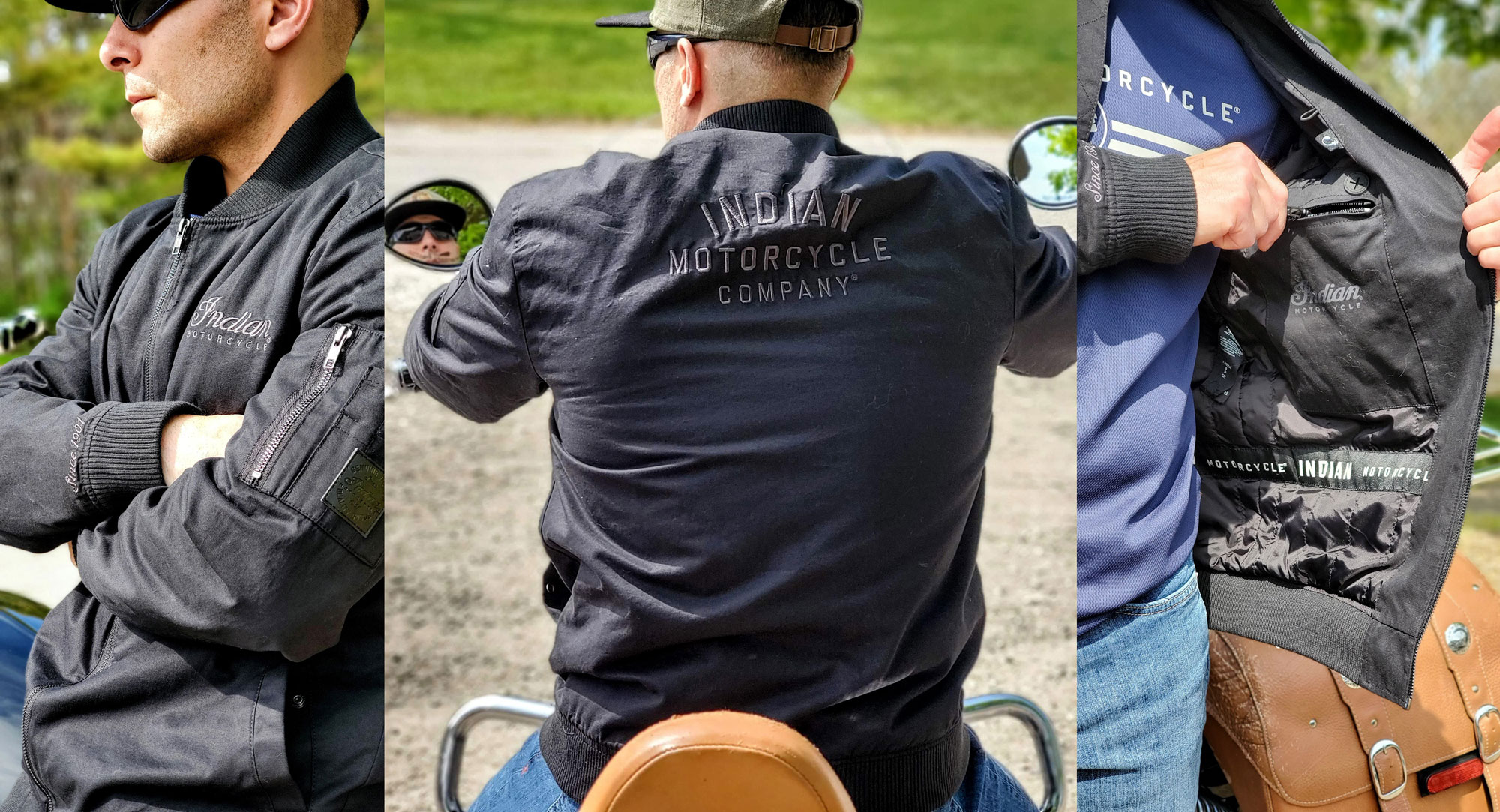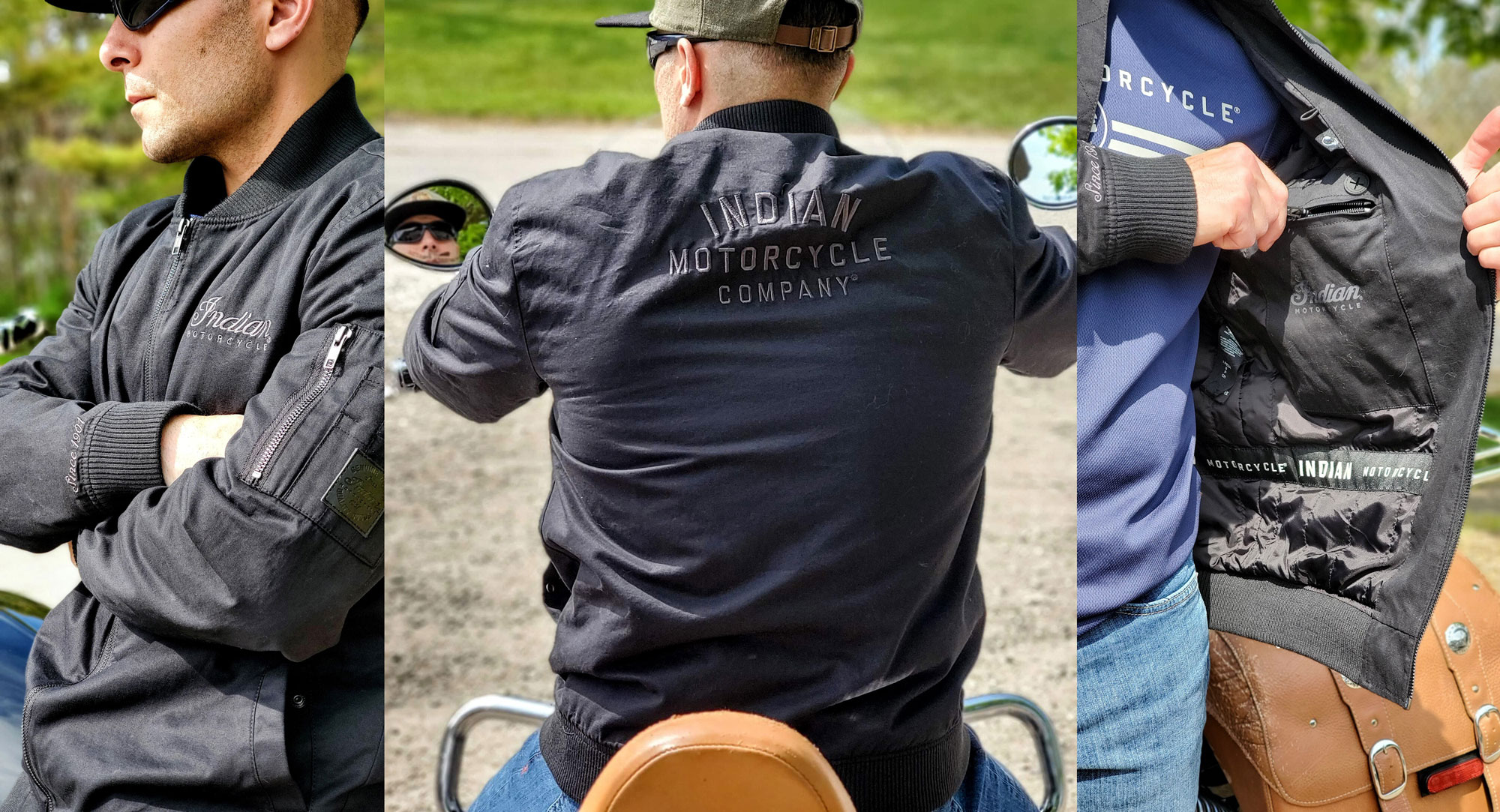 The Men's Casual Bomber Jacket has the classic bomber style with Indian Motorcycle branding, integrated storage design, and comfort. This jacket is super comfortable for everyday use. While it's not technically a riding jacket (protective wear) it certainly looks great while on your bike. I packed it away in one of my saddlebags during a weekend trip and tossed it on over my denim riding jacket for extra warmth. The relaxed fit allowed me to have maneuverability with multiple layers underneath. The interior storage as well as the arm pocket have a zipper to secure your items. The lower pockets have a one snap button to also help keep things in place while moving around. If you need a casual jacket that looks great, can pack away, and has a relaxed fit, this is it.
Buy Now: $119.99 or to learn more, check out: www.indianmotorcycle.com
Men's Long-Sleeve Performance T-Shirt
Key Features:
Factor 50+ UV protection
Anti-odor technology
Thumbholes at cuff
100% Polyester
Print on front
Lightweight and breathable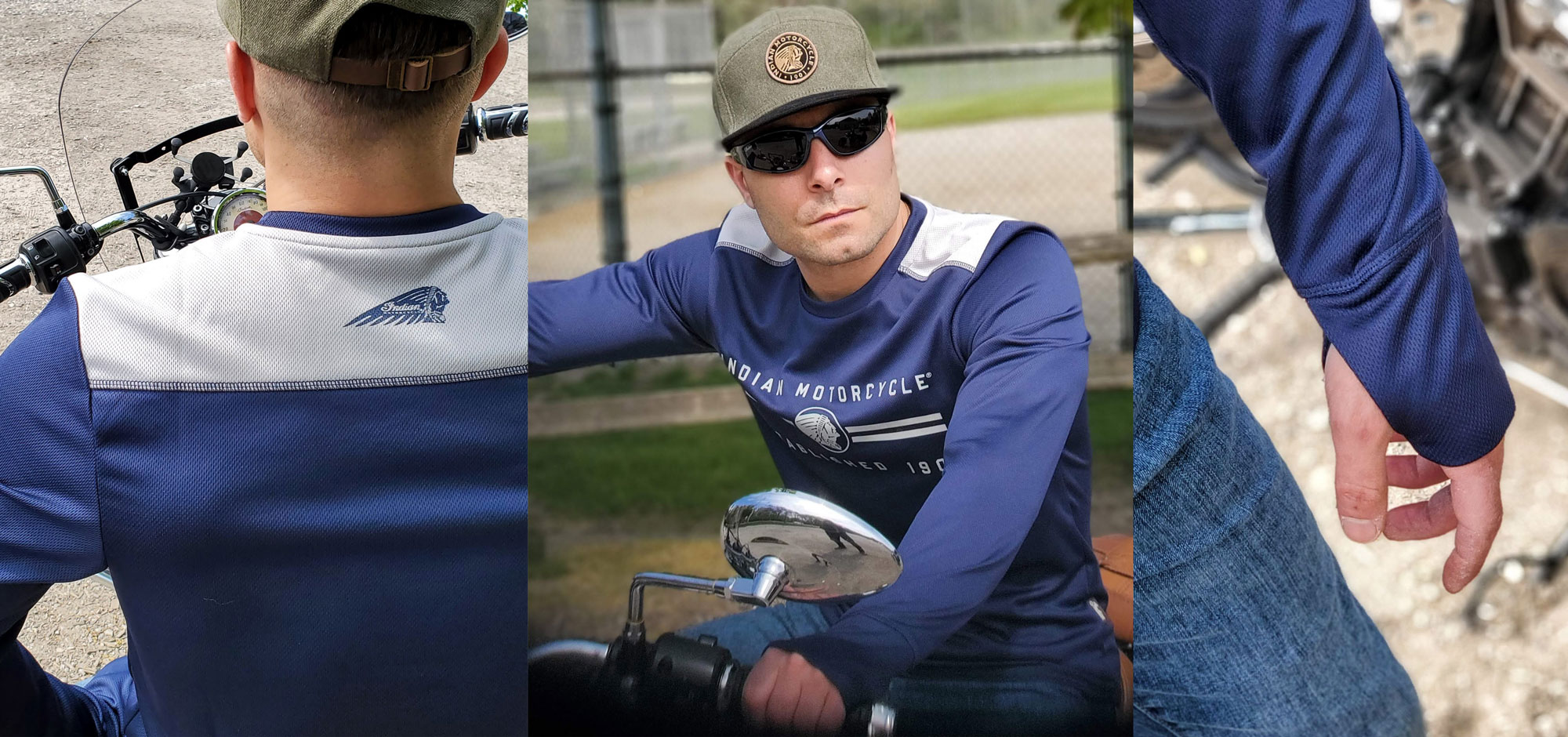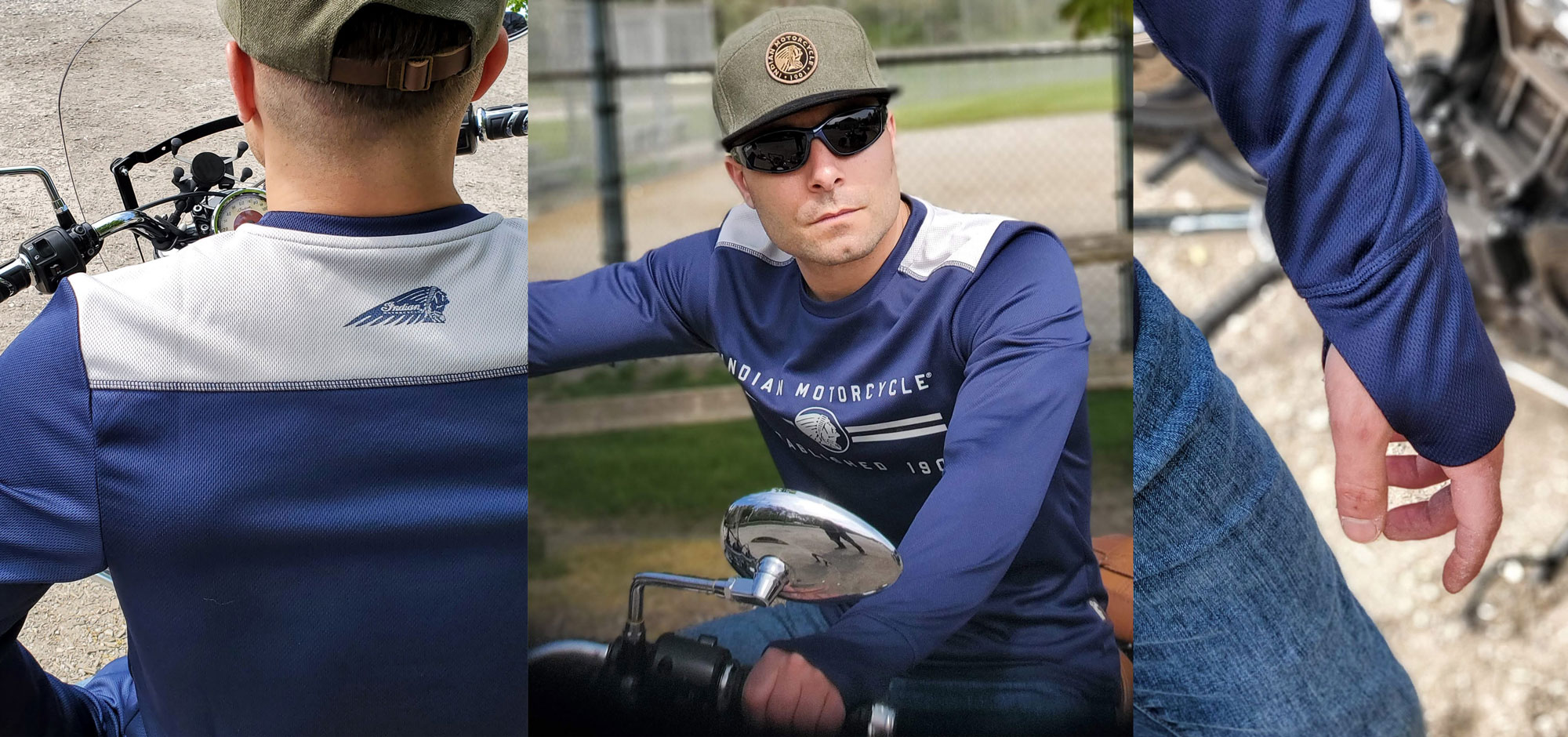 I never knew I needed this shirt until I wore it. I now realize just how comfortable having an actual performance style riding shirt can be. From the lightweight, breathable, and stretchy material, to the thumbholes in the cuff, this shirt is the perfect fit. The classic Indian branding is showcased on this new tech shirt and has just the look and feel I was hoping for. This shirt is lightweight enough to wear while riding in the sun and has a factor 50+ UV protection. While the thumbholes help add more UV protection on your hands as well as cut down on any debris sliding up your shirt, it also makes putting on a jacket or outer layer that much easier since it prevents your sleeves from rolling up. Style, performance, comfort, and price are just right on this shirt.
Buy Now: $59.99 or to learn more, check out: www.indianmotorcycle.com
Men's Solo Riding Gloves with Hard Knuckles
Key Features:
Strong and lightweight with hard knuckle protector
Reinforced leather panels on palm
Velcro closure at wrist
Touchscreen fingertip and thumb
Mixed textile & leather construction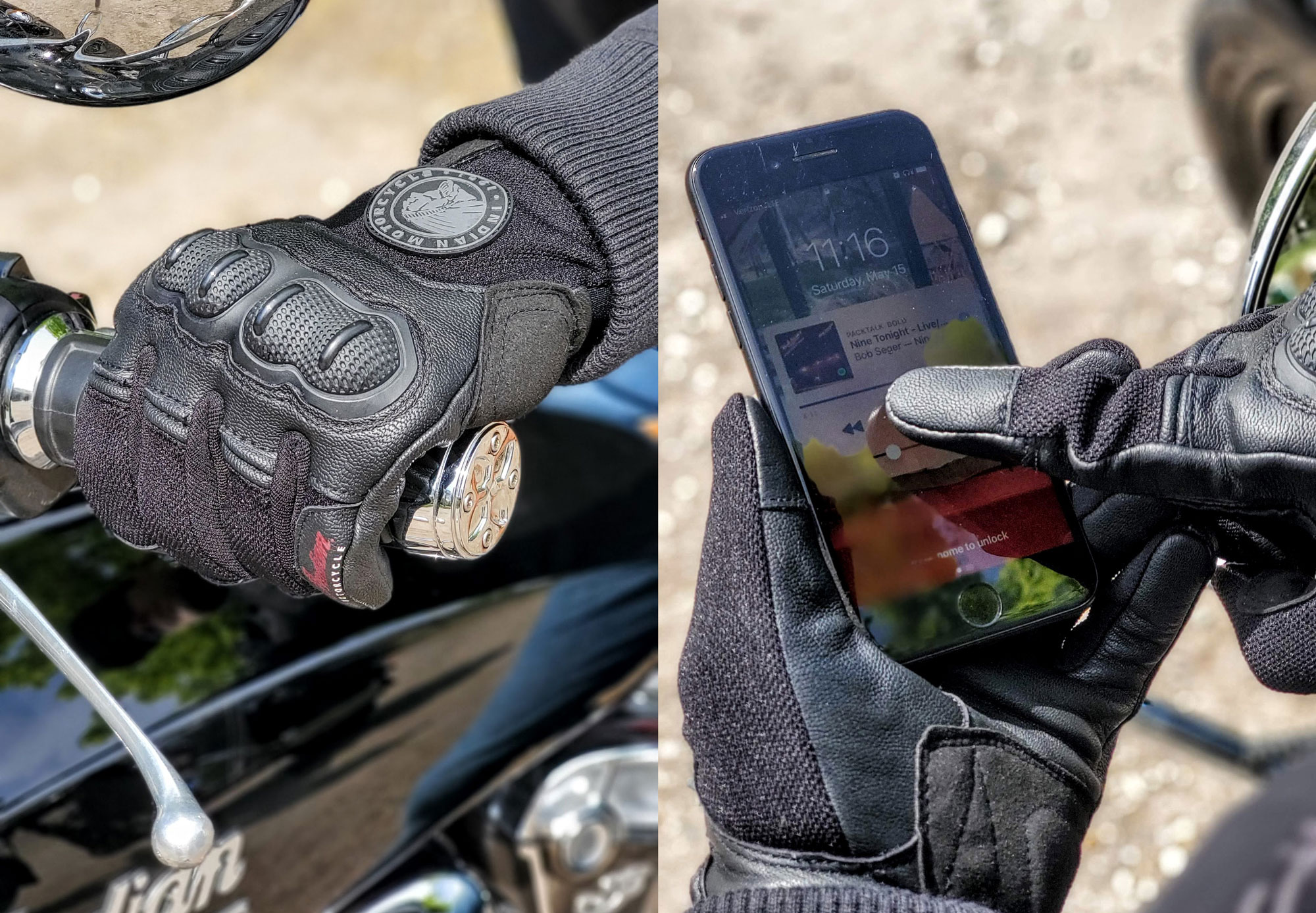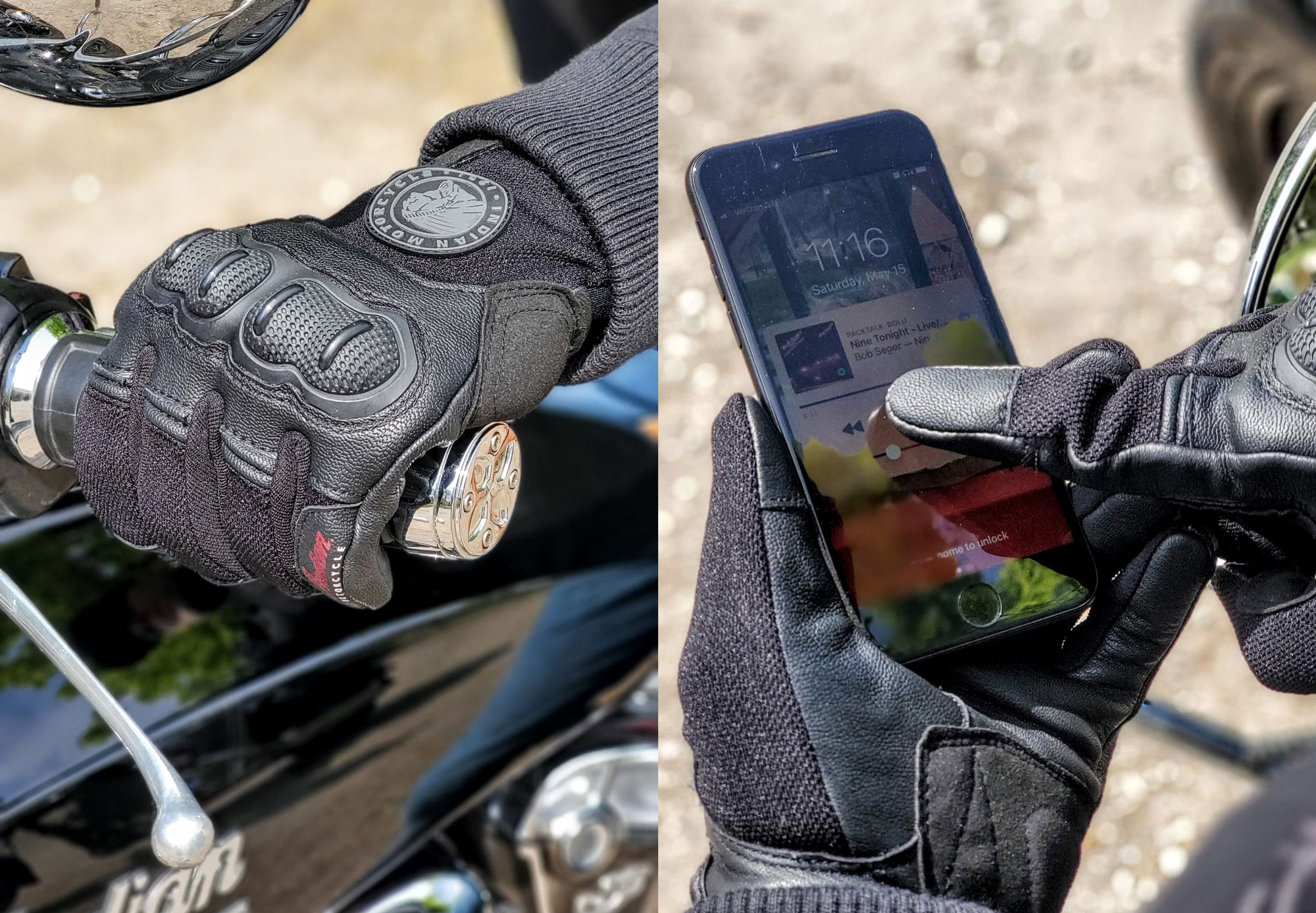 Having a nice pair of riding gloves makes any ride more enjoyable. The last thing you want is a pebble slashing through your knuckles or the chilled wind numbing your hands. While these aren't the type of gloves you would want to wear in super cold temperatures, they actually hold up pretty well in 50 degree weather. Even better, they hold up great in warmer weather with the breathable material. The hard knuckle protector keeps your hands safe from debris and the snug fit leather construction makes it great for an easy grip on the throttle. These gloves have touchscreen fingertip and thumb accessibility. Plus the velcro closure on the wrist makes getting these gloves on and off a breeze. These are my new go to riding gloves because of the versatility.
Buy Now: $59.99 or to learn more, check out: www.indianmotorcycle.com
Flatbill Waxed Cotton Trucker Hat with Icon Logo
Key Features:
Classic Trucker Hat style
Waxed cotton panels with icon patch
Adjustable rear leather strap (one size fits all)
100% Cotton brushed canvas
Machine washable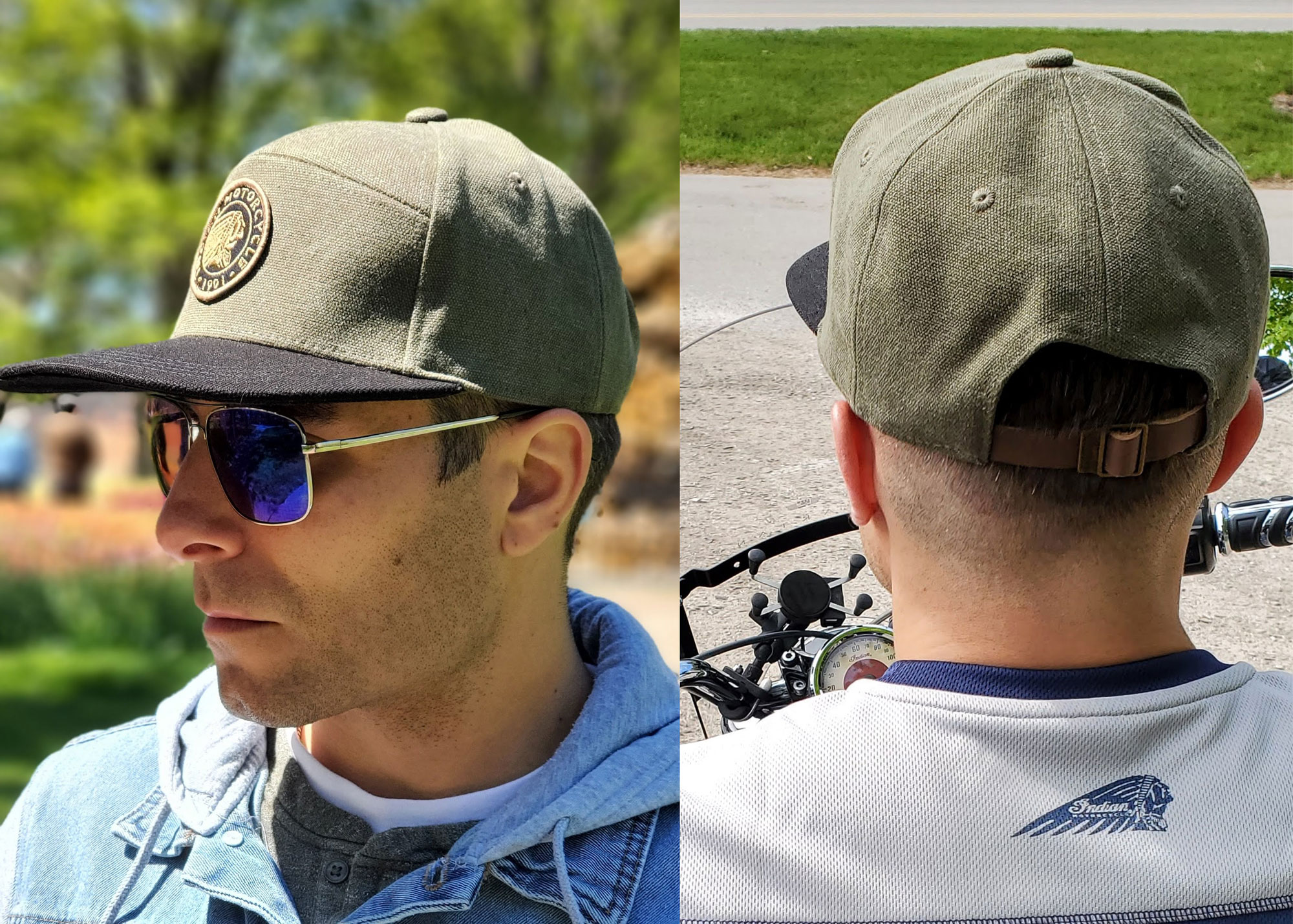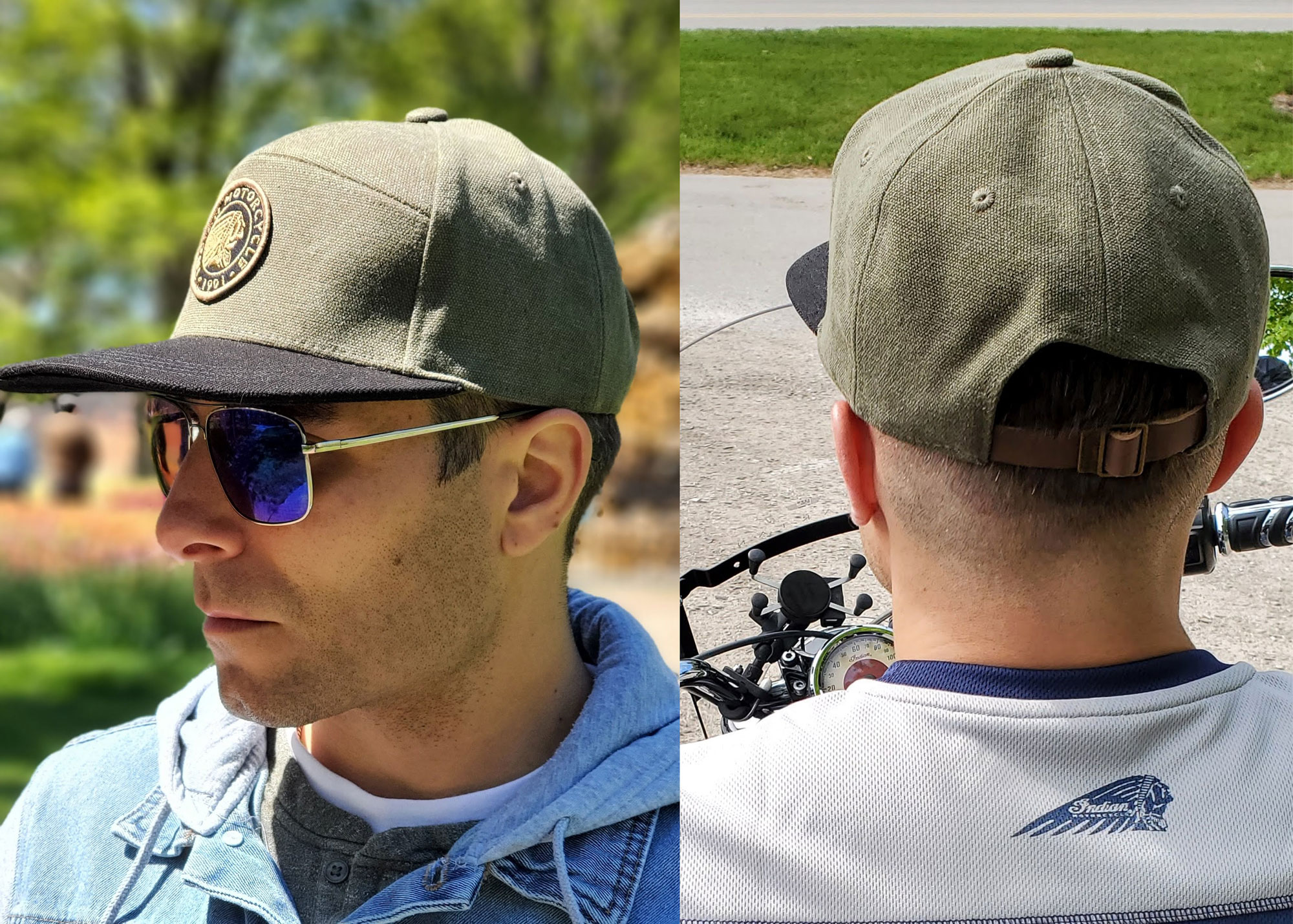 The classic trucker hat has six panels that give it a unique look. The quality starts from the front graphic, which is a woven patch. The quality continues all the way to the adjustable back strap made of leather. The fabric is 100% cotton brushed canvas with khaki crown panels and a black bill that compliments the classic style of Indian. The comfort level is not bad considering the flat bill. I personally love the style, plus it's comfortable to wear all day.
Buy Now: $19.99 or to learn more, check out: www.indianmotorcycle.com
Men's Leather Boyd Sneaker
Key Features:
Casual brown with white Vibram sole
Premium leather with antique brass eyelets
Gusset tongue
Antibacterial microfiber insock & mesh lining
Ankle protector
Gear shift pad
Includes white and brown waxy shoe laces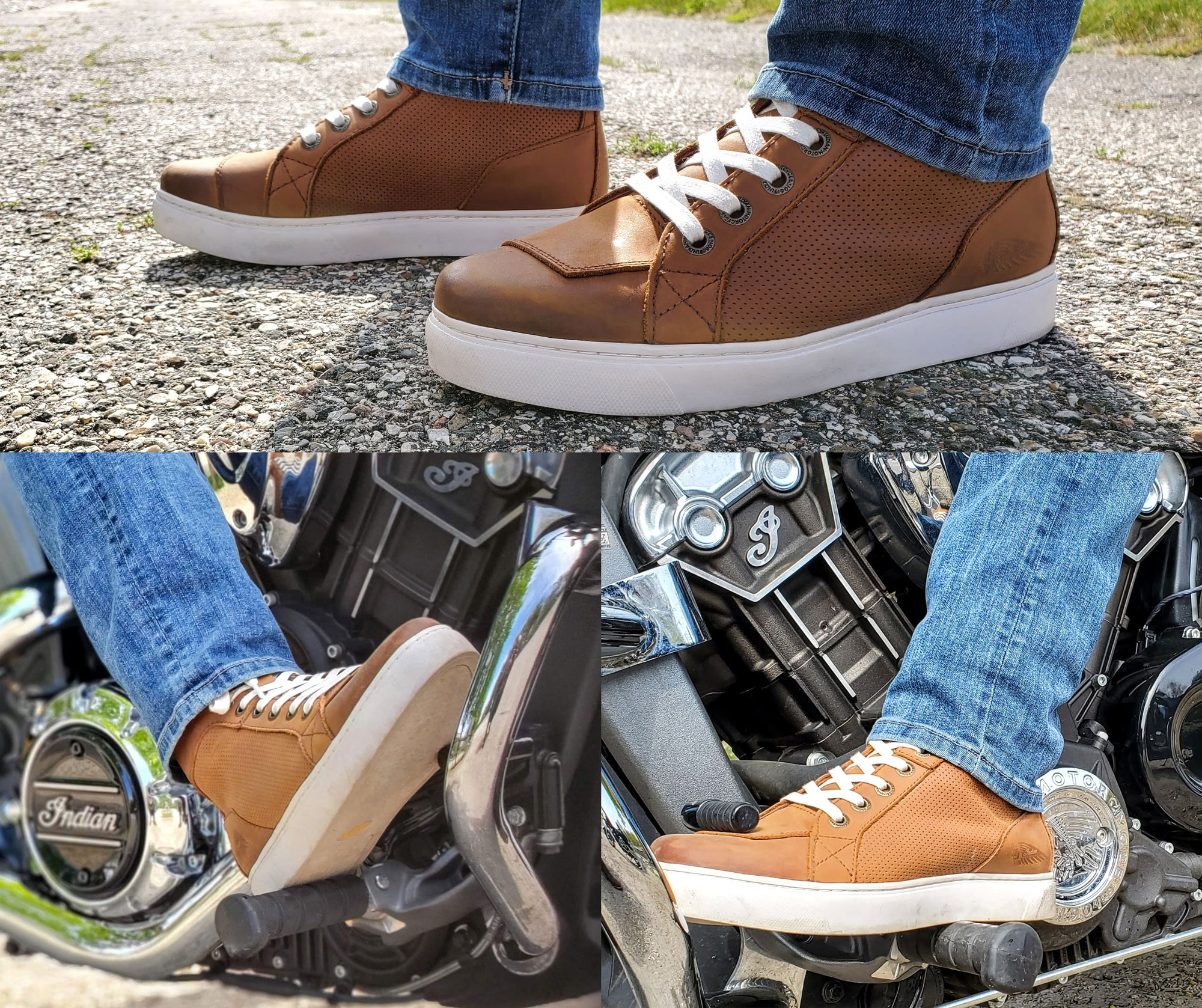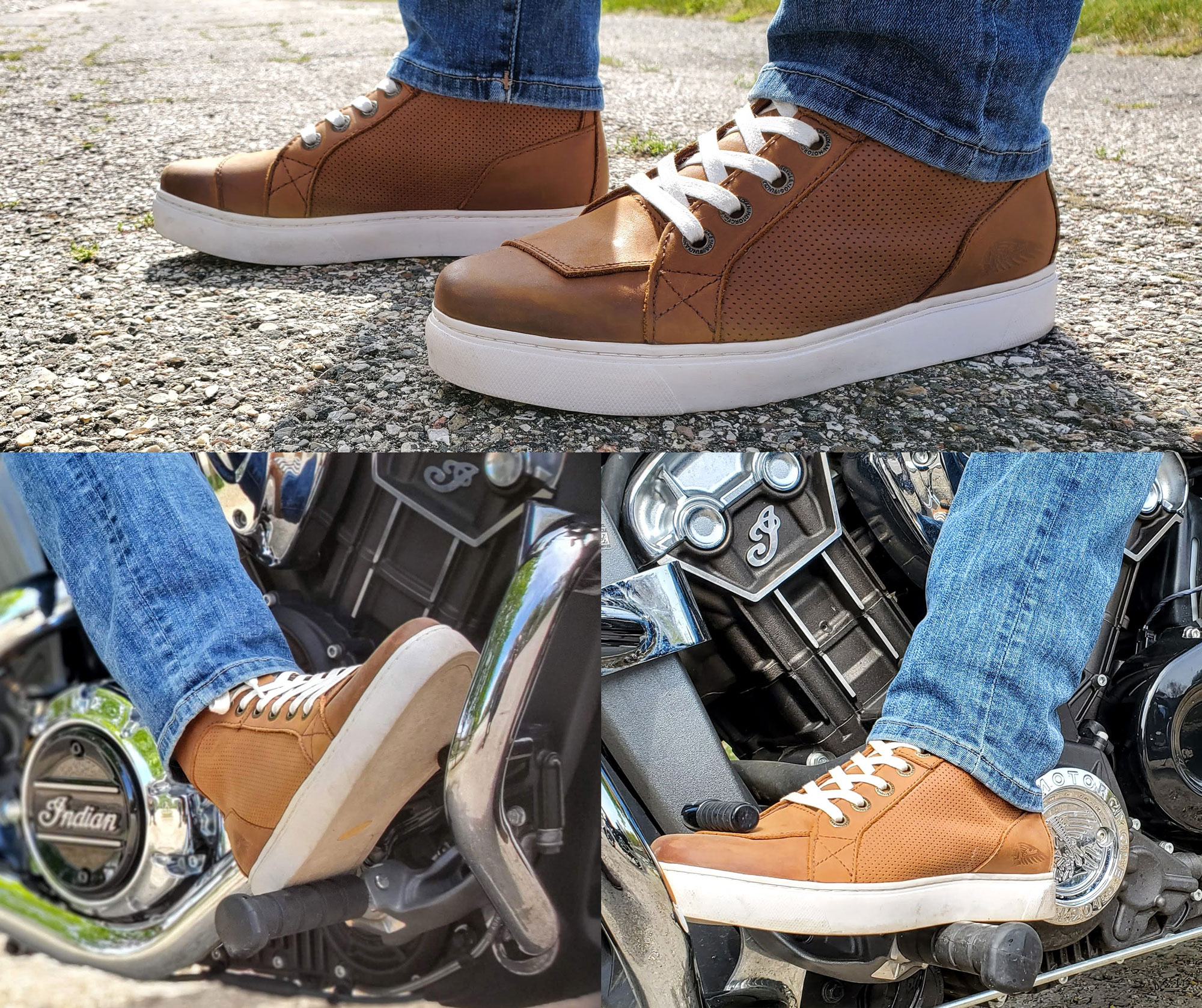 I've tried many different riding shoes/boots over the years and none are as comfortable as the Boyd Sneaker. Although they have a slight break-in period for everyday walking, they are comfortable to ride with on day one. The genuine leather give this sneaker a sophisticated look while the overall build quality proves it can handle miles of riding, shifting, and getting you where you need to go. The white Vibram sole not only provide a stellar contrast, but it also provides grip and abrasion resistance. The gusset tongue helps keep out debris and water while riding and the antibacterial microfiber insock and mesh lining keeps things fresh on the inside. The thick exterior and ankle protector help keep your feet protected and secure. While this sneaker has a great look, it's the gear shift pad that makes this shoe so comfortable to ride for miles at a time.
Buy Now: $129.99 or to learn more, check out: www.indianmotorcycle.com
Key Features:
Lightweight polycarbonate frame
Shatter resistant UVA/UVB lens
CE certified
Directive 89/686/EEC Lens Filter Category 3
Anti-fog coating and perscription-ready
Logo on right lens and near leading edge of each bow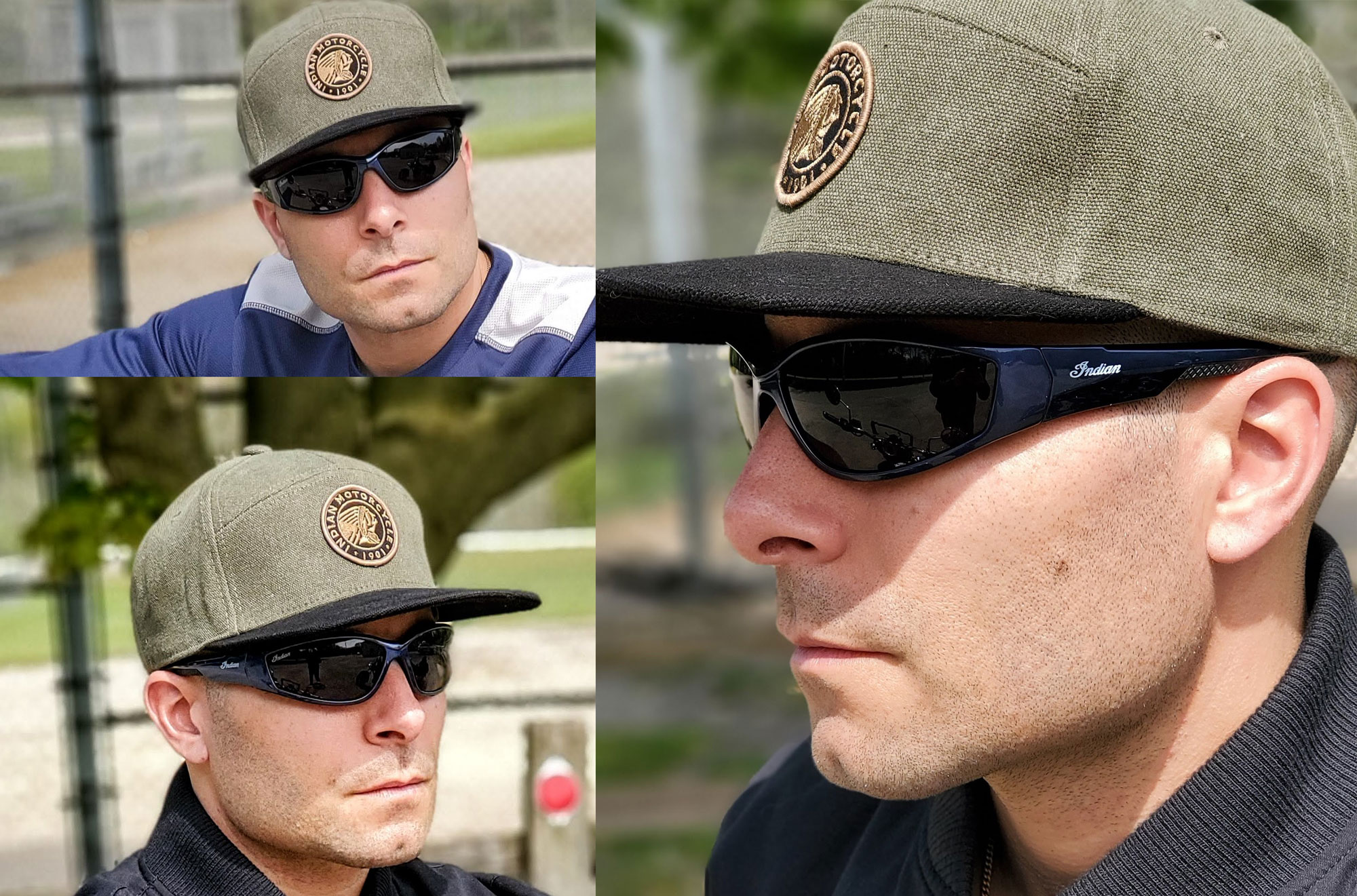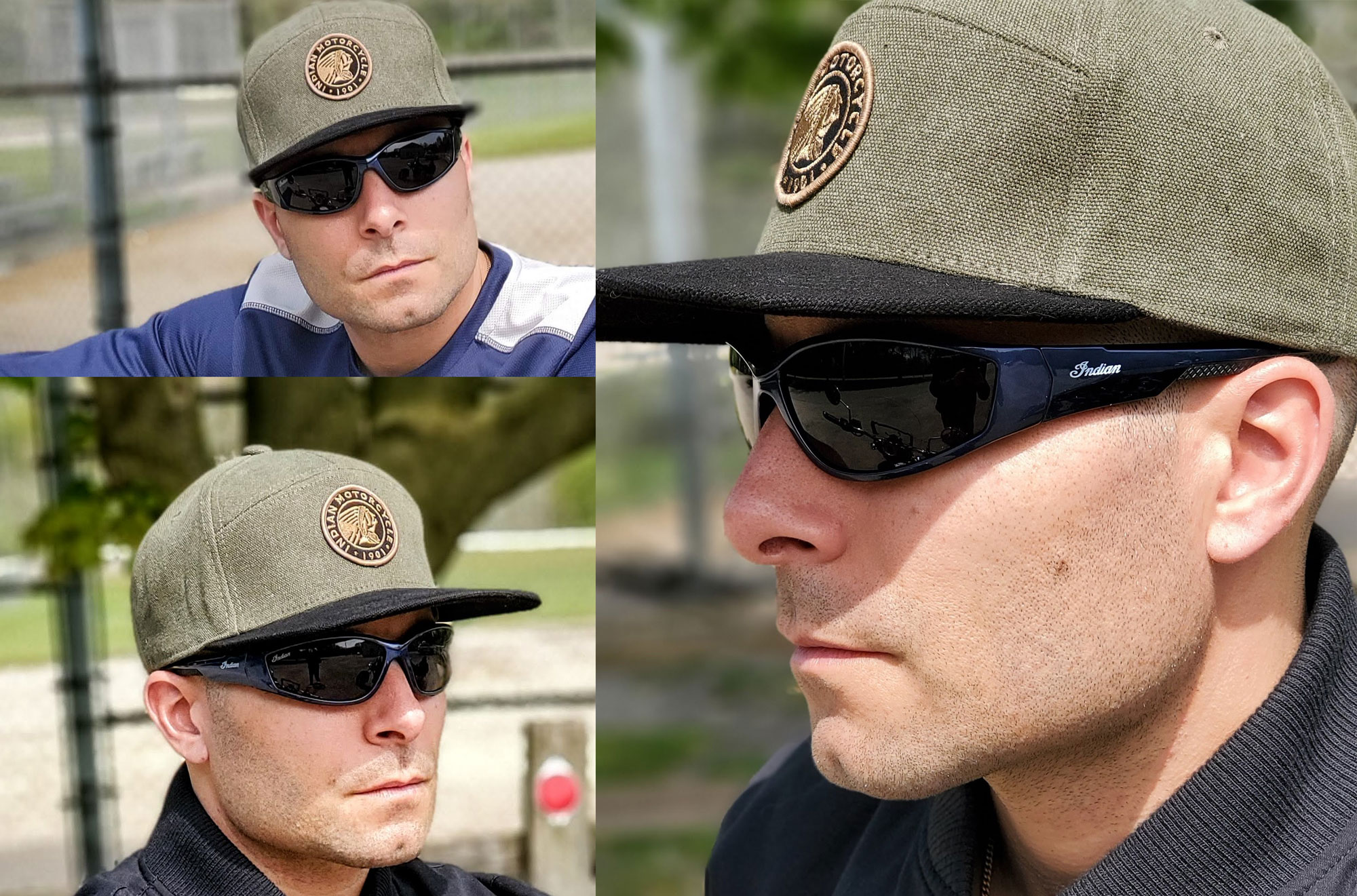 A nice pair of riding glasses doesn't have to break the bank. You can have style and protection with these Casual Spirit Sunglasses. These sunglasses look and function great on and off the bike. Made of lightweight polycarbonate, these glasses are shatter resistant and have UVA/UVB protective lens. They are also CE certified and have a directive 89/686/EEC Lens Filter Category 3. Now if none of that means anything to you, just know that they fit well, stay in place, look cool, and protect your eyes. All this for $29.99 is a no brainer when it comes to having these as part of your riding gear collection.
Buy Now: $29.99 or to learn more, check out: www.indianmotorcycle.com
Indian Motorcycle 2021 Spring Apparel
Like their motorcycles, Indian apparel is crafted with quality and style in mind. Aside from the style, each item has a great degree of comfort and build quality that'll be sure to last ride after ride.
Long-Sleeve Performance T-Shirt
9.9
Casual Spirit Sunglasses
8
The Good
Comfortable
Breathable
Quality material
The Not So Good
Longer break in period for the sneakers