At my last family dinner, my 84 year old grandpa was flipping through the newspaper sales ad inserts. He came across an ad for the new GoPro Hero4 and he was instantly intrigued. After explaining to him what it was and what you could do with it, I'm pretty sure my grandpa is going to buy one for himself. Not sure he will even know how to turn it on once he gets it BUT you can see how even an 84 year old can understand just how awesome these cameras are. They are a game changer when it comes to photos and video.  Needless to say if you don't already have a GoPro it's probably on your wish list. If you already have one, you are itching to have new ways to capture video and photos. Well we have addition to both of those party's wish lists – GoPole's line of mounts and accessories.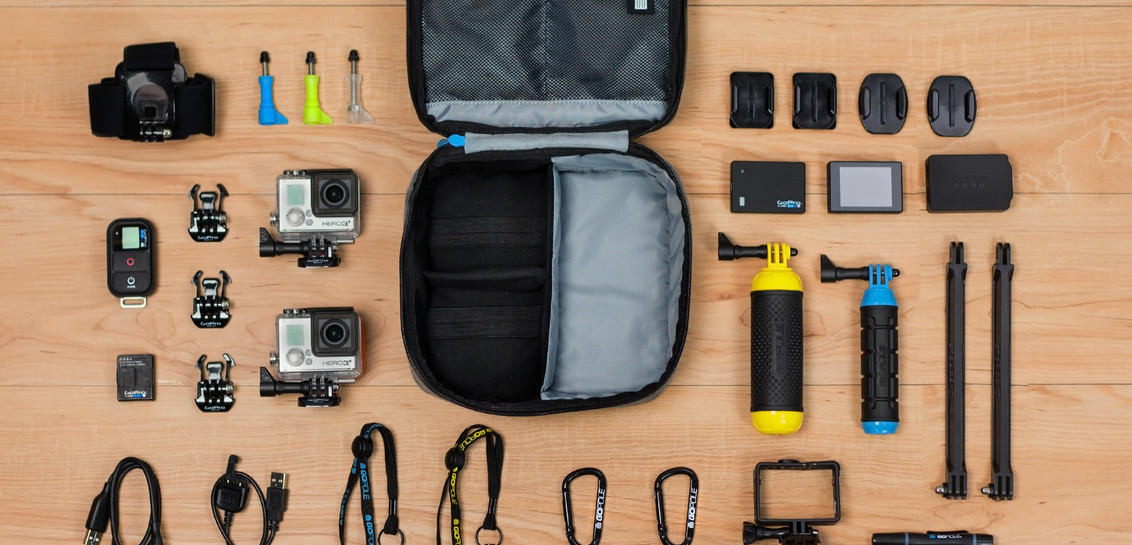 GoPole was founded in 2010 and is the original GoPro accessory brand. They pride themselves in offering high quality accessories that offer users versatile new ways to use their GoPro cameras. Today GoPole is the leading third party GoPro accessory brand worldwide and their whole line is 100% compatible with all GoPro HERO cameras. The fine folks over at GoPole sent us their most popular mounts and accessories to use with our GoPro and boy did we have fun trying them out.
– Mounts –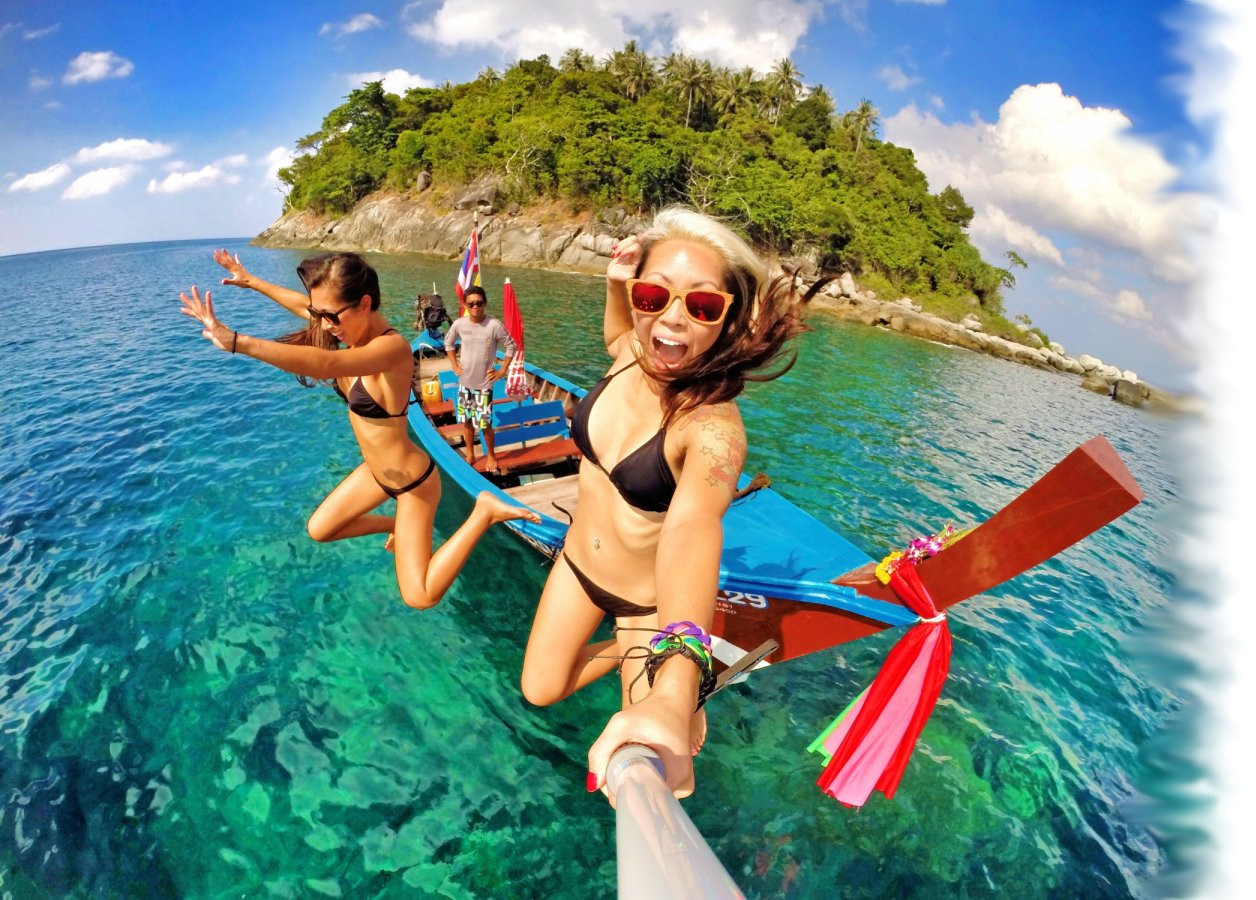 The Reach is GoPole's most popular product by far because it is the essential selfie accessory. It's a 4 stage, telescoping extension pole for your GoPro that extends from 14 inches all the way up to 40 inches. Pair this with the GoPro's wide angle, fisheye lens and you've just given your video and photos some pretty spectacular angles.  The pole length can be adjusted and set in place thanks to the Reach's integrated twist locks. So once it's in locked in place, it's not going to slide up or down while you're in action. Included with the GoPole Reach is the Smart Remote Clip that securely houses your GoPro's remote so that you can easily control your camera while on the move. The Threaded Attachment System allows you to securely attach the included wrist strap as well mount it onto a tripod base for steady shots. The Reach also has its own direct GoPro connection so that no additional adapters are needed. Made of out of lightweight, durable materials the GoPole Reach is ready to go where ever you want to go. I can see why it is GoPole's most popular product – it's the one I've used the most so far.
The Evo is much like the Reach except it's ready to dive right in with you on your next trip to the lake. The GoPole Evo is an extension pole and floatation device made for your GoPro. The transparent, hollow pole extends from 14 inches to 24 inches with its 2-stage telescoping design. Like the Reach, it has twist locks to keep it in place but the Evo's are watertight. The hollow, watertight design allows the Evo to float above the waves while attached securely to your GoPro. This is key because if you drop your precious GoPro into the sea without some sort of floatation device, you have a pretty good chance of never seeing your camera again – and all of your cool footage on it. The Evo also comes with the Smart Remote Clip for those underwater selfies, Threaded Attachment System, the essential wrist-strap, and the direct GoPro connection. I had a ton of fun capturing underwater video of my family and friends reeling in fish on the lake using the Evo.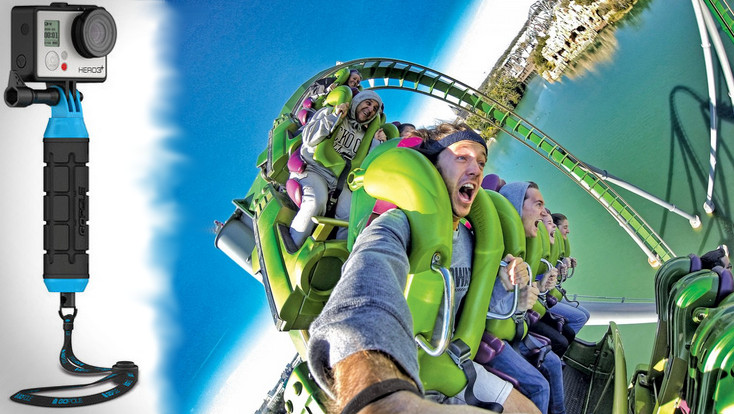 The Grenade is a compact hand grip that is a must have GoPro accessory. It can basically go anywhere with you with its portable design that makes it easy to throw into you bag or put into your pocket. The Grenade has a rugged grip so that it stays in your hand or glove while on the move. It comes complete with the Threaded Attachment System, direct GoPro connection, wrist-strap, and a carabiner so that you can clip it to your belt loop or backpack.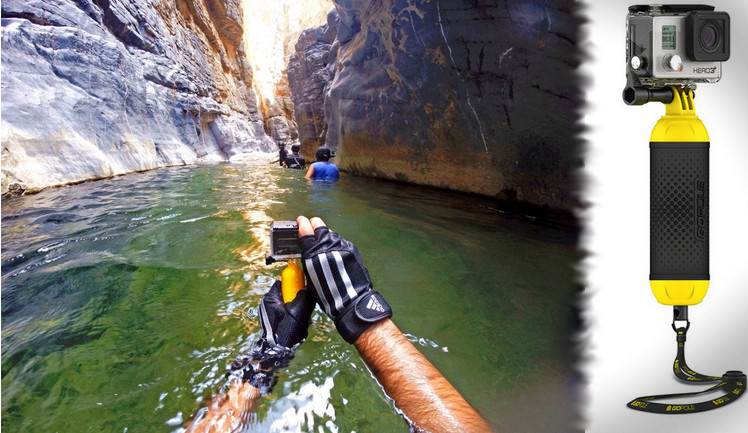 The Bobber is aptly named and is the first of its kind floating GoPro accessory. It essentially is a bobber for your camera that doubles as a hand grip. The Bobber is brightly colored so you can easily spot it if it's dropped into the surf. Also the Bobber is GoPro BacPac compatible meaning it floats the LCD Touch BacPac, Battery BacPac, and the Dual HERO system. It's much like the Grenade gip but it won't sink like a rock when dropped into the water.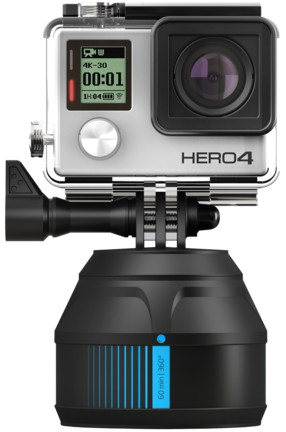 The Scenelapse helps you take the GoPro's time lapse video feature to the next level. Imagine those stunning rotating cityscape or sunset time lapse scenes you've seen on the Discovery Channel. The GoPole Scenelapse can help you achieve that same type of footage simply by turning on your camera's time lapse and setting the device. This rotating time lapse device spins up to 360 degrees in 60 minutes – you set the angle and duration. It's kind of like an egg timer for your GoPro. The Scenelapse can be attached to a tripod at its base and you can use the removable GoPro connection to attach other GoPole mounts or other cameras. It will be the coolest footage you'll capture on your GoPro with the least of amount of effort.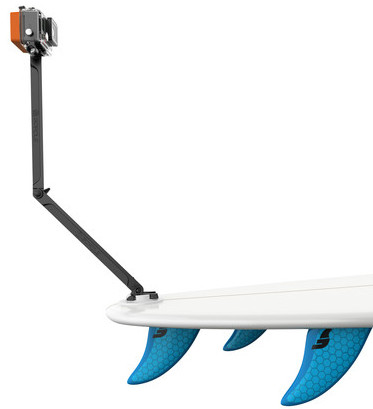 The Arm is an extension mount that can be attached to any GoPro or GoPole mount. This 2-piece extension kit can be used in 8 inch or 16 inch configurations using the included Hi-Torque Thumbscrews. The Arm's locking connection makes it so the its pieces can be set at 0°, 45°, -45° angles or adjusted to anything in between. The GoPro Arm is the perfect helmet or surfboard mount.
– Storage –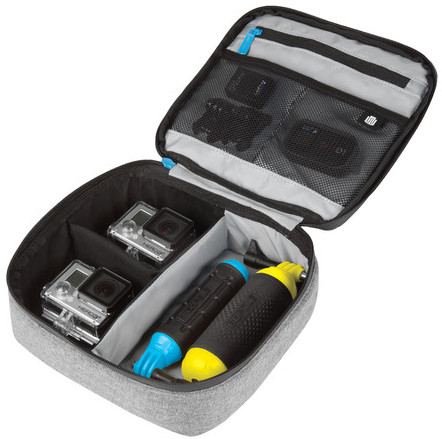 The VentureCase may be small and lightweight but its a durable, weather resistant case that can fit almost all of your GoPro essentials. This case has enough room to hold two GoPro cameras while still being able to hold mounts like the Grenade and Bobber. It can also hold your remotes, extra batteries, attachments, and thumbscrews. The VentureCase camera compartments have straps to keep your GoPros secure while you travel. The case zippers are also water resistant to keep the inside dry. The VentureCase will easily fit into your backpack or dry bag during your next adventure.
– Accessories –
GoPole Hi-Torque Thumbscrew Pack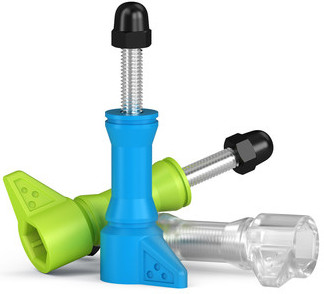 These L-shape designed thumbscrews allow you to have a better grip and more leverage when attaching or tightening your GoPro to your mounts. Once attached, your camera isn't going anywhere. The Hi-Torque Thumbscrews come in multiple colors giving your setup some flair.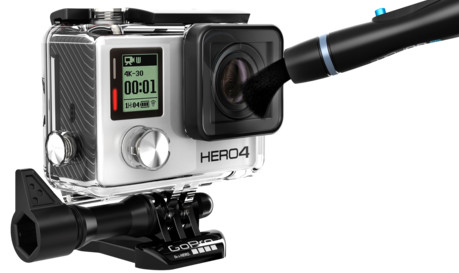 Picture this. You are so pumped to watch the video of your first parachute jump that was taken with your GoPro. You get home, pull up the footage on your laptop, and push play. You immediately are bummed out to find a big old finger smudge messing up the crystal clear video. There's no taking that back! Take the extra steps before taking the leap out of the plane by properly cleaning your GoPro's lens and case by using GoPole's Lenspen. The Lenspen is a compact lens cleaner that safely, quickly, and easily removes fingerprints, blemishes, and dust using an invisible cleaning compound. The chamois cleaning tip is great to use to wipe your camera's lens clean and the retractable ultra fine brush sweeps away everything else – all without scratching. It's a slick yet essential little brush and a great tool to carry in your VentureCase.
As an added bonus, all of GoPole's products carry a lifetime warranty so you know they are built to last.
So if you are ready to step-up your GoPro's video and photo capabilities or you are in the market to purchase your first camera I highly suggest GoPole's line of GoPro accessories. There's a reason why GoPole is the original, #1 selling third party GoPro accessory brand worldwide. They know their stuff.