Stogies and Scotch… gentlemen, do I now have your attention? I thought so. Recently our good friends at The Dalmore Distillery reached out to us with an opportunity taste, test and review their new release of an old favorite – The Dalmore Cigar Malt Reserve. As you might imagine we jumped at the opportunity, quickly assembled our tasting panel and began pouring, sipping and sparking up Coronas. You see, the re-release of this highland scotch is (as Ron Burgundy would say) kind of a big deal – as The Dalmore Cigar Malt Reserve was first released only in limited edition back in 2011, and exclusively to the US market –  but today my friends the Cigar Malt is back by popular demand. And we're here to give you the low down…
Photo Credit: @knightofbk on Instagram   What you need to know: The Dalmore Cigar Malt Reserve isn't a straight aged scotch like Dalmore's 12 or 15 year old variations. The Cigar Malt instead is matured and blended from whiskys aged (from 10 and 14 years old) in casks of three differing types, including: American white oak ex-bourbon casks, 30 year old Matusalem oloroso sherry butts and premier cru Cabernet Sauvignon wine barriques. The body, structure and character of the Cigar Malt Reserve is said to be the perfect complement to a fine cigar. This being the 2nd Edition of The Dalmore Cigar Malt Reserve, Master Distiller Richard Paterson decided this time around to tweak the final recipe and finesse the scotch in Cabernet Sauvignon barriques from the Saint Estephe appellation of Bordeaux giving it a fruitier smoother finish.   Now that you know what goes into this newly re-launched and revamped highland scotch, how about we get down to the nitty-gritty and go over what we discovered during our latest tasting session.  
– The Dalmore Cigar Malt Reserve Review –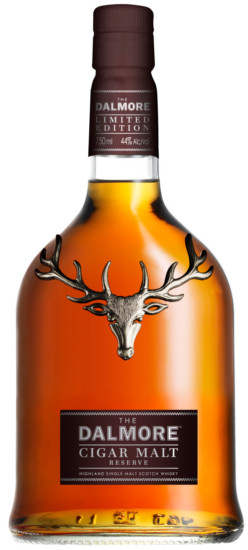 Proof: 88 (44% ABV)
Age: Blended
Appearance: Vibrant amber
Nose: Cinnamon, vanilla, citrus and tobacco
Flavors: Vanilla, citrus, caramel, hints of oak and spice
Taste: 

A

 (Excellent)
Finish:

A+

(Amazing)
Buzz Factor:

B+

 (Very Good)
Price: $129.99 USD (750ml.)
  Overall: We give The Dalmore Cigar Malt Reserve an A (Highly Recommended) This robust highland scotch whisky isn't reserved only for cigar smokers, though we did discover quickly that a puffing on a fresh Macanudo did enhance the sipping experience undoubtedly. If you're looking for a budget brand scotch to kick your feet up and pretend to be Don Draper, this simply ins't it. At nearly $130 a bottle The Dalmore Cigar Malt Reserve is something for special occasions or quite possibly the finest gift you could give a man. If you're given the opportunity, trust us, don't pass up this complex and smooth finishing scotch. It's simply outstanding!  
MIX IT UP… "Wet Willy" 
Ingredients: 1 part tap water (distilled if you like) and 4 parts The Dalmore Cigar Malt Reserve.    Directions: Combine ingredients in a low-ball glass, swirl, kick your feet back, lite up that stogie and enjoy!   Buy Now: $129.99 ($USD) or go to: TheDalmore.com   Follow BustedWallet on: Facebook & Twitter