Already familiar with Cobra? Then you must know about their vast inventory of products ranging from Detection Systems to Marine VHF Radios and Dash Cams.  If you don't already know who Cobra is, then "let me introduce you to my little friend".  Meet the Cobra SPX 7800BT Ultra-High Performance Radar/Laser/Camera Detector with 1.25-inch Color OLED Display, Voice Alert, and iRadar Community-Based Detection.  Whoah, that was a mouth full.  But for good reason, because this little baby packs a punch.  Cobra used their latest technology, military grade components, and best design practices to pack this thing full of feature rich performance all while shrinking it down to half the size of other detectors on the market.  Don't let the size fool you.  This SPX Series nearly doubles the detection range and warning time of previous models.  Before we start, we want to spell out that we don't condone unsafe driving. Please always use your best judgment when getting behind the wheel of a car, and be respectful of your fellow drivers on the road. A radar detector is good for helping you avoid tickets in the event that you do find yourself going faster, but it's not a 'get out of jail free' card.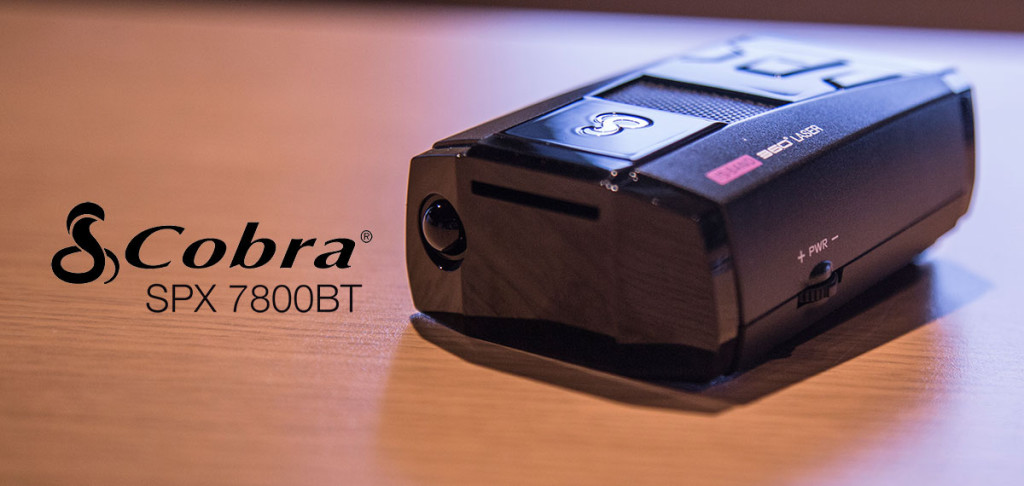 Display: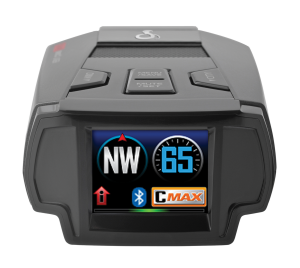 The Color OLED Display is bright, clear, and simple to understand.  If there is a signal to detect, it projects a simple and clear indication of the signal as well as the current mode of the detector.  While this is nice and convenient, we kept wondering why we actually needed to know what type of radar signal was being used.  I can't speak for everyone, but when it really comes down to it, just alert me if/when there is a radar gun being used and the signal strength.  You can however, adjust the alert settings for specific signals to help increase or decrease sensitivity.  The voice and tone alert methods are also very useful so you don't have to take your eye off the road.
Key Features:
Maximum Performance – High Power CPU and Military-grade components maximize detection range.
Community Threat Sharing – Share alerts and locations in real time.
Ultra Compact Design – Discreet and refined—One of the world's smallest detectors available.
Full-Color Organic LED Display – Bright graphics display for intuitive visual threat notifications.
Eight-Point GPS Compass – Automatically provides an accurate direction heading, when connected to your iOS/Android smartphone via Cobra iRadar app.
One of our favorite features about this radar detector is the free iRadar App that works seamlessly with the detector.  The worst part about trying to change settings in any device with only a couple buttons, is that there are only a couple buttons, making it harder and more time consuming trying to change something.  With the iRadar App, you use your smart phone that is connected to the detector via bluetooth to change any setting with ease.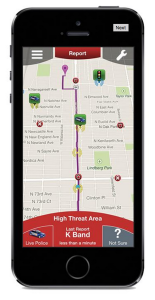 Plus for those of us who don't know what each signal means, there are info buttons next to each detector filter with a brief description of what it is and how it is used.  It is very useful having all of this in one simple easy to use app versus a paper manual that you'll eventually misplace.  The App also comes with it's own mapping and simple navigation.  I'm currently using the Samsung Galaxy S3 and although I was able to pull up the map and see real live traffic information, the app was not able to execute a directional route.  I typed in the address and hit enter, but nothing happened.  Not a heartbreaker for me since I use google maps, but I can see how convenient it would be keeping everything in one app.  Especially since their map uses the community based reporting to highlight locations where there are reported alerts such as live police, red light cameras, speed cameras, and caution areas.  The app also includes music controls, background alert notification and distance countdown to alerts.
So what's in the box?
The detector comes with a suction-cup mount windshield bracket kit, coiled powered cord, and documentation.  Easy to use and took me all of 10 seconds to install, turn on, and get going.  The iRadar App can be downloaded for free from the App store (iphone users) or the Play Store (android users).

Value:
Priced at $249.95, Cobra claims that this unit provides extra detection range for the best possible advance warning compared to all other radar/laser guns currently used in the United States and Canada, including POP Mode (Super-fast) instant-on Radar guns.  What it really comes down to for a radar detector to be worth using, is that it must see the radar before the radar gun sees you.  It must help you determine a false alarm and alert you to different types of speed readers (like lasers).  Most the time it detected a signal before I was able to clearly see any patrol officer.  In some cases, I did see the police before it was able to detect a signal; other times it went off as I was passing a speed trap. But, with all the features this detector has, I think it's safe to say that it's a good deal.  I would prefer to see better accuracy and perhaps a dash cam integrated into their next model.
Buy Now: $249.95 or go to Cobra.com to learn more.
Cobra SPX 7800BT Radar Detector - Tech Review
We can't say with 100% certainty that this unit is the best out there, but from our experience so far, we can't really imagine a better detector for the price.
The Good
Free iRadar App
Community Threat Sharing helps for advance warning
Compact Design & Simple Interface
The Bad
Detection Range could be better
No dash cam