For most, the end of February is a time to pack up the winter gear and prepare for the yearly thaw.  Not for those who brave the tundra… we still have a few more months of that winter powdery goodness. That "lucky" bunch still have time to hit the slopes, and like them, we are not packing up just yet.
What we're reviewing today really is a collaboration of epic proportions. Burton drew inspiration from the Danner Light boot and their proven features, like the Vibram Ecostep Rubber Outsole for a solid grip and Sleeping Bag Reflective Foil to capture and radiate body heat. Burton x Danner Snowboard Boots were built for those brave extremists who need the option to go anywhere on the mountain. These two giants came together to create something magical, it's only fair we do right by them and put them to the ultimate test.   Here is what we thought of the Burton x Danner Snowboard Boot.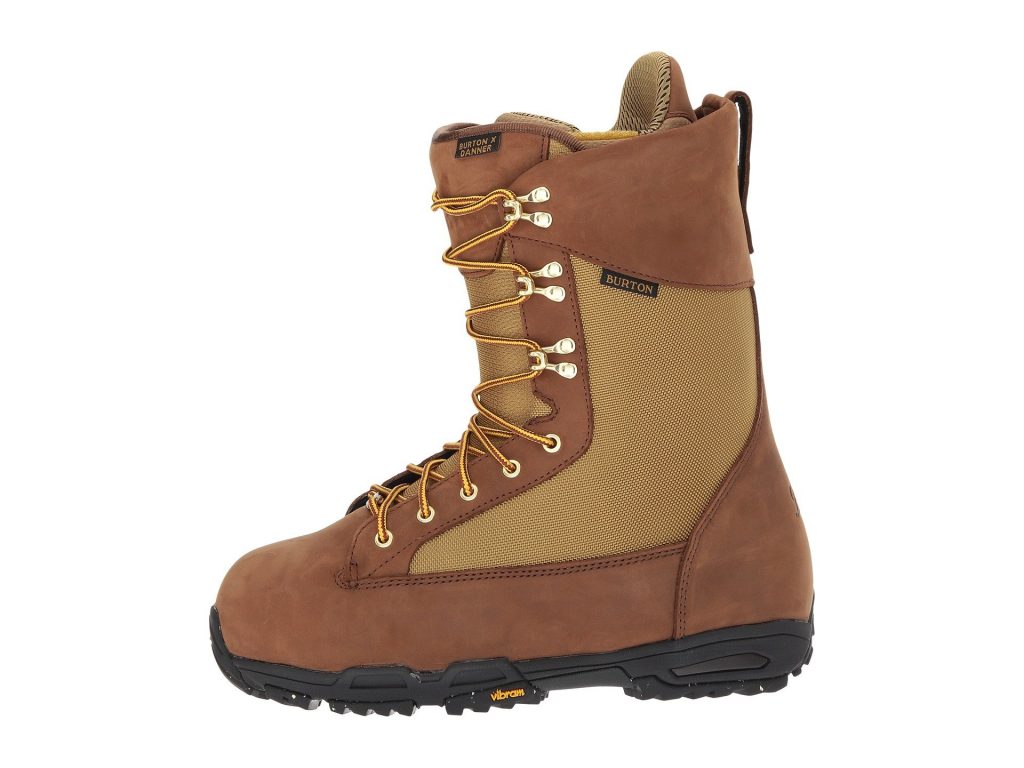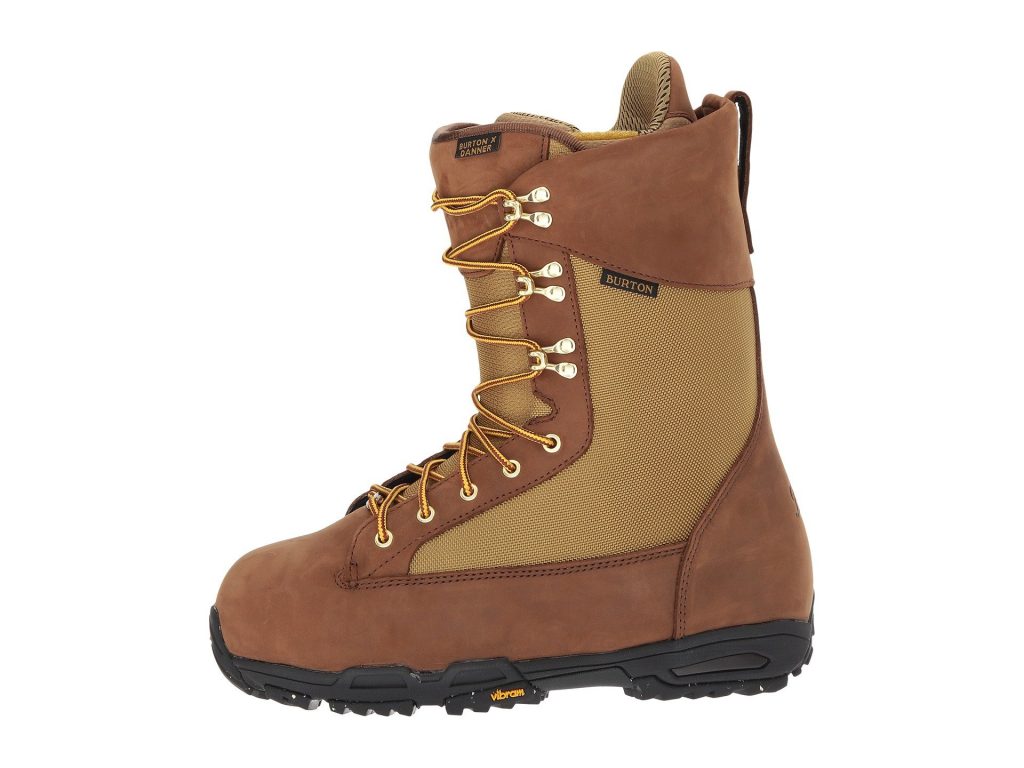 Key Features:
Exclusive collaboration with Danner Designers
Genuine Leather
Traditional Lacing
Medium Flex Tongue
Snow-Proof Internal Gusset
Imprint 3 Liner with Aegis Antimicrobial Coating
Shrinkage Footprint Reduction Technology

Rubber Ice Spikes, 

B3 Gel, 

Sleeping Bag Reflective Foil

Level 2 Molded EVA Footbed

Vibram EcoStep Rubber Outsole (30% Recycled)

1-Year Warranty
Men's Burton x Danner Boot Breakdown
Functionality:
Built to exude a spirit of the mountain, the Burton x Danner snowboard boot takes innovation to the next level. Do not be fooled by the traditional lacing or the leather, this boot has many hidden gems that are easily overlooked. Rubber ice spikes and the Vibram Ecostep outsole for traction on the exterior and a super-comfy Imprint 3 liner for the interior, the Burton x Danner snowboard boots are fully capable to handle any weather mother nature throws your way.  From drudging through the powder or strolling outside the packed snow of the lodge, know you can rest assure they will not falter.  I can not tell you how many close calls I had while walking on the ice because they did not happen.  I guess that means the spikes were working. But even after all that, they are meant for one thing, snowboarding.
The featured leather shell with a medium flex profile makes them highly durable and extremely versatile all while being ridiculously good looking. One of the major issues that they managed to address was that of toe grab.  Those with larger boots, like myself, know this problem all too well but the Burton X Danner uses "Shrinkage Footprint Reduction Technology" which reduces the boot's overall footprint one full size, which means a men's size 11 fits like a size 11 but has the footprint of a typical size 10.  Which also means shorter, lighter, and sleeker without all the drag. For once shrinkage is a good thing.
Comfort: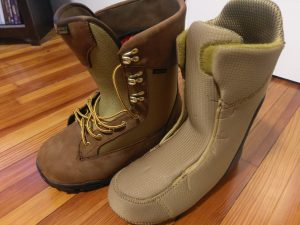 Ever felt that your feet needed a constant warm hug, then the imprint 3 lining is the way to go. Burton's breathable liner completely captures, radiates, and reflects your body heat inward. This keeps feet warmer while the wicking allows moisture to travel outward. The magic of having the sleeping bag liner kept my toes toasty, even while sitting at one of the outdoor huts for over a couple hours. After a full day of riding, I did not have the aches quite as bad as other boots.  As what happens in most boots my socks were damp once I took my foot out of the boot. Within the first few rides, I could feel the boot molding to the shape of the feet.  I did, however, have some light irritation, but that is to be expected when breaking in any type of boot.  After the linings molded to me, that was not an issue. Getting out of the boot sometimes felt like I was ripping off my foot at the ankle but I attest that to having zero energy left at the end of the day. They really do become apart of you once they are broken in.
Design:
This is definitely a boot designed for the harsh elements of the backcountry while having the hiking style in mind.  At first, I was not a huge fan of the look but they started to grow on me.  Part of the reason was I realized too late that my snow pants and coat were pretty much "all black".  So for the few times out, I was a fashion faux pas.  Brown boots with black pants is a major no-no in the fashion world.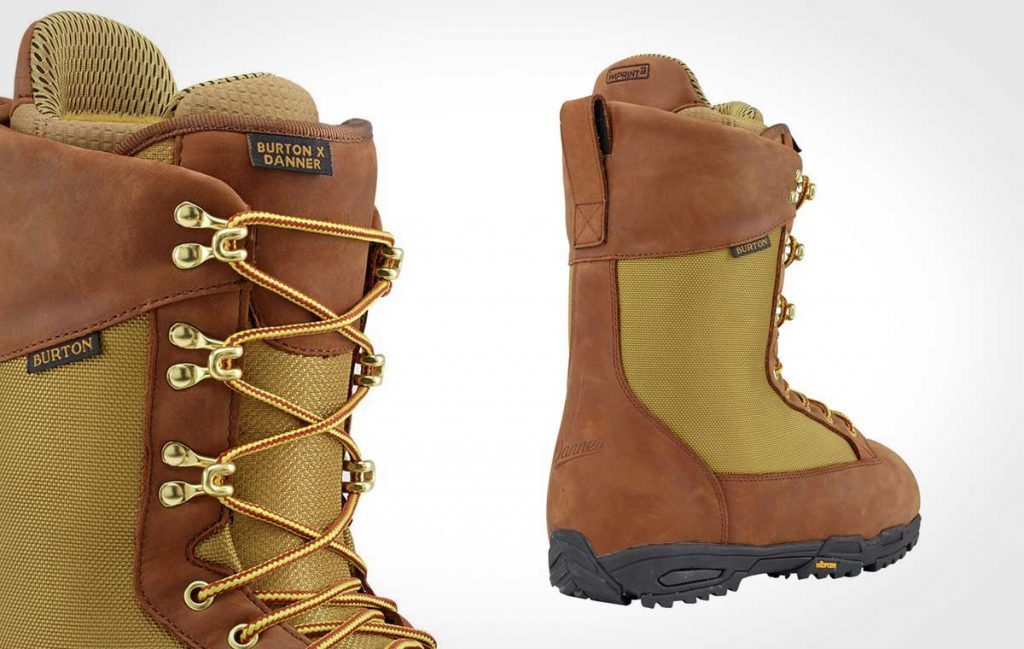 Durability:
With the entire upper designed from Danner's patient waterproof material and a layer of insulation, you should expect your toes to stay warm. Throughout my testing sessions on the slopes I tried to beat them up and break them, however, I failed miserably. I was only able to create a few nicks and scrapes.  The combined mountain style of Danner with Burton's shred science, they completely deliver on riding performance, hiking prowess, with that vintage style all in one solid package.  While they are comfortable now, like every boot they still need to be broken in. Burton tech delivers the comfort and response you want, while Danner's hiking input ensure it's capable of exploring beyond the resort boundaries in search of fresh powder.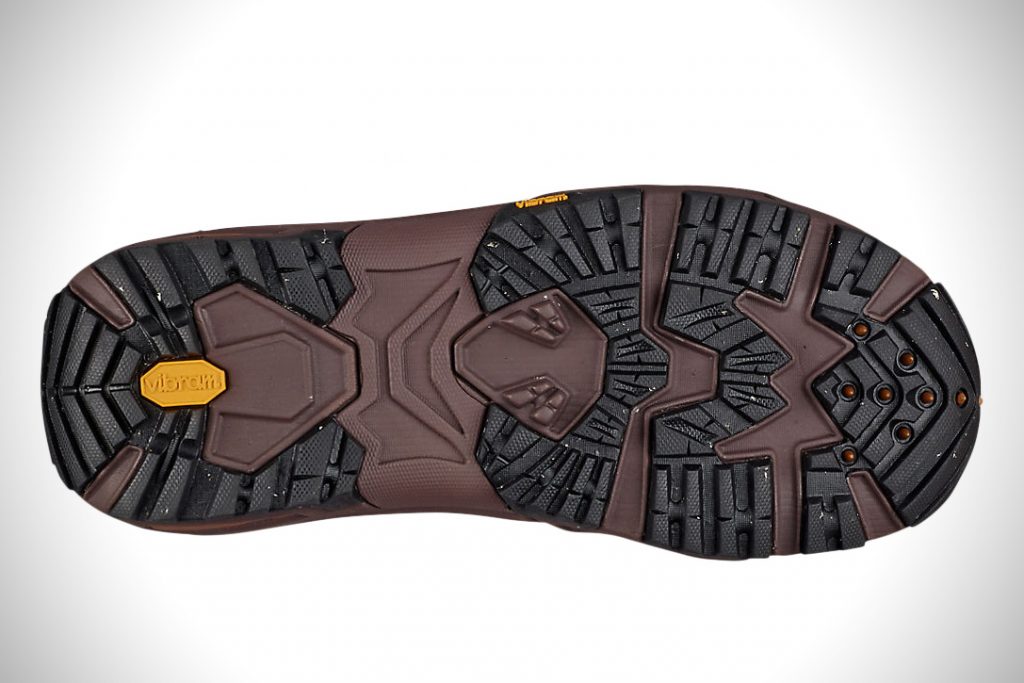 Value:
Having the best boot on the market made by two boot giants does come with a large price tag.  These are definitely meant for the hardcore snowboard extremist in mind.  Every small detail has been accounted for, some I probably never had the chance to fully utilize.  Yes, to the casual rider, the price is a little high, but those that bleed snow this is the boot for you.  They fall right in line for most Danner type boots so those familiar with the name know what to except, fantastic quality brings a higher price.  Sometimes you do have to pay a little more for top quality and for these, I would gladly do it.
Buy Now: 419.95 or to learn more go to: Burton.com
Burton x Danner Boot – Gear Review
This is an intense boot for intense conditions. For those serious about shredding all types of terrain, suck it up and just buy them.
The Good:
Toasty Warm
Meant For Extremes
Shrinkage Footprint
The Not So Good:
Not Priced For "Casuals"
Fashion Faux Pas