Bulls Bikes got its start in Germany in 1995 building bikes to compete in some of the biggest and toughest MTB challenges worldwide. 
They got into the electric game in 2010, long before some of the US big names began working with electric, so Bulls has a leg up in their electric-specific geometry and ride characteristics.  
In an effort to grow brand awareness in the US market, I was extended an opportunity to put their race-ready, full-suspension electric mountain bike to the test out here in sunny Utah. 
I've been riding the COPPERHEAD EVO AM 4 750 for just under 8 weeks now, and I have to say I am thoroughly impressed. It is a beautiful machine. After just under 100 miles on the Copperhead Evo, I am ready to share my thoughts in this in-depth electric mountain bike review. 
Let's ride!
COPPERHEAD EVO AM 4 750 Key Features
Podium finish suspension setup – SR Suntour Durolux 36 RC2 fork & TRI AIR 3CR shock

Shimano XTR Rear Derauiler 

Mullet wheelset – 29" up front, 27.5" out back

Drive Unit – Bosch Performance Line CX Smart System (85 Nm)

Battery – BOSCH PowerTube 750 Wh Smart System; 6hr charge time

Frame aluminum 6061 with internal cable routing

Brakes – Shimano BR6120 4-piston/ 2-piston hydraulic disc 203/203 mm

Remote dropper post
COPPERHEAD EVO AM 4 750 Review Breakdown
First, My eMTB Familiarity
While the Bulls team entrusted me with a review of its hardcore electric Copperhead Evo, I feel a responsibility to disclose that this is my first extended time riding an electric mountain bike. Or any eBike for that matter.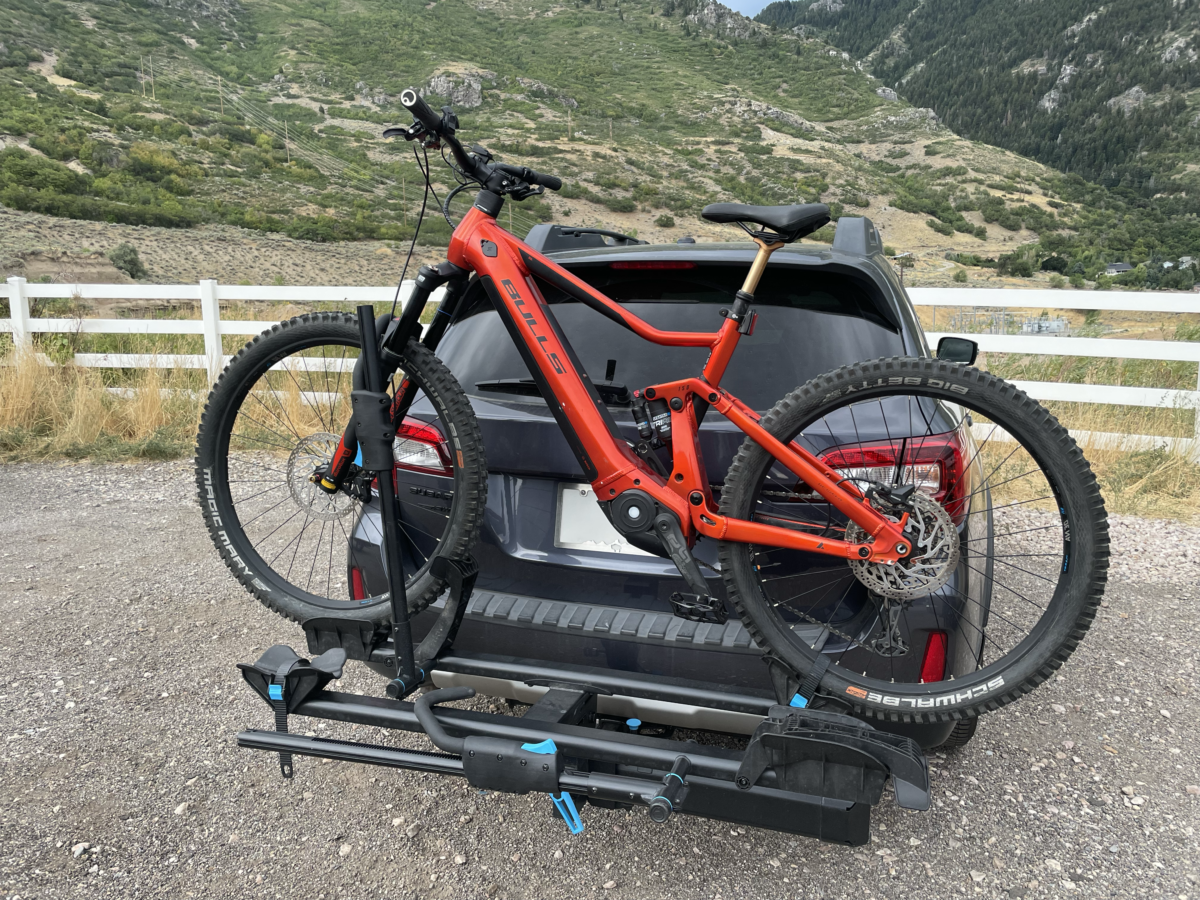 While I am no stranger to mountain biking, eMTBs deliver a ride experience unlike any other in a few distinct ways that we'll get into later. 
So, all that said, my review is not the place to look for the most technical analysis out there in the categories of geometry, drive and battery system comparisons, etc. I am purely here to share my thoughts as an eMTB beginner about rideability, everyday enjoyment, and value. 
Phew, now that we've got that out of the way, let's really ride! 
The Test: 100 Miles & 8 Weeks
I live in Ogden, Utah, which is home to some all-around great mountain biking. You can find it all here – fast and flowy singletrack, climb and descent laps, or downhill park laps at Snowbasin or Powder mountain. Of course, there's much more than that if you make the drive to Park City or the Cottonwood Canyons.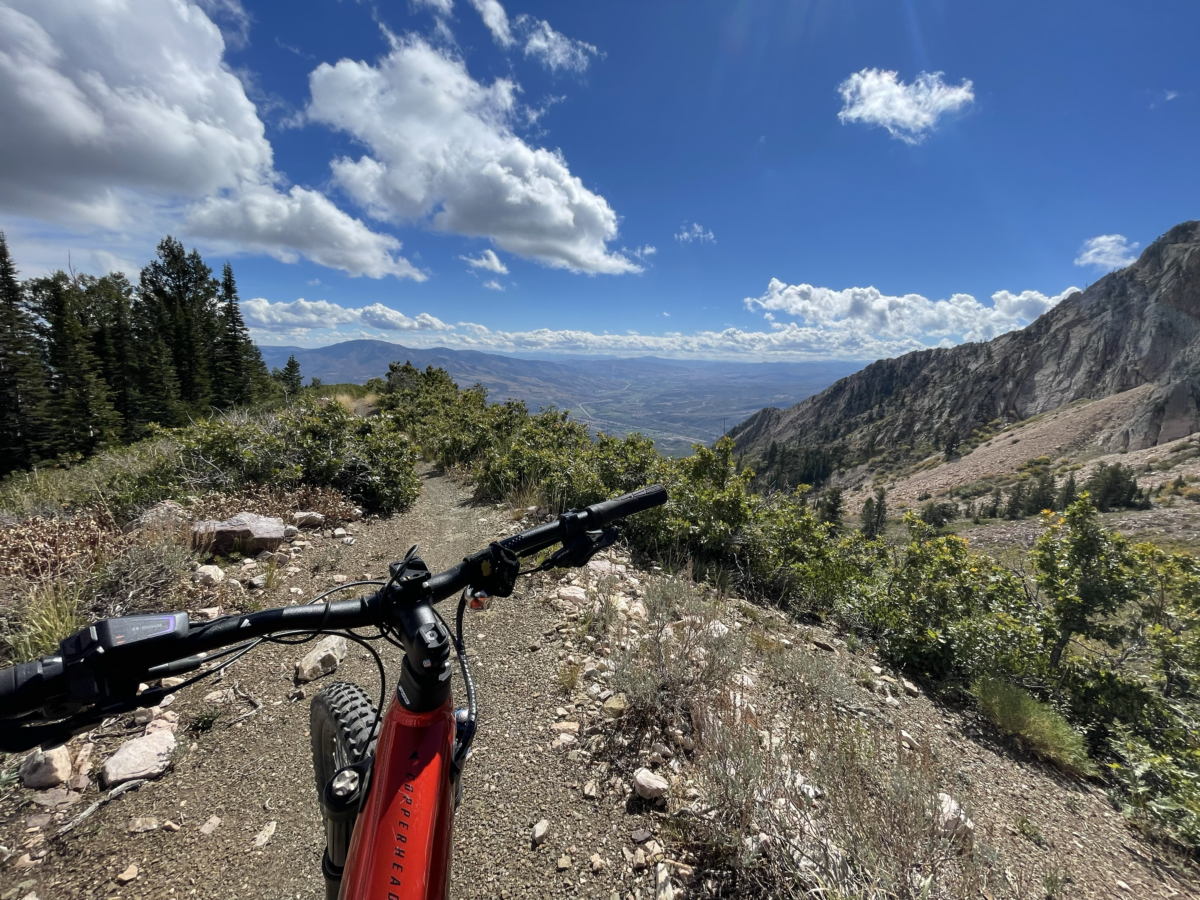 Knowing there's quite a big stigma around eMTBs – and some state parks even banning eMTBs – I wasn't sure how welcomed I'd feel on the trails here. Luckily, I didn't hear one negative remark from fellow riders in the 8-week time period, and actually had quite a few people asking me what bike it was! It was super refreshing, especially considering the accessibility eMTBs provide. 
View this post on Instagram
The Copperhead Evo took me to some amazing places in Utah, some that I'd only otherwise get to with hours upon hours of hiking or a ski lift.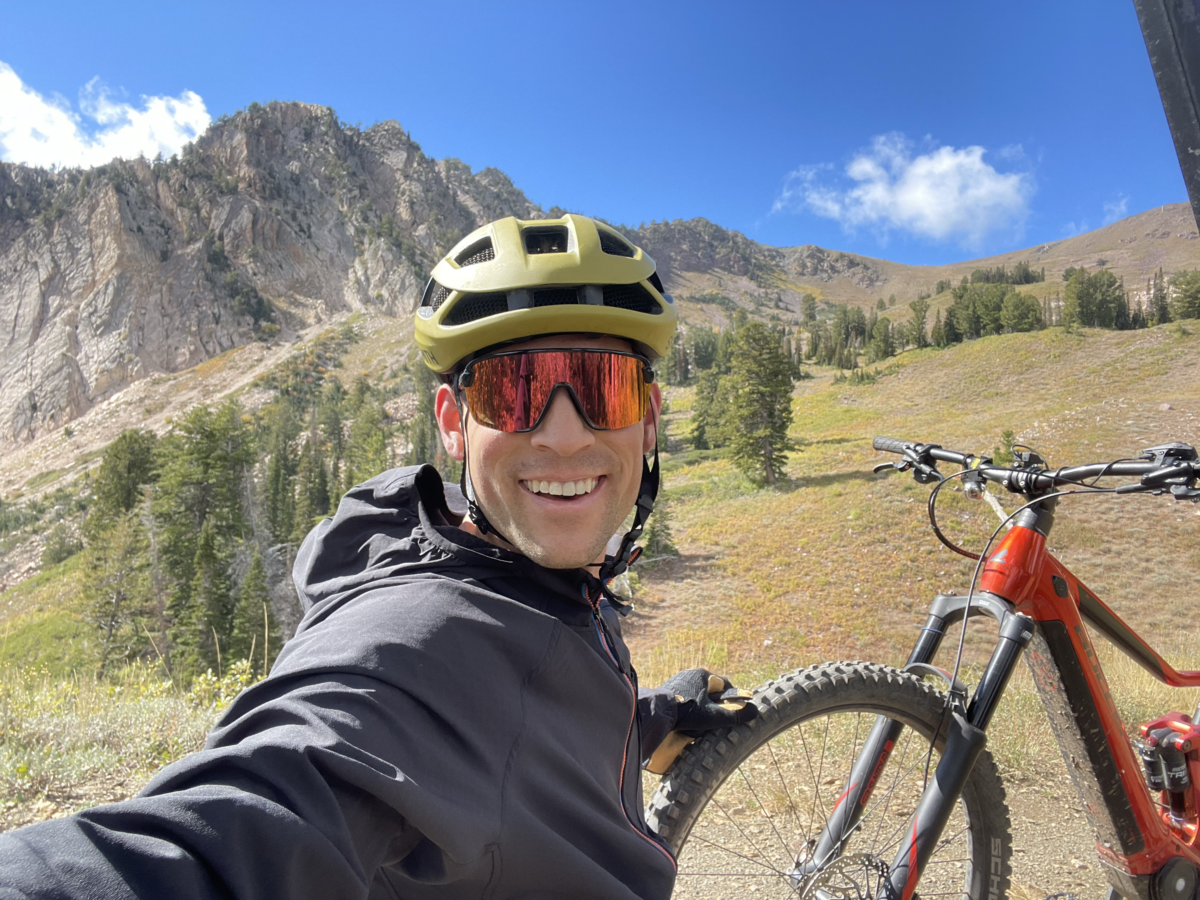 Overall, for me, it was amazing to experience just how capable eMTBs are, especially one as well-equipped as the Bulls Copperhead Evo AM 4.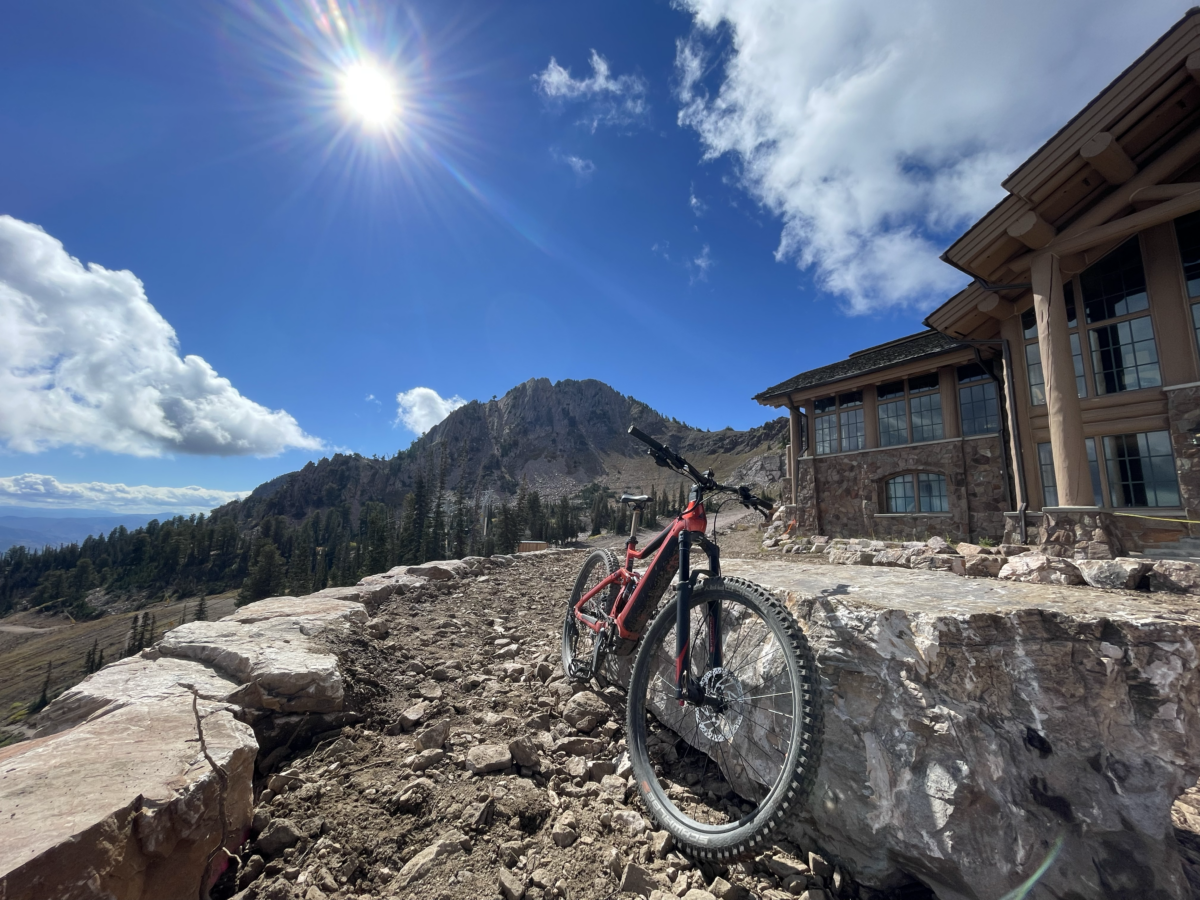 Electric Drive & Battery System
Arguably the most important system on an eMTB, Bulls equipped the Copperehad Evo AM 4 with Bosch's best drive unit and largest battery, 750-watt hours – hence the 750 in the full bike name. 
The system, released in 2021, has an all-new LED remote control and an optional Kiox 300 Display for the smart system. Bulls decided not to include the display on their eMTB lines to limit distractions while riding, but it can be found on a select few of their city/commuter line-up.
The LED remote is bright and highly visible, even in full noontime Utah sun. The buttons are straightforward: (+) and (-) change your ride mode, on/off button sits on top, and there's a walk mode if you press (-) until no ride mode is selected, and then hold (-). Super useful for spinning this 55lb bike around if you made a wrong turn, or getting up over a technical section that you decided to walk.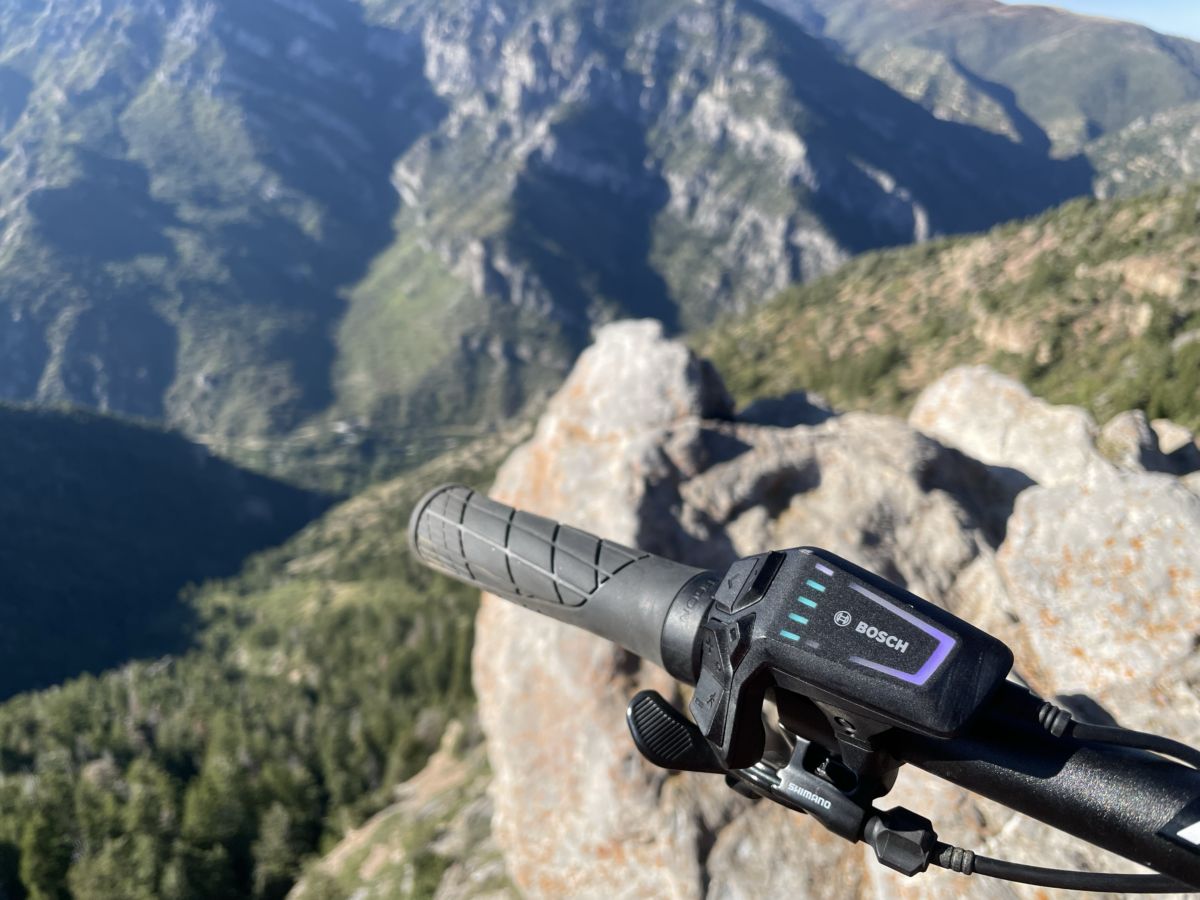 My only complaint about the remote is the touchiness while riding, especially with MTB gloves on. I often accidentally skip over the mode I was looking for. In other words, it's easy to double-click the buttons. 
The massive 750wh battery is a real gem. While it adds some serious weight to the frame, I was never worried about running out of battery. The closest I came to running out of battery was this ride up to the field right below Ben Lomond's majestic peak – 3,235 feet of elevation gain and just over 15 miles round trip. 
I pushed the bike hard, switching between full eMTB mode which automatically adjusts power as it determines you need it, and full turbo mode, which is 300% of your power input, or close to it. What a gorgeous ride! 
The best part about the drive system is the ability to control how much assistance you're getting. If you're racing the sunset, eMTB or Turbo mode is a ton of fun to get some good laps in. If you're looking to train and slowly build strength on climbs, Eco mode basically offsets the bike's weight and you're still working hard.
Charging is super easy and accessible. Bulls incorporated a charging door into the rider's left side/non-drive side of the frame. During my 8 weeks with the bike, I found my favorite way to charge was to leave it on my bike rack, strap the power brick to the extra wheel holder, and plug it all into the wall. 
Riding Position
While frame geometry is not my strong suit, I will say that this bike feels like it has a rather slack riding position. The mullet wheelset – 29" up front, 27.5" out back – sets the big wheel long out front, making the Copperhead Evo AM 4 a bump-smoothing beast.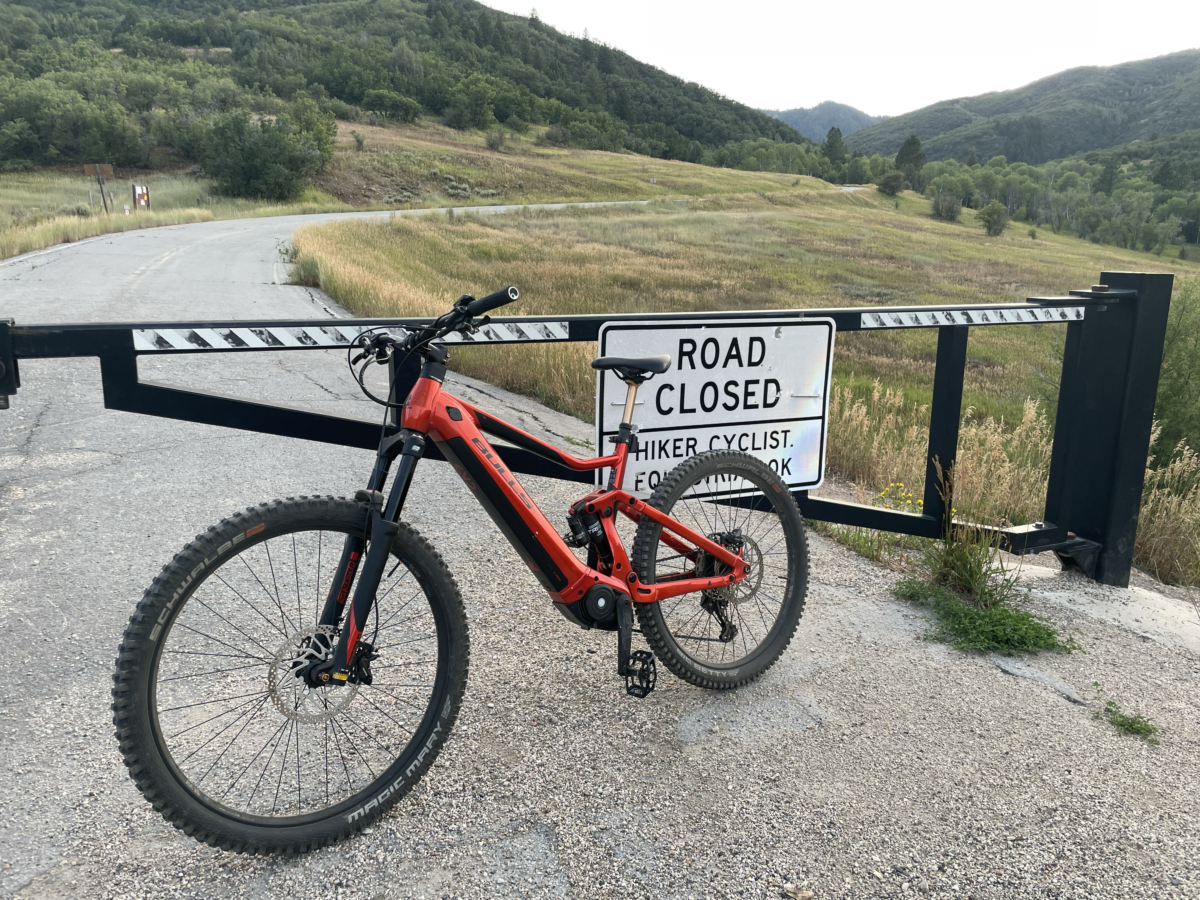 This mullet setup does make for an interesting climb, however. Between the extra power pulsing out of the drivetrain and the bigger 29" wheel up front, I notice that the front wheel likes to pop off the ground depending on the slope of the climb. 
I also noticed this setup makes cornering on hairpins interesting. The big 29" out front takes a wide sweeping turn, while the snappier 27.5" cuts a short inside line. Typical bike behavior if I am being honest, but perhaps slightly more noticeable than a full 650b rig.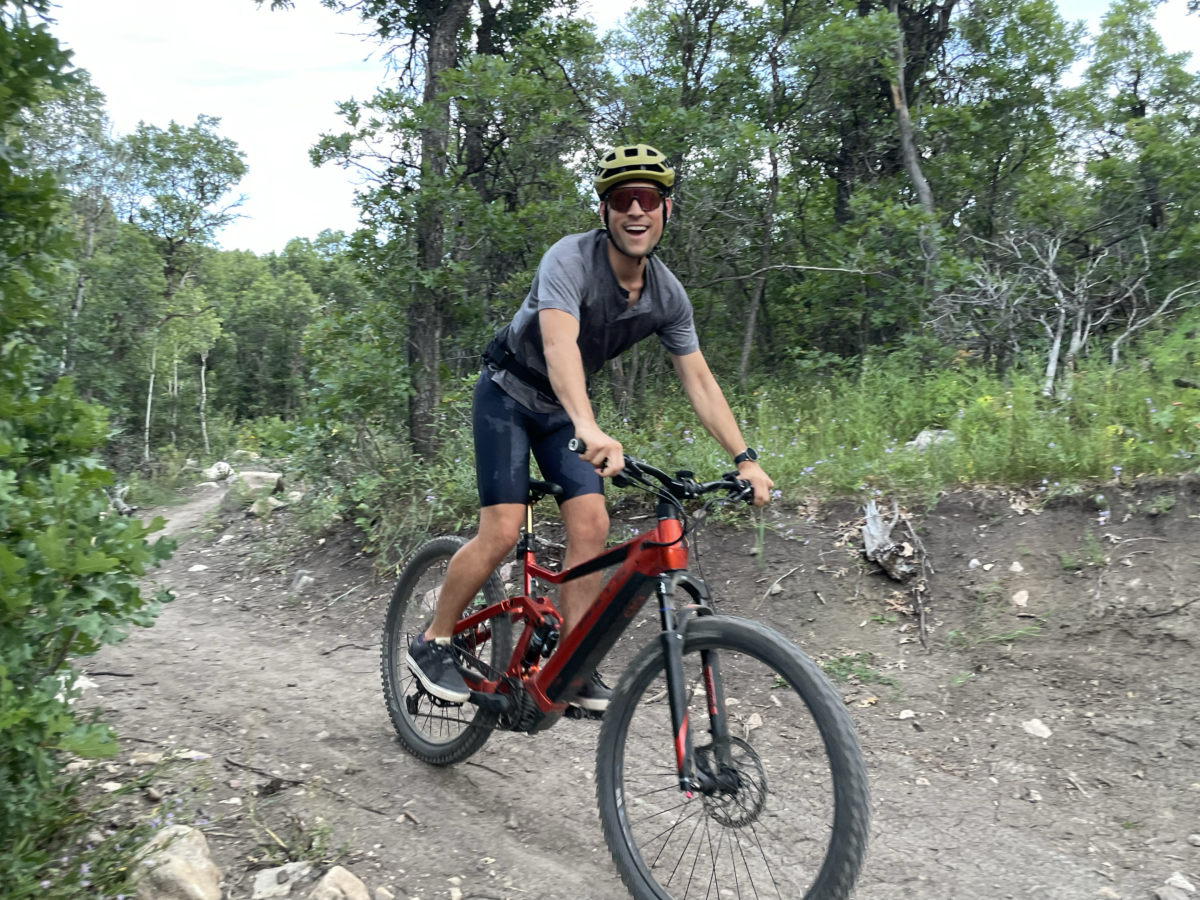 The bottom line is, it lives up to its name. It is an all-mountain rig through and through. While you might not be doing big drops, the Copperhead Evo 4 AM can stand up to just about any technical riding I encountered from fast descents to rock and root gardens, to small jumps and rollers. 
While the weight makes it a bit tough to jump, it digs deep in corners, eats up bumps left and right (thanks to the SR Suntour suspension below), and really feels stable at fast speeds. It is seriously planted, rolls over what you need it to, and is relatively responsive, but not quite point-and-shoot.
Suspension 
I didn't know much about SR Suntour, as I had only seen them on some entry-level bikes from many US manufacturers. However, I did some digging on the suspension package on the Copperhead Evo AM 4 and found out that not only did the setup make podium multiple times, but they have one of the most innovative thru axel systems on the market.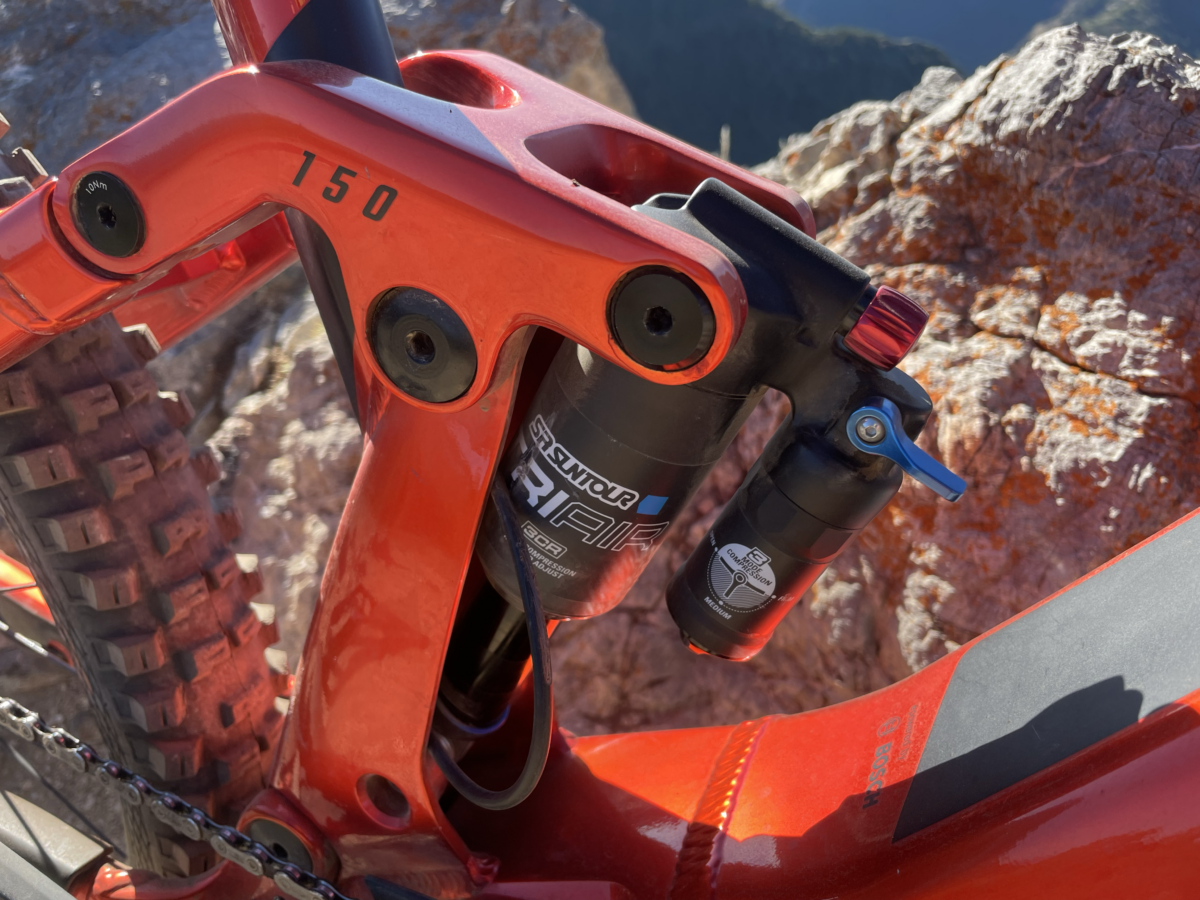 I don't think I'll do the tech justice, so check out this Bulls video for more:
While I didn't play around with the fork much, the rear shock rebound adjustment made sure that extra power from the Bosch motor wasn't lost on rear shock compression!  
Derailleur, Brakes, and Other Components
As mentioned earlier, the Copperhead Evo is very well-equipped. It was my first time riding with Shimano XTR shifting aboard, and it was smooth. Shifts were quick and precise even under the extra load of the Bosch motor. I was also a huge fan of the number of gears you could move through in one swift push of the lever.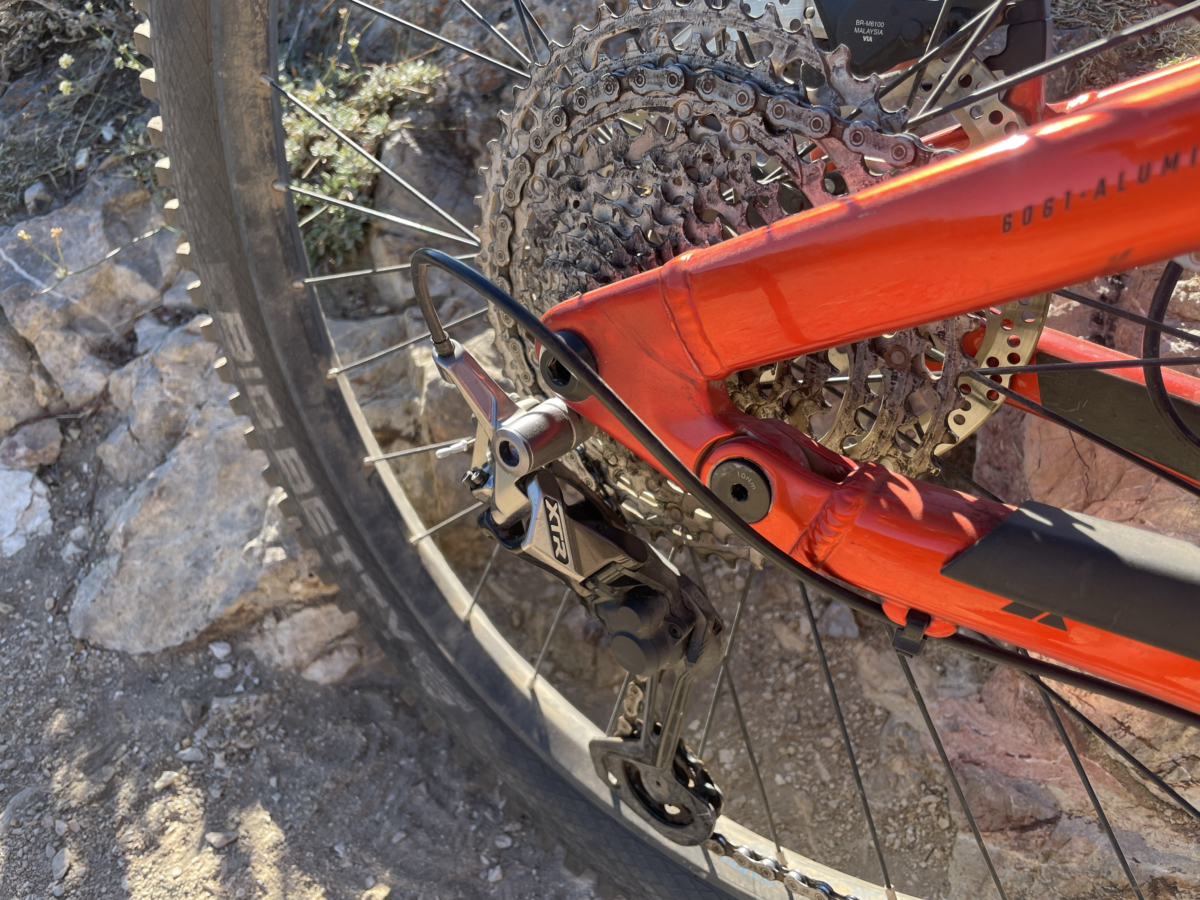 The 4-piston Shimano brakes fitted to the Copperhead Evo were some of the best I've used. Powerful enough to bring 220lbs to a very quick stop. There were a few times when I didn't see a banked hairpin until about 15-12 feet before the turn… didn't go off trail, or OTB. Go 4-piston power!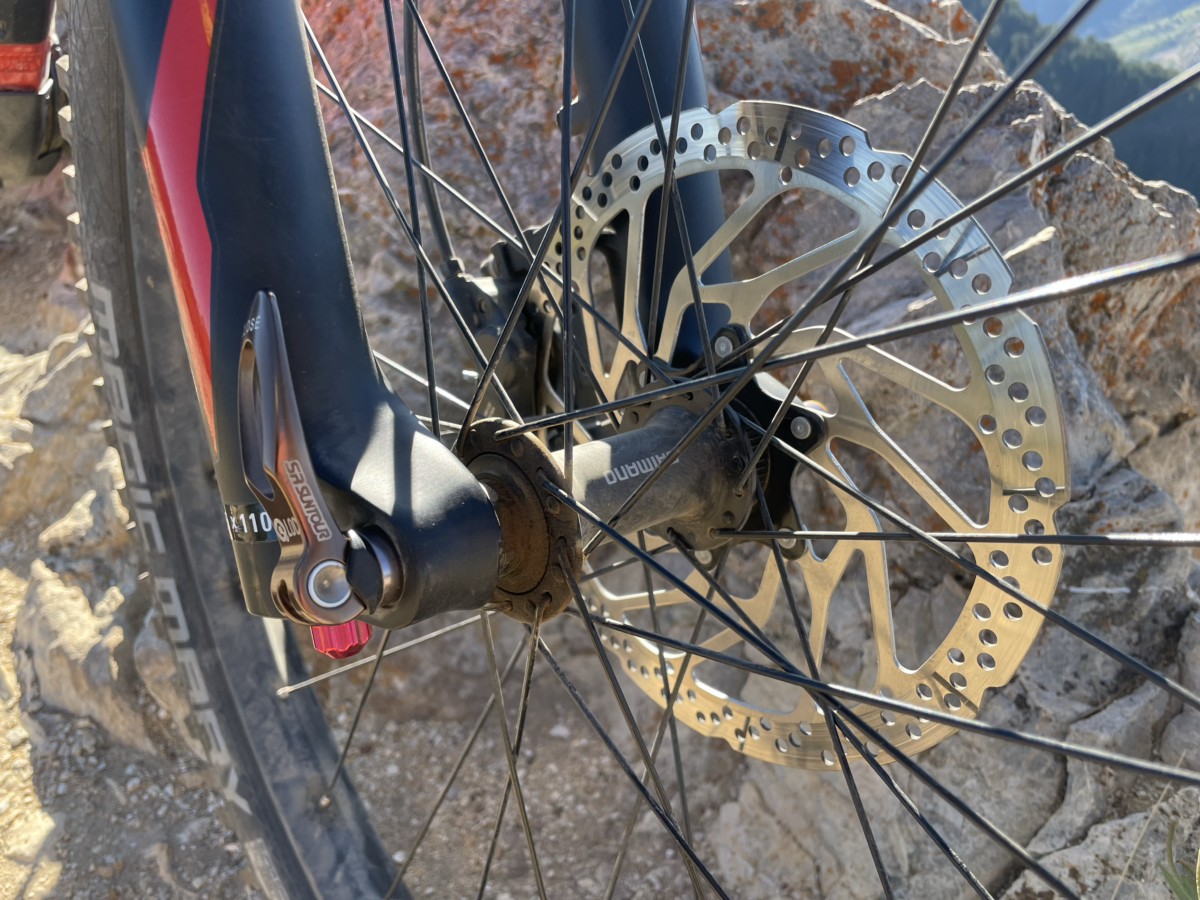 Another first was the factory-equipped dropper post. It took me a bit to get used to the flow of raising and lowing on singletrack-type riding, but it was awesome for descents. It gives you so much more control over the bike allowing you to drop your rear back and use your inside thighs to help muscle the bike where you wanted it to go. Definitely recommend giving a dropper a try if you haven't!
Value
If you're in the market for an electric mountain bike, you're no stranger to high cost. The Bulls COPPERHEAD EVO AM 4 750 will set you back about $7,300 before tax. Now, the Copperhead Evo is aluminum, so that'll add some weight but same you some Benjamins, but either way, you're shelling out if you're after an eMTB.  That said, the AM 4 750 has the latest Bosch tech, the biggest Bosch battery, top-of-the-line componentry including podium finisher dual suspension, Shimano XTR shifting, dropper posts, and powerful hydraulic breaks. If you can afford it, you won't regret it. But if you need to save some cash, dropping a level or two on componentry won't take too much away from the electric assist experience. Electric assist bikes wear down those nice components faster, anyway 🙂
BULLS COPPERHEAD EVO AM 4 750 | Electric Mountain Bike Review
A kitted out electric, all-mountain bike that climbs with ease and descends like a pro. It'll bring a smile to your face whether you need e-assist or not.
Electric Drive & Battery System
9.5
Derailleur, Brakes, and Other Components
10
THE GOOD:
Fast climbs and engaging descents
Quick charge time of 6 hours for the battery size
Battery that won't quit
THE NOT SO GOOD:
Weight – a bit heavy to load into tray bike racks
Price – to be expected with eMTBs, but still makes you think twice about going in the grocery store with your bike locked up