Whether you're headed out on a camping trip with your buddies, or your streaming some tunes around the house, bluetooth speakers have become a technology necessity for our music. Add in the all-common hazards of spilled drinks and sudden downpours, and the need for a rugged, splash-proof design is almost a "must".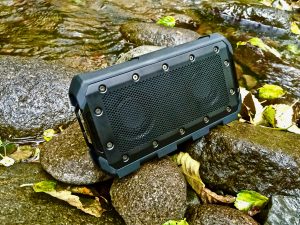 Enter Braven… Braven's dedication to creating bluetooth speakers for an active, outdoor lifestyle that blend the beauty of sleek designs and tough durability needed for a seamless transition from the seclusion of headphones, to the social environment of a shared musical experience.
"Our continuous growth and success is a direct result of our drive to deliver revolutionary wireless products to consumers around the globe. In just three years, we have designed and manufactured the world's most talented speakers with award-winning rugged and premium offerings for today's mobile consumer. Continually pushing the limits in portable Bluetooth audio, Braven products combine cutting edge technology with premium audio quality." –The Braven Team 
This mingling of design and function comes together at an apex in the BRV-BLADE. Boasting room-filling sound, wrapped up in IPX7 waterproof casing, the BVR-BLADE's performance is impressive.
Key Features:
Wireless Bluetooth —  33ft range
Rechargeable 400mAh Battery
Boost Mode for maximum performance
Certified IPX7 water-resistant rating
Tech Specs:
Up to 22 hour playtime – 4000mAh rechargeable lithium-ion battery
Dimensions: 9.06 in x 2 in x 5.13 in
Weight: 1.2 lbs
3.5mm stereo input
Micro-USB-to-USB / Wireless Pairing
Built-in microphone & speakerphone
33ft (10m) wireless range
BVR-BLADE Review Breakdown
Design:
Thin and rugged, the rectangular design is perfect sitting flat on a table, or wedging it between rocks while you try in vain to catch that elusive fish. Enveloped in a certified IPX7 water-resistant case gives you the freedom to go where you want, while the minimal 1.2 lbs weight enables easy packing and travel. Created to serve both the travels of the active outdoorsman and add a touch of modern accent to the chic decor of your home, the all-purpose design functions in all spaces and settings.
Durability:
From the shock-proof frame to the certified IPX7 water-resistant case, there is no environment that the BLADE can't handle. With visions of campfires, streams, and sandy beaches in mind the BRV-BLADE performs at a top-tier level no matter where your listening session is set. The 22 hours of constant play gives you a battery that will almost certainly outlast whatever you're streaming.
Ease of Use:  
Pairing the BLADE with your personal device as simple as it comes. What I found interesting, and a welcomed surprise was how easily the BLADE remembered each device I paired it with. Whether it was my computer on the desk, or my phone by the crackling fire, I didn't have to sift through a long list of devices to choose. The BLADE took whichever device was closest and paired seamlessly without hassle.
The self-explanatory use of buttons, and the quick use of the volume buttons for skipping makes setting up and use easy for anyone. The online manual gives you the chance to learn about the bonus features like the "Boost Mode", as well a quick refreshers for anyone operating the device for the first time in a while.
Acoustics:
Boasting the BRAVEN Bass Optimization, every body-moving riff echoes through the space, creating a live-set worthy experience. Adding to the all-encompassing audio is high fidelity stereo audio via two custom extended range drivers and dual omni-directional passive sub woofers. The team at BRAVEN has gone above and beyond the call to manufacture a world-class sound in a compact, portable design.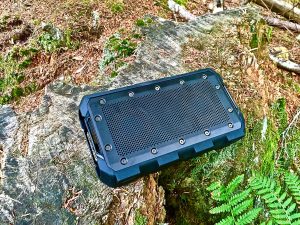 Battery Life:

The relatively quick charge time of 3.5 – 4 hours gives you 22 constant hours of play time. The closed access panel on the back reveals an input for the charger, audio input, as well as a charging station for your personal device. This added little bonus means that whether it's for convenience of charging a device, or in the event of an emergency, you'll have power at your fingertips.
Going way past expectations, the battery life gives you the chance to enjoy some tunes, and then fall into the trap of forgetting to connect it for a charge afterwards. If your party lasts more than 22 hours, then you may want to invest in a personal DJ, or a longer extension chord for your shenanigans.
Value: 
Retailing for around $199 the BRV-BLADE brings durability, style, and dependability to the table without sacrificing performance. The rechargeable 400mAh battery, coupled with the certified IPX7 water-resistant rating means that a few drops of water, or an accidental drop are not going to ruin your investment. This is a speaker for users looking for a premium sound quality, easy portability, and a rugged elegance that means the party can keep bumping even when the rain starts to fall. For campers looking to fill the campfires with nostalgic background tunes, or a budding business wanting just the right level of background music, the BRV-BLADE delivers on all fronts.
Buy Now: $199 or to learn more, head over to: Braven.com
Braven BRV-BLADE - Tech Review
Easy to use, with high-quality sound
The Good
Sound
Durability
Ease of Use