Boroughs Guitars, a new brand for acoustic and acoustic-electric guitars introduced by Adorama Music has created a new series, built for aspiring and intermediary players. Each guitar and ukulele features classic style and professional tone all at a musician-friendly price. The new guitar series is dedicated to inspiring guitarists of all ages and abilities to embrace their musical goals. Boroughs Guitar focuses on you and making sure playing music is fun. While Boroughs instruments are designed for the early stages of learning, a seasoned guitarist will also appreciate the supreme comfort and lively tone.
What if you want an instrument that is a bit smaller for travel, comfortable while on the couch, and budget-friendly? That's where the Boroughs Ukuleles come in handy. We decided to pick out the Concert edition and give it a whirl. Here's the low down.
Key Features:
Head Tuning Machine: Open Gear, Ivory
Nut Width: 35mm x 5t
Frets to body: 14F
Fingerboard Material: Techwood
Fingerboard Binding: 1ply binding, Ivory
Fingerboard Inlay Material: Dot 4mm, Imitation White Pearl
Number of Frets: 18
Neck Material: Mahogany
Neck Joint: Wooden Dowel
Body Shape: Ukulele Concert
Body Size: 62mm x 62mm
Body Top Material: Basswood
Body Top Binding: ABS, Ivory
Sound Hole Size: 55mm
Body Back Material: Basswood
Body Side Material: Basswood
Body Side Binding: ABS, Ivory
Bridge: Techwood, Natural
Bridge Saddle: PVC, Cream
String: Nylon
Body Top Finish: Satin, Natural (tinted)
Design
The Concert Ukuleles (like all of their Ukuleles) are compact small-bodied, short-scale instruments. Making it both fun to have around the house and are light and portable. Boroughs ukuleles are great for kids or adult beginners. Fewer strings and simple chords make learning easy and fun.  This ukulele has a great sound right out of the box. After some minor tuning, it was ready to play. The basswood material has a sharp clean look that compliments the natural satin finish. The Mahogany neck provides an elegant style that makes the white pearl fingerboard inlay pop. The concert ukulele design is a little heavier than a soprano with the extra length, but it allows for more frets with a wider spacing making it a little easier to play.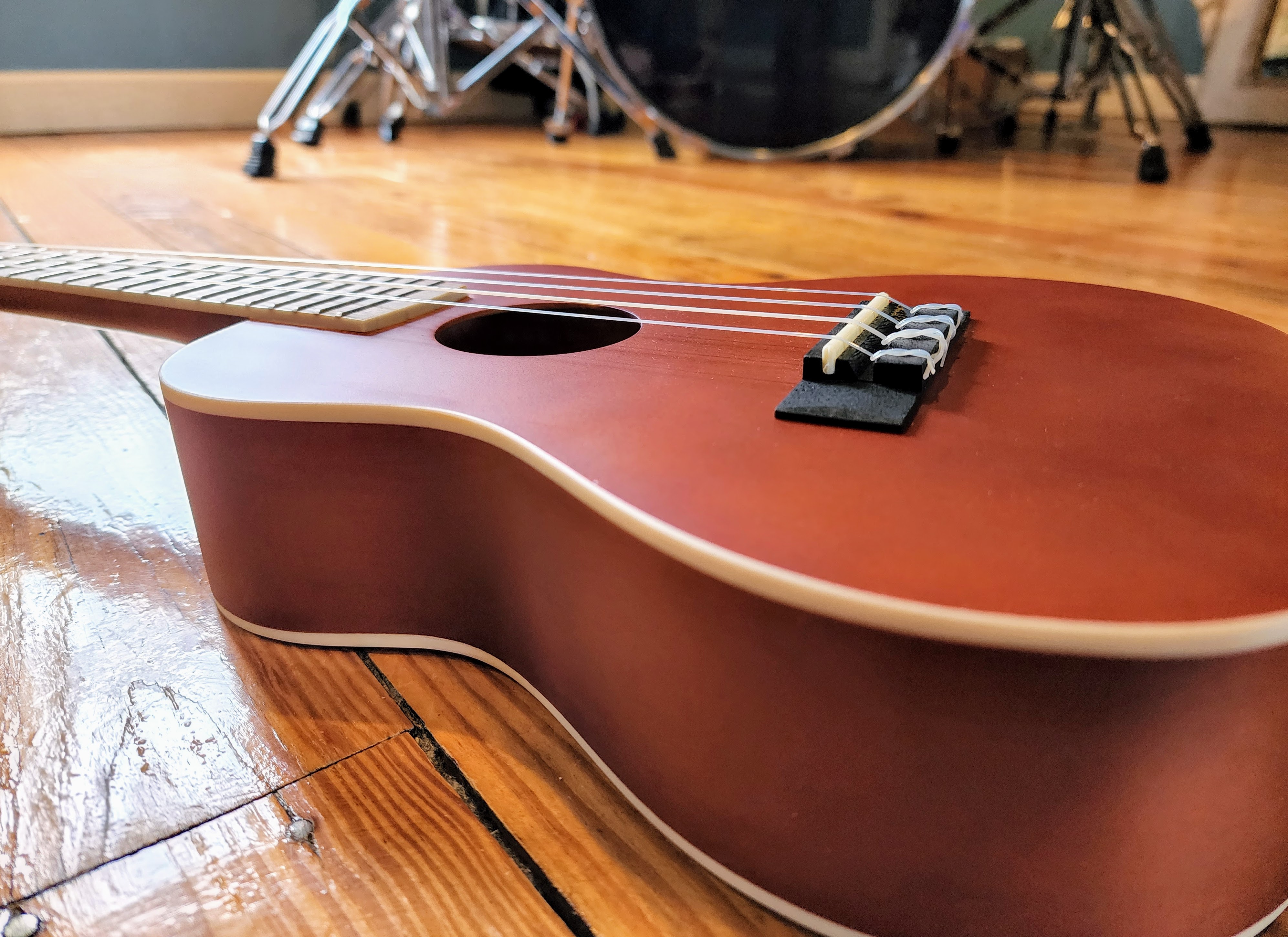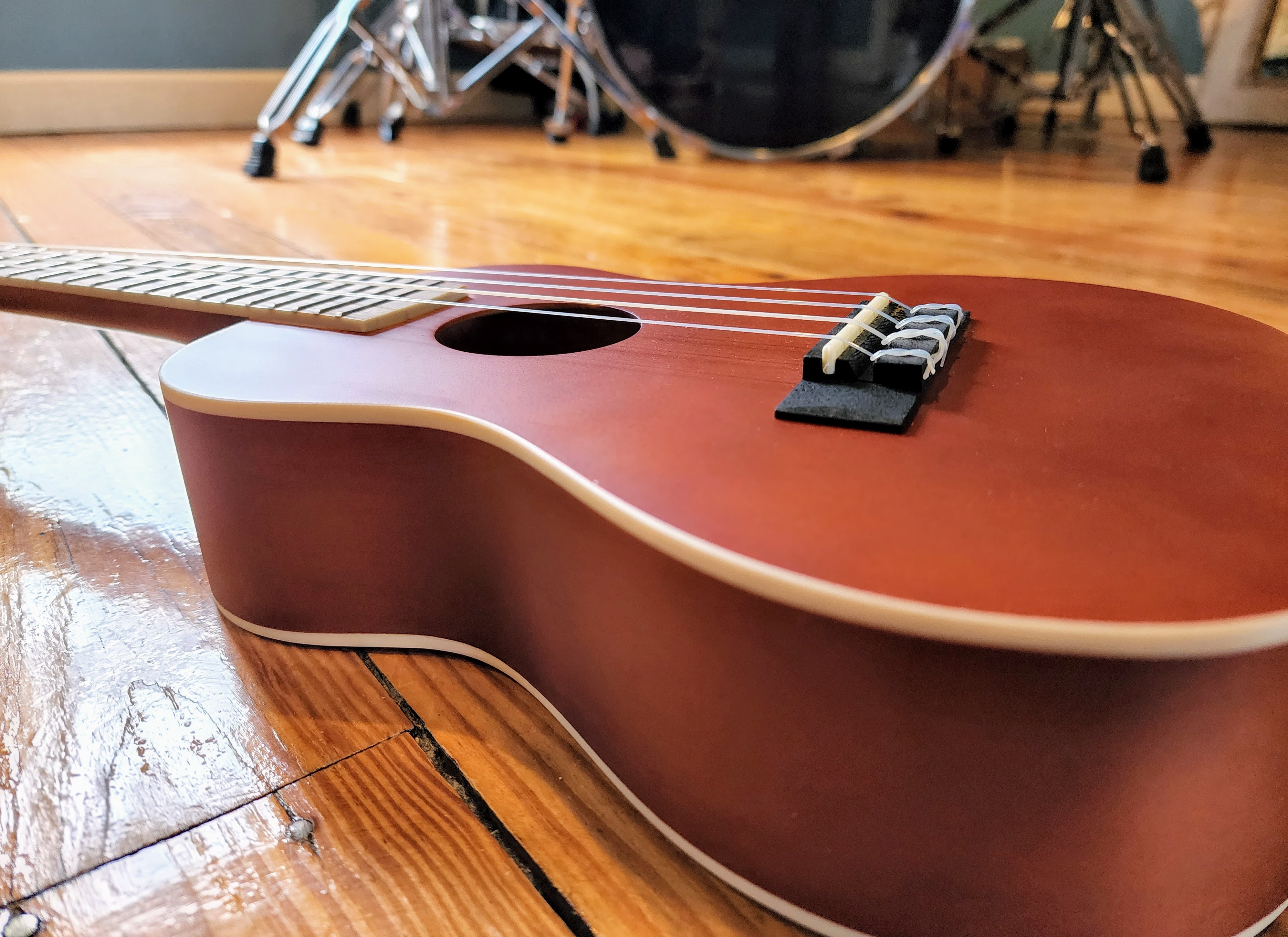 Sound
The 55mm sound hole helps carry and project a bright tune no matter where you play. The concert design has a fuller sound with a warmer mid-range tone than a traditional soprano ukulele. This design allows it to project more, making the overall volume a bit louder. Once tuned properly, the Boroughs Concert Ukulele has a beautiful sound with range to play a variety of songs.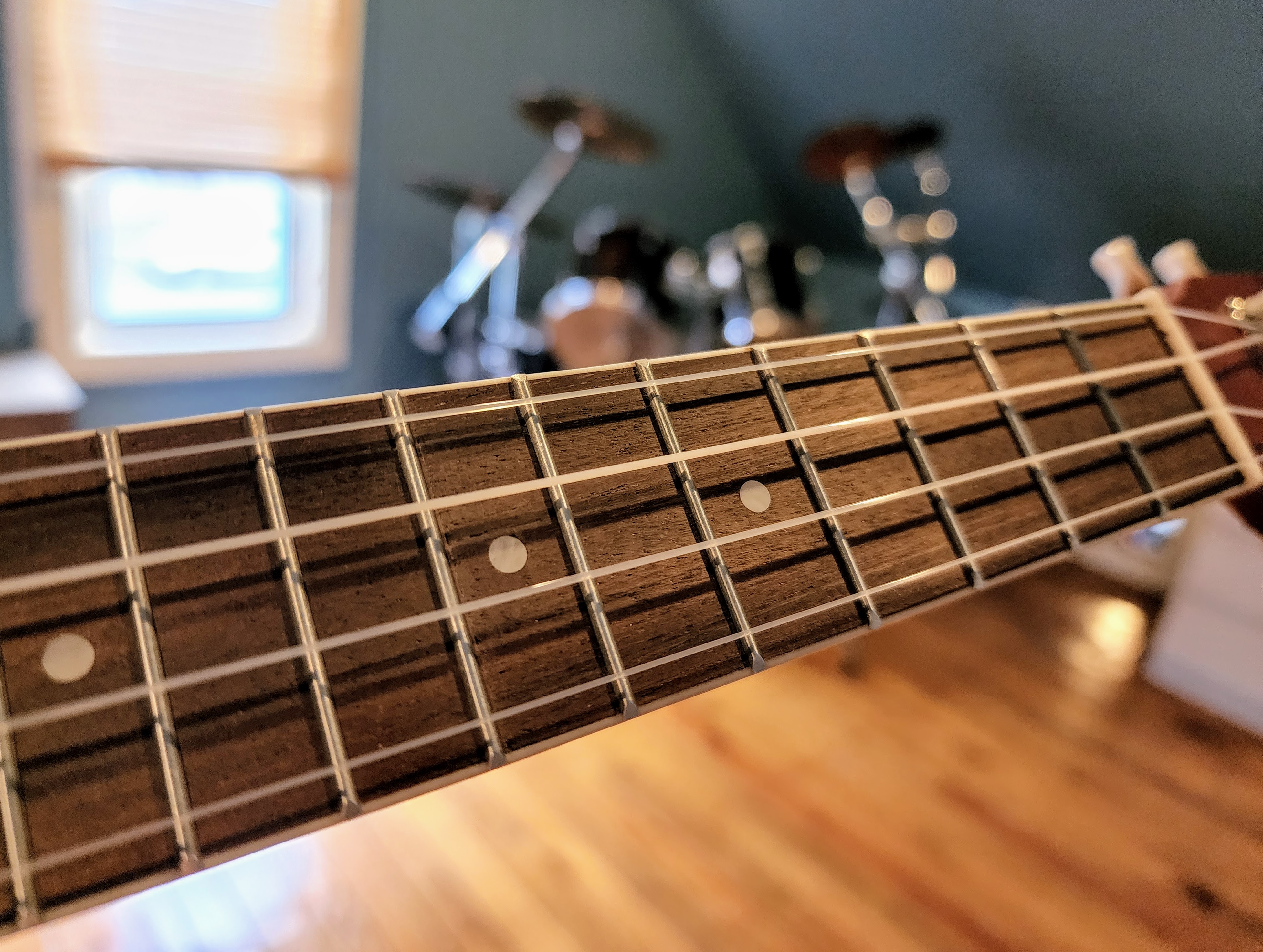 Playability
Because of its size and only 4 strings, it's much easier to learn than a traditional guitar. The only issue I had is the amount of tuning it needed each time I picked it up. I'm assuming there is a small break-in period, but after the first few weeks, it needed less of an aggressive tune each time with just some minor tweaks. The compact design is lightweight and easy to play for hours at a time.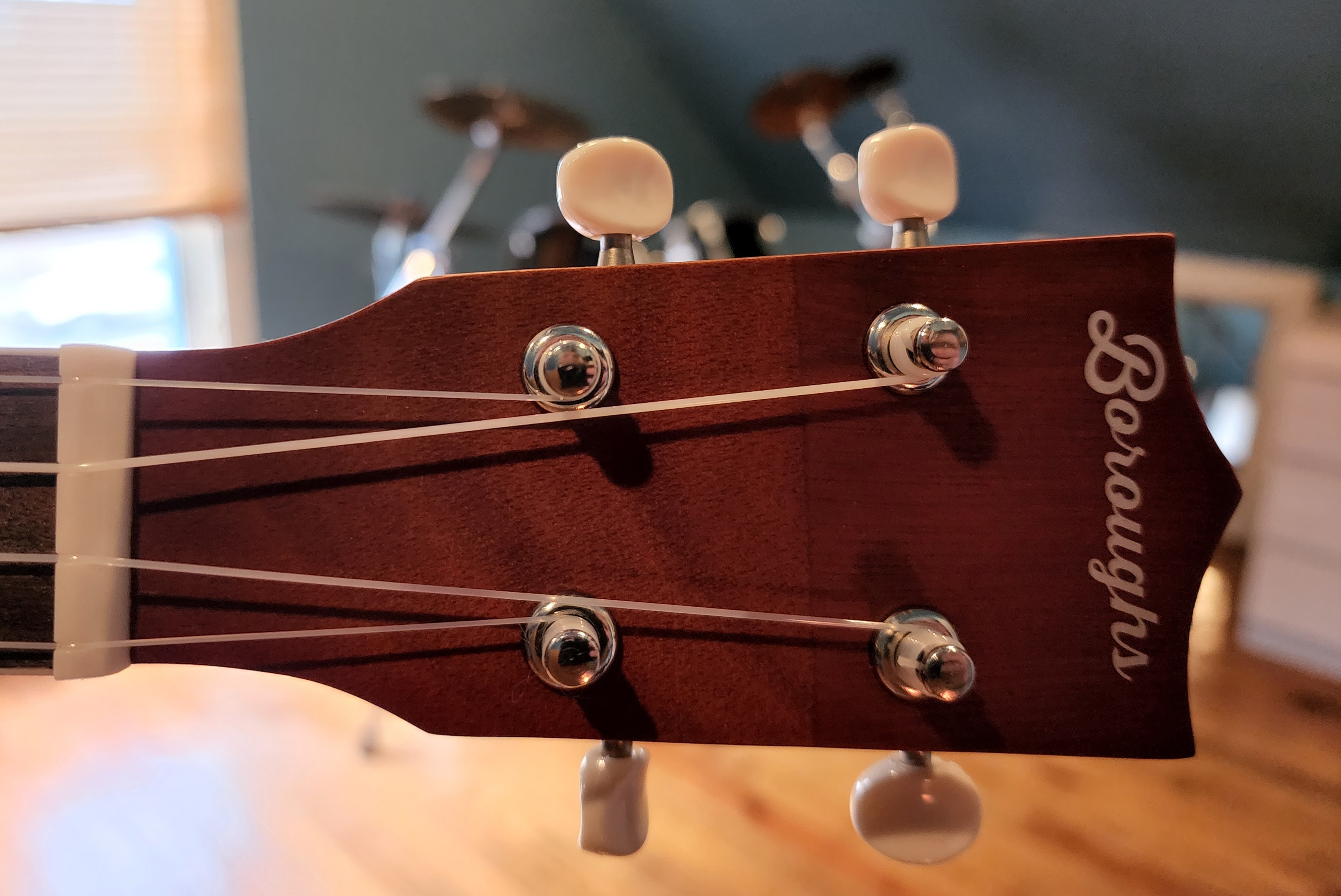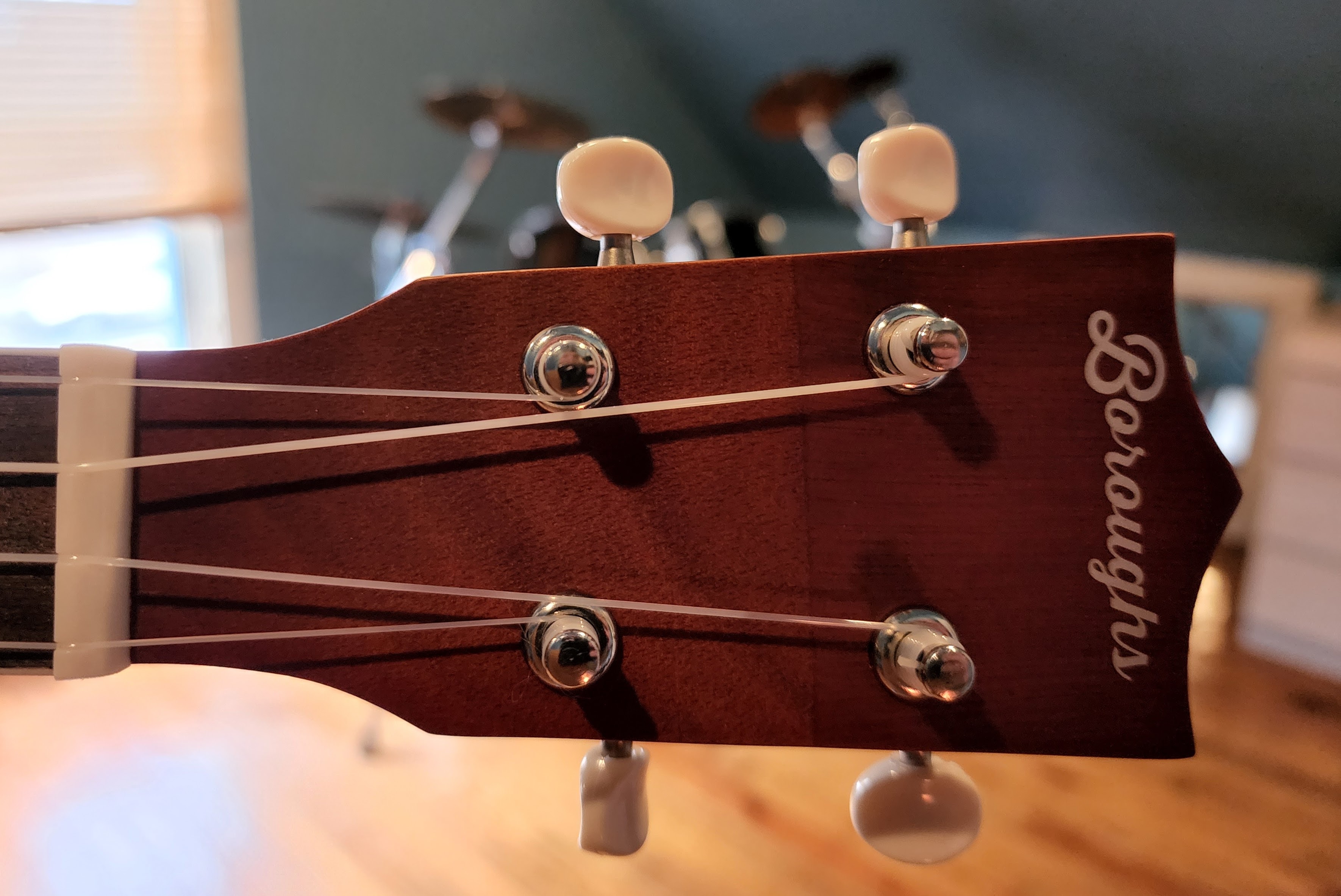 Value
A Boroughs Guitar makes an ideal gift. The mission of Boroughs Guitars is to deliver well-built, well-priced guitars that are accessible to everyone. It focuses on intelligent design and features that improve the learning experience. Boroughs proves anyone can learn to be a musician — regardless of age or experience. Easy playability at an affordable price is key, and Boroughs has a complete selection of beginner acoustic and acoustic-electric guitars to choose. The Concert Ukulele is very reasonably priced for the quality it provides.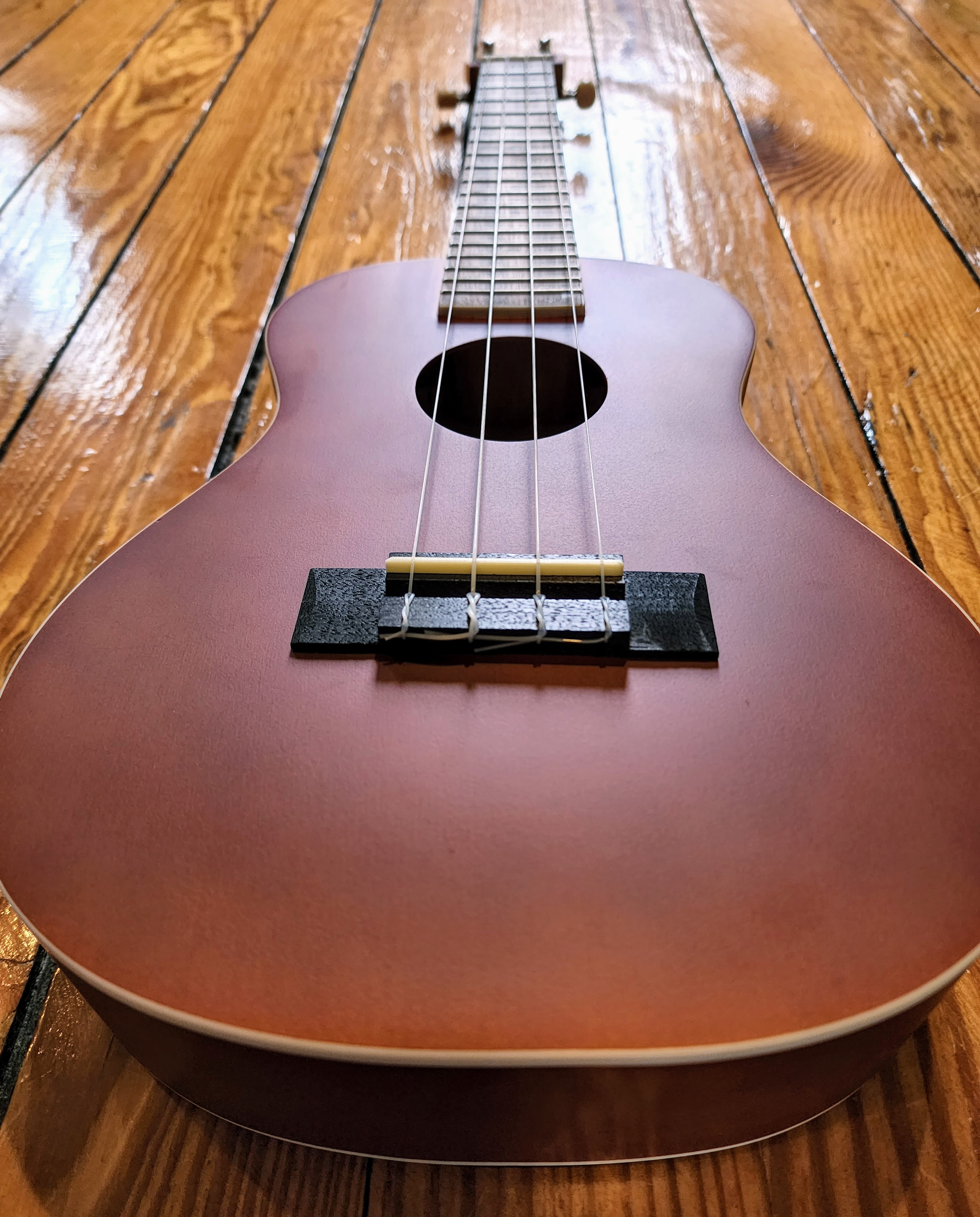 Buy Now: $59.95 or to learn more, check out: www.adorama.com
Boroughs Concert Ukulele
The Boroughs Concert Ukulele is great for beginners and has a sound to be mastered by experienced players. Great value for those interested in learning how to play a Ukulele with excellent sound quality.
The Good
Affordable
Great Sound
Easy to learn
The Not So Good
Will need tuning just about each time you pick it up