If you spend a minute on Big Agnes' website perusing the blogs and travel stories, it's pretty obvious that this company lives and breathes adventure. They started small near Steamboat Springs 17 years ago, and their focus on quality products has earned them some serious growth and success. As they said themselves "Camping gear quality has improved so much that there really is no excuse for sliding off your pad, freezing your butt off or waking up to puddles in your tent." Preach.
With a big trip planned to hike, backpack, and camp in the beautiful Pacific Northwest, we knew we needed some reliable gear, and were stoked to get the opportunity to review Big Agnes' Copper Spur HV UL4. This would also be our first camping trip with our 7 month old baby, so having a warm dry tent to rest our heads was more important than ever!
Tent Specs:
| | |
| --- | --- |
| Vestibule Area | 14 sqft / 14 sqft / 1.3sqm / 1.3sqm |
| Trail Weight | 5lb 3oz / 2.35kg |
| Packed Weight | 5lb 10oz / 2.55kg |
| Packed Size | 5″ x 21.5″ / 13 x 55cm |
| Number of Seasons | 3 |
| Number of Doors | 2 |
| Footprint Weight | 11oz / 312g |
| Floor Area | 57 sqft / 5.3 sqm |
| Fast Fly Weight | 1.87kg |
Big Agnes Copper Spur HV UL4 Breakdown
Design:
Big Agnes features three season, free standing, ultralight tents. The Copper Spur HV UL comes in a 2, 3, or 4 person version. Being that we have 2 adults, a baby, and occasionally a 90 lb dog, we went for the UL4. Often you see a 4 person tent and think "there's no way 4 adults could sleep in this", but that is not the case with the Copper Spur. As the winner of a 2017 Backpacker Magazine Editors' Choice Gold Award, the Copper Spur HV UL series "is designed with a high volume hub to maximize strength and increase living space without adding weight". The poles are designed in a way that makes the walls steeper, but doesn't add extra weight. The end result is a surprisingly roomy tent.
The Copper Spur HV UL4 has two doors and two vestibules with storm flaps on the vestibule zippers, which means a crazy amount of storage space. Having two doors may not seem like a big deal… until you have a sleeping baby in your tent. This feature came in so handy to sneak in and out of the tent without waking the slumbering babe.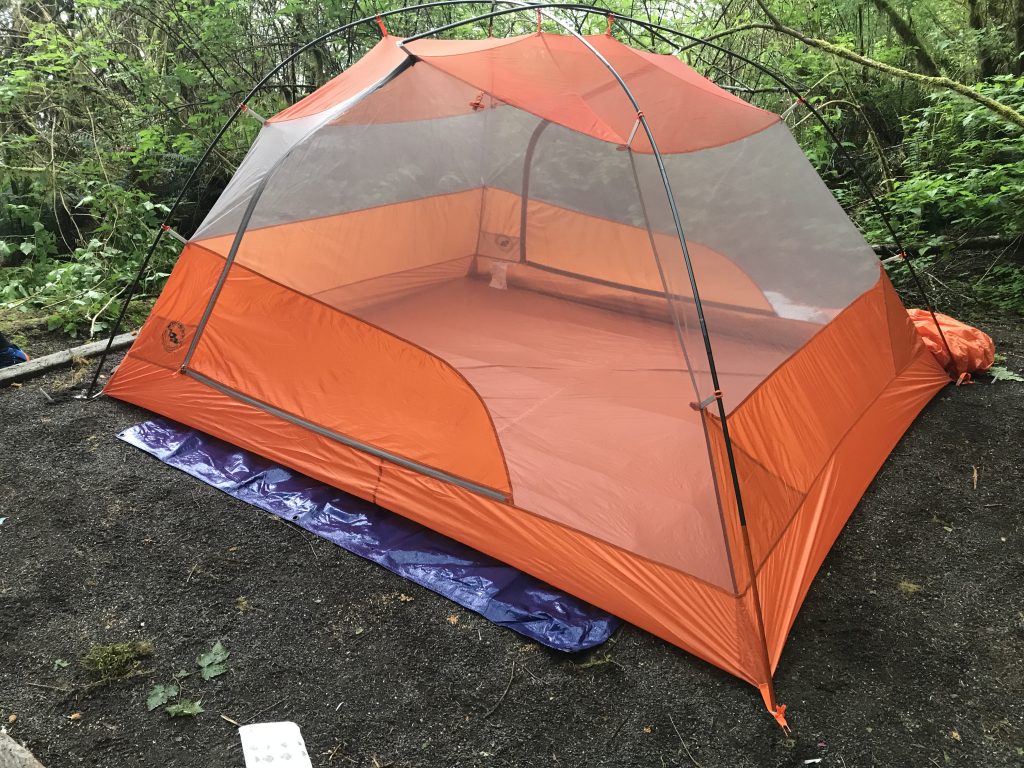 Packability:
When looking for a tent for this trip, we needed something that was light enough to throw in our backpack, but we also wanted a comfortable amount of space. This tent is the perfect combination of packability and luxury (well…as luxurious as tent camping in the forest can be, anyway). At just under 6 lbs and a packed size of 5 x 21.5 inches, this tent was perfect for us. There are definitely lighter and more minimal tents out there, but for us the extra space and size were worth the added comforts.
Setup:
I will admit, we did actually have to read the instructions the first time. The Copper Spur HV UL4 has a 4-way high volume hub unlike anything I've seen in a tent before. According to Big Agnes, the design "increases strength by 25% and the usable interior volume by 20% when compared to previous versions of the Copper Spur." The 4 pole ends are color-coded to match the corner where they belong. Honestly, I think reading the instructions took longer than putting up the tent. All in, it took us about 10 minutes. The second time around, tent and rain fly were up an assembled in just over 5.
An interesting side note; Big Agnes incorporates a new Green Anodizing™ process in all our tent poles and J Stakes. It's safer for the environment and significantly reduces waste water by recycling water throughout the manufacturing process. So, they're enjoying the outdoors while also preserving it. We dig that.
Special Features:
The Copper Spur HV UL4 has all kinds of "bells and whistles" that you won't get with your run of the mill tent. One of my favorite features is the two-tone mesh that makes up the top half of the tent; it provides privacy while also allowing you to do some stargazing, if you're lucky enough to score a warm, clear night.
The Copper Spur HV UL4 also boasts a massive ceiling pocket that provides great storage space and keeps the clutter off the floor. Media pockets above the sleeping area provide a safe place for your phone and valuables, and gear loft loops included. In all, the Copper Spur has 8 interior mesh pockets and 4 media pockets, plus the option to add in a Gear Loft. I'm not sure I could pack enough things to fill all the pockets!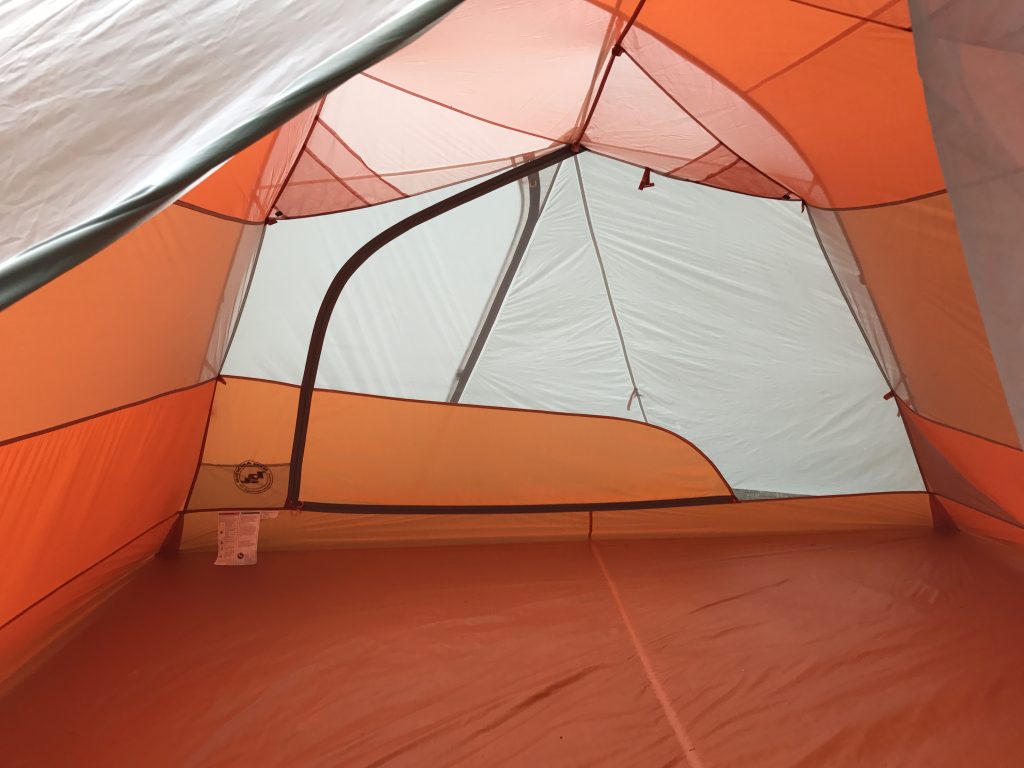 Durability:
The Copper Spur's rain fly and floor are made of a "silicone treated proprietary patterned random rip-stop nylon with 1200mm waterproof polyurethane coating". Plus, all the seams are taped with waterproof, solvent-free polyurethane tape (No PVC or VOC's).  Stay dry we did! The first night we camped near the Hoh Rainforest (one of only a handful of temperate rain forests in the world!) Obviously, it rained. We paired the Copper Spur with the Big Agnes Footprint (sold separately), and we were warm and toasty inside our tent.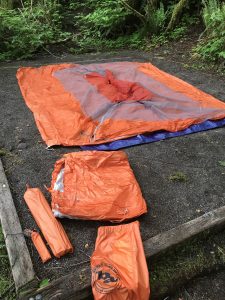 At first we questioned the durability of the tent material because is seems really thin.  In actuality, the tent body is made of a "proprietary patterned random rip-stop nylon breathable and polyester mesh" which is extremely durable; being thin gives it the added bonus of being lightweight. The fly and floor also feature a unique weave made with a high tenacity yarn which "increases fabric tear strength by 25%, decreases weight of the material and improves water resistance".  We are happy to report that based on our field testing, the strength and durability of the materials used in the Copper Spur live up to the hype.
Value:
Ringing in at $649.95, this is not a "cheap" tent by any means. Quality materials come at a price!  However, it is worth the investment because it really does the job of two tents. It's spacious and durable enough to take out for a week of "car-camping", but also light enough to pack in for some hard core trail camping. Combine that with the premium construction materials and superb durability and the Copper Spur HV UL4 makes sure your investment is worthwhile.
Buy Now: $649.95 or to learn more, check out BigAgnes.com
Big Agnes Copper Spur HV UL4 - Tent Review
Overall, the Copper Spur HV UL4 is a great, lightweight, durable tent made with premium quality materials. It's easy to pack, light enough to carry, quick to setup and built to last. You can't ask for much more in a tent.
The Good:
Lightweight
Easy setup
Quality materials
The Not So Good:
Quality materials come at a price