It's a few hours into the work day and you're getting that familiar ache in your back. The restlessness in your legs. The urge to jump out of your seat to stand and continue working but you can't because of your static desk.
Wouldn't it be nice to have a desk that, just by the push of a button, could raise in seconds allowing you to stand and continue your work? Well, your wish has been granted with the Autonomous SmartDesk 2 Standing Desk.  This smart desk gives you the flexibility for both standing and sitting arrangements – all in one well-designed package.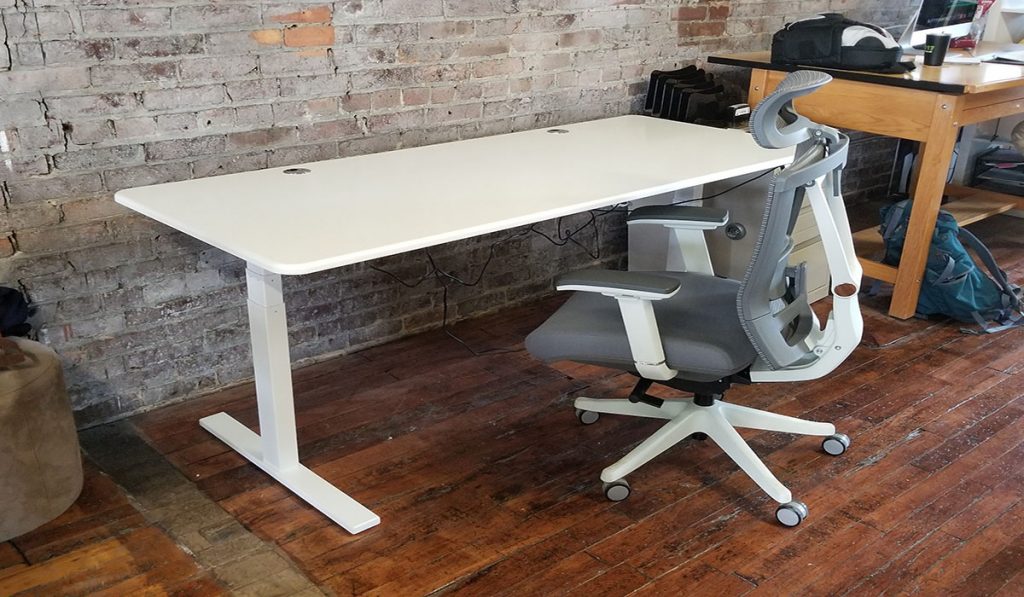 Key Features:
Smart Keypad that remembers your perfect sitting and standing heights.
Silent in motion with advanced Noise Cancellation Engineering
Dual Motor system for fast ascension up and down.
Autonomous SmartDesk 2 Review Breakdown
Setup:
The desk was delivered to the office in two heavy boxes and we (mostly me) were a little worried about how we were going to put together a movable desk. To my surprise, it wasn't difficult at all.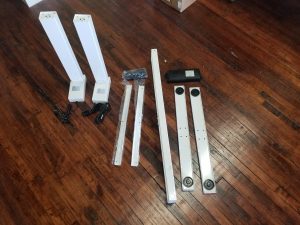 We started with the long rectangular box that housed the desk platform. There were two of us assembling but it was easy enough for someone to do alone.  It came with 2 metal legs for the base and 2 black control panels to screw in underneath the desk.
The total build time was about 20-25 minutes.
The second box was the table top which was very large and heavy, you may need a second person to help you unpack and lift it. When we finally got it out of the double boxed packaging it revealed a smooth, clean, white desk top. There were small pre-drilled holes underneath the desk for easy assembly when screwing it to the base. This took about 15 minutes to complete.
The total setup time took about 30 to 40 minutes.
Design/Durability:
The desk comes in a variety of colors for you to select. You can mix and match the surface material with the color of the platform. Choose from an array of surface styles ranging from walnut to bamboo and pair it with either a black, white or gray platform. We chose the white surface with the white platform for a very clean and modern air.
The measurements of the desk are 30 inches deep and 71 inches in length, with a 300-lb. lift capacity. The generous size of the desk allows you to fit two computers, keyboard, mouse and any other desk accessories and still have room to write!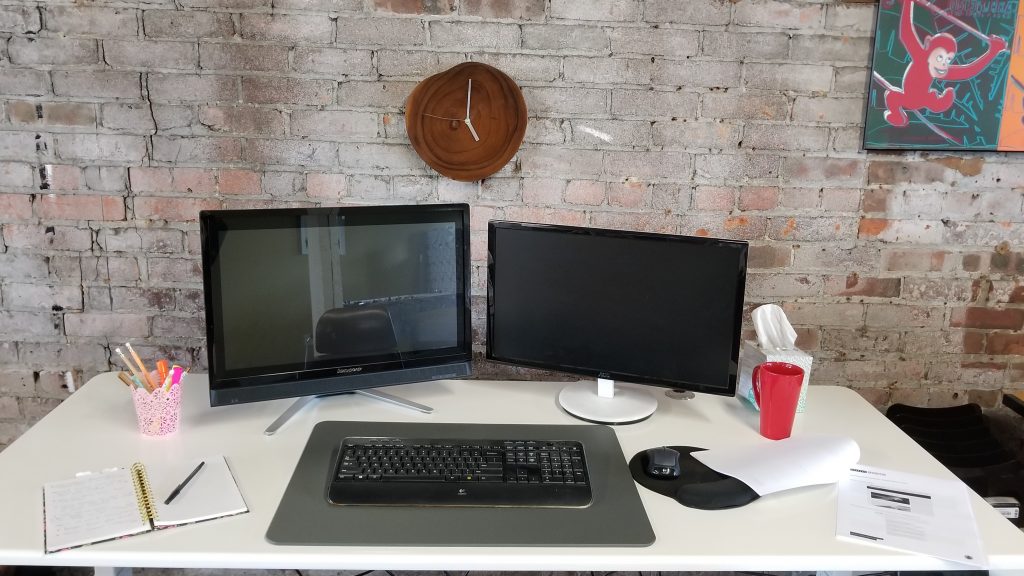 Its design is modern and simplistic with a smooth, clean white desk surface. The legs are also white with a heavy industrial bearing. Just by looking at this desk you can see it is durable. The desk top is thick and the legs feel very sturdy and solid, preventing any wobbling. There are 3 stainless steel cord holes at the top to keep cords neat. The only problem is, there is no way to hide the wires that dangle from underneath the desk making it look messy. However they do sell a separate cable tray for $20.
Functionality:
The real showstopper is the program pre-set buttons. You have up to four buttons that you can set to adjust the desk to different sitting or standing heights. Setting the buttons are easy, choose your desired height, hold the "M" button until it flashes and then press which number you want to program, and you're done! So, with a simple push of a button, you are at the standing or sitting position you prefer, with minimal effort.
One thing to note is that when raising or lowering the desk, it does come to an abrupt halt which caused my computer monitors to shake slightly. Everything else stayed in place but it was a bit alarming when it first happened.
Value:
The desk is offered at two prices, $299 for the home edition or, for only a hundred dollars more, the business edition for $399 where you receive the dual motor system. Personally, I think these are very reasonable prices, especially in comparison to competitors. You get exactly what you need in an easy to use and modern format. Other members of the team agreed that for a few hundred bucks you are getting a more than adequate piece of equipment.
Buy Now: $299 or to learn more go to: Autonomous.ai
---
Ergo Chair Bonus Review!
Key Features:
CustomizableAdjustable lumbar support

Adjustable head rest with curved design to support neck
Adjustable lumbar support
Soft moldable seat cushion that forms to your body

Back rest is breathable, firm and flexible
Setup:
We also had the pleasure of receiving the Ergo Chair to review. Assembly was easy, there were two of us putting it together but it was easy enough for one person to do alone. Thanks to the simple to follow directions and labeled hardware, it took approximately 20 minutes to put together.
Now, I say "approximately" because we did hit a minor speed bump when screwing in the base of the chair. Side note, if you look at the letters labeling the screws too quickly you may choose the wrong ones because of spacing on the packaging.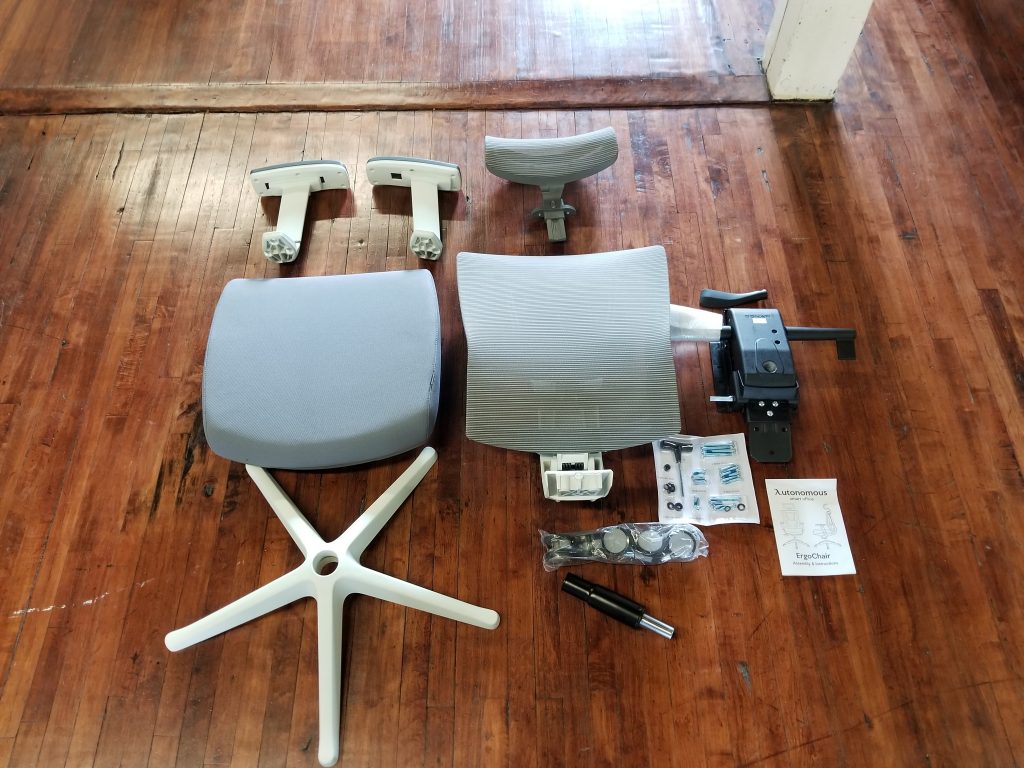 Design/Durability:
The look of the chair is very modern. You can choose from six different colors, including red, blue, green, black, black and white, or gray. We received it in cool gray and it matches the white desk nicely. It looks and feels durable with a wide five-wheeled base for better stability and mobility. I've used the chair for a few months now and it has held up considerably. A few nicks and scratches by the wheel base are noticeable because of the light color, but everything else still looks brand-new!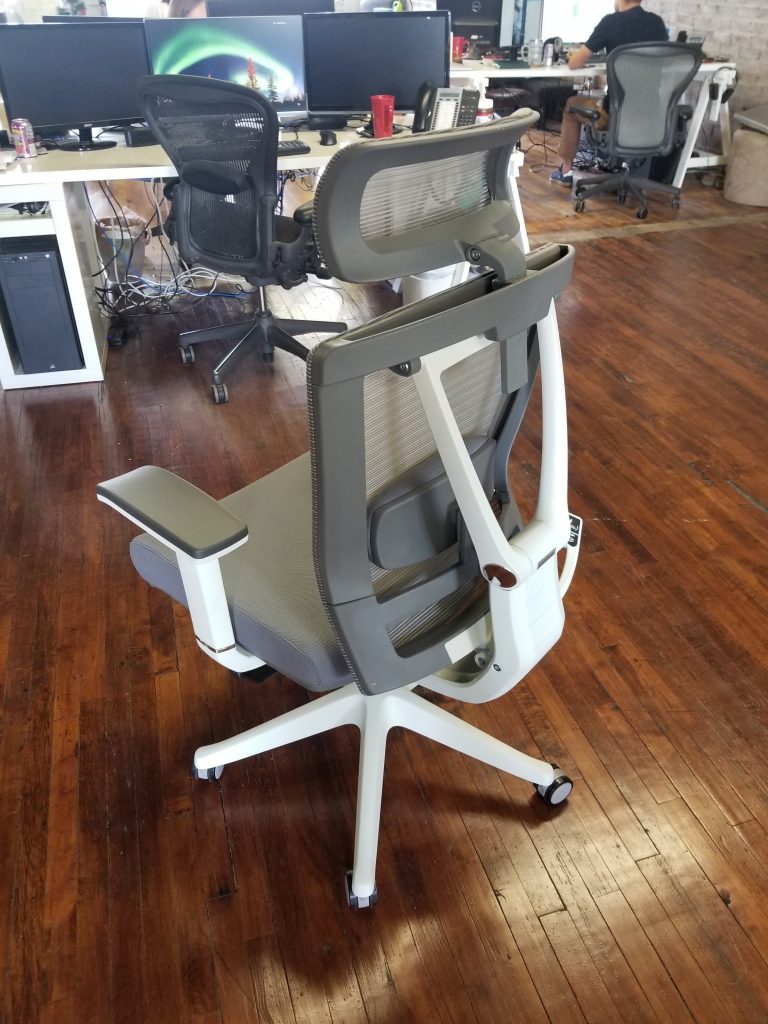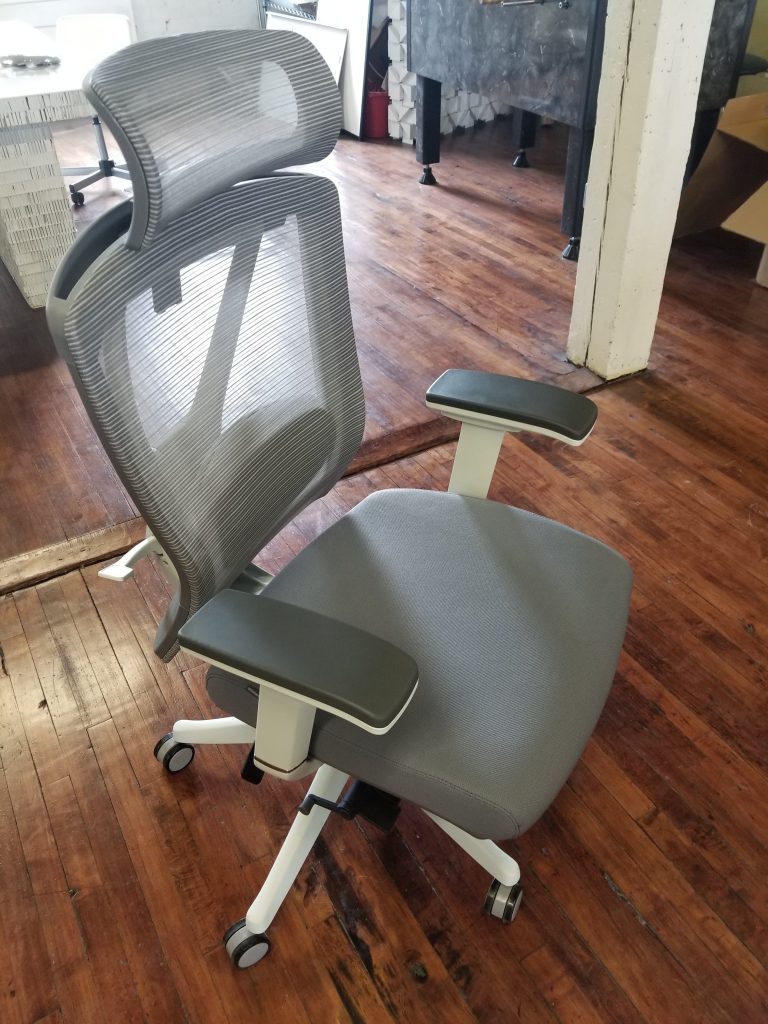 Functionality:
When I switched over from my old office chair I immediately felt the difference in comfort. This chair has so many customizable parts, it can fit any users posture.
My two favorite features are the lumbar support and the head rest that supports your neck perfectly. It greatly reduced the tension I previously felt from hunching my back.
I also really enjoy the breathable material on the back of the chair and the way the seat cushion molds to your body as you adjust yourself throughout the day. It also reclines easily, unlike my previous chair that took way too much effort to lean back.
Value:
As comfortable and impressive as this chair is, the team agreed that its price of $349 is far too much. As the one who uses it the most, I have to agree that I wouldn't pay $350 for this chair.  I feel you could find a chair that has similar features for a lot less.
Buy Now: $349 or to learn more, go to: Autonomous.ai
Autonomous SmartDesk 2 Standing Desk - Tech Review
Overall, this desk is perfect if you're looking for a simple design and functionality at a low price. The Ergo chair is stylish and comfortable but has an equal functionality to competitor chairs, making the price point too high in my opinion.