Wearable tech.  It's been evolving for some time now.  From waist devices that count your steps, to chest straps that keep tabs on your heartbeat, to watches that track your sleep pattern, we are getting closer to breaking our everyday lives into a scientific formula with statistics that represent our every move.  Recently, we were fortunate enough to be able to thoroughly test the latest innovation in wearable tech, Athos.  "The world's first smart fitness apparel that measures muscle activity, heart rate, and respiration all in real time."  That's right, you can now throw on an Athos shirt or shorts and see your hard work and results in real time.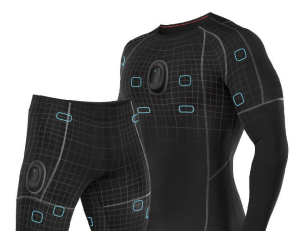 Key Features
Intelligent real time feedback

Electromyography integration

Athletically designed compression fit

Durable and built to last

Set Analysis

Ethos Book
Athos Gear Review Breakdown
Tech:
There are many features that make Athos unique to other fitness trackers out there.  A few stand out above the rest.  Foremost, the EMG (Electromyography) biosensor.  With this integration, Athos gear can detect electrical activity produced by your skeletal muscles which can then be analyzed to detect activation levels that show how hard your muscles are working.  So now you can view your form on a whole other level than just a mirror on the wall.  Instead, you can look at the Athos App Live View on your phone to see real time stats and imagery that show you exactly what muscles are firing, how hard each muscle is working, and in what sequence so you can correct your form immediately.  Form is everything.  If you have the correct form while working out you get better results faster and lower the chances of any injury.  So yeah, this Set Analysis feature using EMG is kinda huge.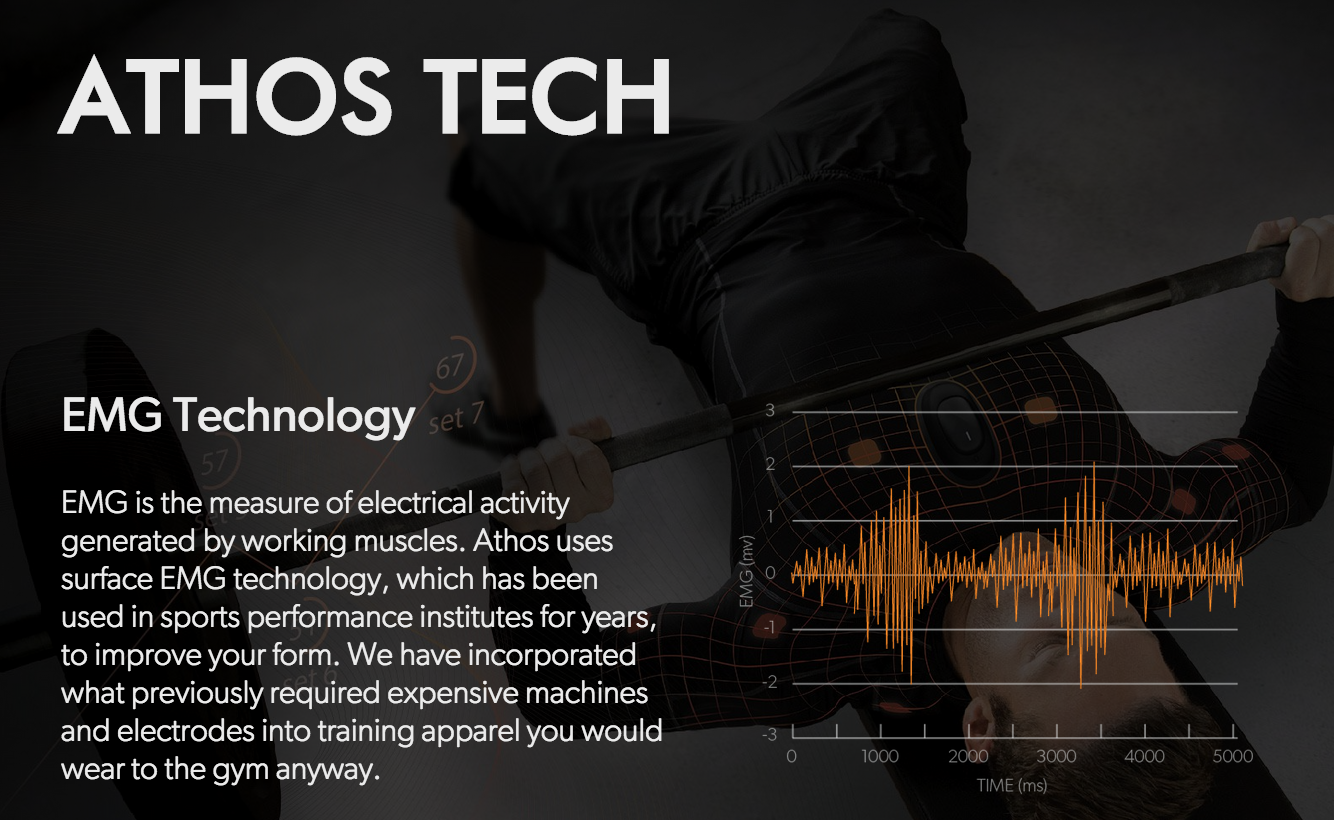 With the Athos slick little app, you can also track your average heart rate and peak heart rate so you know just how hard to push.  Working out is not only a physical feat, but mental as well.  Many times I've struggled with that last rep, or last minute of cardio, so it's nice having realtime feedback to see if my physical capabilities are matching my mental thoughts, or if I should keep pushing through the pain since I have not hit my peak heart rate or muscle fatigue limit.  With these features, Athos has giving me the ability to max out exactly when I should and not a moment or rep too soon.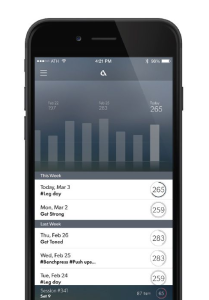 If there is one thing that I hate the most while working out, it's writing my results down on a piece of paper or typing it in my phone while I am gasping for air and my palms are too sweaty to grip anything.  Athos Book solved this issue completely and with better precision and style.   The Athos Book logs your workout for you which includes your sets, reps, heart rate, and exertion that is then calculated from your target muscle effort which is measured through 3 different types of workouts: 50-65% – high interval cardio (to get lean), 65-80% light weights and intervals (to get toned), 80-100% – high weight and reps (to build muscle).  This is then displayed in a very well designed bar graph interface that compares each workout to the next.  I love this feature since there is nothing further I have to do other than focus on my workout.  It also helps me dig deeper to keep that number rising past the workout before.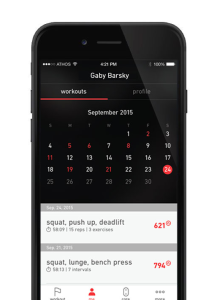 **Update**:  Unfortunately with the latest Athos App update they got rid of the bar graph interface and replaced it with a calendar view where you'll have to then click on each day to see a recap of your past workouts.  To me this is going in the total opposite direction from a design and functionality standpoint.  One of my favorite features about the older version was the ability to see a quick comparison of my past workouts in a comparative bar graph view.  Athos design team, please bring this feature back!
Design: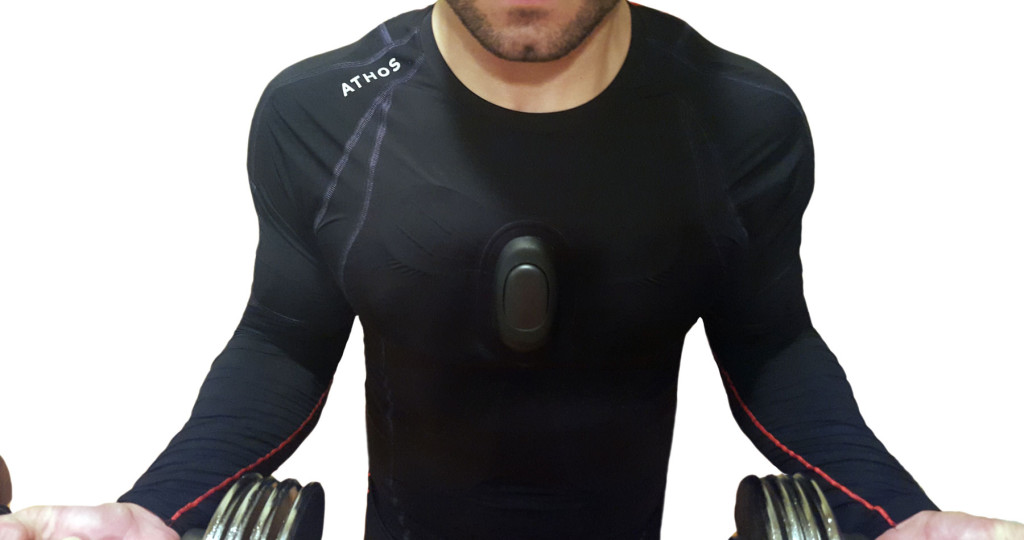 Apparel:
Both the shirt and shorts are made of 76% Nylon and 24% Lycra Spandex and have a nice compression fit.  Although you could probably use the washing machine to clean your Athos gear, it is recommend to hand wash and air dry.  The best steps for washing your Athos gear is as follows: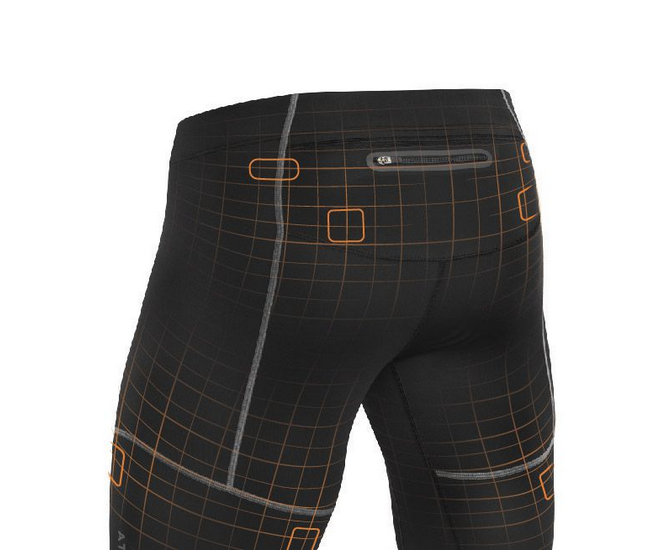 (1) Remove Core.
(2) Hand wash with gentle cleaner (e.g. Woolite).
(3) Pat dry with a towel (do not wring).
(4) Air dry overnight.
The Athos shirt has a great look and the sensors are placed rather well to help with accurate muscle readings.  Although I love being able to see which muscles in my upper body are firing, they missed out on a huge area, the Abdominal region.  I did touch base with Athos about this and their response was:
"We don't currently track those muscles in the shirt, however this is something we're working to add in a future version of the shirt.

Abdominals are tricky muscles to track, so we're still working on the R&D process to add those sensors later down the line."
However, I do love the fact that you can wear both pieces of apparel and connect to the Athos App for an (almost) full body reading. Very useful, especially for the types of workouts where you are including both cardio and weight training together.
App: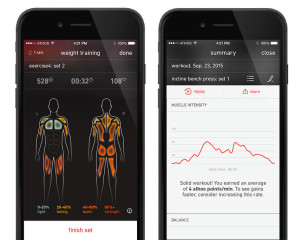 The Athos App is designed really well.  I am a fan of the simple interface and navigation.  The Live View shows you your muscle activity and performance so you can constantly monitor your form.  Once you've completed your workout, you can review your set analysis, which outlines your sets, reps, muscle balance, average heart rate, peak heart rate, and muscle exertion.  The line chart that displays after each workout is very useful as it shows which set or exercise I was exerting the most amount of energy.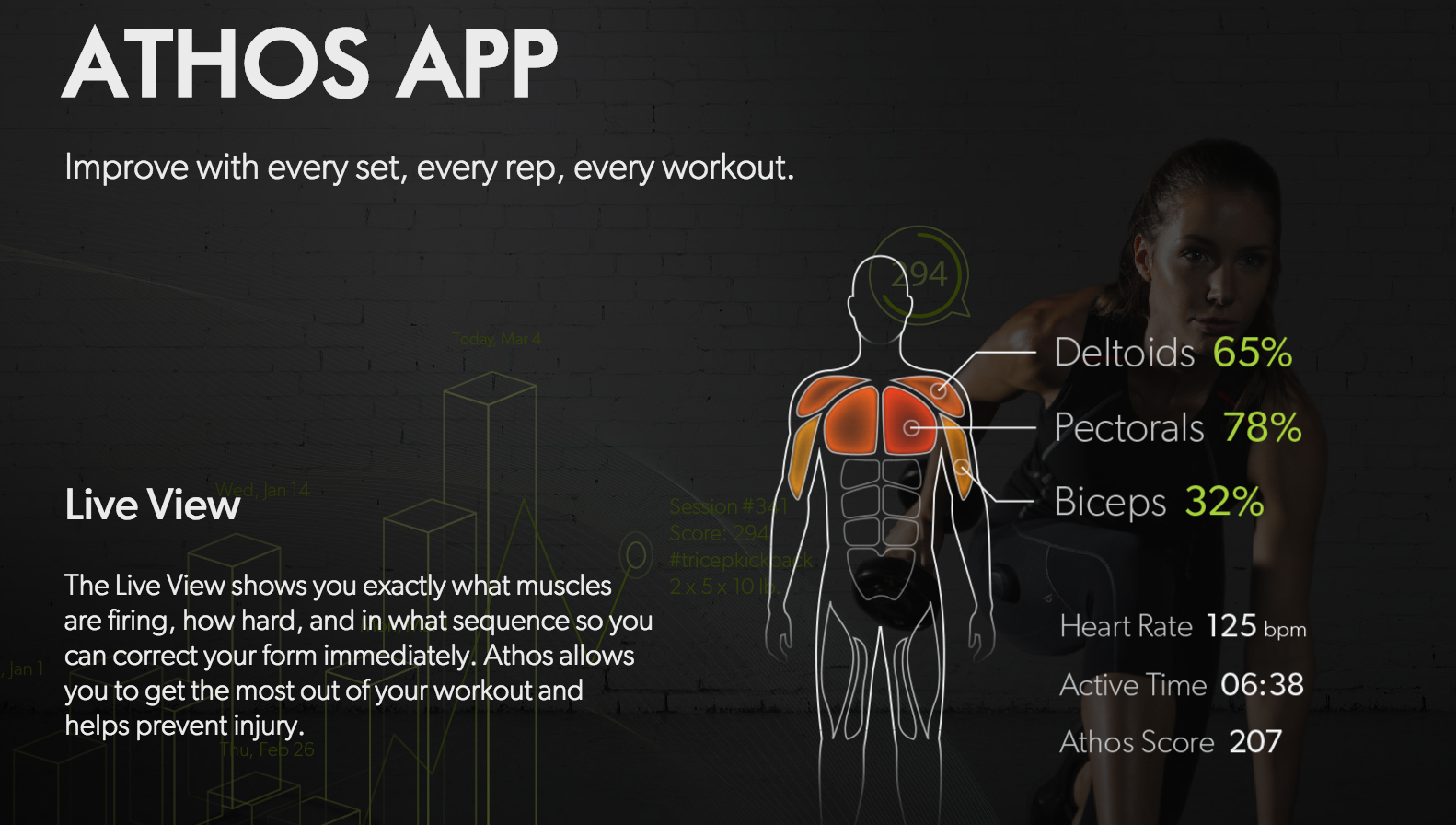 Comfort & Durability: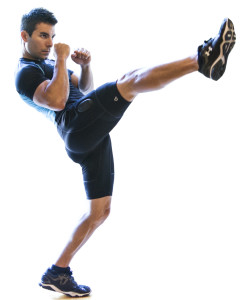 The first time I tried the shorts on I could feel the sensors and the seams.  It wasn't at all uncomfortable, but I noticed them.  However, minutes into my workout I forgot they were there.  After a few more workouts they seemed to fit great and I feel like the compression fit actually helped with my routines.  The only issue I had with the shorts were the drawstring and waist area.  The compression fit helped the shorts stay in place, however the waist stuck out a little bit and when trying to tighten them with the drawstring, it was unsuccessful because of the material.  The drawstring was simply too weak to tighten down for a good fit, but it never hindered my performance.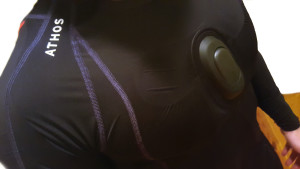 The Shirt actually had a surprisingly comfortable fit.  The sensors are hardly noticeable as the compression fit is secure and does not allow for any unwanted rubbing. I've worn the shirt in a variety of activities including dodge ball and it has survived some pretty good hits.      
Value:
The Athos gear is priced out individually and as a combo package as well.  The Core is $199, shirt $199, shorts $149, or you can opt in for a shirt, shorts, and core combo at $547.  If you're a little hesitant because of the price tag, Athos does a "Risk Free" option that includes free shipping and returns.  After two months of extensive workouts and training with Athos gear, I feel that it is truly beneficial to help evolve your training regimen.  
Athos Wearable Fitness Technology
Athos is sure to be popular among Triathletes, Cross-fit junkies, Physical therapy, and for those who want more out of a workout than just sweat.  Real time information that can help speed up your progress and track how far you've come, Athos get's two sweaty thumbs up from me. 
App (Based off the latest Update)
7.2
The Good
Real Time Tracking
Auto logs your sets and workout activity
EMG sensors for true muscle activity analyzation
The Not So Good
No bar graph view in newest App update
No Android compatible app