The temperatures are ever so slowly rising here in the midwest and those of us who don't like to run outdoors in the winter, are now getting off the boring treadmill and hitting the streets and trails once again. Asics is one of the leading brands in running gear, and they recently gave us the opportunity to try out their latest triathlon staple shoe, the Noosa FF 2. We gave these shoes the run-around to see how they hold up.
Key Features:
Discrete Eyelets
HG10mm Heel Gradient
FlyFoam Midsole Technology
Seamless Construction
Rearfoot GL Technology Cushioning System
Wet Grip Outsole
Design:
Asics designed the Noosa FF 2 with FlyteFoam technology making them extremely lightweight. The upper
surrounding mesh lets the air flow through allowing your feet to breathe. I think everybody can appreciate that. With the breathable mesh and seamless construction, this design gives you the option to go sockless, if you prefer. The heel and tongue grips are great for quick on and offs, which makes these shoes great for triathletes. If you are a triathlete or even if you just happen to be running on wet ground, the Wet Grip Outsole is a blend of components that is supposed to enhance traction on wet surfaces. This feature is not just for triathletes, it's also great for those rainy day runs.  Now if you are picky about colors, you will be sad to learn that there are currently only two color options for the women's version of this shoe. Both are fairly bright and colorful, so if you prefer more of the muted tones you may have to wait and see if they release more options.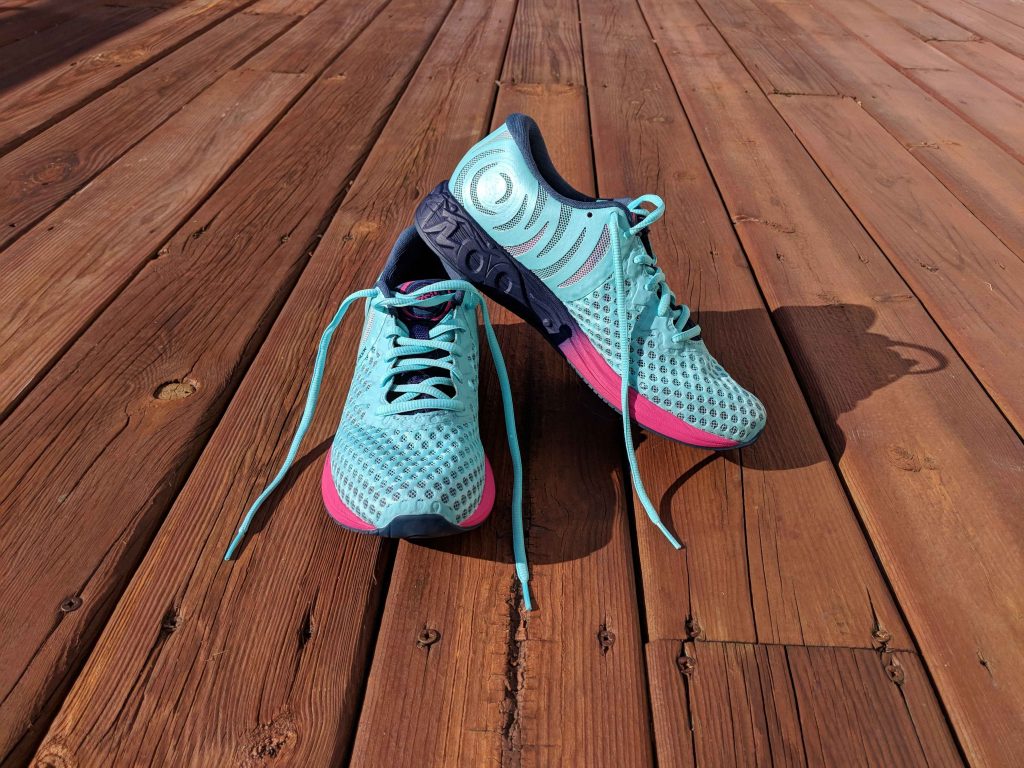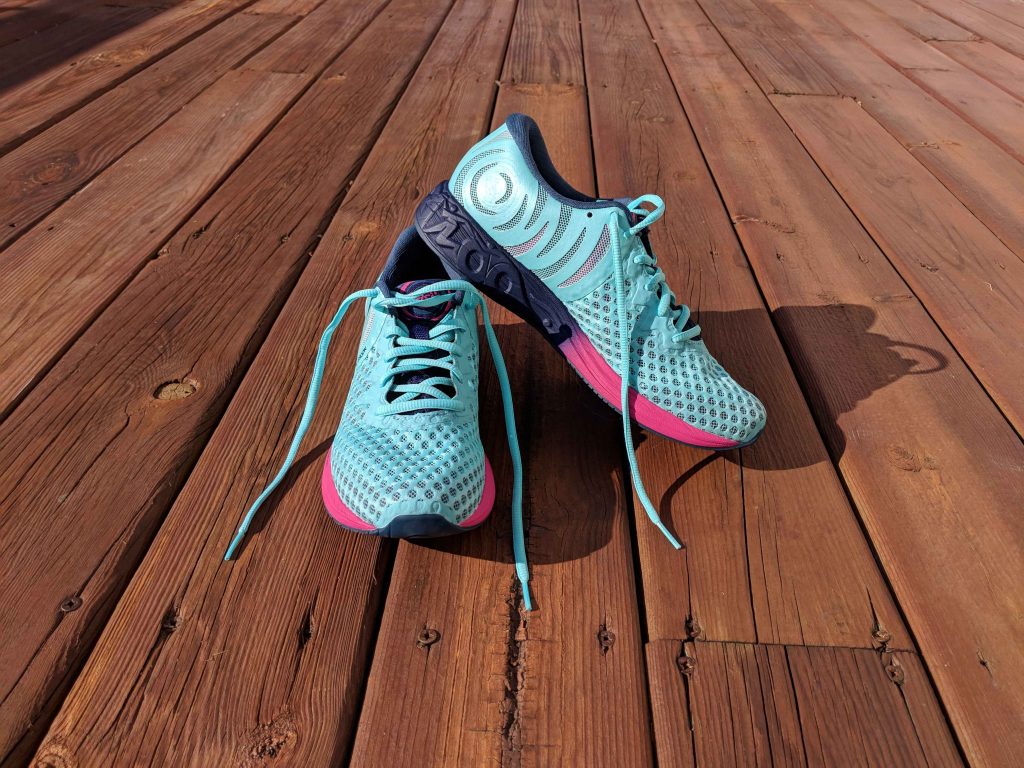 Comfort:
Comfort is probably the biggest influencer when it comes to picking out the right shoe. I've always been a fan of Asics running shoes. There sizes seem to stay true, and their toe box is usually a bit wider than other brands…which I love because the wider toe box allows my feet and toes to properly spread during movement. The Noosa FF 2 however have a slightly smaller toe box than other Asics shoes I've worn. That's not to say they aren't comfortable, because they still are, but I prefer a bit more wiggle room for my toes when running.
The independently placed eyelets for the laces reduced any sliding of the foot to the front of the shoe, and never caused any pinching or irritating rubbing. Even though the soles are made of a very light material, they provided enough support for smooth transitions. This shoe gave me a good flow to my movement. It only took a couple short runs to get them broken in and even during that time I never noticed any discomfort. They are close to being good right out of the box.
Durability:
I've only put just over 100 miles on these shoes so far and while they haven't given me any issues, my only foreseeable concern is that the soft mesh will start to tear near my toes – It hasn't happened yet though so I guess I shouldn't speak too soon. The soles still hold the weight and continue to give me that bounce back with every stride. The treads are still intact and going strong and none of the lace eyelets have stretched with all the pulling. I can't wait to see how many miles the Noosa FF 2 will take me.

Value:
You can find the Asics Noosa FF 2 running shoes in the current mid to high price range coming in at $140. While you get a handful of nice features for that price, it can be difficult to drop that kind of money on a pair of shoes. It is important, however, to remember that finding the best running shoes for you could mean a big investment (but a good investment!). So far, the Noosa FF 2 are worth the price.
Buy Now: $140, or to learn more, head over to Asics.com
Asics Noosa FF 2 - Fitness Review
Designed for the triathlete yet suitable for any runner. A valid investment for lightweight breathable running shoes that give you quick transitions.
The Good
Seamless construction
Heel and tongue grips
Breathable mesh
The Not So Good
Slightly narrow toe box compared to other Asics