Looking for a fun toy that will give you one hell of a core workout?  You need a stand up paddleboard (AKA – "SUP").  Don't have the room for a 10 foot plank, or a way to transport something of that size?  Well then, you NEED the Airhead NA PALI SUP!  It's completely self contained in a mesh backpack: the paddle board, the pump, and the paddle (sold separately) all fit securely in the backpack.  Not to mention the fact that these things are TRENDY as can be right now – having lived in a beach town for a while (and now living just 30 miles from one), I speak from experience!  So – if you want to have hours of fun, make some new friends with your cool new toy (because you will attract a crowd!), and give your core and arms a great workout, look no further than the Airhead NA PALI SUP!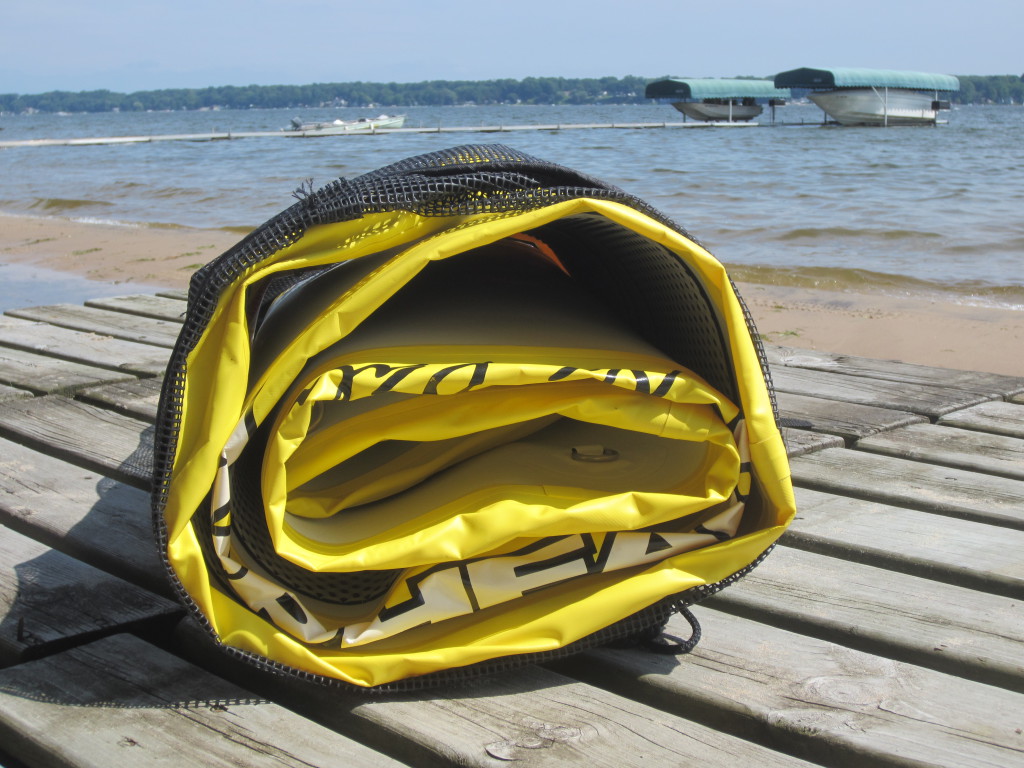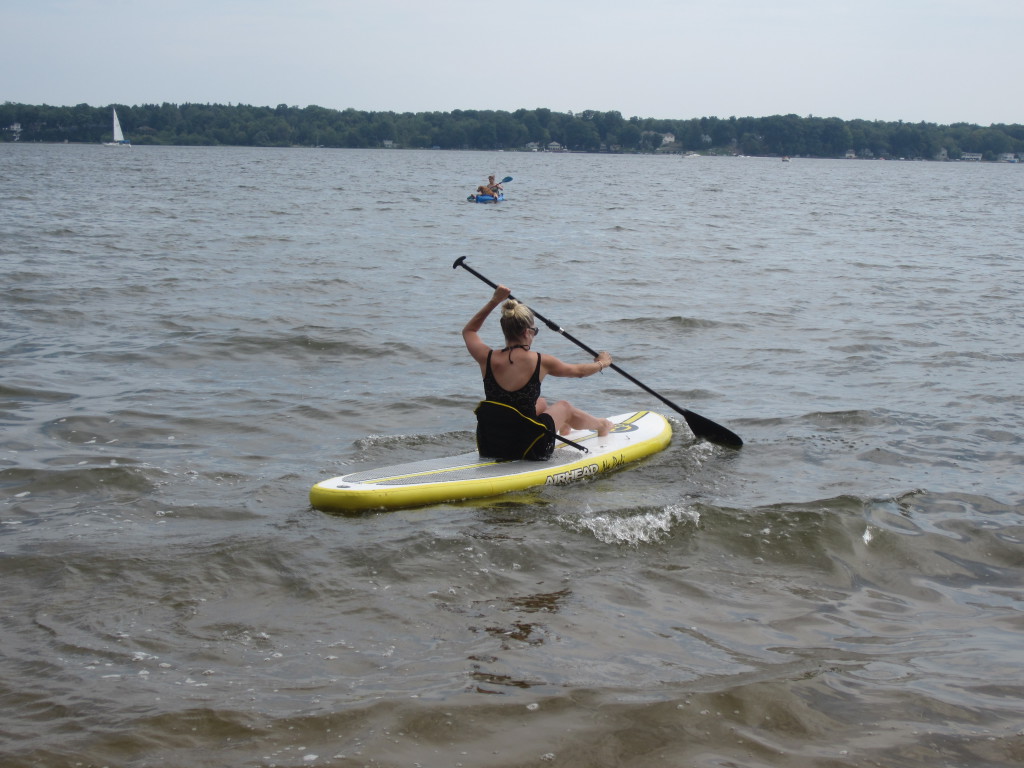 Key Features
Extra rugged drop stitch construction
Rigid with the performance of a fiberglass board
Anti-skid EVA pad provides secure footing
4 D-rings to strap your gear to up front
Adjustable padded seat for kayak style riding
3 removable fins ensure straight tracking and precise maneuvering
Backpack with mesh panels for carrying the SUP and all accessories
High pressure hand pump, anemometer, and valve wrench
Carrying handle
Specs:
10 ft.6 in. length x 30in. width
Made for One Rider
Extra Rugged Drop Stitch Construction
Airhead NA PALI SUP Review Breakdown
Design: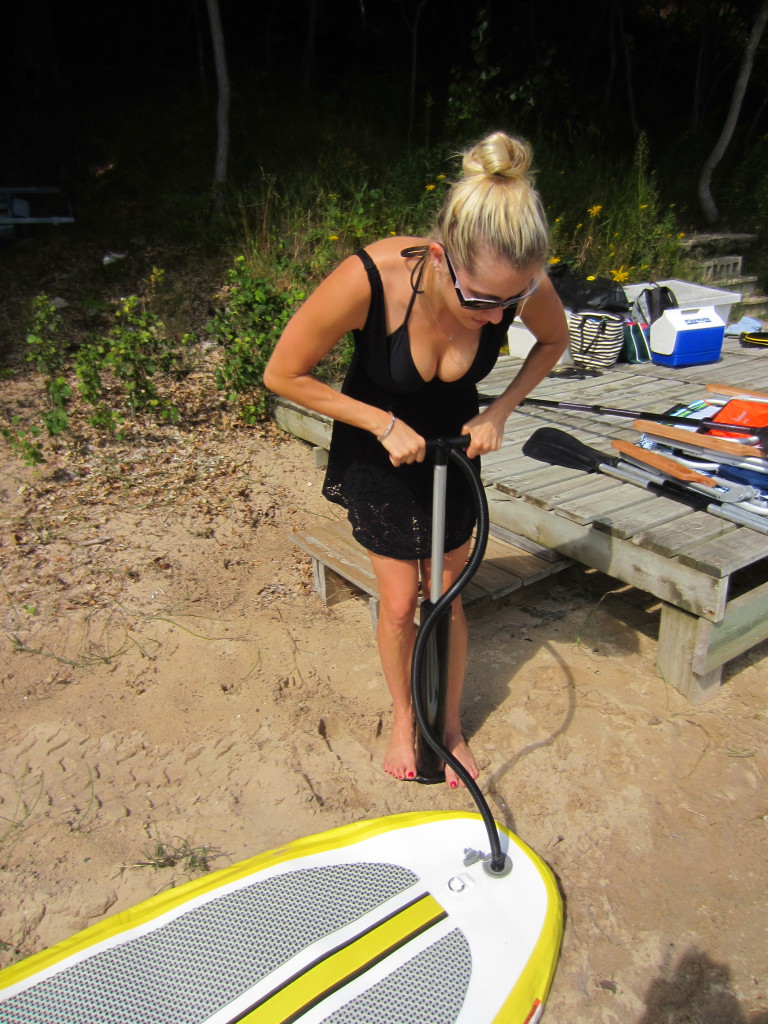 The NA PALI has thousands of tiny threads connect the top and bottom layers. As the webpage states, the NA PALI has extra rugged drop stitch construction, which allows for much higher air pressure than other inflatable technologies. . . . what does this mean for you? This puppy can hold 12 pounds of air pressure, more than double the working pressure of other similar SUPs.
The valve stem only releases air when pushed in, and the specially designed pump connects securely and presses in the stem so no air is lost while inflating.  You can also take the hose from the hand pump and connect it to an electric pump to inflate the majority of the SUP with, then use the hand pump at the end to get the last little bit of air pressure in the NA PALI.
One of my favorite features is the comfy seat that connects to the hooks on the front of the SUP.  Using your body weight to hold down the bottom of the seat, you connect the straps to the hooks on the SUP and just leeeeaaannnn baaack! You can then use the regular paddle (shortened – easily adjustable on the move), or a kayak paddle to ride the NA PALI like a kayak.  We were even able to do this with two people . . . although you really had to watch your balance!
The add-on's really push the NA PALI above and beyond. Here's a list:  multiple hooks to connect gear, tether, seat, etc.; a seat; fins; custom pump; pressure gauge; and a backpack that holds it all.
Additionally, you should really consider the aftermarket SUP Leash sold on the AirHead website. It's a great way to keep your board tethered to you. It proved to be especially useful on windy/wavy days and when first learning to paddle.
Maneuverability:
You have to embrace wide turns with the SUP – any SUP, in my experience.  However, the NA PALI has detachable fins, and once you had a feel for the board in general, the three fins really seemed to help with the flow and steering.  The fins really seemed to help keep the SUP tracking straight and steady when paddling.  Another plus in the maneuverability department was the paddle.  It has a great angle on it so you can get the most power with the least amount of movement, and you can adjust the length to make it perfect for your height.  Reviewers ranged from 5'7" to 6' in our testing group and everyone was able to find the perfect adjustment.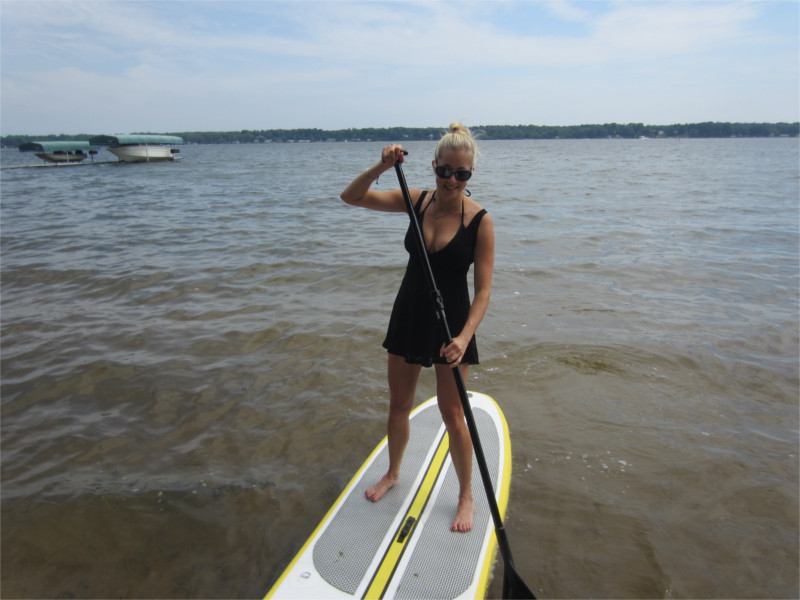 Stability:
While it is impressive how firm the NA PALI was, it still did not feel exactly like a regular fiberglass SUP.  There was some flex, regardless of how rigid it was, and for the guys that were a bit heavier, it was less stable.  During one of our testing sessions we were paddling the SUP in choppy waters and when the waves were hitting the back of the board, you could feel it transfer through to the front of the board.  I found it much easier to start out on my knees and then push up into a standing position, versus starting out standing.  The silver lining here is that if you are really looking for a good workout . . . you need to use extra muscles to keep the SUP stable, and can feel it from your feet to your shoulders. That being said, I had almost no problem at all with stability when on my knees or sitting.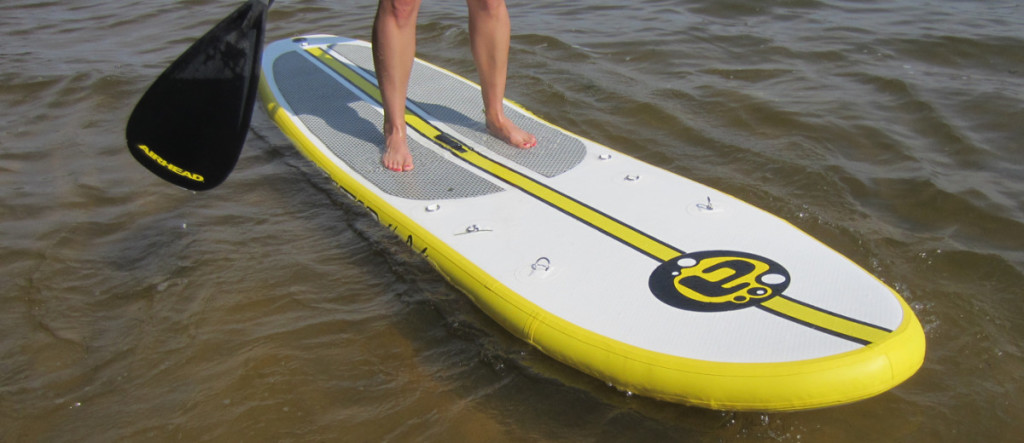 Storage:
The fact that this all fits in a backpack (albeit a 3' tall one), is awesome!  You do not need a roof rack, you do not need a trailer . . . all you need is a trunk or a single person size space on your seat and you can bring your new BFF SUP anywhere! I also love that the backpack fits the SUP, pump, attachable seat and paddle without requiring an engineering degree. . . !! You simply deflate the SUP, fold it up, and everything else just fits in around the SUP.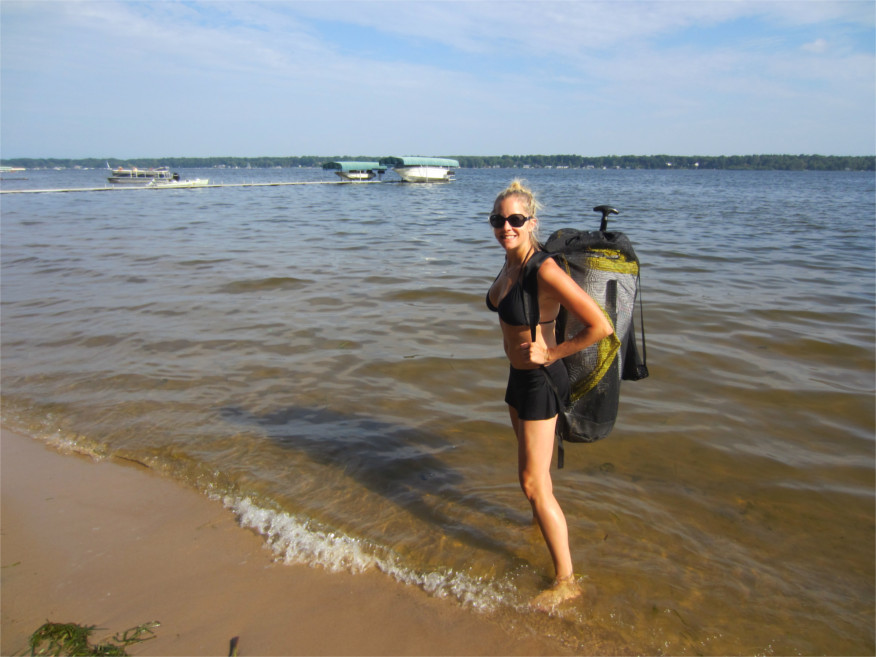 Durability:
I have only had this for a few weeks, but it's been rolled up, unrolled, thrown in the back of a SUV, covered in sand, and flopped on the ground. . . and NO HOLES, no cracks, or any sign of wear and tear.  The super rugged drop stitch construction makes this feel durable like a fiberglass board.  It's always hard to judge durability when you only have it a few weeks to a month, but it certainly seems like it will last based on what I've put it through so far!!
Value:
YUP the SUP is a GREAT VALUE!  You get a compact, portable, durable toy that will give you a good workout and help make you new friends!  The fact that the NA PALI is self-contained, storable, portable, and SUPer funable, makes it totally worth the MSRP.
Airhead NA PALI Stand Up Paddle Board
If you are looking for a fun, relaxing, trending, friend making, alternative to a traditional exercise, check out a SUP . . . get yourself the NA PALI!