with numerous drones on the market today, it's hard for a new company to stand out from the crowd.  New technology in both hardware and software are allowing consumers to start flying in no time with precision and ease.  So with all this new tech being developed and integrated into just about every drone out there… what makes Airdog so unique?  Well, to put it simply, it's currently one of the only drones built specifically for action sports.  Yes, you can purchase other drones with auto follow features, but the Airdog is nearly fully autonomous with smart features that definitly make this Drone a major contender (and current leader) in the Action Sports drone niche.  When we first saw their Kickstarter Campaign in 2014, we were impressed.  Since then, there has been major developments in this tech with other companies as well. So when we finally got our hands on it last month (December 2016), we weren't sure how the Airdog would compare to the current competition.  We are happy to report that the Airdog is ready for takeoff and more.
Key Features:
Speeds up to 40 mph/ 64 kmh
Range up to 820 feet / 250 meters
AirLeash Transmitter Included
LiDAR Ground Collision Avoidance
Flight time up to 18 minutes
Changes Flight Mode Based on Activity
Maximum Wind Resistance 28 knots
GoPro Camera Required (Not Included)
Weight: 4.38 lbs/ 1.96 kg (with camera and battery)
Build Shape & Quality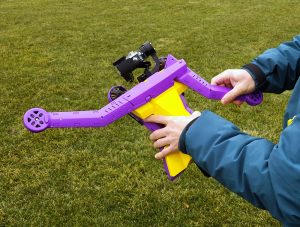 Airdog is definitely the most sturdy drone we've tested.  Since the arms and landing gear fold up, it's essential that the frame has a solid build.  The design allows the thick arms to lock into place when folded out and also powers on the Drone when the battery is installed.  AirDog has a unique placement of the 4 motors (2 front facing downward motors and 2 rear facing upward motors).  The Propellers are self tightening and can be installed and removed by hand (no tools necessary).  The way the arms and motors are designed allow for the Airdog to be folded and transported with the propellers still attached.  The landing gear consists of 2 folding stands that fold out from the rear arms and one center stand on the body.  The rear and center landing gear all have a sturdy hold position, however, the center piece is made out of plastic and snapped after the fourth time using it.  This was not from a rough landing or anything, but rather (a user error) trying to fold it back into place after using it.  Luckily it came with a second center landing gear that was easy to replace, but you might want to invest in a few more just to be safe.  Hopefully they update this piece and make it out of a more resilient material.  One of the best features of this drone is the ability to easily fold it up and stow it in your backpack as you travel to your next location.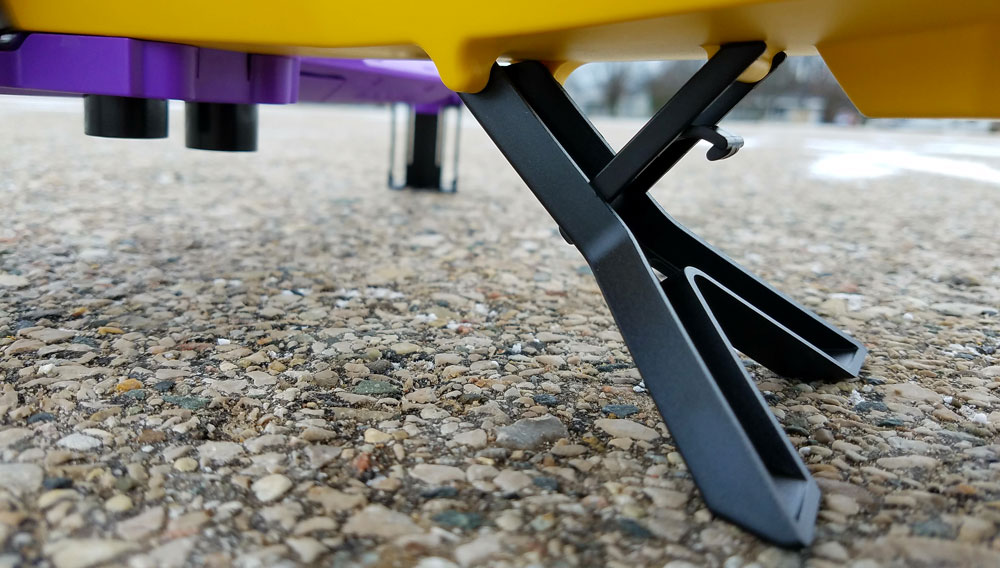 Flight Modes & Capabilities
Let's start with Airdog's bread and butter.  Since this Drone was built for action sports, the flight modes directly reflect this.  Depending which sport you want to capture, Airdog has several preprogrammed sport modes you can choose from and they are constantly updating and introducing more modes.  If you can't find the exact sports mode you are looking for, you can select a mode that is closest and modify certain settings to better reflect your activity.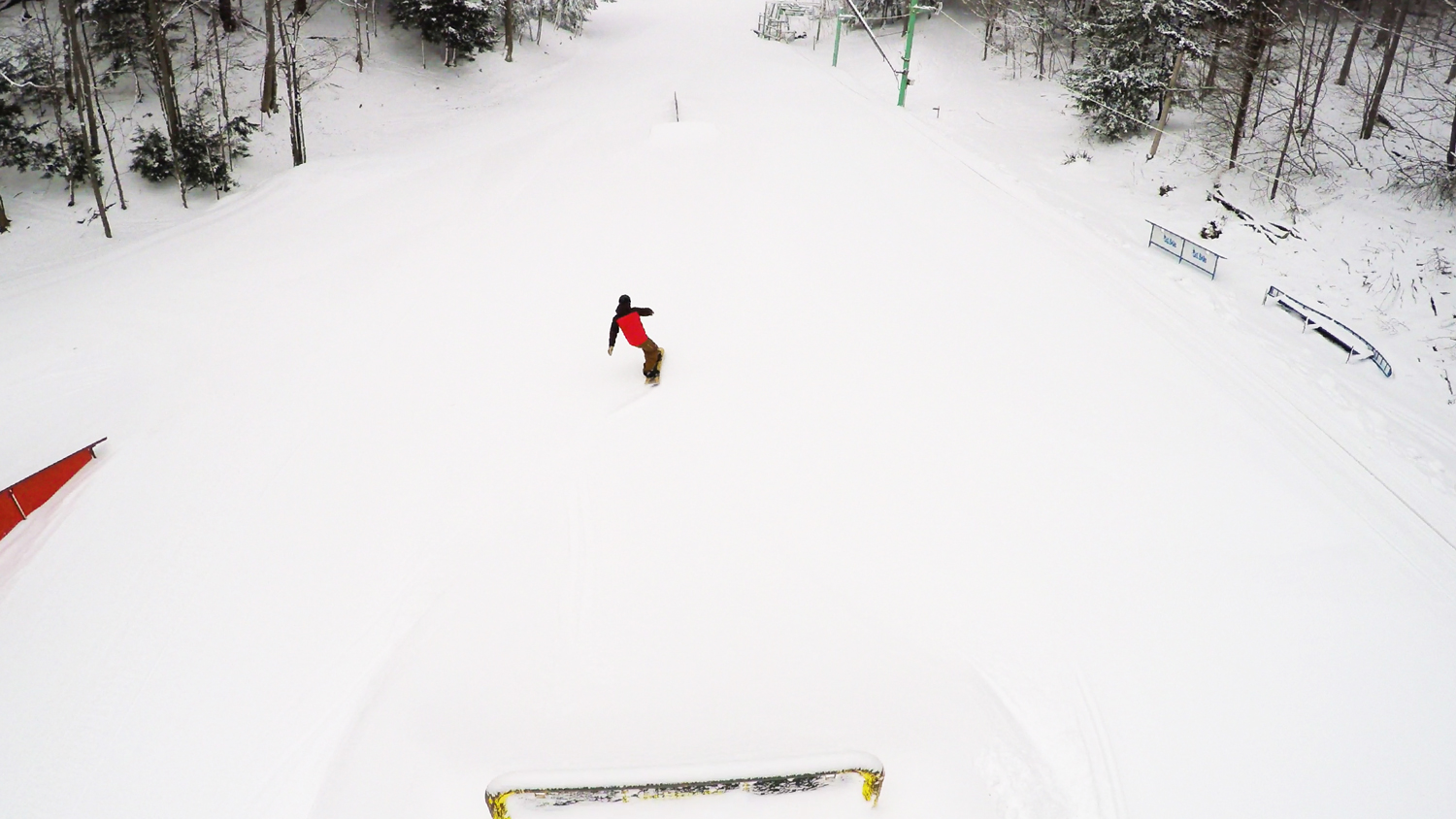 Airdog has a sensor fusion technology that allows it to track your every move even if your position and placement changes rapidly. They are able to do this through sensors in both the Airdog and the AirLeash, that use accelerometers, gyroscopes, magnetometers, and barometers to help keep you within the cameras view.  One of the first modes we tested was the MTB mode (Mountain Biking).  In MTB mode, the Airdog uses Spot landing to land near you wherever you end up.  Same for backcountry mode.  Because the last thing you want after you've shredded down a mountain, is the Airdog to fly back up the mountain to land.  However, when doing any water activities, the Airdog uses a Home base landing where it will automatically land from where it took off (and not spot land in the water next to you).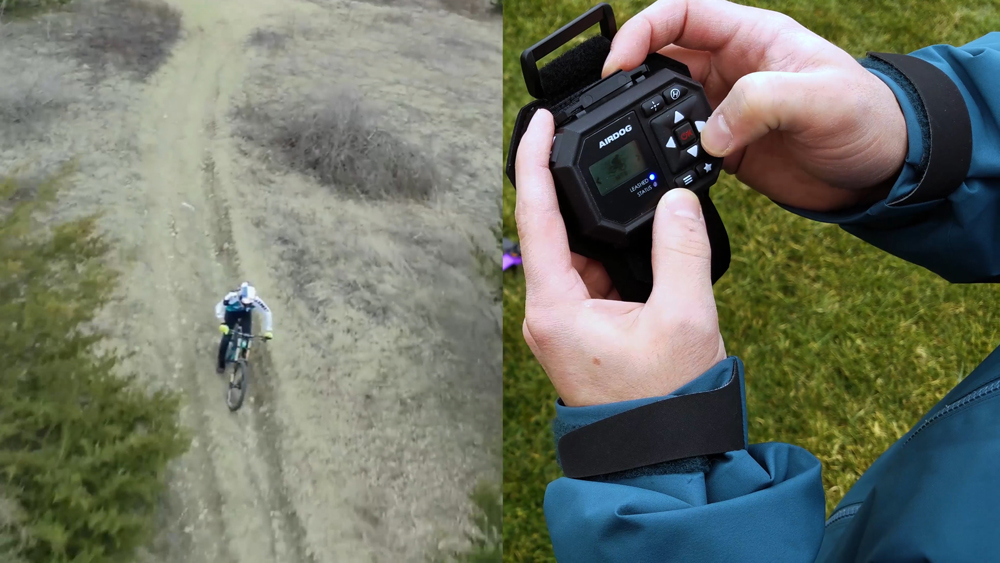 Each mode lets you adjust where exactly the Airdog will follow you from (i.e. right, left, back, front, back left, back right, front right, front left).  Plus you can have it set to Adaptive or Fixed, which basically means that when you change directions the Airdog will either stay within its line or change position to adapt to your path.  For example, if you have Airdog set to Front Fixed and are heading north, when you turn and head south east, the Airdog will stay north and continue to follow you.  On the flip side, if you have it set to Adaptive, and change directions from north to south east, the Airdog will fly around to get back in front of you while heading South East.   Both modes are great for certain areas and I found Fixed to be more helpful it tight spots with trees, where you want the Airdog to keep its line and not fly into trees since it currently lacks any side, front, or rear obstacle avoidance sensors.
Airleash
AirLeash is the wearable controller that the Airdog will follow using a powerful long-range Bluetooth signal.  This controller is very compact and made specifically for on the go Sports.  The last thing you want while skiing, surfing, or biking is a non waterproof remote control with throttle sticks poking out. So the AirLeash is Airdog's answer to an easy way for you to get your shot without worrying about knowing how to pilot a Drone.  Since the main purpose of this Drone is to follow you autonomously, there are limitations to controlling it yourself.  Although there is no direct way to pilot the Airdog down a specific path using the controller (like when using a normal remote control), you CAN set waypoints through the App on your phone.  You can also adjust its position in increments using the arrow buttons on the AirLeash, or long press the left or right arrows for a constant orbit motion, which orbits until you select "OK" on the touch pad.
The only issue I had with the AirLeash was a loss in connectivity.  Two times I lost connectivity and the Airdog froze in place.  After rebooting the Airleash, it was able to reconnect with the Airdog and I had control once again.  Not sure what caused this, but hopefully this bug gets worked out in the next firmware update.
Gimbal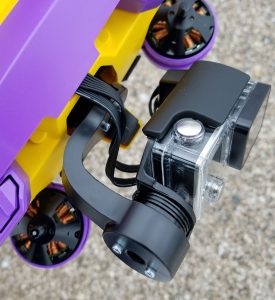 The Airdog's Gimbal has a sturdy design as well and uses 2 motors to help with vibration isolation and capturing stable video footage.  The Gimbal compensates the movements of the Airdog to help correct for side to side and up and down motion.  Because of the placement of the Gimbal, panning is achieved by yawing Airdog itself (which is done automatically).  The Gimbal is also capable of charging the GoPro using the Drones onboard battery.  This is a very nice feature, especially when filming in 4K as the GoPro batteries can't seem to keep a charge too long when filming in such high resolution (especially in colder temperatures). Hopefully in their next update they'll figure out a way to control the GoPro camera and automatically start recording before take off.  For now, you'll need to physically push the GoPro buttons to start/stop filming before/after take off.  It is not recommended using the GoPro App on your phone via the wifi as it may interfere with the AirDogs signal.
Ease of Use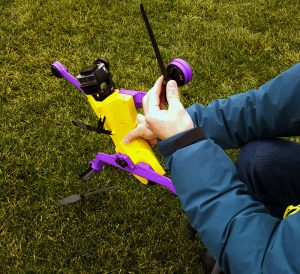 This isn't our first drone and definitely won't be our last, but the Airdog is a different beast than most other drones out there today.  It has a unique build and slightly different setup, but no more difficult than its competitors.  Setting it up didn't take much time at all, although we recommend checking to make sure you have the latest firmware on the Airdog and AirLeash before all flights. The propellers are a little confusing if you don't have the instructions right in front of you.  Ideally they would label them with a numerical or alphabetical system as each motor requires a specific prop.  Getting GPS once the AirLeash is turned on can take up to 2-3 minutes, so we recommend turning on the AirLeash at your launch spot while you are setting up the rest of your gear (Airdog, props, GoPro, etc.) to help speed up the process. Airdog's calibration process is very easy and has a step by step process that you'll follow on the AirLeash's display.  Once GPS is acquired and Calibration is achieved, you are ready for take off.  Choose your sport mode, adjust any settings you want like follow angle, height, and follow mode, and you are off and running, or biking, or surfing, or whatever you want Airdog to capture you doing.
Value
After a month of testing we are happy to report that the Airdog is an impressive autonomous drone that is a must have for anyone wanting an easy way to capture aerial imagery of themselves doing the sport they love.  There are definitely some features we would love to see integrated in the near future, but Airdog has proven that they can take a concept and get it off the ground! Hopefully there will be some hardware and software updates in the future to allow for obstacle avoidance, precise remote control through an RC or Phone App, and camera control and preview. However, for what it is, an Autonomous Action Sports Drone, it gets the job done for sure.
Buy Now: $1599.00 or to learn more, check out: www.airdog.com
Airdog - Action Sports Drone Review
After a month of testing we are happy to report that the Airdog is an impressive autonomous drone that is a must have for anyone wanting an easy way to capture aerial imagery of themselves doing the sport they love.
Flight Modes & Capabilities
9.2
The Good
Easy setup
Fully Autonomous
Folds and Stows for easy transportation
The Not So Good
No Actual RC or means to control a live flight path with Phone
No way to preview camera or control Start/Stop Recording of GoPro
No side, front, or rear obstacle avoidance sensors