Busted Wallet set us loose on the streets of Nashville this fall and boy did we run amuck! From honky-tonks to a tree-house restaurant, we scoured America's Music City for the most offbeat and original "Nashville" experiences for you, our faithful BW readers. Follow along on our 48-hour Nashville tour!
DAY 1
9:30 A.M. Breakfast at Just Love Coffee & Eatery
It's early, I know, but start your day off right with Artisan Waffles and drip coffee at Just Love Coffee. Centrally located on Music Row, Just Love Coffee has all the goods to get you going for the day. I'm talking Nutella-stuffed waffles, S'mores waffles, omelets, and baked goods (drool). Enjoy your breakfast on their patio and watch the city come to life! The menu is reasonably priced and the service is friendly.
For directions and a copy of the menu visit: justlovecoffee.com
10:30 A.M. Nashville Pedal Tavern Adventure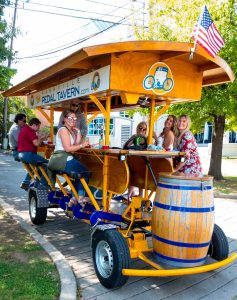 From Just Love Coffee, take a leisurely stroll down the block to check-in for your Nashville Pedal Tavern experience! Voted Nashville's #1 Outdoor Activity, Nashville Pedal Tavern offers four different routes through the city. Expert drivers not only get the party started with fun music and games, but provide a great guided tour through the city (shout out to our driver Matt Brown!). We booked the Midtown Tour, and would recommend that to any first-time visitor to Nashville. The Midtown Tour took us down Music Row where the top country artists record and to some awesome offbeat bars. Our favorite bar that we stopped at was Clyde's on Church. This unique bar not only offers some of the best candy-flavored shots we have ever had (try the Sugar-Daddy), but a bevy of other delicious alcoholic beverages to cool you down from peddling. If you want to drink on the pedal bike, be sure to pack a few cold ones with you. Alcohol is not served on the bike, it is BYOB.
Make your reservation for the Nashville Pedal Tavern here: nashvillepedaltavern.com
1:00 P.M. Hattie B's Hot Chicken & Gigi's Cupcakes
If you take the Midtown route on the Nashville Pedal Tavern, you will conveniently be dropped off about one block from Hattie B's Hot Chicken. There will be a line; wait in it and you will be rewarded with the best hot chicken you will ever eat in your life. While you wait grab a cupcake from Gigi's Cupcakes. Gigi's handcrafted confections are a delight to look at and even better to eat! With flavors like key lime and cookie butter, it will be tough to limit yourself to just one, but remember the hot-chicken waiting for you at the end of the line! After about 40 minutes or so, you will reach Hattie B's counter where you can order their famous hot chicken and sides like pimento mac n' cheese and peach cobbler. Make sure to grab a cold sweet tea, some honey, and lots of napkins. Eating at Hattie B's is an existential experience. Words cannot do it justice, so here is some food-porn…. Enjoy!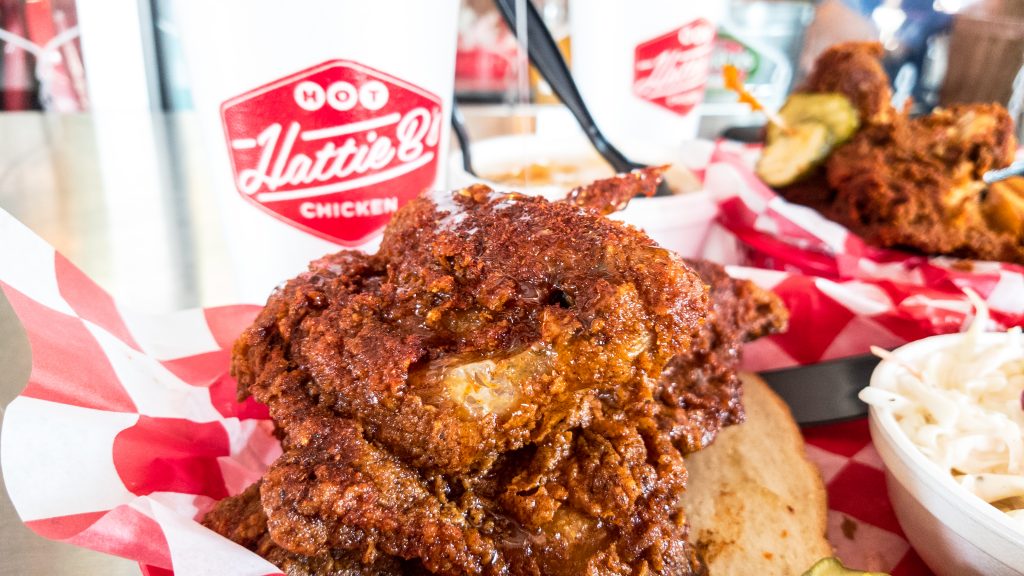 2:30 P.M. Music in Centennial Park
A visit to Nashville is not complete without a stop at Centennial Park. Located by Vanderbilt University, Centennial Park is comprised of 132 lush acres. Beautiful ponds, walking trails, and a replica of the Parthenon await you! The main attraction, however, is Musicians Corner. Musicians Corner provides free (yes, FREE) music in Centennial Park! Grab a spot under a shady tree, some grub from a local food truck, and kick-back and listen to tunes from local musicians. The calendar of artists rotates, so double check the offerings before you go. Parking can be a bit of a hassle, especially on a nice day, so be patient. We suggest parking by the Parthenon and walking down to the event venue.
For directions and a calendar of events, go here: https://www.nashville.gov/Parks-and-Recreation/Parks/Centennial-Park.aspx

4:30 P.M. Shopping in 5-Points
The next part of our adventure took us to the neighborhood of 5-Points in East Nashville. If you are interested in shopping at the local art galleries, be sure to make it to 5-Points before 5:00 pm as most shops close at 6:00 pm. 5-Points is one of the most eclectic and interesting neighborhoods in Nashville. The architecture is a feast for the eyes, and the shops offer everything from vintage Gibson guitars (shout out to our hometown, Kalamazoo) and tomato art (yes, you read that correctly) featured in 5-Points annual Tomato Art Festival. We recommend poking your head in the Art & Invention Gallery on Woodland Street and then taking a short walk around the block to Fanny's House of Music on Holly Street. Fanny's House of Music is perhaps the most unique guitar shop / thrift store I have ever been in! If you are lucky, a local musician will be strumming away on a guitar while you shop as they take a break from the legendary Woodland Studios.
6:30 P.M. Cocktails and Dinner at The Treehouse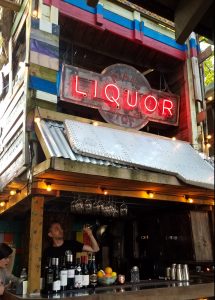 Shopping complete, head back to 5-Points to The Treehouse for dinner. This was hands-down one of the best and most unique dining experiences of my life! This gem of a restaurant is situated in a very unassuming house near the center of 5-Points. The Treehouse offers craft cocktails, an ever changing farm-to-table dinner menu, and late-night eats. Most items on the menu can be made vegetarian, vegan, and/or gluten-free. As its namesake suggests, the backyard boasts a two-story treehouse with the first floor as a bar and the second as a private dining area. The service was impeccable and the food was bar-none the best we had in Nashville.
Be sure to make your reservation at least two days in advance here: treehousenashville.com
DAY 2
9:00 A.M. Breakfast at Biscuit Love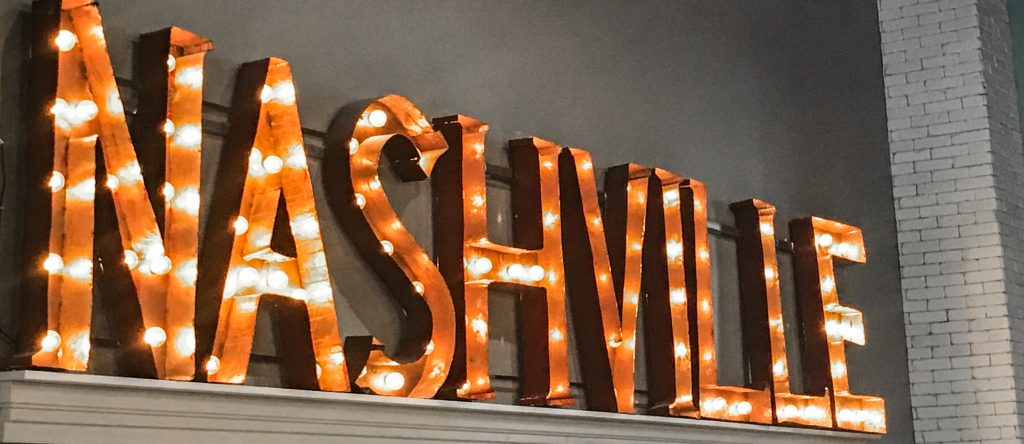 Flaky, buttery, salty, delicious biscuits! Comfort food at its best, you cannot go to Nashville without eating biscuits. Our favorite biscuit joint in Nashville is Biscuit Love located in The Gulch. Biscuit Love serves up flakey, buttery biscuit dishes from sweet to savory. I tried Biscuit Love's famous Bonuts – biscuit donuts – served with lemon mascarpone and blueberry compote. It was Nirvana! If you are of the savory persuasion, you cannot go wrong with biscuits and sausage gravy, a true Southern classic. If you want the full Nashville experience, ask for the off-the-menu specialty called "The Nasty Princess" and get ready to be treated with biscuits, gravy and Nashville style hot chicken. Wash down your biscuits with a mimosa or bloody mary and you are ready for your next adventure!
For directions to Biscuit Love and a menu visit: biscuitlove.com
10:00 A.M. Shopping at the Factory at Franklin
Franklin, TN is a charming little town situated about 30 minutes south of Nashville. The Factory at Franklin is, as its name suggests, a factory converted to house local artists, restaurants, antique shops, and farmers' markets. You could spend hours wandering through the shops at The Factory.  Once you've had your fill of shopping, grab some lunch at Funk Seoul Brother for a unique take on Korean and Japanese street food. If this isn't your jam, check out Saffire for eclectic dishes featuring locally grown produce.
For more information, including a calendar of events and directions, visit the Factory at Franklin online here: factoryatfranklin.com
2:30 P.M. Let the Bar Hopping Begin!
Too early for bar hopping? Not in Nashville! Hopefully you are rested and refueled after vising The Factory, because the real fun is about to start!  Park near the corner of 7th and Broadway, lace up your walking shoes, and get your game face on because you are in for a long day / night!
It would be impossible for us to regale our entire bar-hopping adventure for you, so here is a list of the top four must-see bars!
Tootsies
A Nashville institution, Tootsies has three floors of the best live music in the city. Get there early to avoid lines, grab a beer, and start at the top! We were absolutely blown away by the talent of the musicians playing at Tootsies. If you are lucky, you may see a celebrity or two hanging out in Tootsies' VIP section. As you make your way through each floor, be sure to admire Tootsies' amazing collection of music memorabilia. This was a tough bar to leave!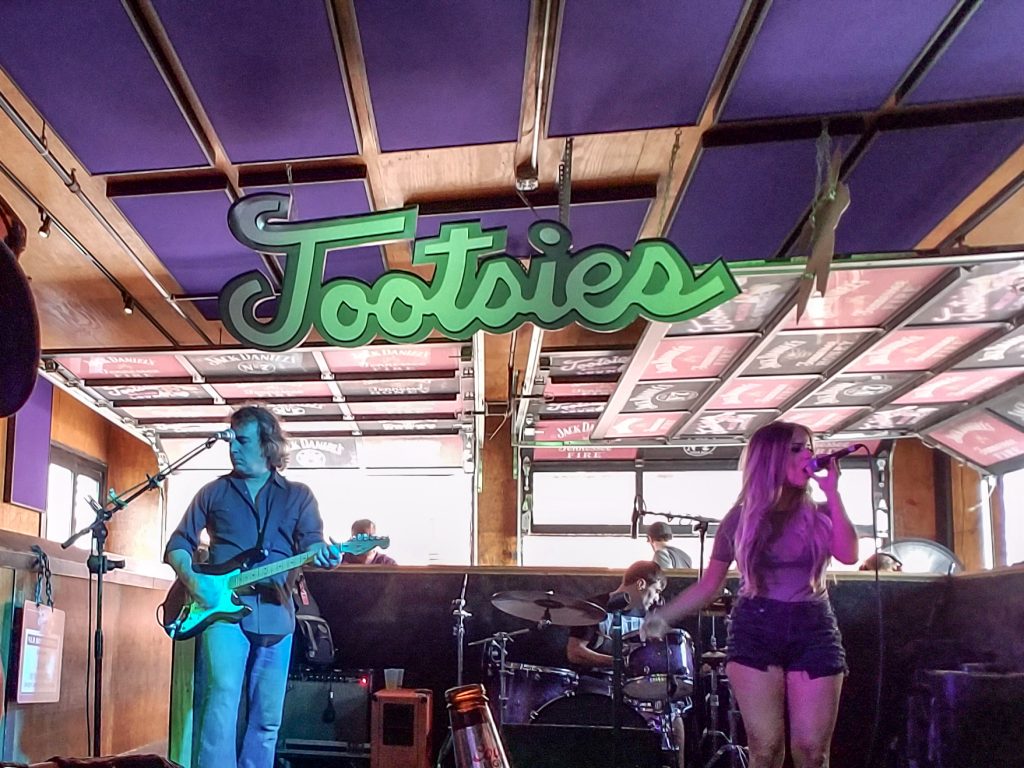 Plan your visit to Tootsies by visiting:  tootsies.net 
Robert's Western World
Robert's Western World is just a hop, skip, and a jump down the block from Tootsies' and is touted as Nashville's home of traditional country music. Robert's is the quintessential divey honky-tonk bar that you hope to find in Nashville. Grab a seat (if you can) and listen to the tunes of Merle Haggard, Johnny Cash, and Patsy Cline echo through the bar. Order up one of their famous fried bologna sandwiches and some yucca fries, kick back, and admire the country music memorabilia hanging from floor to ceiling.
Check out Robert's Western World's band schedule and food menu by visiting: robertswesternworld.com
Paradise Park Trailer Resort
Kitty-corner from Robert's Western World is one of the most unique bars on Broadway: Paradise Park Trailer Resort. As the name implies, the bar is decorated like a trailer park. One foot through the door and you are greeted with crappy lawn chairs, green astro turf floor, and a chopped-up El Camino. The bands predictably play a mix of Southern rock and country and the bar serves beers in mini-pitchers. The menu boasts back-yard BBQ favorites and snacks like tater-tots and Moon Pies. The best part about Paradise Park, however, were the other bar revelers! Most Paradise Park patrons came dressed for the occasion in cut-off jean shorts, lots of flannel, and mullets. The people watching was superb! This bar was a blast!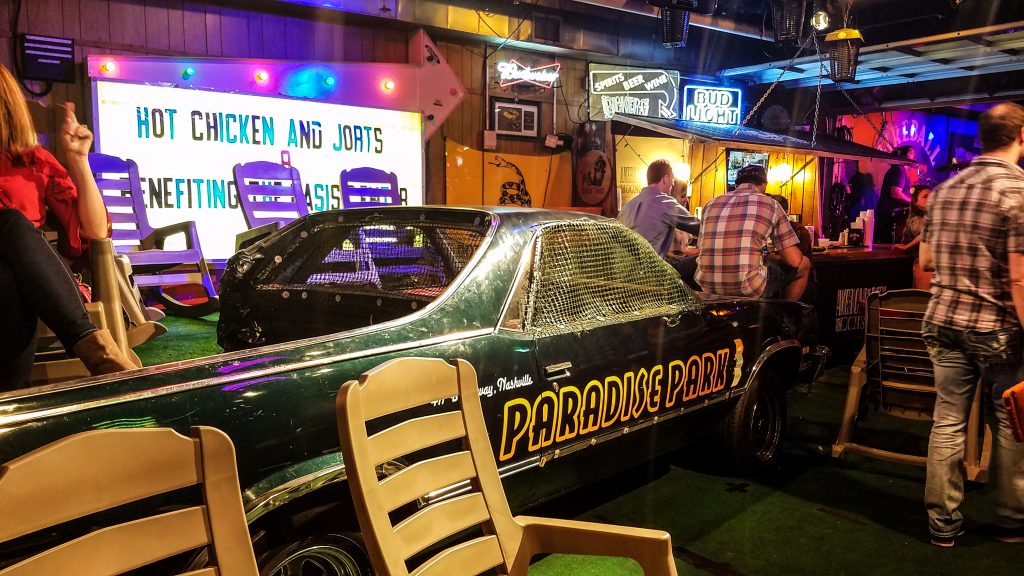 Get the full low-down on Paradise Park Trailer Park here: paradiseparkonline.com/
Alley Taps
Once you've taken in the bars on Broadway, slow things down by taking a walk to Printer's Alley. Located between 3rd and 4th avenues, Printer's Alley is a historic section of Nashville that houses a few choice bars. With a speak-easy vibe, Alley Taps is a Printer's Alley mainstay and a must-visit. Alley Taps carries some very unusual libations, used by their expert bartenders to craft one of a kind cocktails. Try the Gimlet made with Victoria Pink Gin, you will not be disappointed.
For more information about Alley Taps, including directions to Printer's Alley, go to: alleytaps.com

9:30 P.M. Dinner and a Burlesque Show at Skulls Rainbow Room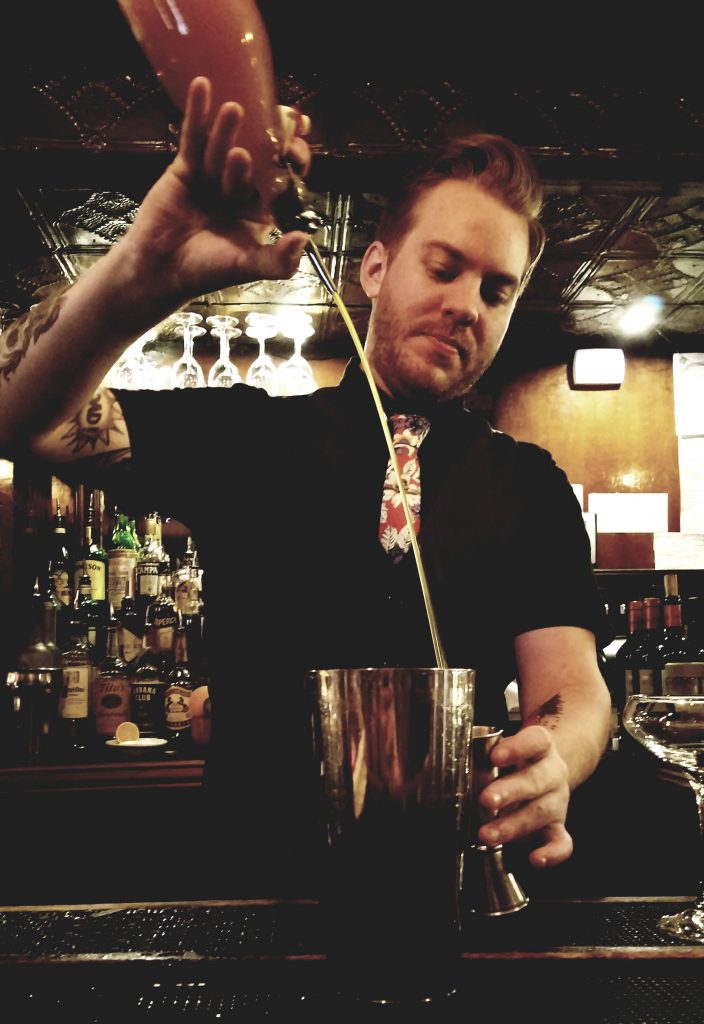 Your odyssey is almost at an end, and you will be rewarded. The last stop is Skull's Rainbow Room. Located next to Alley Taps, Skull's Rainbow Room is dark, decadent, and sophisticated. Make a reservation for a late dinner and you will not be disappointed. The food is truly world class and the cocktails are simply remarkable. We recommend the Brass Rail or the Skull Schulman to wet your appetite. Then, savor the prime rib or New Zealand rack of lamb before the burlesque show starts. Yes, that is right, Skull's Rainbow Room is not just famous for its exceptional food and drink; Skull's hosts Madam Hazel Jones' Burlesque Revue every Friday and Saturday night at 11:00 pm.  Set to a live jazz band, Madam Hazel and her ladies dance, tease, and strip (partially) with the style and flare of 1920's flappers.  With a late dinner reservation, you will get a front-row seat to the most unique and fanciful strip-tease show in Nashville. If you can't get a reservation, there is standing room only. The best place to stand for the show is along the rock wall facing the catwalk style stage!
Make your dinner reservations and check out their menu here: skullsrainbowroom.com
Honorable Mention:

If you have a bit of extra time in Nashville, we recommend a visit to Corsair Distillery on Merritt Ave.  Taking an experimental approach to distilling, Corsair breaks all the rules by using grains like quinoa, and unique processes like triple smoking their whiskey. The result is an exceptional products that have won countless awards. A visit to Corsair Distillery will not only give you a look into the distilling process, but allow you to sample their wide range of spirits.
Plan your visit to Corsair Distillery here: corsairdistillery.com