Embrace the Ultimate Driving Thrill
The 2023 Slingshot SLR is a groundbreaking marvel that merges the exhilaration of a motorcycle with the stability and safety of a sports car, delivering an unmatched driving experience for adrenaline junkies and thrill-seekers alike. As a three-wheeled vehicle, it stands out from the crowd with its eye-catching design and futuristic aesthetics, and once you hit the road with it, you're bound to attract attention and envious glances.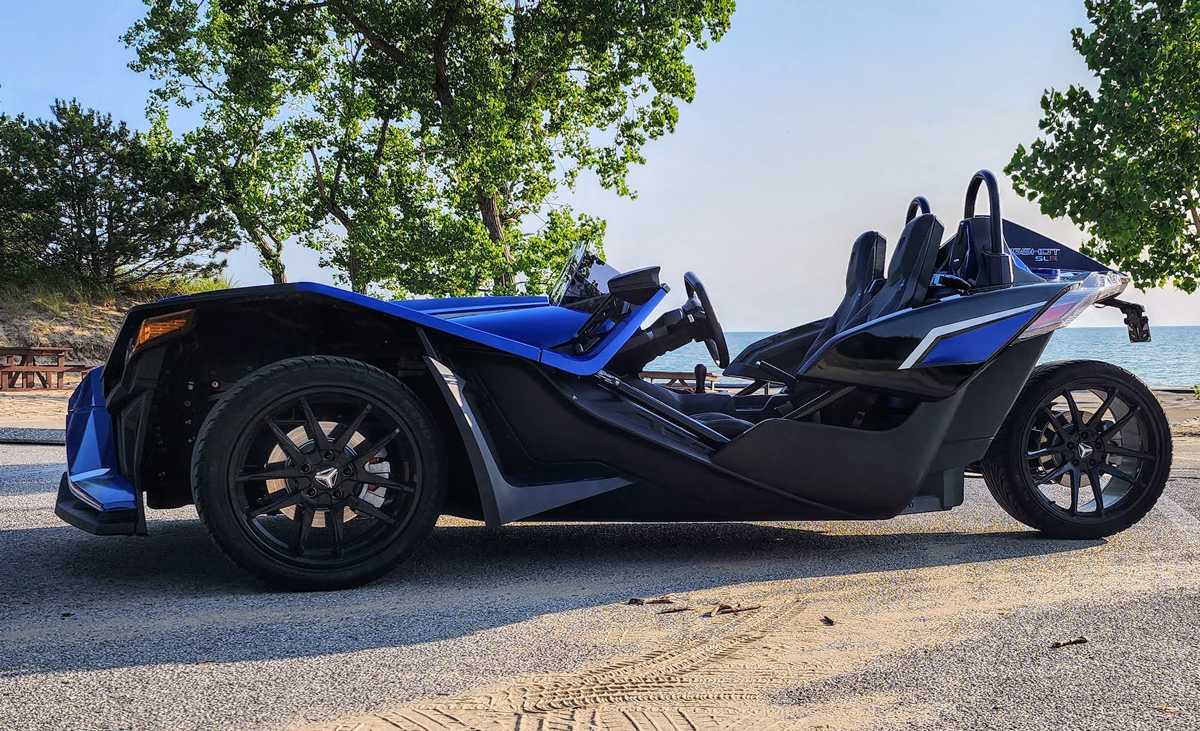 Design and Aesthetics: Striking and Futuristic
The Slingshot SLR's design is both bold and modern, embodying a perfect blend of aggressive lines and futuristic elements. The aerodynamic profile, sharp edges, and low stance give it a mean and sporty appearance, while the distinctive LED headlights and sleek taillights add to its allure. Its open-top cockpit exudes a sense of freedom, allowing you to feel the wind rush past you as you cruise down the road. This model was also equipped with heating and cooling seats. Simply tap the blue button for cold and the red for warm to turn this feature on or off. This was an added bonus on those hot summer rides and also came in handy when the sun went down and we needed a touch of warmth while driving.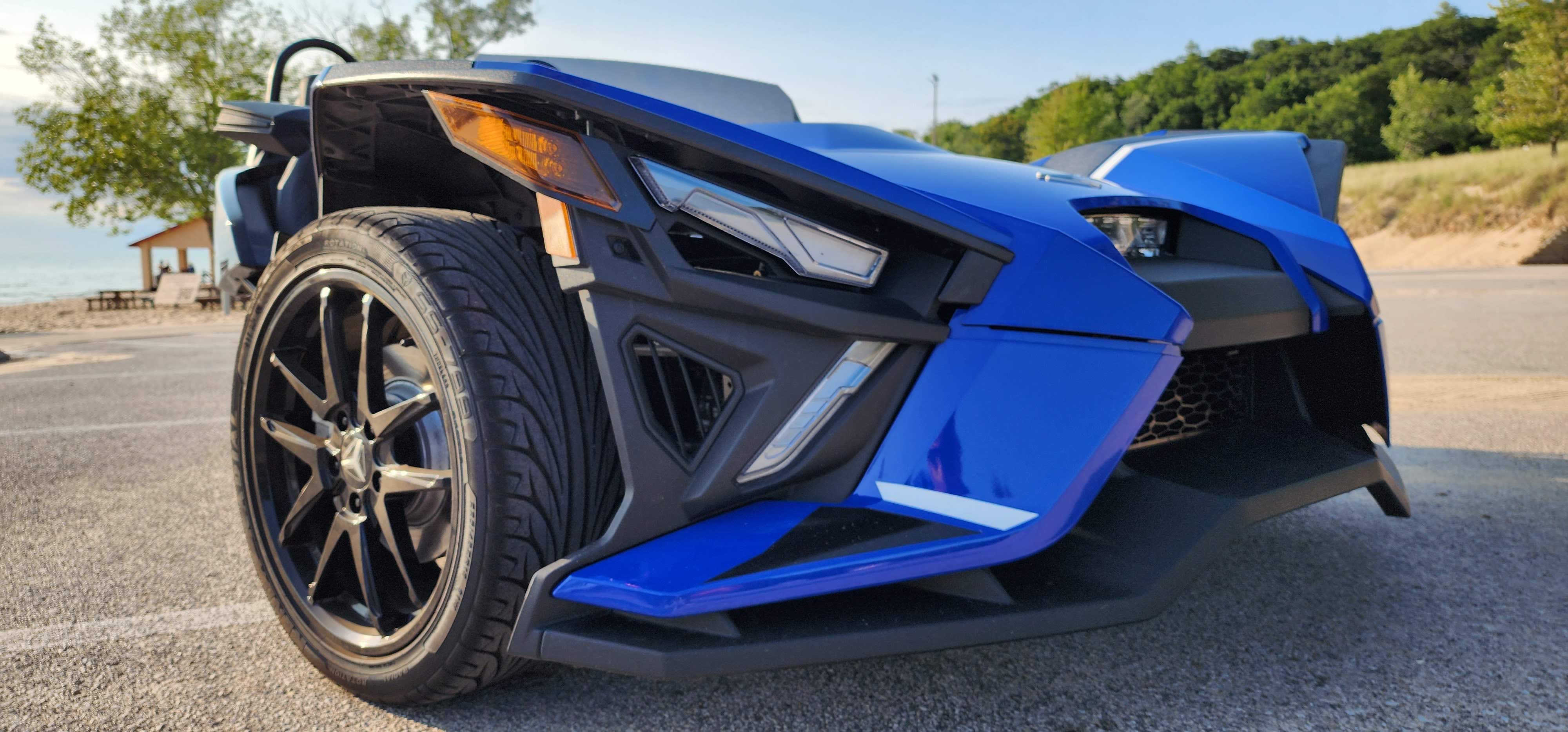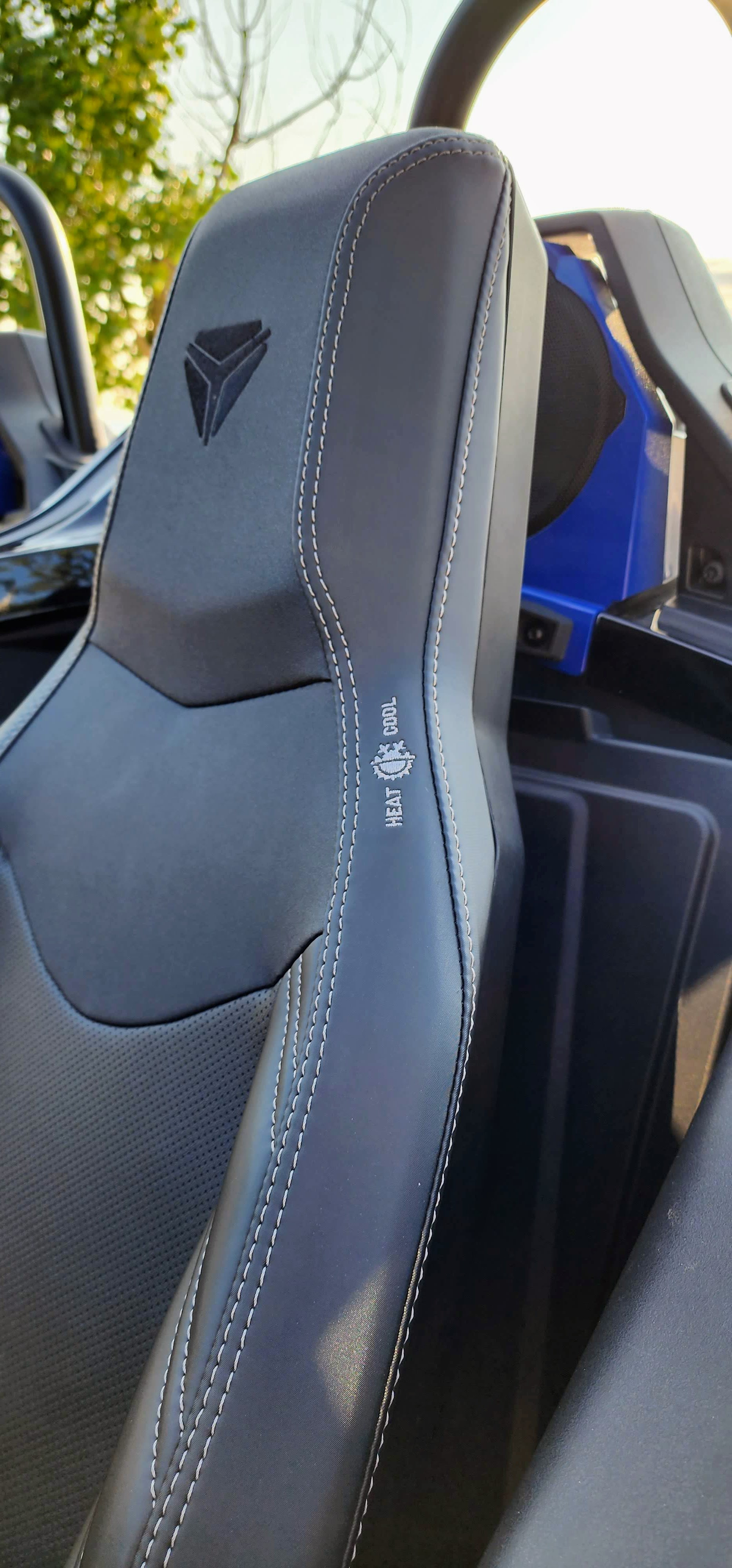 Performance and Power: A Thrilling Ride
Under the hood, the Slingshot SLR boasts a robust powertrain that promises an unforgettable driving experience. The heart of the vehicle is a powerful engine that generates an impressive amount of horsepower on 3 wheels, catapulting you from 0 to 60 mph in a breathtakingly quick time. While on paper it may not seem as impressive as other sports cars, the 203HP and 1,997cc displacement has excellent peak torque and power for a 2.0L, 4 cylinder machine. The responsiveness of the throttle and the seamless transmission make every acceleration feel exhilarating, delivering a surge of adrenaline as you conquer the asphalt. I've tested the full manual, paddle shifters, and automatic Slingshot transmissions in the past, and while they are all fun in their own ways, there's nothing like having full control of the stick shift and cranking through the gears on the open road.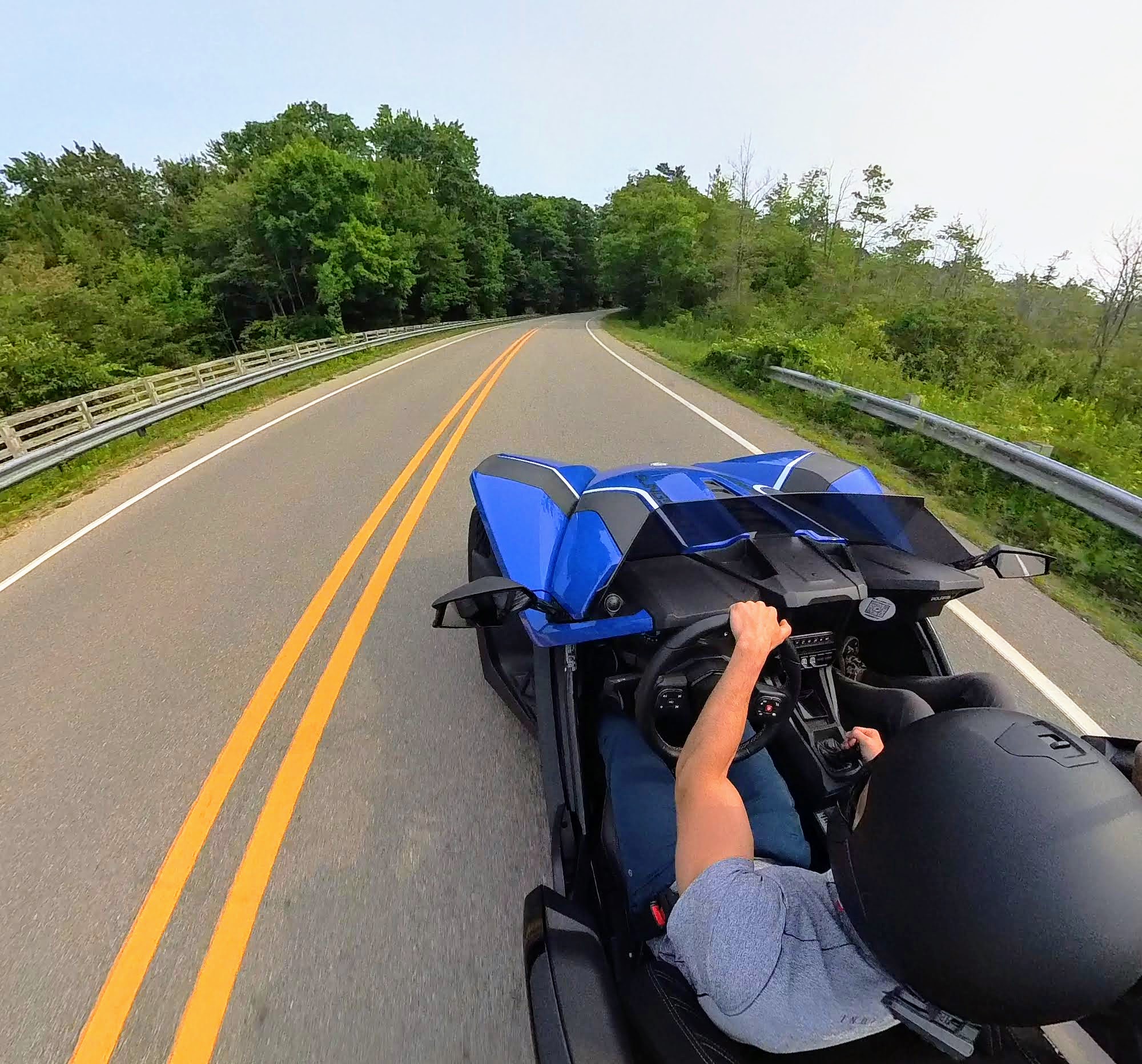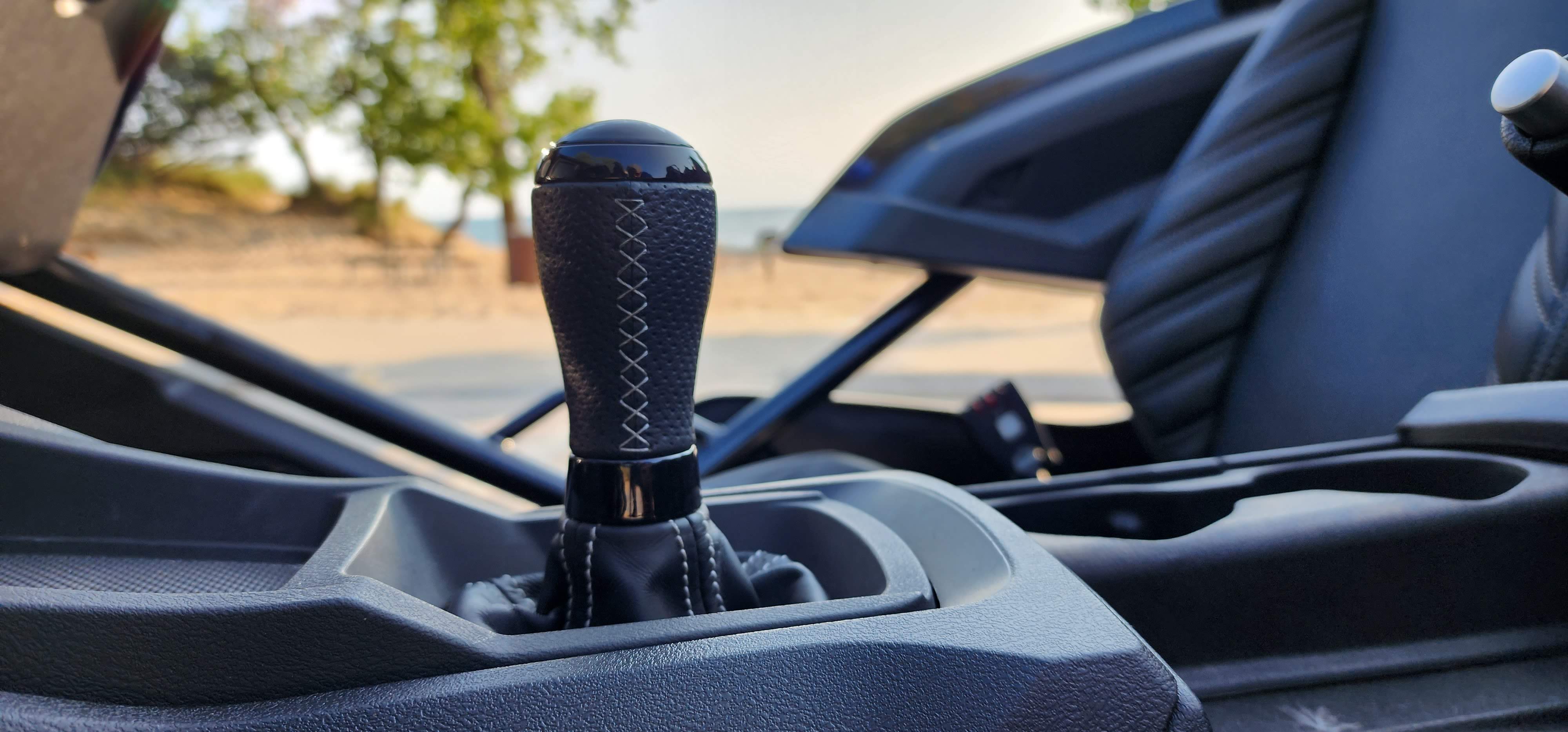 Handling and Stability: Confidence on Three Wheels
One of the standout features of the Slingshot SLR is its stability and control. With two wheels in the front and a single wheel in the rear, it offers a unique driving sensation that sets it apart from traditional cars and motorcycles. The sophisticated suspension system and precise steering ensure that every corner is handled with utmost confidence and precision, providing a level of road grip that leaves you feeling securely planted.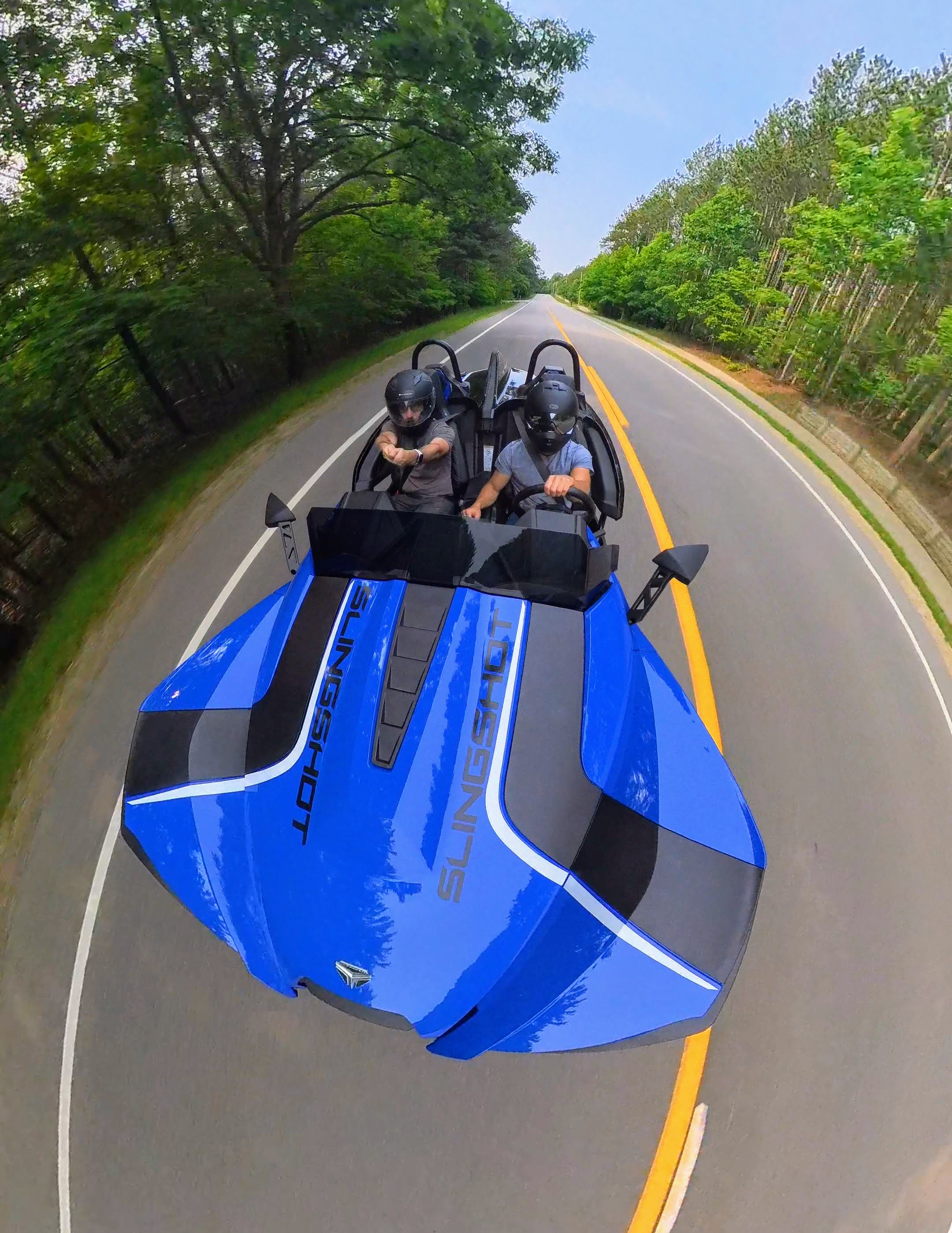 Technology and Features: Stay Connected on the Go
Inside the cockpit, the Slingshot SLR impresses with its modern and driver-centric features. The infotainment system offers seamless connectivity, enabling you to access navigation, music, and other essentials while you're on the move. Bluetooth compatibility and smartphone integration ensure that you stay connected and entertained throughout your journey.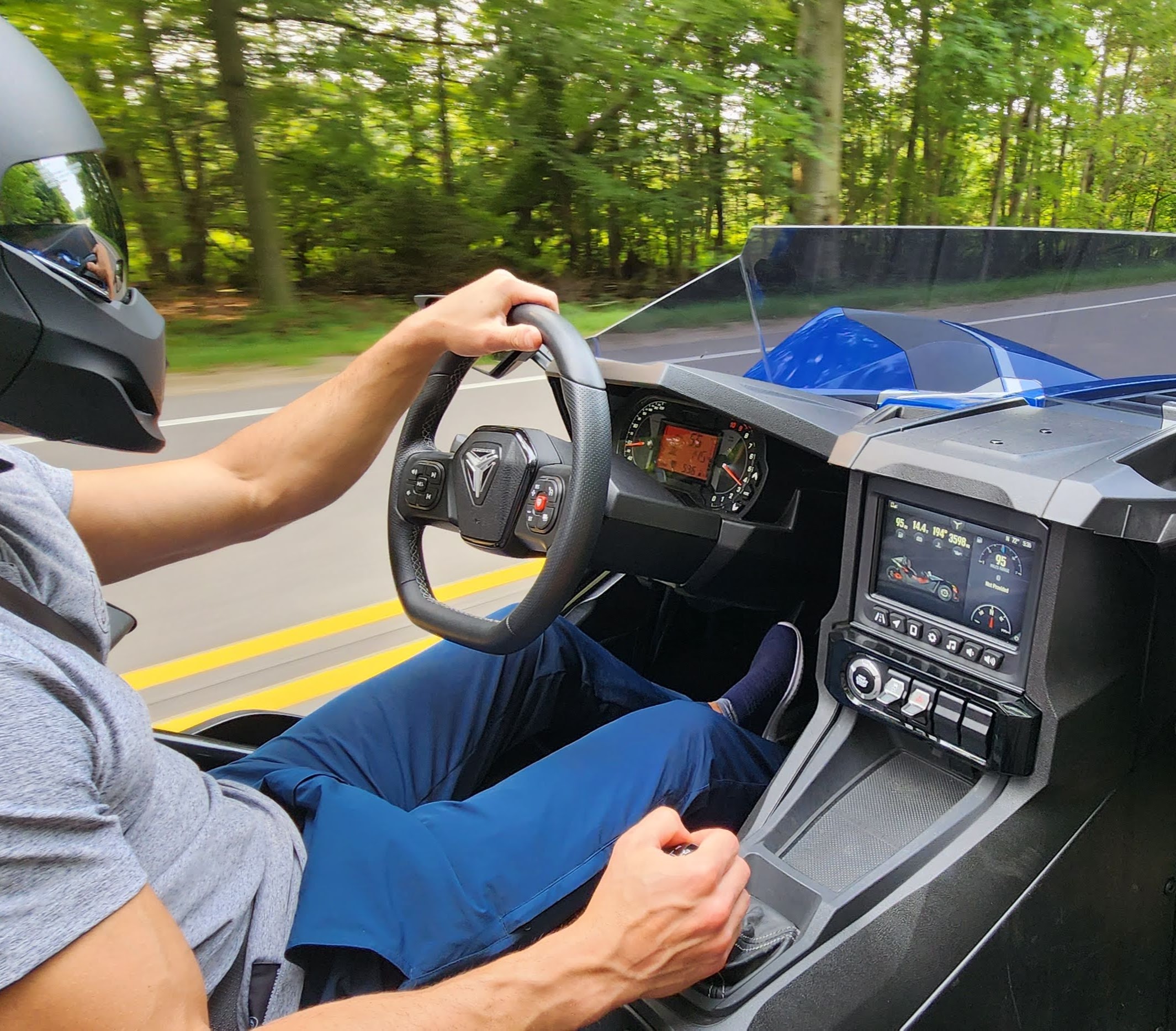 Safety and Security: Enjoy the Thrill Responsibly
Polaris takes safety seriously, and the Slingshot SLR is equipped with a range of safety features to keep you protected. A sturdy steel frame, reinforced roll hoops, and side-impact protection ensure enhanced safety in the event of an accident. Furthermore, the vehicle comes with stability control and traction control systems to help maintain stability on various road surfaces.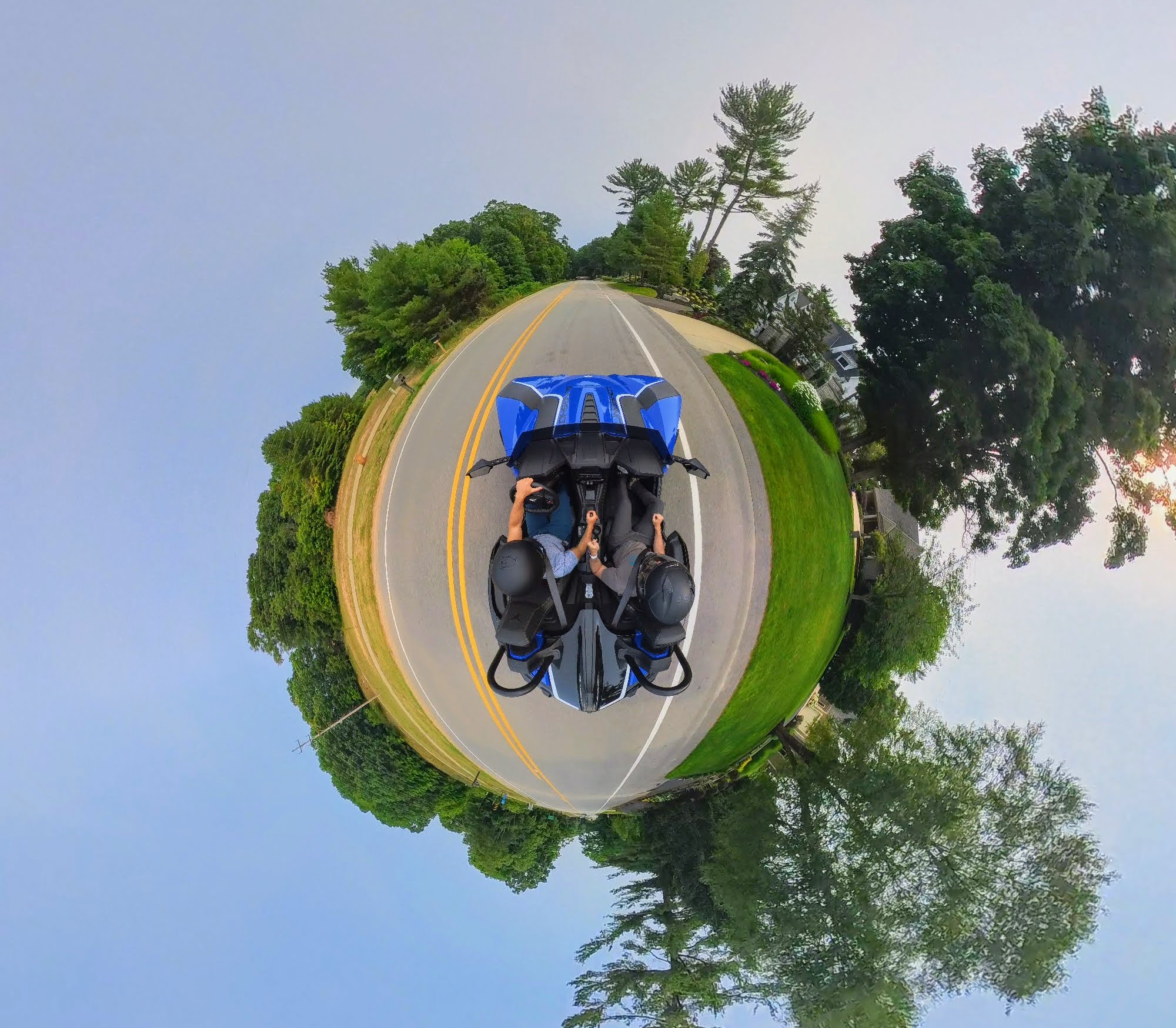 Final Verdict: An Unforgettable Adventure
The 2023 Slingshot SLR undoubtedly provides an unforgettable driving adventure that's hard to replicate with any other vehicle on the market. Its unique three-wheeled setup, head-turning design, powerful performance, and cutting-edge technology combine to create an experience that is both thrilling and immersive.
However, as with any high-performance vehicle, the Slingshot SLR demands responsible and attentive driving. It's important to respect the power it offers and adhere to safety guidelines at all times.
If you seek an unrivaled driving experience and are ready to embrace the ultimate thrill on the road, the 2023 Slingshot SLR might just be the perfect choice for you. So buckle up, hold tight, and get ready for an adventure like no other!
MSRP Starting at: $30,399.00. To learn more, check out: www.slingshot.polaris.com
2023 Slingshot SLR Manual Review
The 2023 Slingshot SLR undoubtedly provides an unforgettable driving adventure that's hard to replicate with any other vehicle on the market.
The Good
Head Turn Design
Extremely fun to drive
Motorcycle thrill with car comfort
The Not So Good
While it can handle wet weather, it's best to store it in a garage or cover