I've been using men's mountain bikes for years because women's bikes just weren't cutting it on the trails. But let's face it, men and women have different body shapes and sizes, so I longed for a better fitting frame that could still handle the trails. Brands finally started adding on to their arsenal and developing more women's specific bikes that didn't skimp on the components. Cannondale is one of them. This is a well known and respected brand when it comes to bikes. They listen to what people want and are continuously developing and re-developing their equipment.  Recently Cannondale allowed me to test out the new 2018 Scarlet 2 women's bike. Here's what I discovered…
Key Features:
Frame: New Scarlet 27+ , SmartForm C2 Alloy, SAVE, Tapered head tube
Fork: RockShox Judy Silver, 120mm, tapered steerer, Solo Air, 15x110mm Maxle Stealth, Turnkey lockout, 51mm offset
Rims/Wheels: WTB STX i35TCS, 32 hole, 35mm inner, Tubeless Ready
Tires: WTB Ranger Comp, DNA Compound, 27.5×2.8″
Crankset: FSA Comet MegaExo
Brakes: Shimano M315 hydro disc, 180/160mm
2018 Cannondale Scarlet 2 Review Breakdown
Design:
The women's specific 2018 Cannondale Scarlet 2 is a sport hardtail bike that is designed for racers and beginners alike. It comes in a sleek stealth gray color with small pops of orange to add that subtle flare. Beyond the paint job, the Scarlet 2 was designed to maximize your fun on any trail at any time. The modern geometry and low weight let you tear down your favorite single track with ease, and it even proves to be a great climber. Visibility and control are increased with the stable platform that keeps you upright. The durable 27.5-inch WTB rims keep those tires rolling straight so you make it off those sketchy trails injury free. My only complaint is that this bike only comes in sizes XS, S, and M. I tested out the medium, but could have definitely used a slightly larger frame.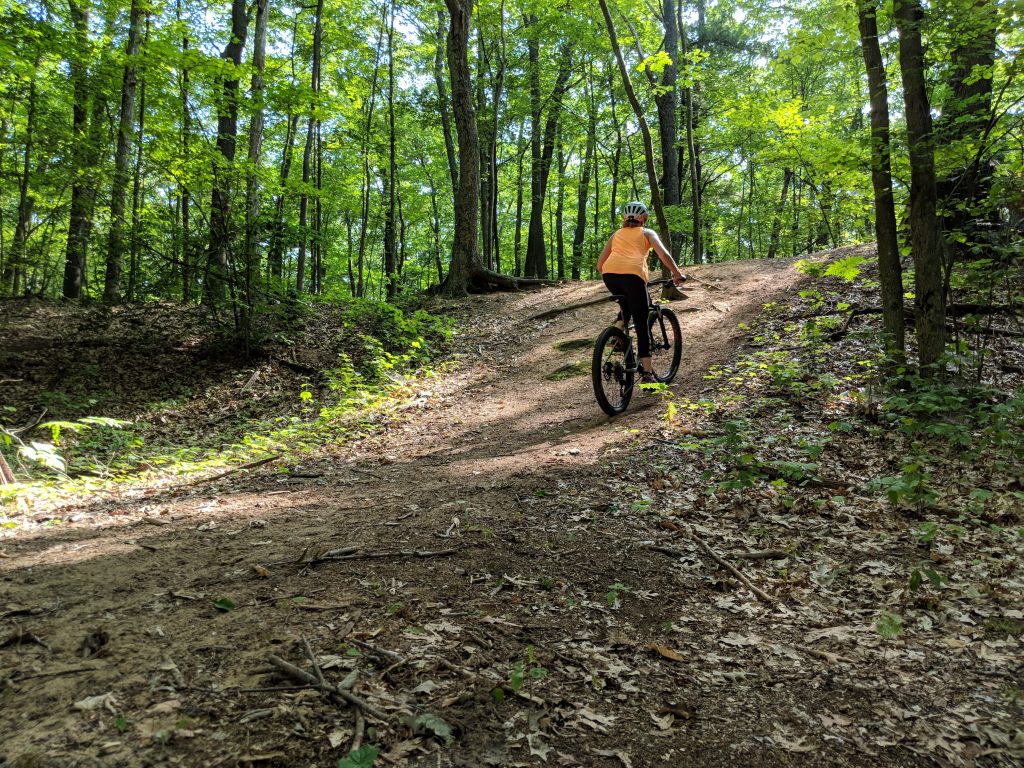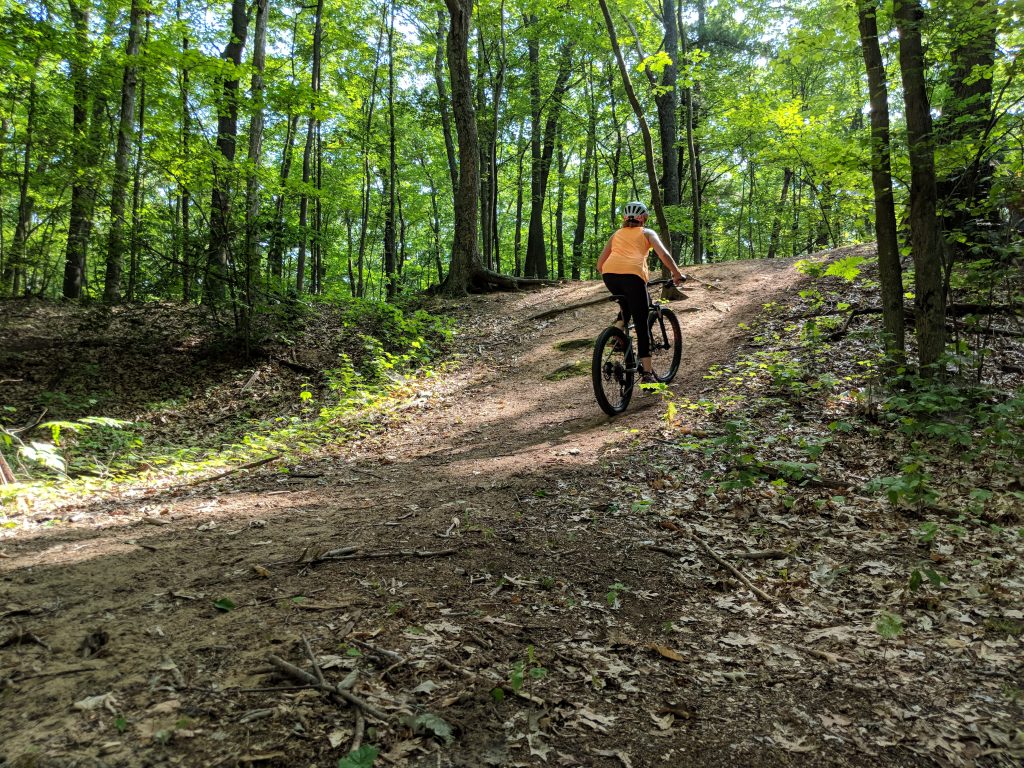 Components:
While well built women's specific mountain bikes are hard to come by, the brains, I mean components, behind this great ride are almost never ending. Suped up with the redesigned RockShox Judy suspension fork, the Scarlet 2 uses the Judy Silver giving you a full 120mm of travel, tapered steerer, Solo Air, 15x110mm Maxle Stealth, Turnkey lockout, and 51mm offset.
Now let's talk drive train. Shimano provides a wide-range 11-speed SLX drivetrain that climbs hills with ease and loves to rip back down, too. Topped off with a pair of Shimano hydraulic brakes ensure you're ready for practically anything. The frame is a Smartform C2 alloy paired with grippy 27+ tires that make you float across the ground with confidence and the WTB STX i35 TCS rims come tubeless ready.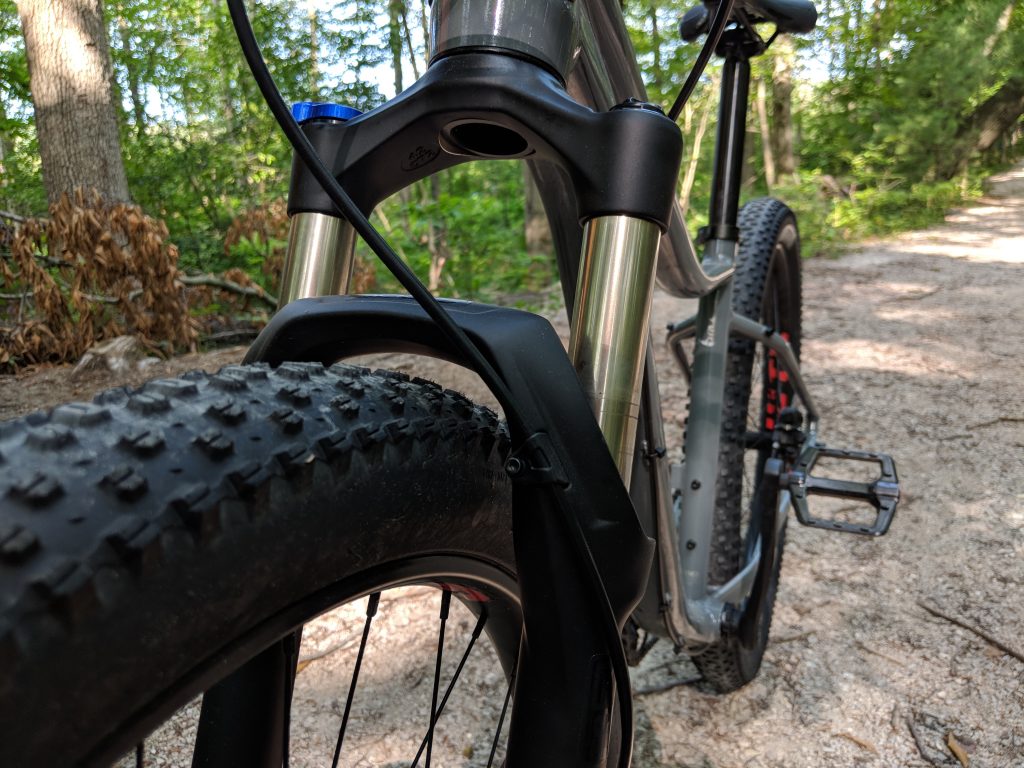 Capability:
I tested this bike on dry trails, and wet trails and even some street riding. It handled excellent on both dry and wet tracks and gave me great traction and flow up and down hills and on tight turns. I thought I would have issues going through some of the softer sandy areas of the trails but the bike plowed right through like it wasn't even sand. Gears transitioned with ease, the tires glided over every bump, and the shock suspension absorbed those large bumps allowing me to maintain control. It does ride slower on pavement, but flies through the dirt trails. One thing I noticed is that it glides downhill fairly fast, even for having the wider tires.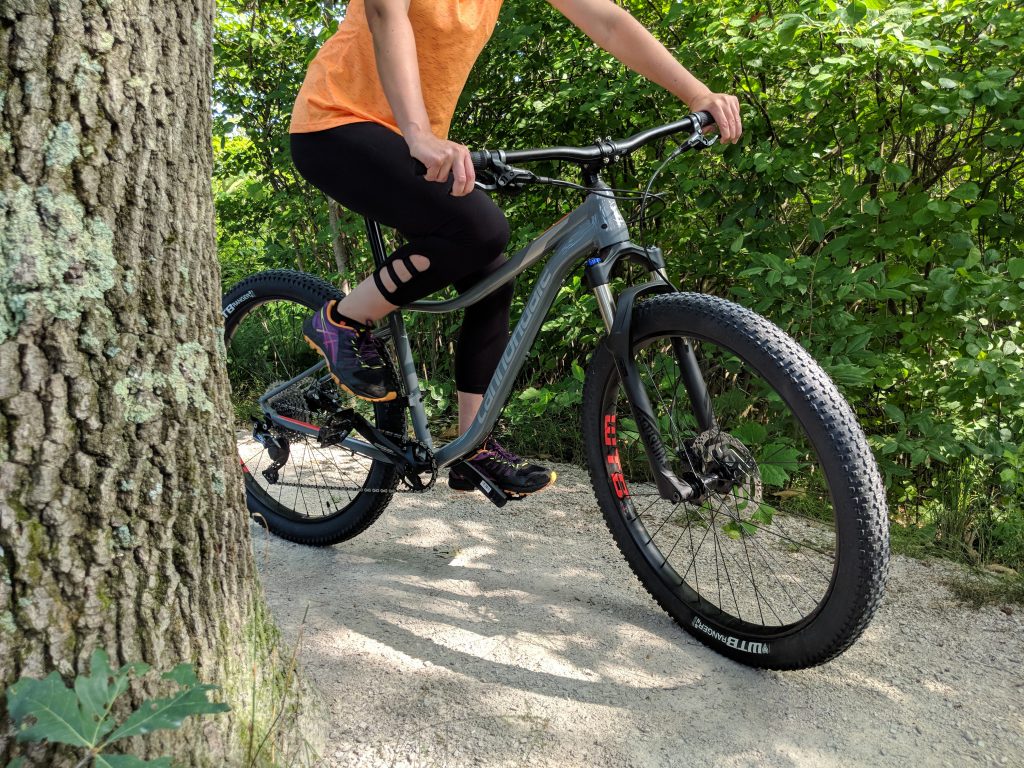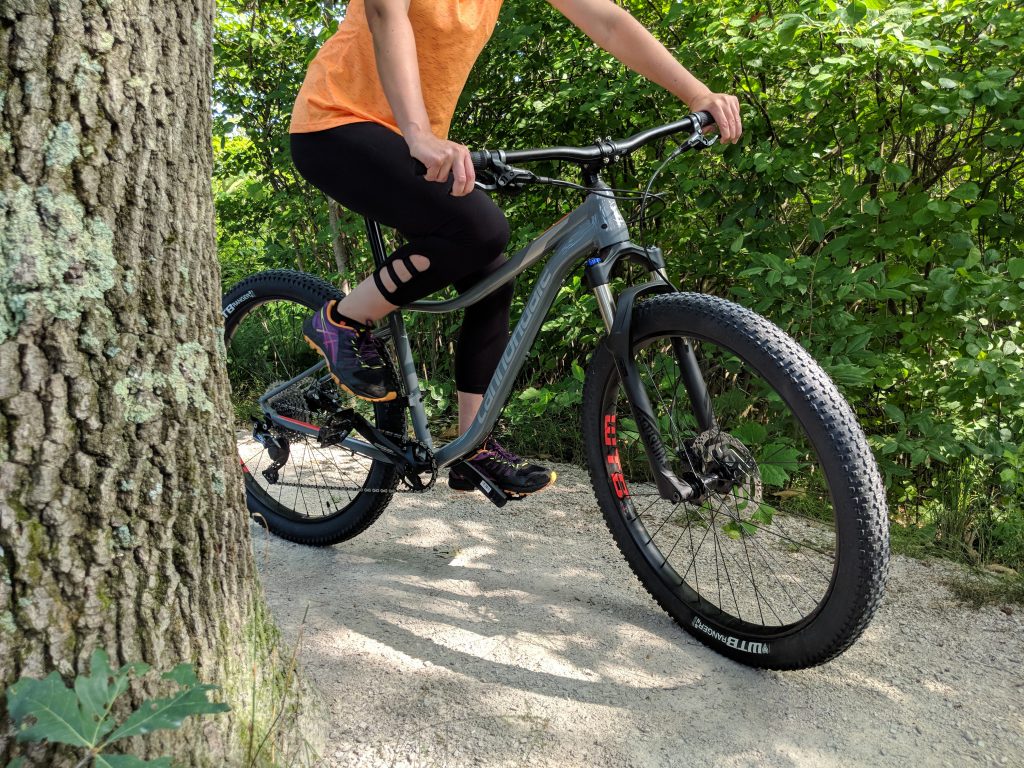 Durability:
After taking the bike through a few break-in rides to allow everything to settle into proper place, I only had to make a few minor adjustments. There have been no major issues thus far. The drivetrain is still functioning as it should, and everything else is holding up pretty solid. The Scarlet 2 is definitely a bike that can handle a beating.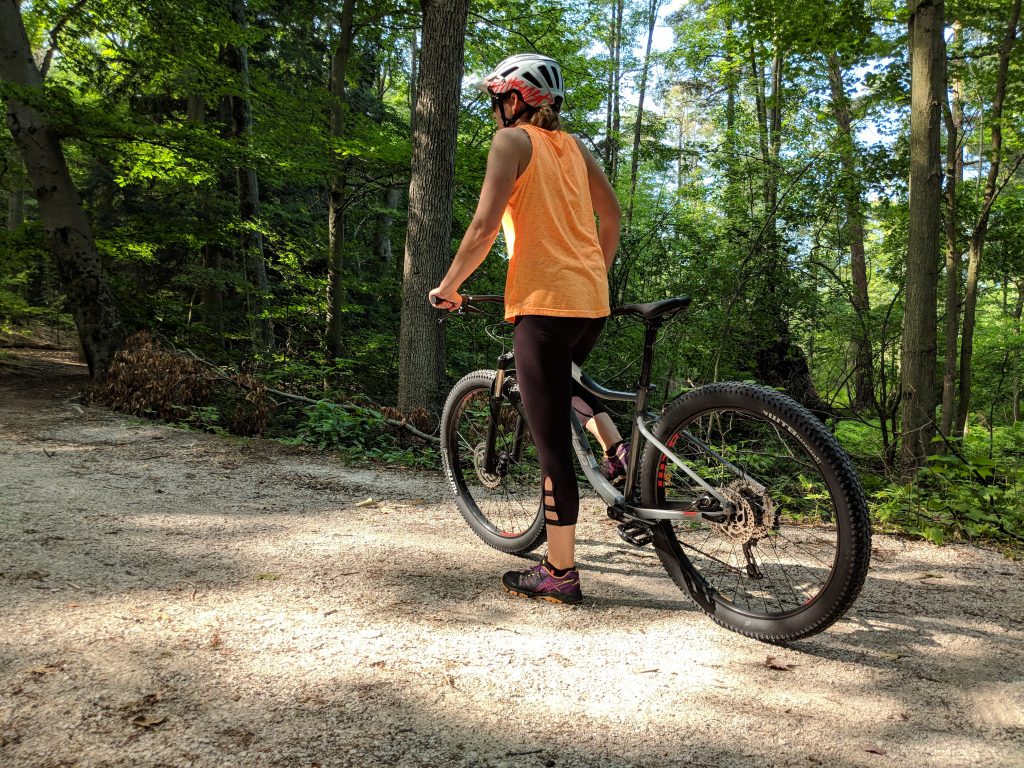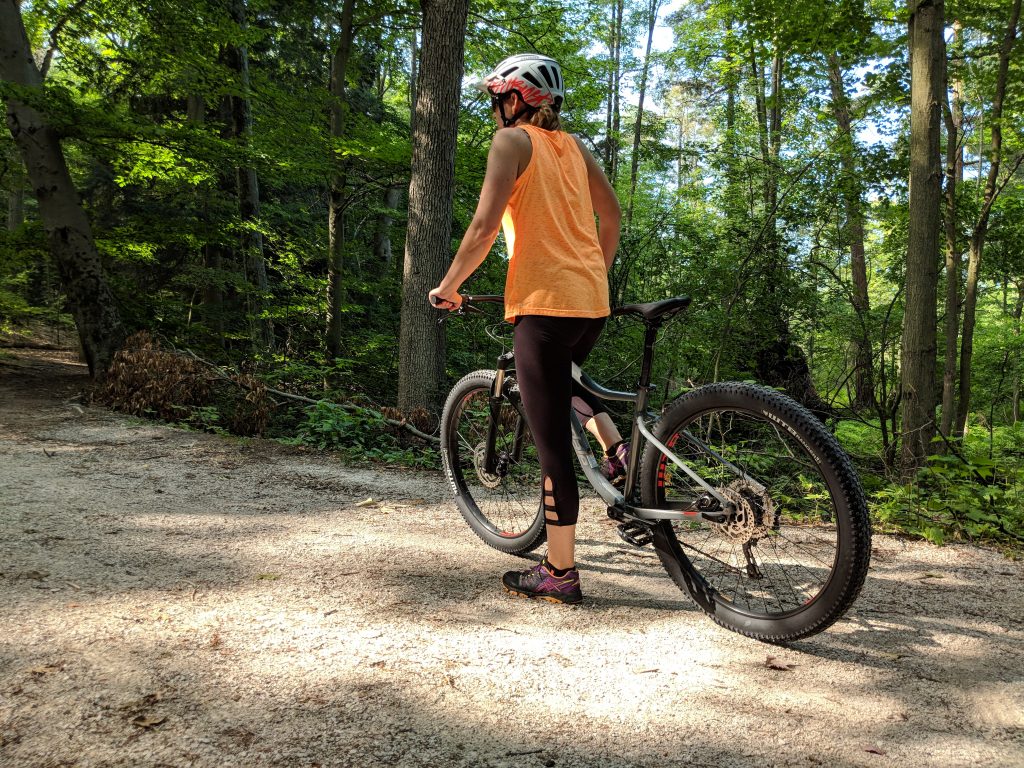 Value:
Coming in at almost $1,200, the 2018 Cannondale Scarlet 2 could be a bit pricey for some, but this bike is meant to be pushed on the trails, not for casual rides around town. If you're an avid trail rider, the price tag shouldn't phase you. When you actually look at the list of components and what this bike is capable of, the price is fair.
Buy Now:  $1,199.99, or learn more at: Cannondale.com
2018 Cannondale Scarlet 2 - Bike Review
The Cannondale Scarlet 2 was designed with beginners in mind, while keeping it highly capable for skilled riders and racers.
The Good
Rides smooth and fast.
Lightweight frame.
RockShox Judy Fork.
The Not So Good
Needs to come in a Large frame size also.