Getting out there and becoming one with nature can be a real challenge, especially for the ambitious angler who's willing to go the distance to get to the best fishing hole. Over the many years we've been hiking to rivers in the middle of nowhere, we've found ourselves challenged to pack in all the gear we need for a successful excursion. That means waders, the fishing rod, a vest loaded with all of the accessories that might make all the difference, and more than likely, a few beers. No matter what, the haul is always a large one while getting there, and for the return, which means you're more than likely wearing all of that gear, and working up a serious sweat on the way in to the fishing hole during the summer heat. On the other hand, this summer we may have found a unique alternative with the Umpqua Zero Sweep integration system. A combination of fishing vest and backpack with interchangeable front panels that provide a compartmental design for easy access, we took to the trail and the river this summer with the Swiftwater ZS Tech Vest and Surveyor ZS Backpack.
Swiftwater ZS Tech Vest Features:
• Fully padded, load-bearing waist belt
• Zero Sweep
– Four internal retractor Hypalon attachment tabs
– Four zero sweep nipper stations/ports
– Two tool sheaths
– Two foam fly patch stations (one patch included)
– Snag-free shoulder sizing buckles
• Two front main compartments – hold two large fly boxes each (four total)
• Two front medium compartments– hold one medium fly box each (two total) or accessories
• Multiple internal stretch-mesh pockets for organization
• Two cord tippet holders
• Two external stretch-mesh tippet/accessory pockets
• D-ring and web loops for net attachment
• Internal key clip
• Closed-foot Sliders
• YKK zippers
• Integrates with Surveyor ZS Backpack, Overlook ZS Chest Pack and Rock Creek ZS Compact Chest Pack
• Fabric
– Body fabric – 420 Denier Nylon
– High wear locations – Ballistic Cordura®
Surveyor ZS Backpack Features:
• Suspended back panel
– Load-bearing injection-molded ABS frame-sheet
– Full length ventilation channel
• Fully padded shoulder straps with load adjusters
• clam shell opening main compartment
• Front pockets
– Two flat zipped pockets
• Top loft pocket
– Keys, sunglasses, etc.,
• Two water bottle pockets
– Will also carry fly boxes
• Fully padded waist belt with 5-inch pockets
• "Sticky" web rod-tube holders x 2
• D-ring and web loops for net attachment
• Hydration compatible
• Internal key clip
• Closed-foot sliders
• YKK zippers
• Volume
– 2000 cubic inches (33 Liters)
• Fabric
– Body fabric – 420 Denier Nylon
– High wear locations – Ballistic Cordura®
Umpqua Zero Sweep Integration: Review Breakdown
Design: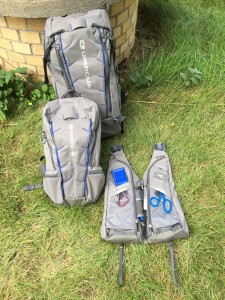 The big clincher with the Umpqua Zero Sweep integration system is in it's ability to be customized to the needs of the next journey. There will be times when you'll be able to drive right up to the water, and other times when getting to the best hole will require a deep woods hike with a full day's supplies. For a quick in-and-out excursion, the Swiftwater ZS Tech Vest will do nicely. The vest is  designed for easy, snag free access to all accessories, and it also provides a small amount of backpack space, so carrying in a few extra items is an option.
Alternatively, the Surveyor ZS Backpack makes for a very reasonable daypack by itself, so if you have non-fishing activities on the horizon, you're covered there as well. However, in the event you plan to hike in deep the next morning, The front vest panels from the Swiftwater ZS Tech Vest can be transferred to the Surveyor ZS Backpack. Once acquainted with the design, it takes less than 5 minutes to do the full integration, so don't expect to have to spend a lot of extra time to set up. Also, the Surveyor ZS and the Swiftwater ZS are both highly adjustable to just about any size and shape you happen to be. The integration works through the original Zero Sweep buckle. It doesn't require extra clips, but instead the strap slides on and off the buckle. When secured, it holds together well, and we've had absolutely no issues with accidental slippage.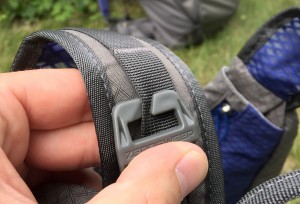 Mostly, the integration is quite effortless and user friendly, but we did discover a few minor drawbacks. There are two extra straps required to make the integration work. You'll need to be careful not to loose them, because without them the integration system is useless. Also, when using the Tech Vest panels with the Surveyor ZS Backpack, you'll soon discover that there are a lot of straps and clips to keep track of. Layer that on top of the other possible belts and shoulder straps of your waders and you may get the feeling that you're obnoxiously strapped in.
Comfort:
With regards to comfort, when compared to a lot of the standard vests we've had, the Swiftwater ZS Tech Vest holds up well. While most fishing vests sling over the shoulders by the weight of the gear they hold, the Swiftwater ZS is built like a backpack with a hip strap. This means that no matter how you choose to carry your gear within the many available compartments, it's better secured and any extra weight is dispersed more evenly.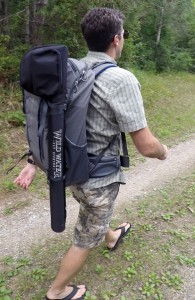 The Surveyor ZS Backpack fits like an average daypack. It doesn't provide ultimate comfort, but any issues we have had with it are pretty minor. The back panel is a bit on the rigid side, but it has adequate padding around the frame to make any long-term wear bearable. There is also a full length suspended ventilation channel, so there's some relief there for the long, hot days of summer. When the Tech Vest and Surveyor ZS Backpack are integrated, we highly recommend the use of pant waders rather than bibs. With the vest straps, integrated with backpack straps, we discovered quickly that the buckles on our bib wader straps would dig into the shoulders uncomfortably under the extra weight.
Storage:
This is an aspect where the entire Umpqua Zero Sweep line tends to shine! We had no issues getting all of our accessories into the Tech Vest, and all of it remained highly accessible, and organized. We couldn't be more happy with all the space the Tech Vest front panels have, and that's before accounting for the extra space in the back. We are also immensely thrilled with the design of the nipper ports on the vest front. Built in a way to keep zingers concealed, nippers, small floatants, and other tools remain readily accessible and snag free. With this apparatus, the days of fumbling through pockets for the right tool while trying to hold on to a fighting trout with the other hand are over.
When integrated with the Surveyor ZS Backpack, we were able to get all of our gear for the day's outing packed in, so the hike in was made more comfortable and therefore, we could have more of an enjoyable experience. This included a pair of pant waders and our size 10 wading boots in the main pocket, and our fishing rod tightly secured with the sticky external webbing. Any extra accessories like sunglasses, sunscreen, or extra hydration could still easily be stored in the upper pocket, so we knew we had our bases covered for anything our upcoming adventures into the wild might throw at us. In the event you do need to add extra gear that won't fit, both the Swiftwater ZS Tech Vest and Surveyor ZS Backpack come equipped with web loops on the back.

Durability:
We've stuffed both packs to the brim and taken them quite the distance on the trails to and from our favorite fishing holes. In the end, all of the seams appear to be in good condition and the straps are holding their placement nicely. Umpqua makes it's packs and vests with 420 Denier Nylon, and high wear locations are reinforced with a Ballistic Cordura®. The Zero Sweep buckles and clips are plastic, but built thick and made to last. Perhaps a shutting car door will be enough to break these components, but we are confident that they will last a long time under normal wear and tear.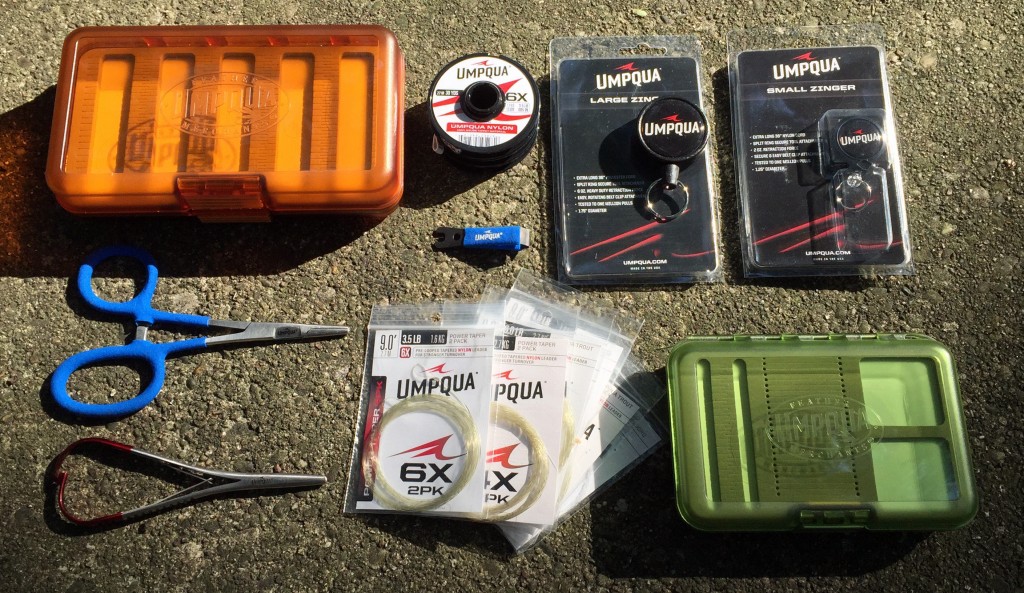 Accessories:
Because the focus here is on the Umpqua Zero Sweep integration system rather than just individual gear, we wanted to mention the fact that Umpqua has made a number of accessories available that work very favorably to make the system complete. The "blind" hemostat sheaths work incredibly well to keep clamps well secured, snag free, and readily accessible. The Umpqua nippers and floatants are designed to fit perfectly within the nipper stations on the Tech Vest, and there are multiple sized zingers available that can be perfectly contained in the hidden areas for optimal access and organization. A variety of flyboxes are also available depending on the flys you intend to carry and where you want to store them. All of these things combined make for an almost perfect system for personal customization and easy access.
Value:
The Umpqua Zero Sweep integration system doesn't only perform well for its intended purposes, but for the purposes we may not have thought of for the angler who may need to modify their setup for whatever reason. On the other hand, for anyone who strictly needs a fishing vest, the Swiftwater ZS Tech Vest performs fantastically on its own, and the Surveyor ZS Backpack is a fine pack for alternative adventuring. Combined, you can be assured that you'll be ready for just about anything, but in the event you need further customization, we should add that Umpqua offers other Zero Sweep products that can be integrated with this rig. Between the many storage capabilities, ease of access to accessories, and customization capabilities, we are thoroughly impressed with all of the uses the Umpqua Zero Sweep integration system has to offer, and for that reason well worth the asking price for any angler willing to go the distance to get to their favorite fishing hole.
Buy Now: Swiftwater ZS Tech Vest 169.99 and Surveyor ZS Backpack 179.99
or to learn more, go to: Umpqua.com
Umpqua Zero Sweep Integration - Gear Review
Easily modified for whatever it takes to make the next excursion as good as it gets, the Umpqua Zero Sweep integration system is perfect for any angler heading out on the trail for some serious fishing. Whether you're able to pull right up to you're hole, or you need to hike in, you can rest assured that you'll be prepared for whatever it takes to get there.
The Good
Extremely Customizable
Integration for Exact Storage Needs
Highly Accessible and Organized
The Not-So-Good
Not Comfortable With Bib Waders
Integration Straps May Get Lost