As we head into the warmest time of year, those of us that enjoy the call of nature or the spirit of competition find ourselves out and about more and more. For some, we've been training for months to get the best time possible in a big race. For others, a leisurely long distance trail run is all we need to get the fullest experience out of life. For whatever reason you intend to spend an extended amount of time away from the niceties of the kitchen sink, there's some real merit to getting it done as efficiently as possible.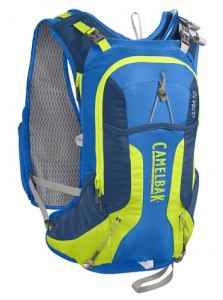 In order to get the most out of our summer activities, we've taken to the trails these past few months with the Camelbak Ultra 10 Running Pack to carry what we needed and keep us hydrated along the way.
Key Specs:
Hydration Capacity: 70 oz / 2L
Total Capacity: 8L (610 cu in) + 2L Reservoir
Total Weight: 1 lb 3 oz / .55 kg (pack only)
Dimensions: 21 x 13 x 2 in
Torso Length: 16.5 in / 42 cm
Back Panel: Open mesh
Harness: Adjustable with cargo pockets and dual slider™ sternum strap. Fits 30″—46″ chest.
Fabric: 70D reverse chain nylon w/ 230 taffeta.
Camelbak Ultra 10 Review Breakdown
Design:
Slated as Camelbak's most technical running pack, the Ultra 10 is all about efficiency. Compact in its design, this pack has a 2 liter reservoir, and will still carry the essentials for just about any extended time out. The Camelbak trademark Antidote® Reservoir is loaded with features to make refilling easy. The low profile design helps to keep the Ultra 10 flat against the back during heavy movement, and the back mesh panel helps the condensing cool air from the reservoir cool your core on those hotter days. The reservoir itself can be removed easily, but for those situations where you need to refill fast on the move, the quarter turn tap is highly accessible and water can be refilled with very little effort.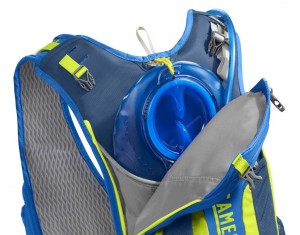 The Camelbak Ultra 10 pack is also highly adjustable to fit most body sizes. The upper shoulder straps are held in place by both clipping nylon straps and velcro for the full width. Adjusting the velcro can be a bit tricky, but once you have it set to your needs it's gonna stay right where you need it. The bottom straps are also adjustable, even while the pack is in use, and there are two torso straps that are also adjustable. The lower torso strap is fully elastic, and while this helps to alleviate discomfort in the stomach area, extended use of the pack may result in looseness as the elastic stretches over time.
Access to water is made through the use of a PureFlow™ tube with Camelbak's patented Big Bite™ Valve. The valve holds water well when not in use, but in case you want to play it safe it is equipped with a locking mechanism. Also, when not in use, the PureFlow™ tube is held tight to the right shoulder strap with two clips. We did notice that the tube doesn't quite manage to reach the lowest clip while it's adjusted to its lowest position, so taller wearers may find issue getting the adjustments to their liking with use of both clips.
With regard to aesthetics, The Ultra 10 is only available in the standard Blue/Lime color palette. This is great for visibility, and with a load of reflective surfaces all over the pack, visual safety in is very well covered.
Storage:
Designed to endure the longest and toughest trail races in the world, the Camelbak Ultra 10 is specifically engineered to hold all of the items you'll need for the long haul. In addition to the 2 Liter Reservoir, you'll have room for extra food, light layers, survival blankets, or whatever else may be on the mandatory list items in your competition of choice. This is not a day pack, but instead meant for optimization in serious competition. We wore the Ultra 10 for the 2016 Michigan Adventure Race, a 5 hour orienteering challenge that combines running, biking, and kayaking over exceptionally hard terrain, and we have to say we had no issue packing everything we needed for the duration.
For the majority of storage needs, the Ultra 10 has traditional side mesh pockets, a stretch overflow compression pocket on the back for items you may need in a hurry, and a spacious main pocket with alternative compartments that help to separate items for efficient access. The vest design is also loaded with smaller pockets that make compartmentalizing items for the journey a snap. Big pockets on both sides with adjustment chords will fit extra water bottles if necessary, or the other odds and ends you'll need like energy bars or gels. There is also a sweat-proof zippered pocket on the left side for devices if you need to bring them with you. This can be good for protecting vulnerable gear, but we were a bit disappointed to discover that our iPhone 6 could only barely fit here, and that's after we removed the case.
Comfort:
We've already discussed the adjustability of the Ultra 10, and we are very impressed by the variety of body sizes this pack can be set to. For the more active folks, the Ultra 10 can be cinched in remarkably well to match the body form with an impressively low amount of movement and rubbing. After our 5 hour adventure race, we were happy to see virtually no sign of rubbing or chaffing from the pack itself, and that's no small feet with the amount of movement involved in that type of competition. If you're just going out for a long run, and all you're interested in is hydration, there is a pull chord in the center of the bag that will condense the Ultra 10 even further to prevent heavy movement on the body.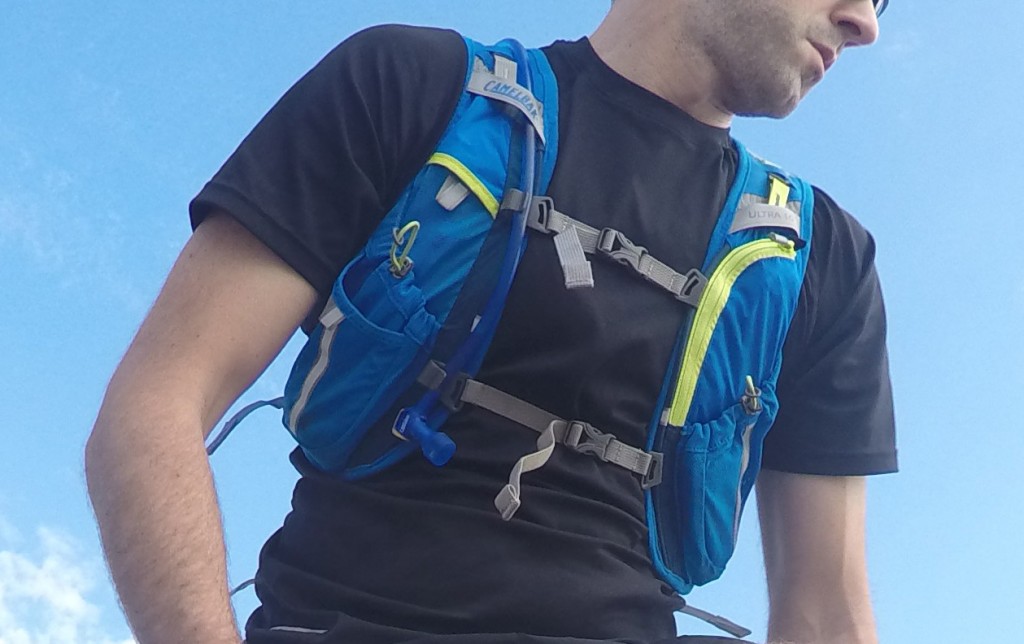 Durability:
We've put the Camelbak Ultra 10 through quite a bit already, and we aren't seeing much to be concerned about in the main construction. All seams, padding, and nylon components remain in terrific shape, and there's practically no sign of wear in the heavily used components. The plastic zippers and clips are quite heavy duty, and we haven't seen any give there either. The only area of concern is in the stretch mesh pocke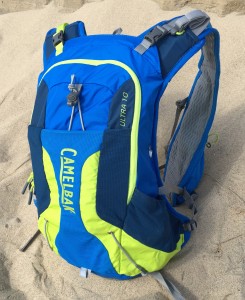 ts used for a lot of the storage of this pack, as well as the elastic straps. There is a little bit of give here compared to when we first began using the pack, and these areas may have a shorter shelf life than you would require if you intend to use this pack frequently.
Value:
One of the higher priced hydration packs on the market, the Camelbak Ultra 10 is designed with the specific task of getting you longer distances as efficiently as possible. perhaps not optimal for every single outing you'll need a pack for, this one will take you the furthest with a minimalist vest-style that fits comfortably with all the essentials in tow. If this fits the criteria of the kind of activities you enjoy, we highly advice dropping the extra couple of bucks to get it.
Buy Now: $150.00 or to learn more, go to: CamelBak.com
Camelbak Ultra 10 - Gear Review
Not your typical pack, the Camelbak Ultra 10 is made to provide optimal capacity of water and supply storage over the longest distances. If you want to make it for the long haul comfortably and with all the essentials, this is the way to do it!
The Good:
Optimal Storage for Long Distances
Comfortable and Highly Adjustable
Easy Water Refilling
The Not so Good:
Limited Space / Not an "Every Day" Pack
Elastic Components May Wear Fast
Sweat-proof Pocket is a Tad Small