Spring is upon us and there's no time like the present to begin getting in shape for the summer! Like the rest of the Busted Wallet Staff, I do appreciate the active lifestyle that the warmest part of the year has to offer, so these past few months I took to my workout routines wearing a collection of goods from the Asics' Spring line. Everything from running, weight training, and even a few games of league dodgeball, I pushed myself and Asics' apparel as far as possible. After all, the results of the Spring training cannot be even close to optimal without realizing the limitations our gear has to offer.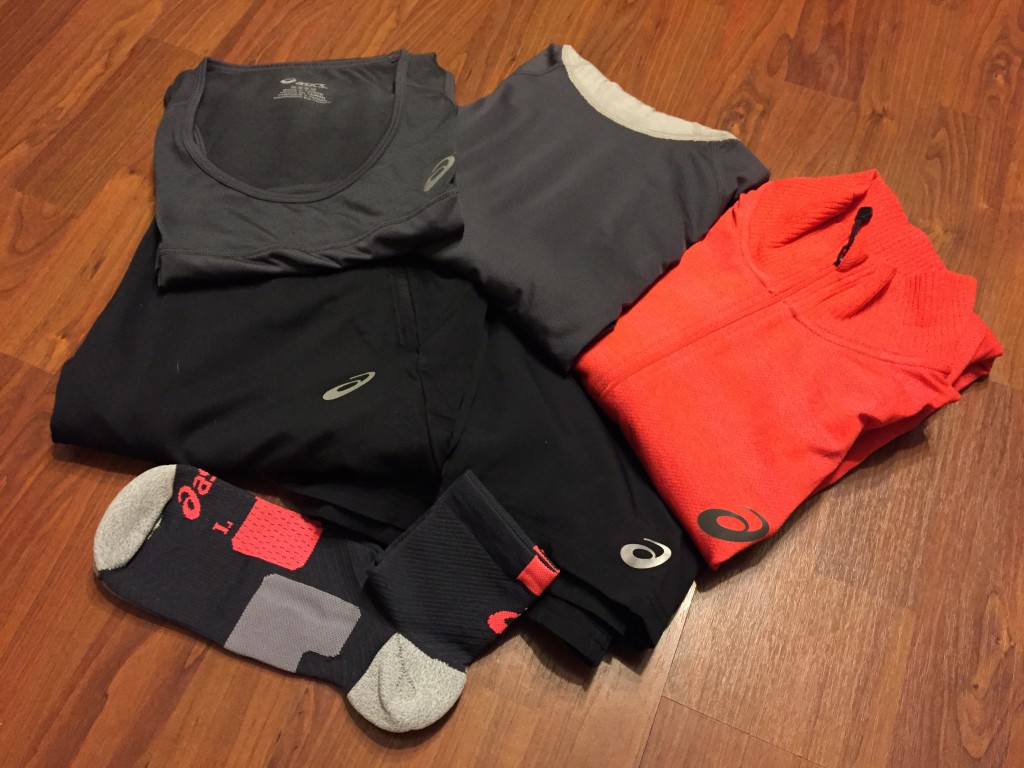 Key Features:
Seamless Construction in a Soft and Comfortable Fabric Minimizes Chafing
2 Zippered Hand Pockets
Tonal Marl and Mesh Stripe Detail
Colored Reflective Print and Logo for Visibility
From the final snow-melt that delivered us the Spring and on into the chilly mornings we're bound to see through the summer, the Seamless Jacket has become a staple of protection during my routines. As clarified by its title, this jacket has a seamless construction that institutes soft fabric, so it remains loose and light while still providing great wind resistance. The two front pockets are zippered, so if you need to carry anything with you it will be well protected from possible loss. The Seamless Jacket is also donned with a reflective print from top to bottom, so braving the elements during any low-light time of day is made that much safer.
The Seamless Jacket, while providing great coverage past the waste and beyond the full length of the arm, is very much catered for the slender physique of a typical distance runner. The broader shaped man may find this one a bit tight, but for those hard-core distance runner types out there, this one will be right up your alley.
Buy Now: $80.00 or visit Asics.com
Key Features:
ASX™ Dry Fabric Provides Ultimate Moisture Management Comfort
Three Panel Funnel Neck Hood with Laser Cut Eyelets for Drawcord
Zippered Back Pocket
Reflective Logo
Full Coverage Lightweight Mesh Fabric Offers a Soft Comfortable Hand and Moisture Management
Kangaroo Pocket
Thumbholes
The ASX™ Dry Hoody offers an impressive combination of lightweight material and temperature regulation all at once. The mesh fabric is incredibly light and breathable making it perfect for moderately brisk workout conditions, but not optimal for temperatures more on the bitter side. The sleeve thumbholes are quite a benefit to protecting the hands from cold winds, and if things heat up along the way there's enough elasticity in the sleeves that you know they'll stay put when rolled up on the forearms. The zippered back pocket will hold very small belongings like a key or extra cash, and the kangaroo pocket helps provide a little extra hand warmth if necessary after a workout. The three panel neck hood serves a purpose of adding a bit of extra protection for the neck, but does little else, easily flapping around in high winds due to it's lightweight material.
Buy Now: $65.00 or visit Asics.com
Key Features:
Lightweight, Stretch Polyester with Excellent Moisture Management Properties for Comfort and Performance
Two Zippered Hand Pockets
Elasticated Waistband with Drawcord for Easy Adjustability
Zips at Lower Legs for Easy-On/Easy/Off Access
The Essentials Pant is the year round warm-up pant for cold weather protection. The lightweight polyester material is top-notch in comfort, temperature regulation, and moisture control in just about any condition you may find yourself in. On the other hand, if your workout for the day will be done indoors at the gymnasium, the walk or drive to your destination will be covered. Both the pockets and lower leg access are zippered, so getting in and out of the Essentials Pant doesn't require a lot of extra work. I will say, however, that while the material adds a great deal to the functionality during wear, there is an elasticity and friction in the material that can at times make it less easy to change in and out of while wearing shoes. Again, like most of the items in this collection, the Essentials Pant is more geared towards a slender runner's build.
Buy Now: $50.00 or visit Asics.com
Key Features:
ASX™ Dry Fabric Provides Ultimate Moisture Management Comfort.
Shirttail Hem
Full Coverage Lightweight Mesh Fabric Offers a Soft Comfortable Hand and Moisture Management
Reflective Logo
From the abnormally hot days in early spring, workouts at the gym, and on to the all important race days of summer, the right tank can make a huge difference in performance as well as comfort. The ASX™ Dry Tank has provided little in terms of disappointment since I've been wearing it this Spring. The fabric is as light weight as they come, but at the same time provides great moisture management to prevent becoming bogged down by the weight of excess sweat or sticking to the body. The construction remains loose, but at the same time it conforms to an athletic build, reducing any chance of getting caught up on swinging hands during a run or on weights during a gym workout. Probably the most basic tool in a runner's gym bag, this is a tank that performs to the highest of standards pretty much all the way across the board.
Buy Now: $36.00 or visit Asics.com
Key Features:
Lightweight, Durable Quick-Dry Woven
Zip Pocket at Back for Secure Storage
Inseam: 7″
Elasticated Waistband with Drawcord For Easy Adjustability
A good pair of shorts is important, and I've worn the Woven Short in just about every kind of setting and condition the Spring has had to offer. Obviously made for the warmer days, the Woven Short is constructed with a soft, lightweight fabric that promotes breathability and optimal moisture management. That makes this particular short just as functional for active indoor court workouts as well. The back zipper pocket does provide a point of storage for keys, cash, or ID, and although all of these items will fit, the location of the pocket is not ideal for comfort, and there have been times I would have been happier with the traditional side pocket instead.
Doing away with the baggy basketball style short that can catch on things or become excessively heavy for long distance runs, the Woven Short takes things back to the basics for better functionality during workouts. With a 7″ inseam, I found the size and weight quite acceptable without reverting all the way back to the super small running shorts of the late 1970s. Also equipped with a liner, the Woven Short provides some beneficial support. I found the liner to be a bit on the tight side, but not to a point it was cumbersome or uncomfortable for someone with an average athletic build.
Buy Now: $32.00 or visit Asics.com
Structured Cushioning Quarter Socks
Key Features:
Knitting and Specialized Spandex Provide Dorsal Support and Ankle Stability.
Seamless Toe
"Y" Heel Gore Fit
Ergonomic: Anotomically Correct Left and Right Foot Construction
Arch Support
Nanoglide® Anti-Friction Yarn
During that transitional period of Winter to Summer, Mother Nature may bring on some mucky and wet conditions that can make our feet and joints hate us. The Structured Cushioning Quarter Sock is made with a specialized spandex material that conforms securely to the form of the foot. The seamless toe helps to optimize comfort for the longer hauls, and the ergonomic construction between right and left foot have added the stability necessary in keeping the ankle joints from moving in ways they shouldn't. The Nanoglide® Anti-Friction Yarn has certainly helped prevent blistering. However, for those workouts where the opportunity wasn't immediately available afterwards to change socks, I did notice this material had a tendency to hold in the moisture. A great sock to get through the colder weather of Spring or early mornings through Summer, this sock wouldn't top my list for use indoors or during exceptionally warm workouts.
Buy Now: $18.00 or visit Asics.com
Asics Spring Running Collection '16
With regards to preparedness, the Asics Spring Running Collection has bridged the gap between the brutality of Winter and the glory of Summer. It kept me protected from the elements and took me the distance that was required. This weekend is my first official race in 2016, and while the goals I've set for myself may be a bit ambitious, I'm more than confident that I got all that I could out of my training thanks this collection.
Structured Cushioning Quarter Socks
8.5