With the Aftershokz Trekz Titanium headphones music becomes another layer of sound that follows you wherever you go. AfterShokz was founded less than 5 years ago in East Syracuse, New York and since has been featured at CES, including being honored with 2 CES innovation design and engineering awards in the headphone product category within the first year of product launch. They pioneered the combination of Bluetooth with bone-conduction sound and continue to innovate with how we will be hearing in the future. Recently, they let us try out a pair of Trekz Titanium headphones, their newest line of headphones, here's what we discovered…
What's in the Box:
Bone conducting headphones
Travel/Storage case
USB cable for charging
Earplugs (yes, earplugs)
2 Fitbands (rubber pieces to adjust to smaller heads)
Specs:
Sound delivered through Bone-conduction technology
Titanium wraparound headband
Wireless Bluetooth® 4.1 connectivity and multipoint pairing
IP55 certified (sweat, dust and moisture resistant), from workouts to wicked weather
Enjoy six hours of continuous music + calls on a single charge
2 EQ presets for boost bass and reduce vibration.
Dual noise canceling microphones
Audrey Says™ voice prompts
2-year warranty
Aftershokz Trekz Titanium Review Breakdown
Sound Quality:
Our first question was: "Wait, they don't go in your ears?" followed closely by: "What is bone conducting technology anyway?"
Well, that's right, they don't go in your ears, they sit directly in front of your ears. These headphones have a little mini speakers in each cheek pad, and they rumble/vibrate on your cheekbones. It sounds a lot like having ear buds directly in your ears. It's not the same, you aren't going to mix an album master with a pair of these, but that's not what they are made for. They sound good, a lot more bass response then we were expecting.
Other than listening to music, they can also be used as a headset for phone calls. Unique to AfterShokz is placing a microphone on each ear pad, then using noise cancelling that only one is picking up, they clean up your outgoing audio making it sound less like you are on speaker phone.
   
Comfort:
They look like headphones, but loop around the back of your head. There is a right way to wear them, and you can see it in some of the photos on the box and their website, but that gets complicated with glasses on. They have a notch cut out for going over frames in front of the ear, but where they loop over the top of the ear I found them to wear on me a bit after an hour or two. I tried positioning them several different ways, and with both pairs of glasses that I own, and ran into similar issues with both pairs. It's safe to say these headphones are more comfy when worn without glasses.
Design:
AfterShokz started with a particular purpose in mind: Safety. Specifically, for athletes. Running with headphones in both ears is a great way of letting your music get you pumped up while running, but unfortunately it's also a great way of getting hit by a car that you didn't hear until it was too late. Sure, you can run with one earbud in and one ear open to the world, but that can be uncomfortable and disorienting.
AfterShokz set out to change that, and they succeeded. These headphones wrap around the back of your head and the sound pads (for lack of a better term) sit against your cheekbones in front of your ears, not over them or in them. Your ears stay open to the world around you.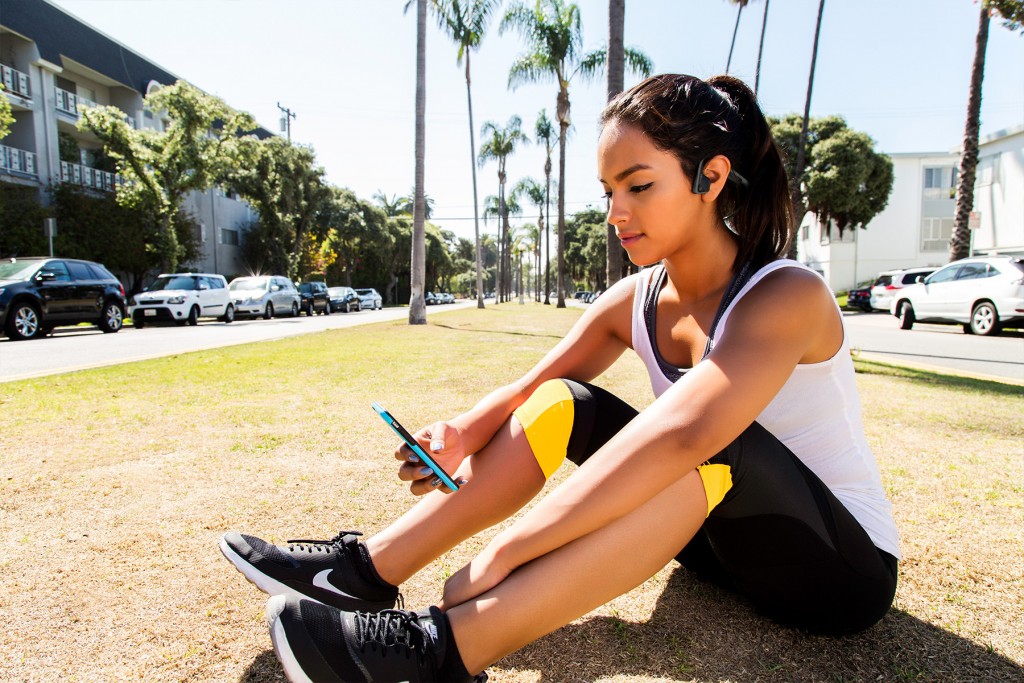 Personally, I don't run in the road. I stick to sidewalks or trails, and while I can tell you these stay on while being active, I'm still not excited about running by cars while wearing a set of any kind of headphones. I like organized runs where they close the streets in part because I can blast music while running. Maybe someday I'll get to the point where I trust myself enough to do that with these on a sidewalk.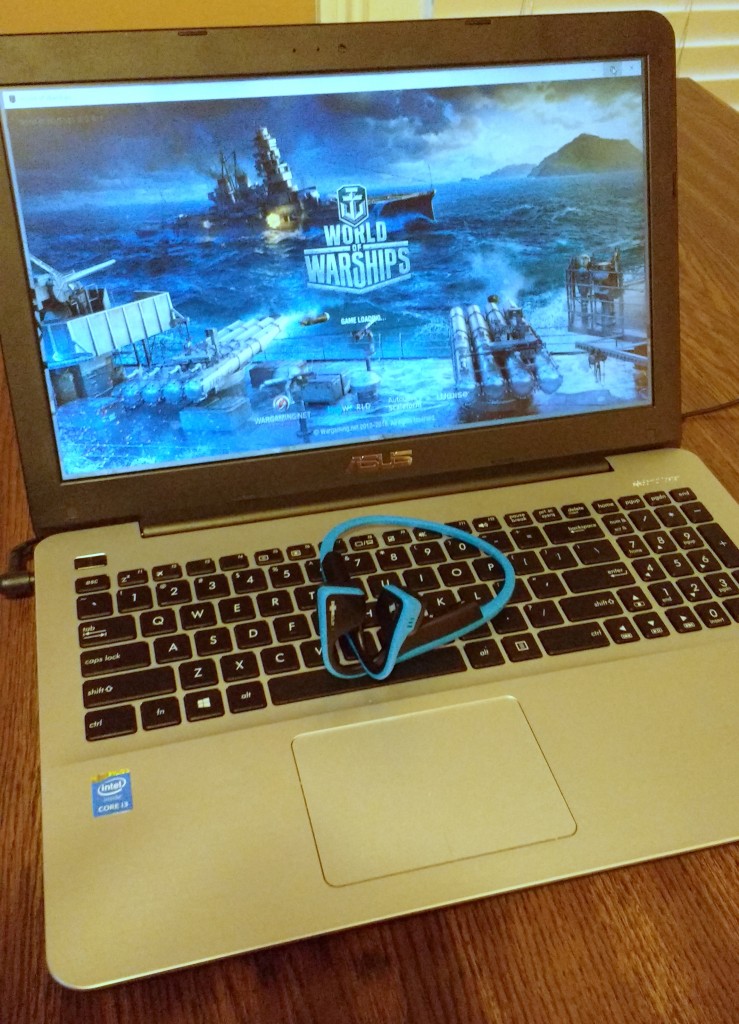 That says a few things about these headphones. First, take your safety seriously. These are not magic, they don't make you invincible to cars. But even if you are trail running, it's better if you can hear what is going on around you and these headphones allow you to do that. A bike coming up behind you, or an animal won't surprise you the same way as when you are immersed in your jam with ear buds cranked up to 11. Second, they are still loud enough that I'm concerned about getting lost in the music and not hearing a car or truck.
What I really liked about these headphones was wearing them at work. They've got a 6+ hour run time so I can wear them most of the day and listen to whatever music I want, appropriate or not in an office environment, and no one else can hear what's being played as long as I don't sing along. But unlike my ear buds, with a stupid wire, or my Sony's, I can still hear when people ask me a question. I don't have to motion for them to wait, then take off my headphones. I can simply pause the music with a single button push on the multi-function button and talk to them.  When we are done speaking, I can go back into my own little world of music and work.
Controls:
The Bluetooth connectivity is quick and painless like most Bluetooth is. Using them as a gaming headphone allows me to immerse myself in the game, and still hear if one of my children calls me from upstairs.
Their button arrangement is very good, although again a note for glasses wearers, one of the volume buttons gets hidden behind glasses frames, it was still reachable but more difficult than it needed to be. The buttons could have been on the side of the head wrap, rather than the bottom. They do a lot with 3 buttons and while it took a few days to get used to which ones to press, or double tap, it wasn't difficult to remember and was an average learning curve. There are voice prompts that let you know what you are doing, and we found them to be more helpful than intrusive.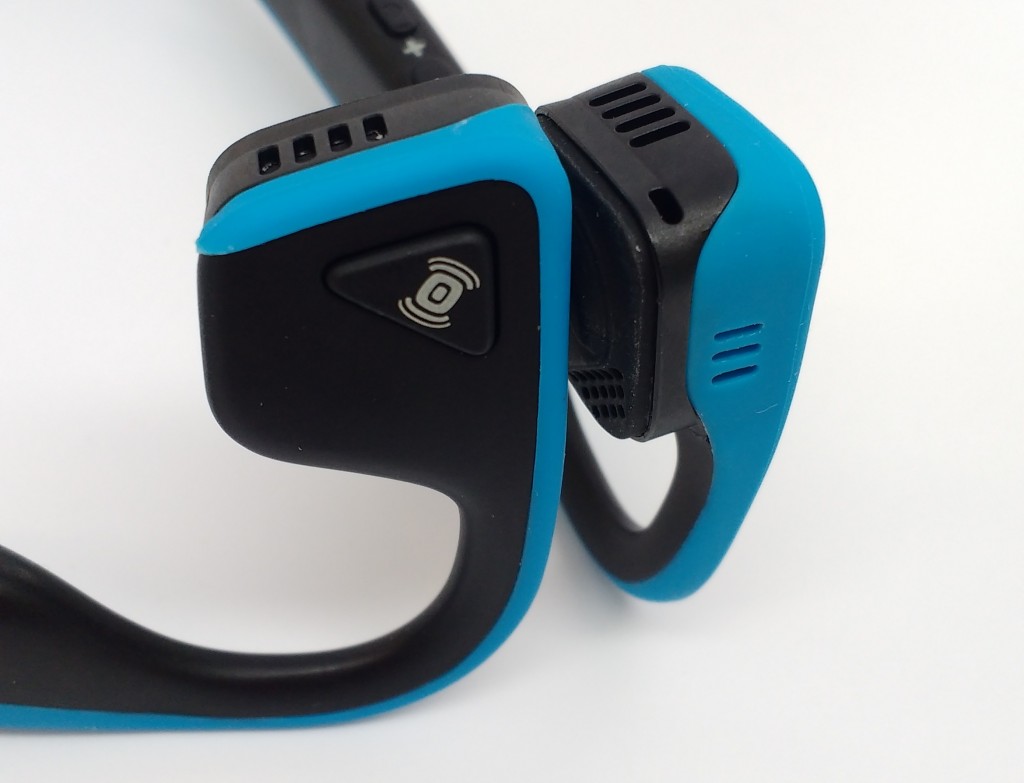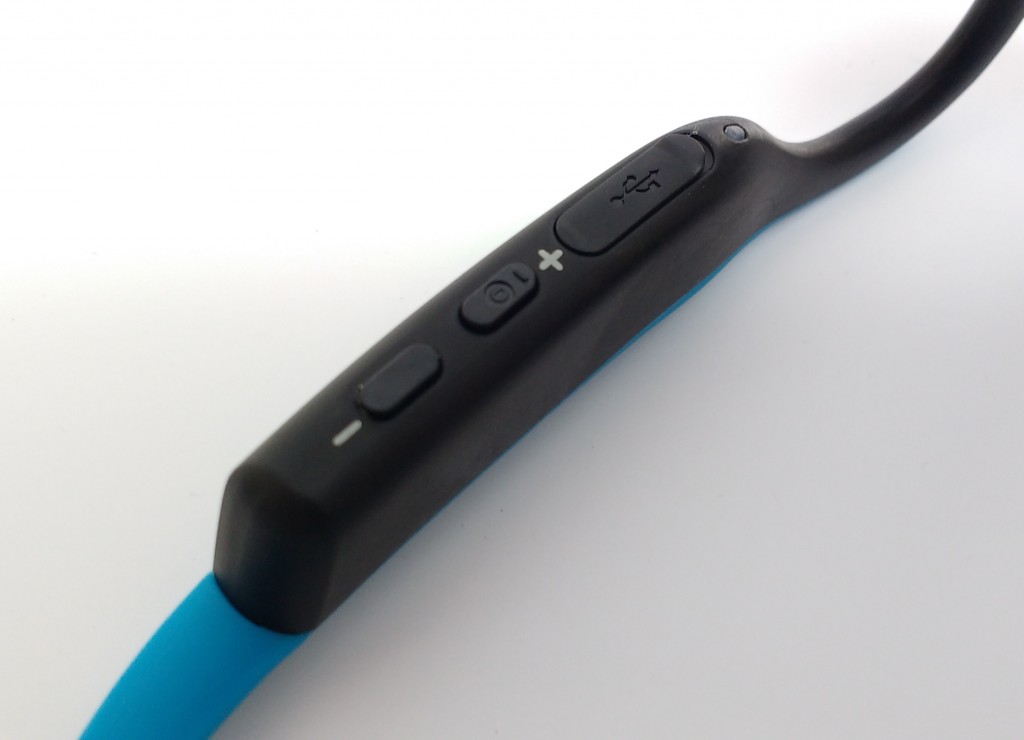 Battery life:
While the company says that they have a 6 hour battery life, we found that using these off and on throughout the work day we never ran out of power. For people exercising an hour or so a day, these would be perfect. One awesome feature that don't see enough on other Bluetooth devices is a battery life indicator. With music paused, touching a volume button will give you a high, medium, or low battery estimate. Everyone else that makes a Bluetooth speaker or headphones should take note and implement this feature.
Value:
Priced at $129.99 these headphones are a great value for active people who want to still listen to music. They provide a layer of safety to the user by not blocking ambient sounds. That feature isn't available with any in ear headphones that we know of.
Buy Now: $129.99 or to learn more, go to: Aftershokz.com
Aftershokz Trekz Titanium - Tech Review
The bottom line is if you are concerned about safety, and still want to listen to music, then these should be on your short list of headphones to try out.
The Good:
Ability to hear what is going on around you
Good controls
No wires
The Not So Good:
Lack of all day comfort for glasses wearers