Painstakingly aged in charred-oak barrels for a minimum of 8 years before being expertly blended, Jefferson's Bourbon is handcrafted in very small batches using traditional techniques to achieve a Kentucky Straight Bourbon Whisky which McLain & Kyne (native Louisville, KY distillers) claim is "as smooth as it gets."  When producing small batch bourbons, master distillers will typically choose between 200 to 300 barrels to be blended and then bottled. This is where Jefferson's Bourbon stands alone… you see, to make a  "Very Small Batch" bourbon, Jefferson's marries a mere 8 to 12 barrels of variously aged bourbons to produce their final product. This selective process is said to ensure both the bourbon's complexity and aid in consistency, two properties any whisky enthusiast can appreciate.

Deriving the vast majority of its flavoring and color from the charred-oak barrels from which it is aged in, Jefferson's Bourbon matures in the heart of metal clad warehouses to accentuate the extreme temperatures that Kentucky is blessed with, forcing the bourbon to expand deep into the barrel and pull out the prevalent flavors of the wood. 
Photo Credit: KatieWilsonPhoto.com   Launched more than 15 years ago by Trey Zoeller and his father Chet, a well-known bourbon historian, Jefferson's Bourbon pays homage to one of the country's most complex founding fathers, Thomas Jefferson. A man widely recognized for his scientific mind and experimental nature, Thomas Jefferson has served as a source of inspiration for the ever-evolving Jefferson's brand.  
Our bourbons occupy a very defined, super-premium category. Each very small batch brand is distinct. Jefferson's Reserve is very layered and elegant, suitable for the more sophisticated connoisseur. Jefferson's [very small batch] is a very approachable and easy bourbon, perfect for those who enjoy soft flavors. My family and I are very proud of the brands we've created. -Trey Zoeller, Founder – Jefferson's Bourbon
 
Not too long ago we were presented with a sample of Jefferson's to taste and review at our own leisure. Having little to no knowledge about this relatively new bourbon brand we were excited to see how it stacked up against some of our recent favorites. Now that the bottle's dry I guess there's little left to do but share what we discovered along the way… cheers!  
– Jefferson's Bourbon Review –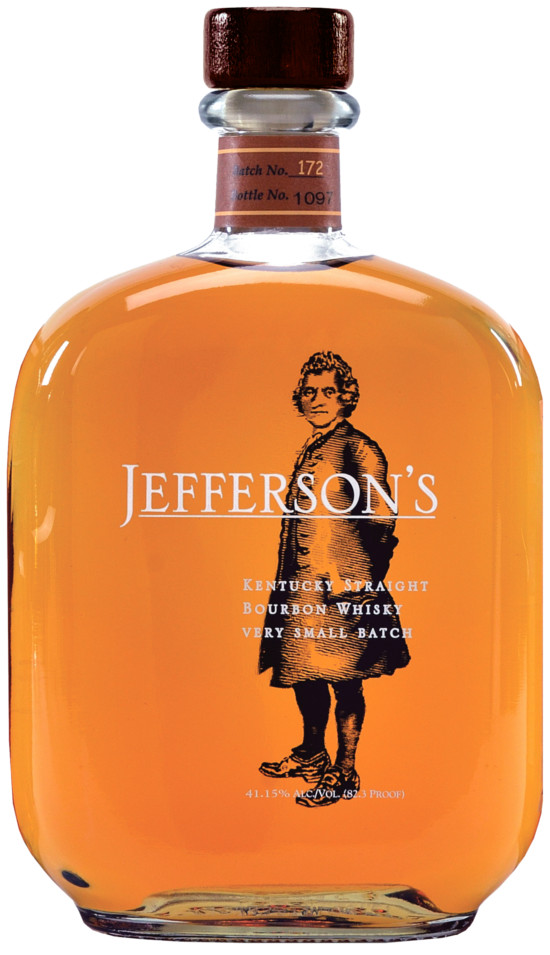 Proof: 82.3 (41.15% ABV)
Age: Blended 8-12 years – in charred-oak barrels
Appearance: Light golden amber
Nose: Oak, vanilla, corn and spice
Flavors: Toasted caramel, vanilla, oak, cinnamon
Taste: B (Good)
Finish: A- (Excellent)
Mix-ability: B+ (Very Good)
Buzz Factor: B+ (Very Good)
Buy Now: $26.99 USD (750ml.)
  Overall: We give Jefferson's Bourbon a B+ (Highly Recommended) Make no mistake, this bourbon is bold, though its modest proof might have you believe otherwise. On the nose we discovered strong aromas of oak and vanilla while the predominate flavors that struck our palettes were that of caramel, honey and unmistakable notes of vanilla and spice with a sharp, if only momentary, initial burn (which mellowed nicely) to remind you that yes, this is after all Kentucky Straight Bourbon. Unanimously our tasting panel enjoyed this bourbon best as the master distiller intended it… neat. In this fashion its many complexities, balance and skillful blending process can be appreciated fully. But if you like to mix it we found Jefferson's to be a dangerously tasty base for mixing cocktails as well. Making it idea for… well, almost anyone!
MIX IT UP… "Harvest Highball" 
Ingredients: 1.5 oz Jefferson's Bourbon, 1 oz ginger liqueur, Apple cider and Cinnamon to garnish.   Directions: In a cocktail shaker, shake the bourbon and ginger liqueur together with ice. Strain into a glass with ice in it. Fill the glass with apple cider and sprinkle fresh cinnamon on top.   Buy Now: $26.99 ($USD) or go to: JeffersonsBourbon.com
  Follow BustedWallet on: Facebook & Twitter