Crowned the "Official Bourbon of the Kentucky Derby" for the past decade and a half, each Spring Woodford Reserve honors one of the world's most prestigious sporting events with an annual limited edition Derby bottle. This handcrafted Kentucky Straight Bourbon Whiskey is a super-premium small batch bourbon which utilizes iron-free limestone-filtered water as its base and a strict recipe of 72% corn, 10% malted barley and generous dosage of rye (18%) to reach its final blend before being painstakingly fermented, triple distilled (in copper pots), aged (in charred white oak barrels) and hand bottled.

The iconic Woodford Reserve Distillery is the smallest and oldest operating distillery in America. Located in Versailles, Kentucky, it is the only Kentucky distillery that uses copper pot stills and ages its bourbon in a unique climate controlled limestone warehouse. Whiskey was first produced at the site in 1812, and it was here that some of America's earliest distilling pioneers like Elijah Pepper, Oscar Pepper, and James Crow perfected their craft. With just over 200 years of heritage, it's safe to say that the folks at Woodford Reserve know a thing or two about bourbon.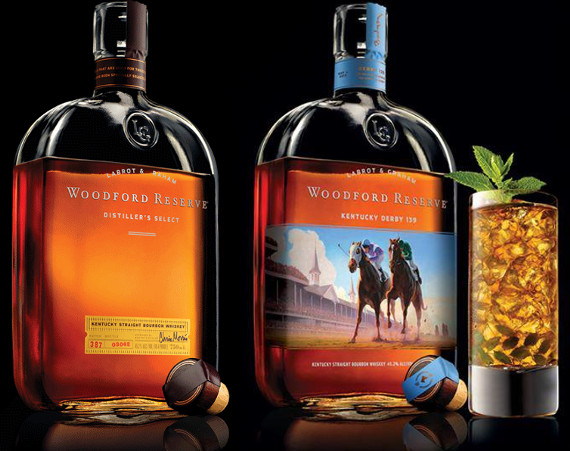 Pictured above is the standard Woodford Reserve vessel (on the left) and the 2013 Derby bottle commemorating the 139th running of the Kentucky Derby, with artwork from Oregon-based painter Eric Bowman. Below you'll find several limited edition bottles from years gone by…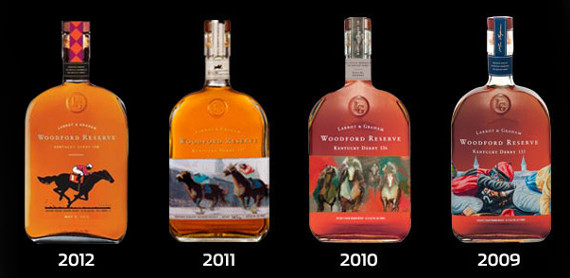 *Commemorative liter-size derby bottles start at a suggested retail price of $43.99.   
Eric Bowman's iconic American style displays the rich detail of his subject with craft and patience, this philosophy made him the perfect selection as the Kentucky Derby 139 bottle artist. -Laura Petry, Woodford Reserve – Senior Brand Manager
Feeling generous (and thirsty?) Between April 15th and May 2nd you can get your hands on a (gold inspired) $1,000 Mint Julep Cup mixed with ice made of gold-filtered mineral water sourced from the easternmost reaches of Nova Scotia; mint leaves dusted with gold and grown in Woodford County, Ky.; Woodford Gold sorghum from Woodford County, Ky.; and gold medal-winning Woodford Reserve Distiller's Select bourbon.   Only 89 cups will be made available and only at woodfordreservemintjulep.com. This year will mark the eighth year of the $1,000 Mint Julep program with more than $354,000 raised for equine and humanitarian causes. Finally, a legal write-off for sippin' booze!      
– Woodford Reserve Review –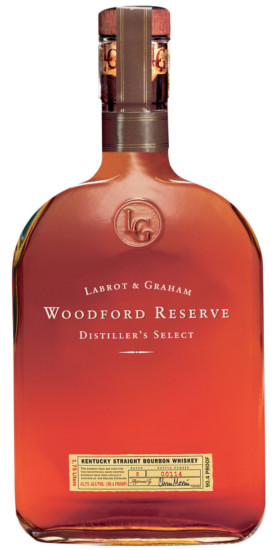 Proof: 90.4 (45.2% ABV)
Age: 6 to 7 years (blended)
Nose: Oak, vanilla, rye and char/smoke
Flavors: Caramel, smoke, vanilla, oak and spice
Taste: A- (Excellent)
Mix–ability: B (Good)
Buzz Factor: A- (Excellent)
Price: $26.99 USD (750ml.)
  Overall: We give Woodford Reserve an A- (Highly Recommended) This bourbon is truly impressive. Its complex and totally unique character is like no other bourbon we've tasted. We found it to be exceedingly enjoyable when sipped neat and more than capable mixing a dangerously tasty Manhattan or Mint Julep! If you have an opportunity (like Saturday at the Kentucky Derby) and are looking for something authentically "Kentucky" to sip – we highly recommend giving Woodford Reserve Bourbon a try for yourself.  
MIX IT UP WITH… "Mint Julep"
Ingredients:  3-5 mint leaves, 1 teaspoon powdered sugar, 2 teaspoons water, 2-2 ½ ounces Woodford Reserve Bourbon, crushed ice.   Directions: Muddle (stir/gently crush) four mint sprigs and sugar in the bottom of a julep glass. Add water and continue to muddle. Add Woodford Reserve Bourbon. Pack the julep glass with crushed ice. Add a mint sprig for decoration and sipping straw.   Buy Now: $26.00 (Derby Edition $44 – $70) or go to: WoodfordReserve.com   Follow BustedWallet on: Facebook & Twitter