Available in three unique models, Briggs & Stratton's new POWERflow+ is quite a bit more advanced than your average everyday pressure washer system, in fact it's the only pressure washer on the market boasting both high pressure mode, to lift dirt, and high flow – to easily wash it away. POWERflow+ pressure washers are uniquely designed to enhance the cleaning experience by providing extended reach, power soaping and faster rinsing capabilities – things standard pressure washers simply can't achieve.
For some background on why Briggs & Stratton brought the POWERflow+ line to life and what it took for them to get it to stores, check out the embedded video below – in which Briggs & Stratton's key development crew explains everything from R&D to prototyping and even packing/shipping.
While the POWERflow+ line offers three models (electric, gas and gas + electric start) we choose to test and review their gas powered model with electric start (Model Number: 020570-0). This model comes equipped with everything the standard gas model does, along with the added ease of push button electric starting. A handy option for the elderly or anyone with a bad back or other injuries. Plus there's always the fact that anything with a push button start is always much cooler – just ask the Ferrari F12 Berlinetta!
7-in-1 Quick-Connect Spray Tip Nozzle
On-Board Detergent Injection System for Less Mess
Fold-Down Handle Design for Compact & Convenient Storage
Maintenance Free Axial Cam Pump with Easy Start Technology
Specs:
PSI: 3000
GPM: 5.0
Engine Displacment: 190cc
Hose Lentgh: 30′
Weight: 65 lbs
Briggs & Stratton POWERflow+ Review Breakdown
Design: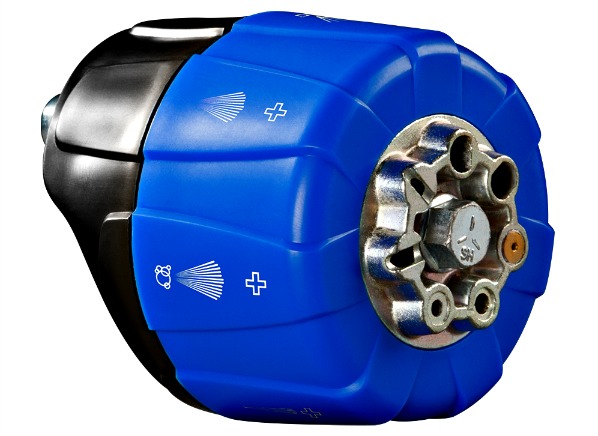 One of the highlights of this pressure washer is that it's super portable, easy to maneuver and with 30 feet of hose it's easy to get anywhere. Beyond it's agility, the main design aspect we were amazed with was the easy to adjust 7 setting flow nozzle. While other pressure washers require you to stop and remove nozzles for different tasks and jobs, the POWERflow+ just requires a twist of the sprayer head. In just one second you can go from high pressure concrete blasting to high-flow rinsing that safe enough to use on your car or house siding. This saves time and the hassle of keeping 10 different nozzles from getting lost. The POWERflow+ nozzle is the smartest in the industry and has some serious engineering behind its design.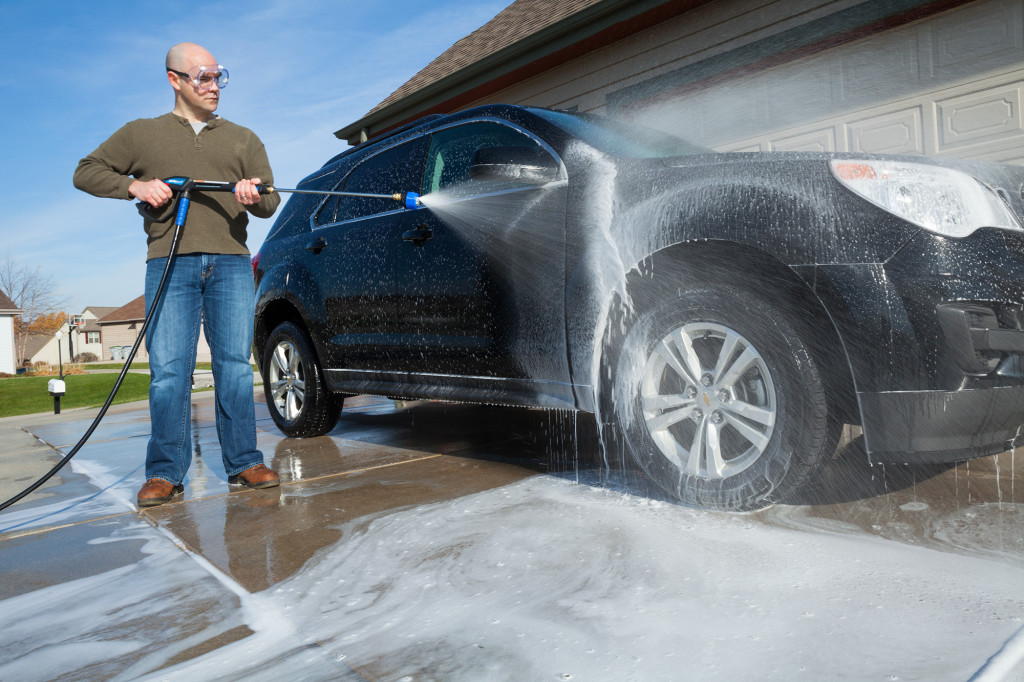 A couple other design features worth mentioning are the on-board soap injection system that's great for when you want to wash the car or de-grease the garage floor – as well as the ergonomic gun handle. The gun has a built-in safety which is a nice safety feature and a soft grip that makes pressure washing more comfortable – a feature that's long overdue.
Assembly: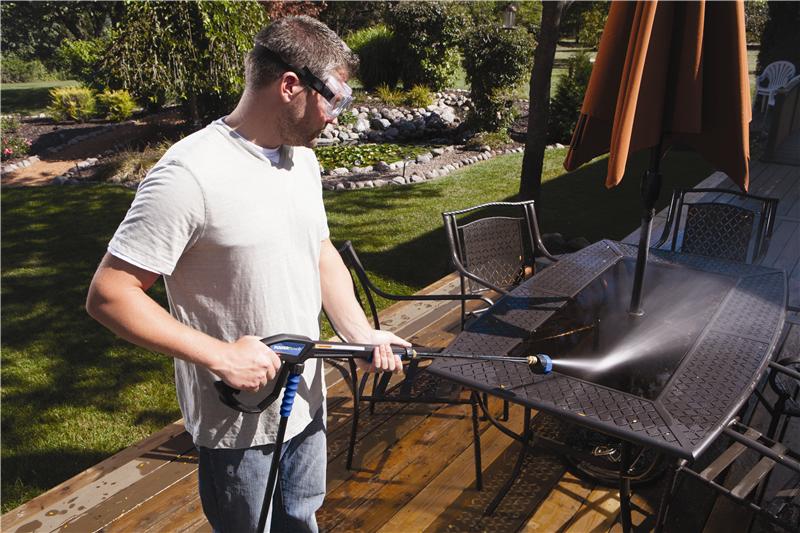 Straight out of the box the POWERflow+ takes about 10 to 15 minutes to assemble. Best of all, only a phillips-head screwdriver is required and minimal instructions are needed. If all assemblies were like this we have more time to work around the house! The key instruction and most important that you'll want to follow is adding the oil to the reservoir. Miss this step and you'll burn up the engine in a heartbeat.
Starting:
With the electric start model we tested, starting the POWERflow+ is so simple anyone can do it. Just make sure the ON/OFF switch is flipped to the correct position and depress the start button for approx 2 seconds and WHAMMO you've got power! TIP: remember to charge the on-board battery with the included charger from time to time so that the start button is energized at all times.
Alternatively, pull-starting this pressure washer was also very easy. With no choke or priming ball to worry about the POWERflow+ started on the first or second pull every time.
Capabilities: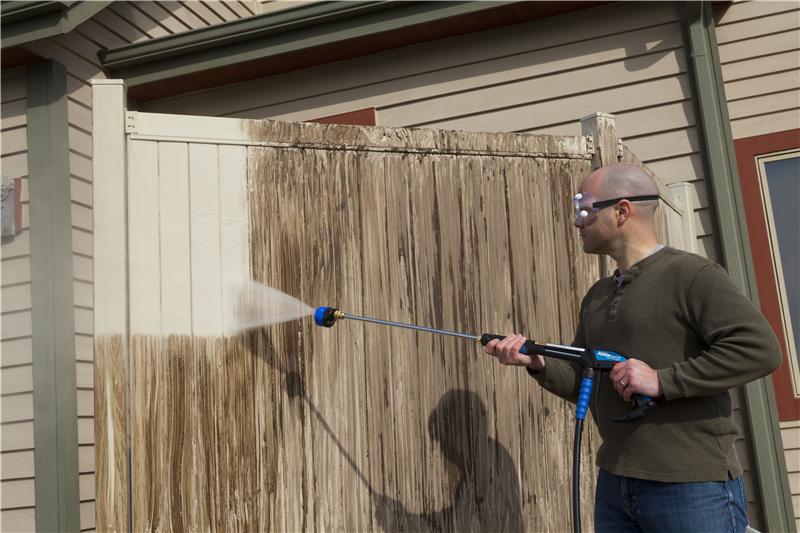 This is one of the most versatile pressure washers we've ever seen. The 7 different spray options give you the ability to clean anything from concrete to windows without ever having to stop and switch out nozzles.
Throughout testing we cleaned a variety of surfaces, including a driveway, a wooden deck, an outdoor carpeted stairs and even washed a fleet of vehicles at the Busted Wallet HQ. Each job took a little different approach as far ask pressure and angle, but in the end each job was completed the same – clean and looking good as new.
Value:
While a pressure washer isn't the right tool for every job, it is by far the most effective way to clean and keep the outside your home looking like new. From my experience, it's not all that often you actually need a pressure washer to get a job done, but for those few times a year when you do, the POWERflow+ is the best option on the market for homeowners. Ranging between $399 and $599 the POWERflow+ from Briggs & Stratton is worth every penny in our opinion. And just think of all the money you save on renting a pressure washer or the hassle you'll leave behind from having to borrow the neighbors clunky pressure washer. With the POWERflow+ you're getting a great value.
Briggs & Stratton POWERflow+ Pressure Washer
Overall, this is a very easy to use pressure washer that has some serious PSI to get the job done. We used it for over a month and didn't find a surface it couldn't clean. The unit itself is impressively agile and comes with a great reach. The real star of the show is the high pressure/high flow water pump that allows you to go from blasting pavement to washing as car with a turn of the nozzle. If you're in the market for a new pressure washer that you'd like to make your LAST pressure washer, the Briggs & Stratton POWERflow+ is an ideal choice. After using it at my home and around the office for a month now, I can't imagine a better option.