Boasting a top speed of 7.5 miles per hour (26% faster than the competition), a 42 inch cutting deck,  and a 6 inch turning radius – the Craftsman 42" Turn Tight Fast Riding Mower embodies the company's new motto: "Kicking Grass and Taking Names" to a T. You see, the new Craftsman 42" Turn Tight Fast Riding Mower harnesses the power of a beefy two cylinder 724cc Briggs & Stratton Platinum engine to produce 22 horsepower – making it ideal for homeowners with over sized yards and undulating terrain. While push mowers are sufficient for small lawns with little to no hills at all, when it comes to big yards with daunting hills, you need something with more power, a bigger cutting deck and the agility to navigate tight spaces and obstacles.
To fill that checklist we bring you the new 22 HP 42″ Turn Tight Fast Riding Mower from Craftsman. Recently we were given the exciting opportunity to test this 22HP speed demon on our own turf over the past month. As an owner of several hand-me-down lawn tractors over the years it was a blessing to be able to put a shiny new rider through the paces on some unforgiving terrain.
For a up close look at the Craftsman 42″ Turn Tight Fast Riding Mower from every angle, take a peek at the embedded video below…
Key Features: 
Cruise control option.
Automatic transmission.
10 location adjustable cutting deck.
Attach a snow thrower or snow blade for year-round utility (sold separately)
Four cycle 22hp Briggs & Stratton Platinum engine means no mixing oil and gasoline.
7.5 MPH top speed.
6 inch turning radius.
Integrated cup holder.
Cuts while in reverse.
The frame is stamped steel with a cast iron front axle for long lasting durability and reliability.
The frame and front axle come with a 5 year warranty; there is a 2 year overall warranty on the tractor.
Throughout testing we put more than 80 hours on this riding mower to fully test its merits on the turf. Not only did we test it across smoothly manicured lawns and perfectly landscaped yards – we also tested it for traction on some serious grades and unforgiving terrain. In dry conditions and wet, during the day and at dark. We threw everything we could at this mower, and today we're excited to share our opinions. Enjoy…
Craftsman 42″ Turn Tight Fast Riding Mower Review Breakdown
Design:
From the outset the Craftsman 42″ Turn Tight Fast is by far one of the best looking riding mowers we've ever laid eyes one. Its classic Craftsman Red pant job and aggressive lines look down-right fast – even when the mower is sitting still. A welcome upgrade from the traditional riding mower your dad, and his dad tooled around on for all those years.
Beyond its stellar good looks, this riding mower is also outfitted with all the bells and whistles you could ask for, starting with an hour meter on the dash to keep track of maintenance intervals, an adjustable seat, headlights for early morning or late night lawn care and best of all… an integrated cup holder. Yes, we said it… this mower comes equipped with a built-in cup holder! While we could go on and on about the 42″ cutting deck that adjusts at 10 different heights, or its 6″ turning radius, or the fact that this riding mower can mow in forward and reverse. At the end of the day, the cup holder is the design feature we utilized the most and was praised by anyone who tested this little tractor. I think one of our reviewers said it best… "like a best friend, the Craftsman cup holder is there for you when you need it."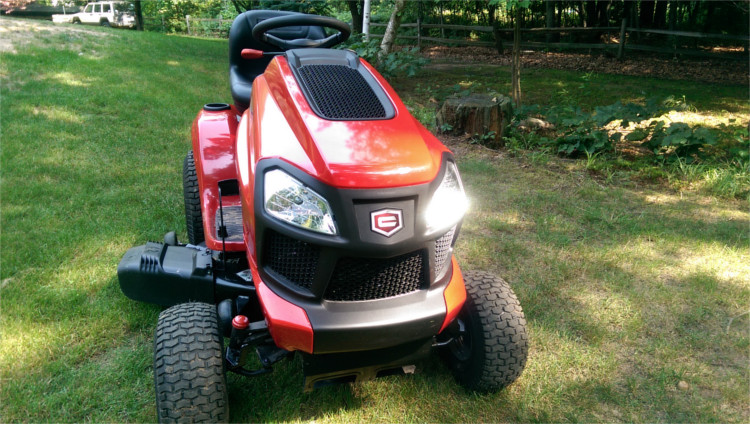 The only drawback we can point out is the woefully under powered reverse gear… it's painfully slow. I'm sure this is a safety feature (which we'll talk about more soon), but seriously, can we get a little more speed? At 2.9 MPH you won't want to use reverse much if you don't have to. After about 30 hours into testing we all but forgot about reverse and kept the tractor moving forward as much as possible.
Operation:
After checking the oil (suggested before every cut) putting this riding mower to work is as easy as turning a key and the Briggs & Stratton Platinum engine purrs like a kitten! Throughout testing were truly impressed with the intuitive controls and easy operation that Craftsman put into this mower. To start from cold, simply hold down the brake, put the speed lever into the "choke" position and turn the key over. Once she kicks over and begins to run, throttle back to "full power" and let it run for about a minute. Once you've had the mower running for a minute it's ready to do work.
At this point the tractor is read to devour some grass. A few things you'll want to dial in straight away is the deck height, travel speed and cutting pattern. To be honest it all takes a few tours of your yard to get perfect, so we suggest you experiment with different speeds and patterns until you find the perfect fit for your yard. As for the deck height, that's a personal preference. With 10 different setting it can be a daunting task, we suggest starting high and easing your way lower as needed. Luckily Craftsman has outfitted the deck lever with an adjustable red indicator so once you find the perfect cutting height you can set the indicator as a quick reference reminder for yourself or anyone else who might be cutting the lawn.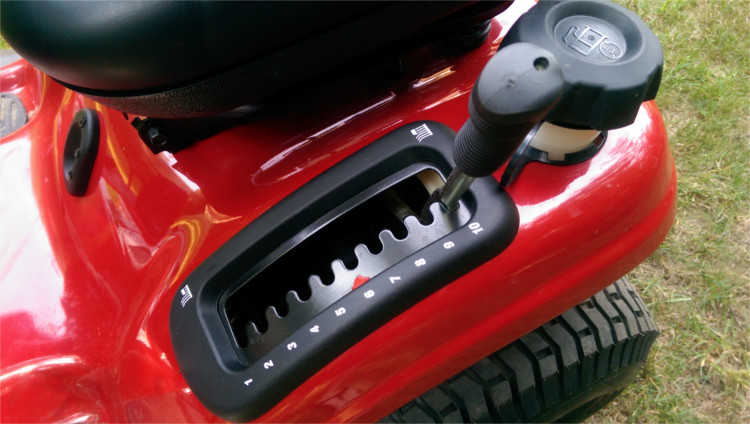 To engage the cutting blades there is a lever located just above the steering wheel, push this lever up and the dual blades will begin spinning. There is also a cruise control setting located under the steering wheel. We didn't have much use for it where we were testing, but could see it being a very useful feature for homeowners with XXL sized lawns.
Additional Images:
Safety Features:
When it comes to operating machinery, of any kind, safety is the name of the game and Craftsman hasn't skimped-out in this department one bit. For example, to start the mower you must have the parking brake engaged. This prevents run-away tractor accidents. To put the mower into drive you must be sitting on the seat. The tractor seat has a weight sensor in it, if someone isn't int the seat, it won't run. Additionally, there is a locking mechanism just above the rear axle at the rear of the mower which allows you to lock the axle during transport. If you plan to tow this puppy around town it's a great safety feature to have.
It's safety features like this that can be a little annoying when you need jump off the tractor to pick up a fallen tree limb and the whole mower shuts down, but it's safety features like this that in the long run will save you from yourself. So embrace them!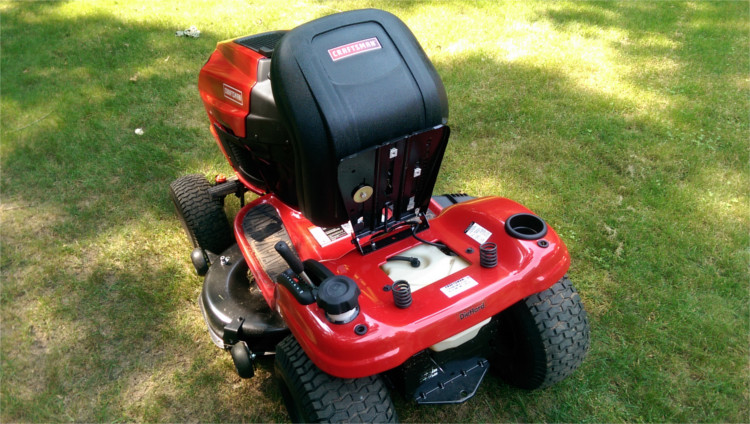 Performance:
With a 42″ cutting deck, this riding mower makes short work of most lawns. The dual cutting blades mulch incredibly well and deliver a crisp cut that is razor sharp. Take a look at the image below to see the inner workings of the mower including the blades and cutting deck.
While the cut is exceptional, another impressive performance feature is that 22HP Briggs motor. It's a bruiser, and is capable of handling some steep inclines with ease. The tires grip well and put the power to the turf even in damp or dewy conditions. And as far as gas consumption goes we were pretty happy all-in-all. With a 3 gallon capacity, on average we got about 2 hours of cutting time out of a full tank. That's nothing to write home about in our book, but ends up being pretty efficient overall.
Maneuverability:
We're happy to report the 6″ turning radius that Craftsman brags so boldly about on their Turn Tight line of mowers is no joke! This lawn tractor is by no means a zero-turn mower, but it does in fact turn on a dime – making post-mowing edge trimming and weed wacking all but a distant memory. When it comes to maneuvering around trees, bird baths and other tricky landscaping, the Craftsman 42″ Turn Tight Fast Riding Mower handles it surprisingly well. With a turning radius of just 6 inches this riding mower makes turns that are 66% tighter than the competition. If maneuverability is a sticking point for you, this tractor is for you.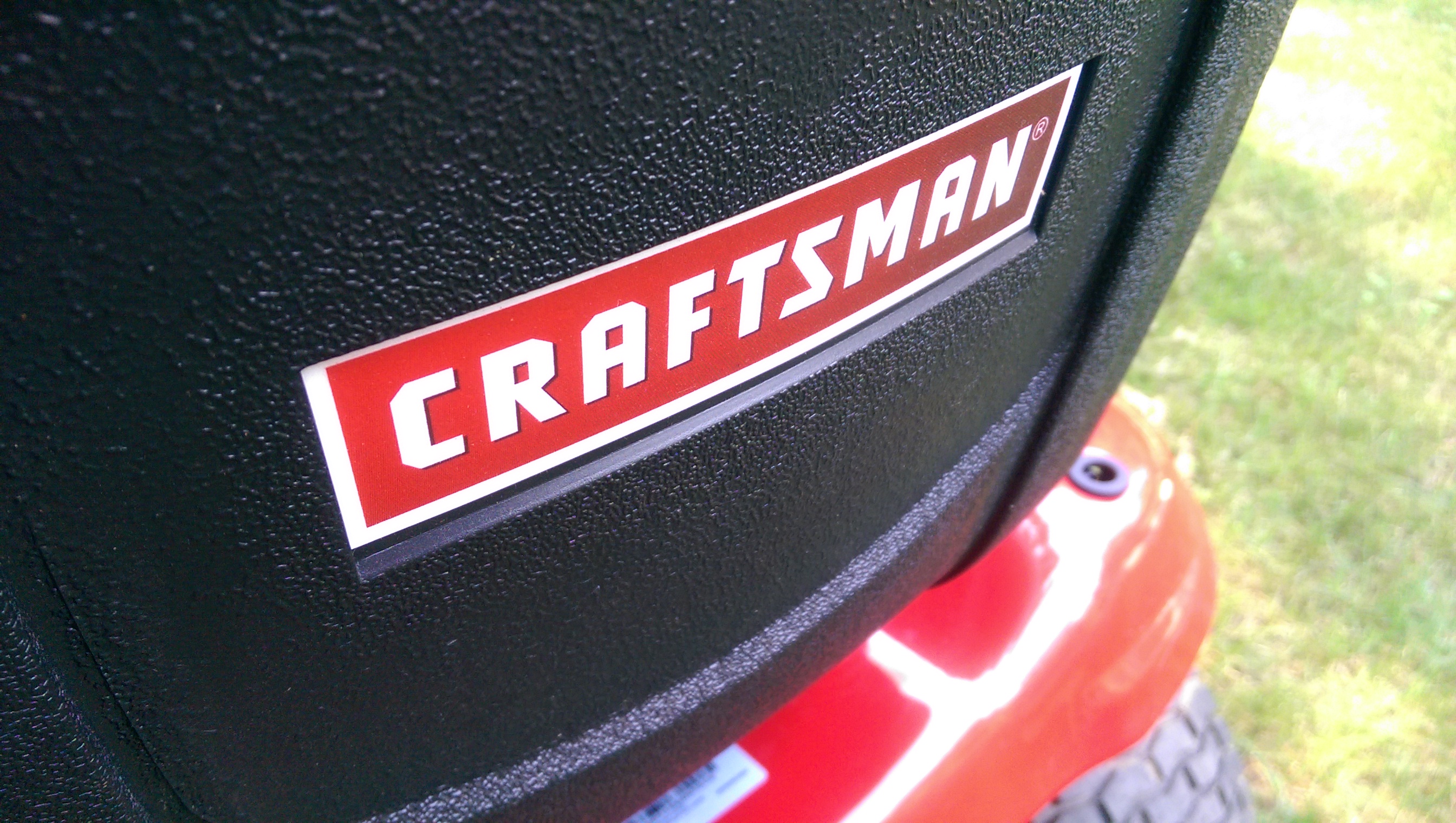 Value:
Priced between $1,500 and $2,000 online and in stores this riding mower would be considered a serious purchase for any homeowner. Not everyone can just throw that kind of money around. That being said, throughout our testing Craftsman 42″ Turn Tight Fast Riding Mower proved to be everything we expected and more. We could have used a little more juice in the reverse gear, but besides that, this riding mower turned out to be an excellent value.
Craftsman 42" Turn Tight Fast Riding Mower
Without question, we highly recommend this mower to anyone who is looking to upgrade or even purchase their first riding mower. It's a solid machine that comes with an impressive warranty, the rock solid Craftsman name and safety features that'll give you piece of mind. Okay, so that's how justify this purchase to that penny-pinching banker in your head, but what you really need to know is that this mower is a beast! We're talking 7.5 MPH top speed, a 6" turning radius, a fully integrated cup holder and a 22HP Briggs & Stratton power plant. If you're shopping around for a new riding mower this Summer and you don't consider the Craftsman 42" Turn Tight Fast Riding Mower you are making a mistake - this riding lawn mower preforms like a champ and looks just as good parked in the garage as it does out in the yard making turns and all of your neighbors green with envy.
The Good:
Impressive Power and Traction
The 42" Cutting Deck Makes Short Work of Large Yards
Gotta Love that Cup Holder!!