Outfitted with Braun's new state-of-the-art CoolTec technology, this electric shaver is engineered to deliver a smooth shave that is cool to the touch while erasing irritation. The science behind the new Braun °CoolTec shaver is its innovative Thermo-Electric-Cooling system (formerly used in the construction of spacecrafts and satellites) which actually transfers heat away from the shaver head and at the same time cools your skin.
If you've ever trimmed your whiskers with an electric shaver, you're well aware that irritation and excessive heat buildup are two of the biggest downfalls to this method of grooming. In 2013 and beyond Braun is attempting to change that with what they're calling "the most technologically advanced dry shaver in the world". You might think that's a bunch of hype coming from the company that designed, built and is marketing the product, and usually we would too, but recently we were given a chance to fully test and review the CoolTec over the course of a month and come to our own conclusions.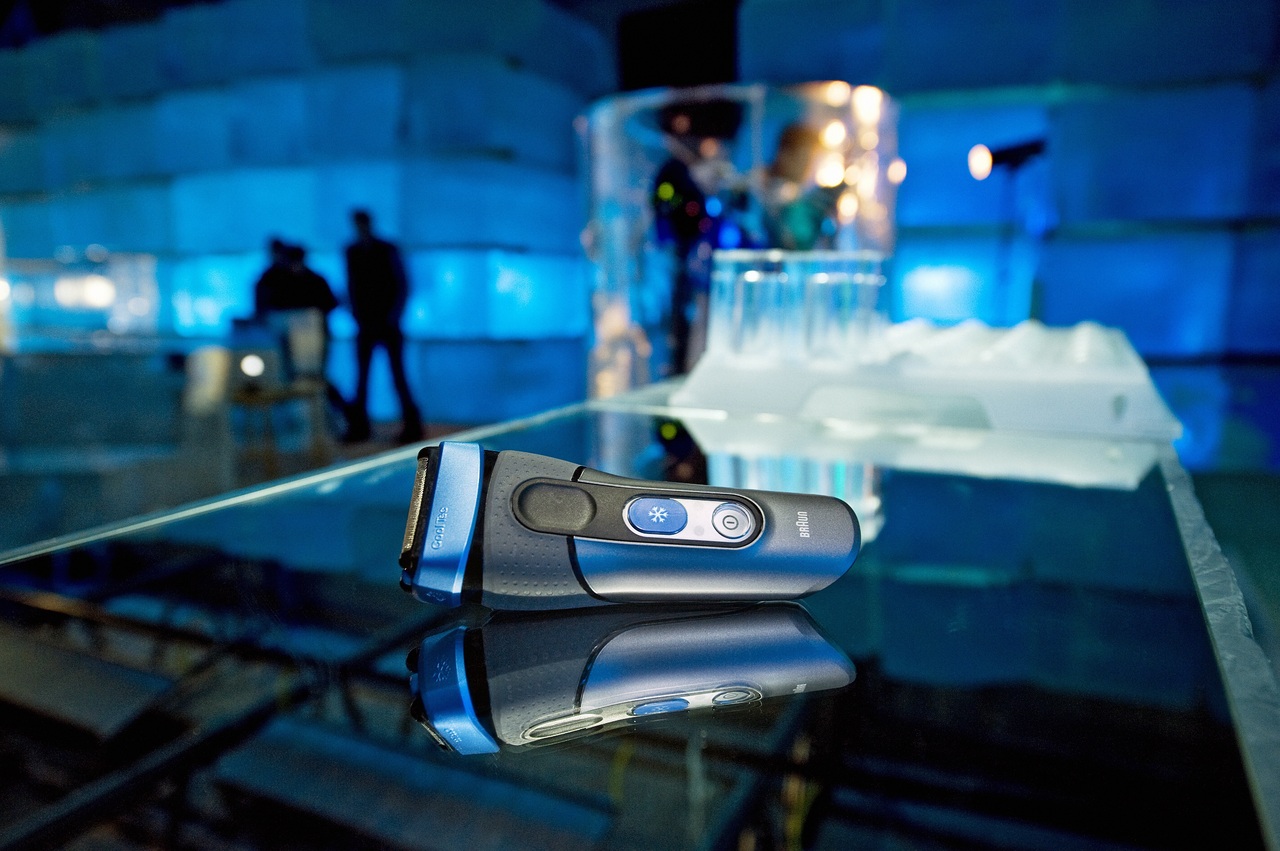 Before we get the to meat and potatoes of this review here's some exciting features you'll want to take some time to digest…
Braun CoolTec Key Features:
Active cooling technology – Automatically cools and calms the skin while you shave to minimize skin irritation.
Triple action cutting system – Twin foils and an integrated middle trimmer shave progressively closer.
Middle Trimmer – Lifts and cuts flat-lying hair.
Optimized cutting elements – Braun's proprietary cutting elements, optimized to give outstanding closeness and skin comfort.
Wet & Dry technology – for a refreshing shave in the shower.
Battery Indicator
Running/Charging Time
Attachments:
Travel Storage Pouch
Charging stand
Charging cradle
Oil bottle
Not only did Braun pack a ton of tech features into the new CoolTec, but they also took the time to pay close attention to the design details and functionality.
The launch of °CoolTec is far more than simply the latest Braun innovation; it's quite possibly the most technologically advanced dry shaver in the world. CoolTec's elegance is not limited to its state-of-the-art technology. From the meticulous craftsmanship of the dual zoned, rubberized grip area to the enduring strength of its ergonomic handle, the dynamic design is the perfect balance of quality, functionality and aesthetics that will change the way men dry shave. -Michael Kewley, Marketing Manager of Braun
– Braun CoolTec Review – 
Design: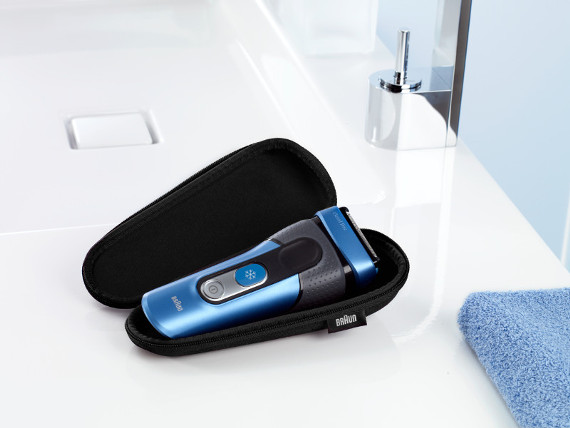 The design of the CoolTec is obviously more complicated than most electric shavers, but Braun has done a fantastic job of making it look and function in a simplistic manner. By simplistic I mean that it's ergonomic, easy to manipulate for shaving and doesn't have too many buttons to clutter up everything. This shaver is everything it needs to be without going over-board. Even the controls were easy to understand and use without having to peek at the instruction manual. A few key design elements that caught my interest throughout testing were of course the cooling system (more on that in a bit) the integrated travel lock and the CoolTec's base charger which also self-cleans the shaver.
Additionally, from a completely ascetic standpoint, I would like to say that this shaver just looks damn good. Either on the counter top or resting in the charging base the CoolTec is a handsome piece of grooming equipment.
Shave: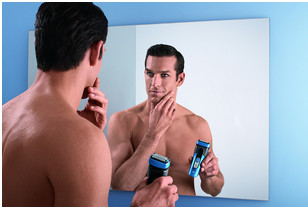 Overall I was extremely pleased with the shave the CoolTec delivers. After the initial break-in stage of 2 or 3 shaves I became once again very used to shaving with and electric shaver (it's been years since my last dry shave). Shaving with the CoolTec proved to be quick, easy and stubble-free. I've been shaving with lather and razors for over 8 years now and have never looked back to my old clunky electric shaver from college, but after spending some quality time with the CoolTec i'm back on the electric bandwagon.
The only reason I held back from giving it a 10 out of 10 in this category is because I did experience trouble trying to shave my neck. If the face took 2 minutes to shave the neck seemed to be almost double that. The contours of the neck have always been trouble for electric shavers in my experience. The CoolTec handled my neck better than previous electric shavers by far, but was a bit of a detractor in the grand scheme.
B-B-B-Bonus: on the back side of the CoolTec is a trimmer. Great for longer beards, sideburns etc…
Cooling: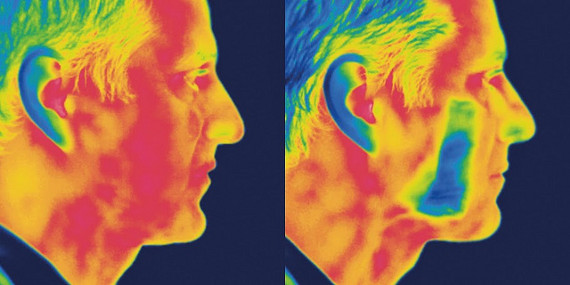 When Braun told me their CoolTec system would actually cool my face as I shaved I was a bit skeptical. I thought yeah maybe at first, but not for the length of 5 minute shave. I suppose I didn't fully understand the technology at first, but now after spending a little more than a month shaving with it I can attest that this is by far the best feature of the shaver. It's actually amazing how well the cooling bar works to keep both your face and the shaver head cool throughout a shave. Heat is a main contributor to irritation while shaving with traditional electric shavers, this is a fact. With the CoolTec, heat is reduced to nothing and it actually delivers an icey smooth feeling with every stroke.
If you think i'm exaggerating here, you're wrong. Check the images above… Braun's CoolTec shaver is the real deal!
Value:
At nearly $200 it's hard for me to call the Braun CoolTec a bargain, because it's simply not. This shaver is a serious piece of technology and commands a high price – there's no way around it, but if you consider all the savings you'll accrue over time on those ridiculously priced replacement heads for disposable razors it all adds up in the end to be a pretty smart investment. All things considered I think it's fairly priced and you're getting what you pay for, but it's not an easy pill to swallow.
Braun CoolTec Shaver: A Grooming Review
Weather you're a seasoned user of electric shavers or looking to make the jump from disposables, the Braun CoolTec electric shaver is king of the mountain in my opinion. Its design is simple to use, comfortable to hold and locks down into a nifty "travel mode" to avoid disturbing vibrations coming from your carry-on at the TSA checkpoint. Every time I use this shaver i'm always impressed with the CoolTec system and its ability to keep irritation at bay and deliver a silky smooth shave in a matter of minutes. If you're looking to replace your old electric shaver or buy your first I truly recommend the CoolTec from Braun. It has made me (a razor user) a true believer in electrics once again.