Life sure can be complicated to manage these days! In a culture where we're constantly on the move and our schedules fill up fast, new and creative ways to make our routines a little easier can make all the difference. For the last few weeks, we prepped for our days using the Norelco Shaver 9700 by Philips to see if we might just be able to make things a little easier on ourselves.
Key Features / Specs:  
V-Track blade system PRO
8-direction ContourDetectHeads
AquaTec Wet & Dry
Sensitive-Normal-Fast settings
Precision Trimmer and Travel Pouch Accessories
SmartClean PLUS (Cleans, Dries, Charges, Lubricates, Cleaning cartridge (included)
Battery and Cleaning Indicator Display
Fully washable
Ergonomic grip & handling
Lithium-ion Battery (60 min / 20 shaves)
2-year warranty
Norelco Shaver 9700 Review Breakdown
Design:
This shaving device is quite well put together. It's got a really slick look, clean in its appearance, but not overly complicated or flashy. The rubber grip is designed to be optimal for ergonomics, and we were quite satisfied in our ability to maneuver the shaver every way we needed during our shave while maintaining a reliable grip.
The multi-level display is easy to see, with readouts that indicate everything from power level, if cleaning is needed, travel lock, and if a replacement shaving unit is needed. Not only is it easily to read, the display is touch activated. Its not always on and wasting power, and the user needs only to pick up the shaver to read the display.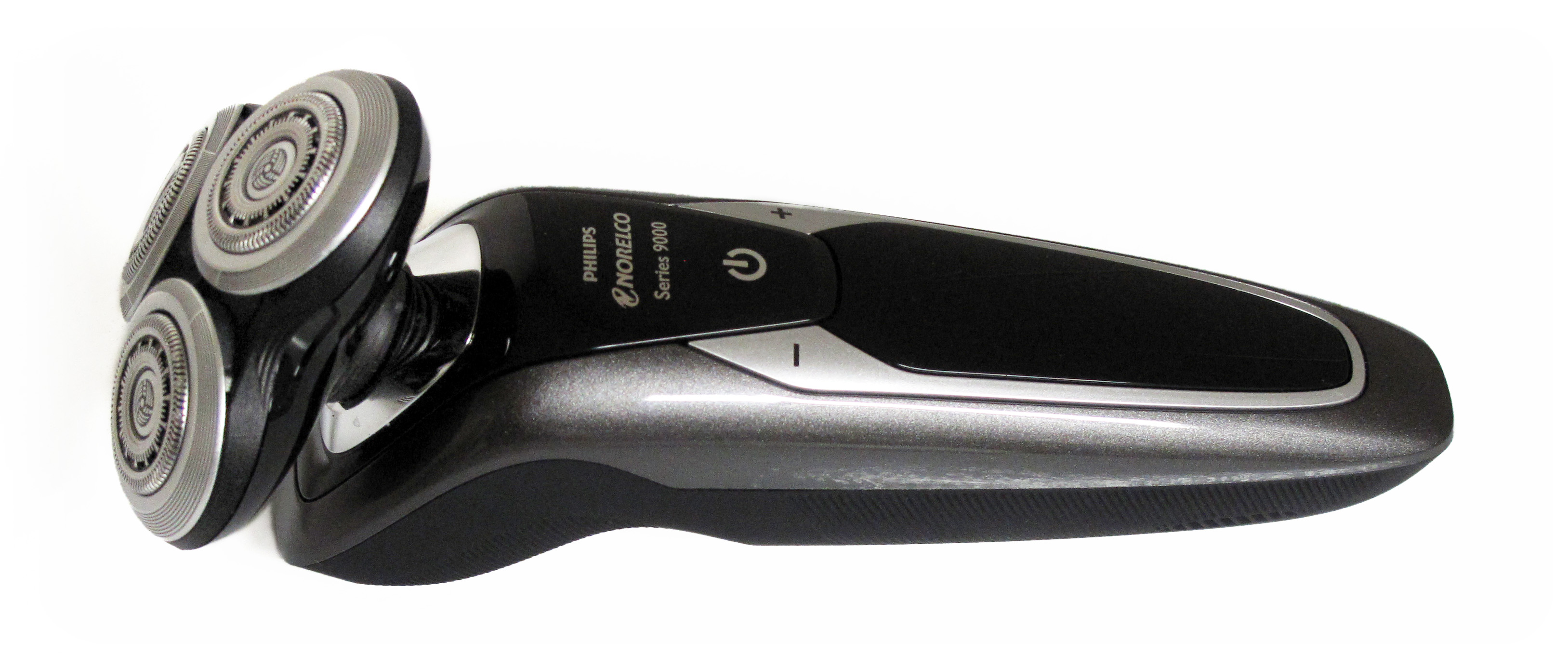 The shaving unit itself is well crafted with the best possible shave in mind. The Contour Detect Technology of the Norelco Shaver 9700 allows for the three heads to move independently with the contour of the face in 8 possible directions. The V-Track Precision Blades within the unit don't only provide an incredibly close shave, but also collect the hair during the process as well, making the after-shave cleanup a breeze!
The Norelco Shaver 9700 comes with a SmartClean Dock, one cleaning cartridge, a travel case, and a smart click trimmer for perfect mustache and sideburn trimming. The smart clean dock has its own readout displays for cleaning and charging that are lit well and easy to read. It does take up quite a bit of counter space and needs to be placed within a cords length of an outlet to be used, so be prepared for limited options on where to keep it. We would have also liked to have a place to dock the trimmer while not in use, but instead it has to be stored separately.
Shave:
The 9700 has 3 speed settings available, so the you can customize your shave. There's sensitive for a gentle yet thorough shave, normal for a thorough everyday shave, or fast for a quick shave that saves on time. On top of these available settings, this shaver can handle pretty much any shave of the user's preference. You can go dry, use water, foam, gel, oil, you name it. This shaver will do the job.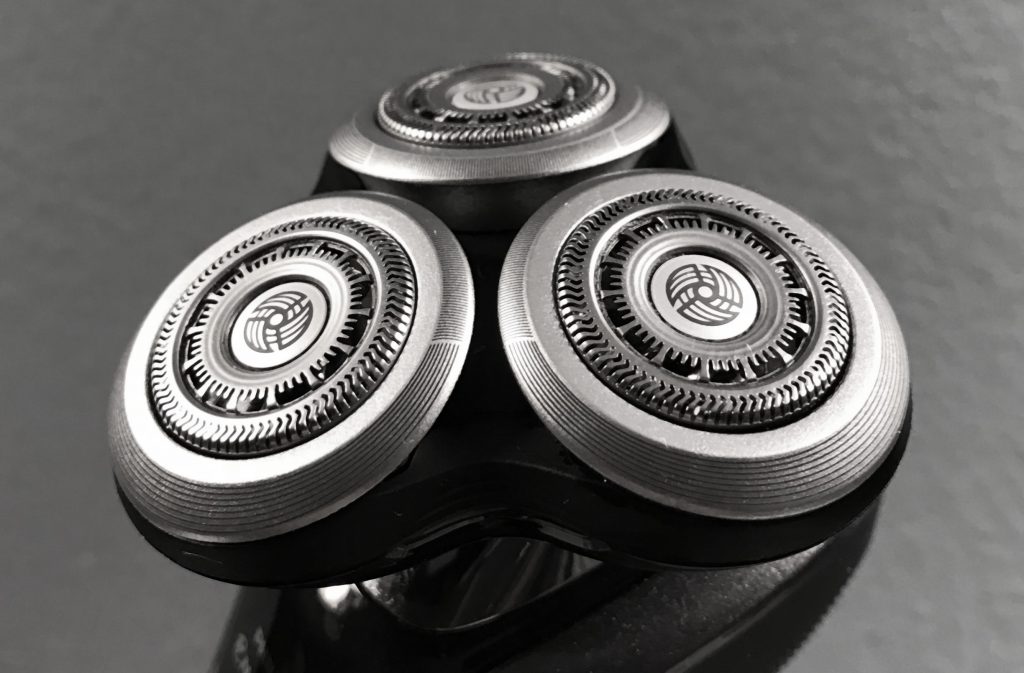 While we were genuinely impressed by the closeness we were able to achieve with this electric shaver, we must admit that no matter what setting we used it still took approximately double the time as a traditional razor shave. We did have to go over areas of the face multiple times to get every last hair, especially on those days after we skipped a shave. However, We were able to achieve the closeness of a traditional shave consistently with little worry of razor burn, and the use of after shave lotion has become more of a choice than a necessity.
Maintenance: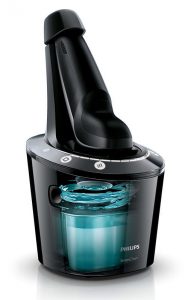 Our shave now complete, care and maintenance is impressively user friendly with the Norelco Shaver 9700! As we've mentioned, hairs are collected within the shaving unit, and emptying it out is as simple as popping off the V-Track blade system and running water through it. It doesn't require any additional oil treatments on a daily basis, which is nice.
For a more thorough cleaning, all it takes is the push of the button on the SmartClean Dock. The SmartClean system cleans, lubricates, dries and charges the shaver to keep it performing at its very best. The process in its entirety takes a little over 4 hours, so don't expect to use the shaver any time soon after starting a cleaning. It also makes a good amount of noise at random times during the preliminary cleaning process which takes around 15 minutes. It was audibly noticeable from across the house in our case, so don't start it while anyone is trying to sleep, and be prepared to explain what's making that weird noise should you decide to clean the unit while entertaining company.
The shaving unit and cleaning cartridge will also need to be replaced on occasion. The time between changes will of course vary depending on how often you use the shaver, but Philips estimates about one year between unit changes.
Did We Mention?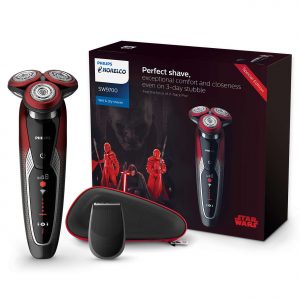 There is a Star Wars Special Edition Model of the Norelco Shaver 9700. Now nerds everywhere can get behind their favorite movie franchise while looking dapper with the cleanest of shaves. Combining the already sleek design with The Empire's colors and markings on the multi-level display, The Force is strong with this one!
Value:
This is one of the the most advanced and closest electric shaves on the market, and the price tag reflects that. The cost of the Norelco Shaver 9700 is definitely is definitely a hefty one, and with the added expense of shaving unit replacements and cleaning cartridges, staying well groomed does come at a cost with this particular product. However, if you have the cash to burn and you require the very best, look no further!
Buy Now: $314.99 or to learn more, check out: Philips.com
Norelco Shaver 9700 - Tech Review
The Norelco Shaver 9700 is convenient, user friendly, and will provide the closest shave you'll ever find in an electric razor. The design is near flawless in terms of ease of use, reliability, and care. If you're looking for a way to lighten the load on your morning routine, we may have found the tool you're looking for!
The Good
Impressively Close Shave
Easy Maintenance
Customizable for User's Needs
The Not-so-Good
Takes Up Counter Space
Cleaning is Noisy and Takes Time
Pricey