When you think snowshoes, you think Tubbs – a company that has been a leader in the snowshoe market segment since 1906. Many companies, such as MSR and L.L.Bean, offer snowshoes, but winter walkers are not their core competency. Tubbs exclusively designs and manufactures snowshoes (and the associated accessories like gaiters and poles). From lightweight and flexible ascent hikers to mellow woods trail floaters, Tubbs designed it. Through years of R&D, fine-tuning, and integrated partner products (like the famous Boa system), Tubbs is a top choice no matter what style you're after.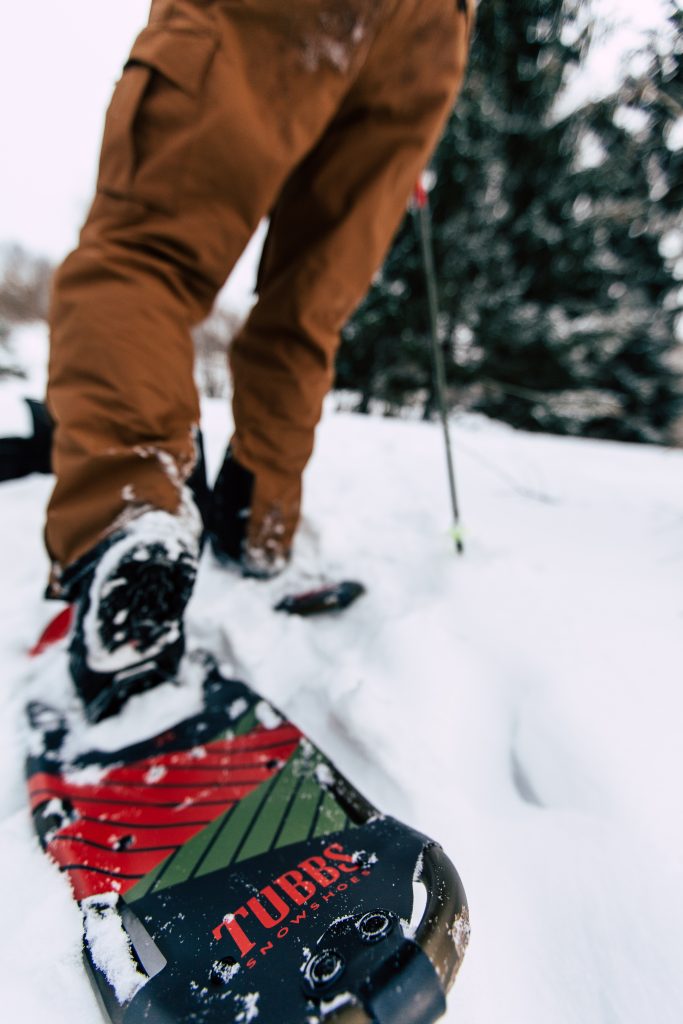 The Tubbs Wayfinder Snowshoes are part of Tubbs new trail walking collection. Designed with quick entry and multi-terrain functionality in mind, the Wayfinders land right in the middle of Tubbs lineup. Not too technical, or too beginner focused, they are a fantastic casual snowshoe that will rise to the challenge when the big mountain ascent beckons.
Key Features:
Boa closure system

Recreational carbon tipped crampons

Rotating toe platform for easy movements

Upturned tail for easier descents

Flexible decking for varying snow conditions

Dedicated left & right foot fit

Lightweight frame
Specs:
Three sizes: 25in  // 30in  //  36in

Weight/Pair: 3.9lbs // 4.3lbs // 5.6lbs

Optimal Load: 120-200lbs // 170-250lbs // 220-300lbs
Tubbs Wayfinder Snowshoe Review Breakdown
Style & Design:
With bold colors and subtle camo accents, Tubbs designed this pair of walkers to stand out. The Wayfinder snowshoes are a tribute to Tubbs' experience in the industry. With unmatched build quality and a multitude of performance-enhancing features, this pair is impressive right out of the box (yes, before even touching the snow!).
After a first overlook, Tubbs' attention to detail and commitment to longevity is very obvious. From reinforced rivets to vinyl wrapped, flexible anchor points, the Wayfinder walkers will have a spot in your lineup for years to come.
While this pair falls into a more traditional design category (metal frame with a vinyl deck), these aren't your dad's snowshoes. The Wayfinders are packed with modern technology. You'll find an updated decking material that is as flexible as it is durable and the famous Boa closure system that allows for one-handed tightening and loosening of equipment (more on that later).
Control & Traction:
While Tubbs classifies the crampon component of the Wayfinders as recreational, they sure held in place on every incline I tried them on. While the teeth are a bit stubbier and less sharp than some of Tubbs' other offerings, the Wayfinders still bit into ice and snow with ease holding steady as I inched my way up steep inclines. Trail sections that I would normally dread or work my way around, I found myself turning into with confidence. Additionally, the Wayfinders were completely stable on side hills as well. Due to the diamond-shaped pattern of the crampon teeth, any lateral movements were a walk in the park.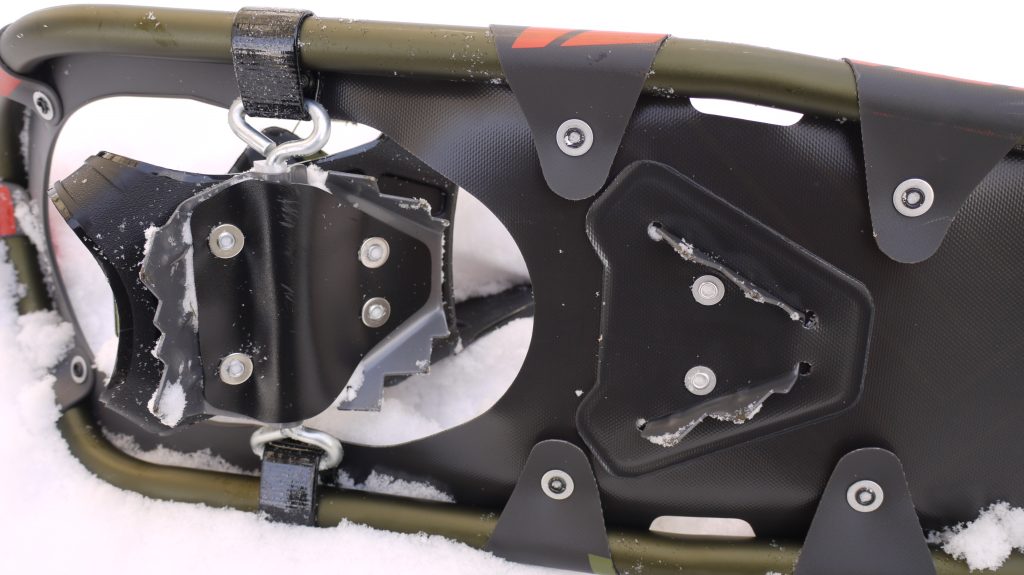 My main gripe with these snowshoes is descents. Although the rotating footbed/crampon component is great for walking on level ground and inclines, it made descents a bit more challenging than I'd like to admit. When descending, because of the rotating footbed, the tail of the walkers hits the snow first. This results in a fair bit of sliding before the crampon teeth find their way to the snow. With that said, despite a lower confidence on descents than ascents, the Wayfinders still guarantee that you'll come to a stop unlike a pair of unassisted hikers. I'd take a bit of slide while descending any day over the limited traction of hiking boots.
Adjustability:
Tubbs nailed the adjustability on the Wayfinders. Out of the box to perfect fit of both of my Salomon GTX mid ankle hikers took less than 5 minutes – yes, it's that easy. Pair the famous Boa closure system with Tubbs' simple snap-fit heel strap, setup is a breeze and switching to a different boot is even easier (since you know exactly what to do the second time around).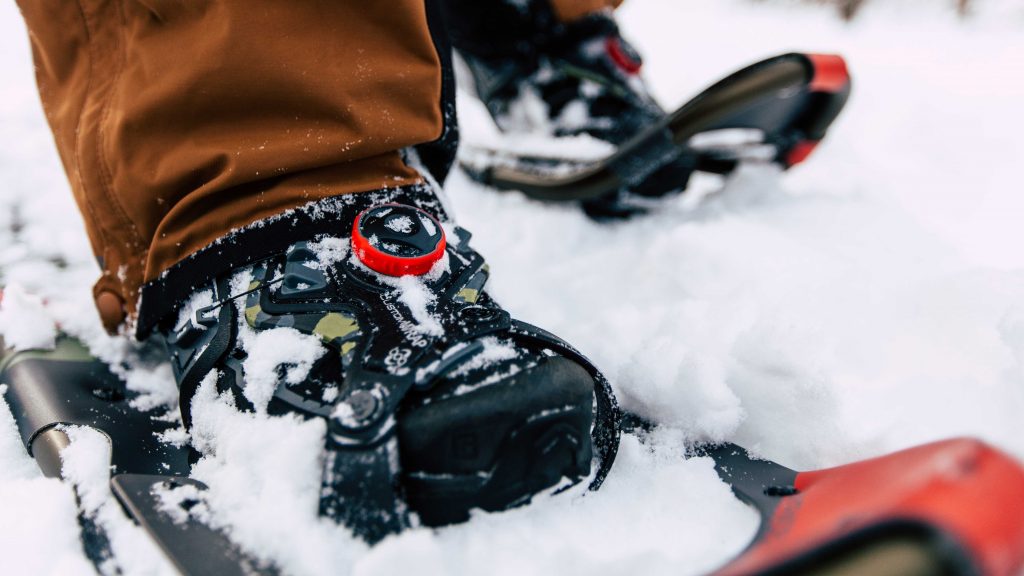 Of course, there will be some fine-tuning as you get out and walk around with your Wayfinders, on the fly adjustment of snowshoes has never been easier. Climbing a steeper incline? Crank the Boa wheel a bit more. Taking an easy stroll with the snow-loving pup, pop the Boa wheel up and let out a little slack.
Value:
At $189.95, these snowshoes land in the middle of the price range amongst other competitor offerings. In my opinion, a very reasonable price for a feature-packed pair of winter walkers from a trusted manufacturer.
If you're only getting out to snowshoe once a season, these bad boys might be a bit much for such light use. For the casual winter hiker, trail walker, or fella with a lot of snow-covered land, these are a perfect choice – they won't break the bank and punch above their weight.
Buy Now: $189.95 or to learn more, go to Tubbs.com
Tubbs Wayfinder Snowshoe - Gear Review
At $189.95, these snowshoes are featured packed with no frills. They are easy to get on, handle trail walks to day hikes, and are relatively lightweight. You get what you pay for with the Tubbs Wayfinder snowshoe.
The Good:
Lightweight
Easy to Setup/Strap On
Handles Versatile Terrain
The Not So Good:
Could Be Better On Decents
Surface Finishes Easily Scuffed