Back in August TaylorMade released their SLDR driver which has quickly become a #1 seller and opened to rave reviews. As a companion piece TaylorMade has released five SLDR fairway woods and four SLDR rescue clubs. The folks over at TaylorMade recently sent over their new SDLR rescue club for our testing team to try out. As golf technology continues to evolve, more of us have started to remove long irons from our bags and replace them with rescue or hybrid clubs. They are designed to bring versatility to your bag and your game. Similar to the SLDR Driver, the rescue club combines a low and forward center of gravity placement, a recent TaylorMade engineering feat wherein weight is re-located to the front of the head to promote faster ball speed, a higher launch angle and a lower spin-rate. Since a rescue club is designed to get you out of difficult locations on the course, we let our team hit the range for a bit but we wanted tried and true results from the course so we sent them out for multiple rounds to get an accurate feel for how SLDR rescue clubs can help your game.
Click to Enlarge:
Improved Speed Pocket design allows further-forward CG for increased ball speed
Exceptionally low-and-forward CG location promotes faster ball speed and lower spin
Compact head size and shallow face for easy launch and playability from every lie
TaylorMade loft-sleeve technology allows ±1.5° loft change
Charcoal-gray crown and titanium-gray high-contrast face for easy alignment
High loft options work with low-forward CG to promote high launch and long carry
SDLR Rescue Review Breakdown
Design: 
The SLDR rescue combines two of TaylorMade's most recent innovations: Speed Pocket technology and a well placed low-and-forward center of gravity location.  Speed Pocket is a deep slot behind the clubface that allows the face to flex and rebound faster, increasing your ball speed and launch angle to boost your distance.  Designed to give you more control because your shots land on a steep angle and stop fast.  The newest edition of the Speed Pocket is designed a little smaller, which TaylorMade is saying should make it more efficient at increasing how fast the face flexes at impact, promoting faster initial ball speed across a wider portion of the face.  Given all these technological advances this club is designed to give you you consistently long distance and excellent control.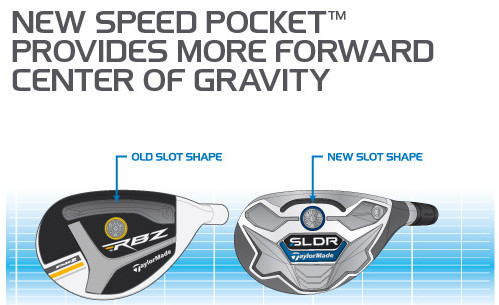 The second phase of the new design on the SLDR is the previously mentioned low-and-forward center of gravity location.  This new location is designed to allow for faster ball speed and a lower spin-rate. Given the center of gravity location it should allow players to increase their loft and get that ideal high-launch/ low-spin that delivers the good distance.  Also included in the design of the SLDR is the Loft Sleeve technology why allows you to adjust the loft 1.5 degrees up or down to find your perfect launch.
Finally, TaylorMade has never been a slouch when it comes to the aesthetics of their clubs and this beauty is no slouch either.  With a crisp and clean-looking charcoal-gray crown which is designed to contrast with the silver-colored clubface to make it easy to align the face of the club at address. It goes to show you that no feature went unnoticed on this impressively designed club.
Feel:
Feel on a rescue club can be difficult as the club is designed to replace other clubs in your bag.  If you are a golfer who is used to using low irons going to a rescue club, this can be a difficult conversion. However, the SLDR makes it an easy transition on just about any golfer.  Designed to be lightweight and well-balanced through the golf swing this club is just begging to be ripped.
Distance: 
TaylorMade has been really touting the extra distance the SLDR is adding to people's game.  When we took the club to the range we didn't notice a significant upgrade in distance compared to our regular hybrids, just about + 4.7 yards.  While any extra distance is good, where we really saw an increase is in those difficult shots on the course.  We placed balls in hard to hit out of areas or tricky angles on the course to see how this club performed and we were not disappointed.  Consistently we got better loft and control in comparison to similar rescue clubs we had on-hand.  Even some of the long iron testers enjoyed the ease of use of the SLDR, especially in the rough.  Overall, this club gets big marks for its consistency and the distance you achieve from hard to hit locations.  From dead center of the fairway the results were pretty similar to our other hybrids, but who hits from the fairway?
Forgiveness: 
Another top mark for TaylorMade SLDR in this category.  Using a rescue club often requires a great a swing to get out of some bad areas and finding that great swing every time you need it can be a challenge.  We really loved how this club performed and that we could still find the sweet spot even with having to adjust our swings to get out of those tight areas.  The versatility and the design of this club really shines when the going gets rough (pun intended).  We found the value of this club to be in the stroke reduction as we could get great shots out of the rough at a farther distance then we normally would.  Typically we could land on the green or set up ourselves up for a great chip shot.  Overall, you will be pleased with the forgiveness of this gem.
Value:
We here at Busted Wallet judge value on golf equipment on the cost of the equipment but also in relation to how it reduces our score on the course. It is great to have a driver that gives us an extra 10 yards of distance but if that distance doesn't translate it into stroke reduction then is it worth the extra money? This is a true stroke reduction golf club and is priced perfectly with the market for these clubs. Given the design and attention to detail on the SLDR this is a tremendous value.
TaylorMade SLDR Rescue Club: Range Review
Overall, the SLDR rescue club is a great addition and companion piece to the SLDR line. This club is what you have come to expect from TaylorMade, it is masterfully designed, well built, and can help improve your game. When you combine a great design process with a incredible technology you get an excellent club and that is what we have here. We believe this would be a great addition to anyone's bag. Also, with the holiday season coming up it would make a great gift for that special someone.