Engineered with Talormade's thinnest face yet and the introduction of "face slots", the new RSi Irons utilize a deep undercut and Inverted Cone Technology in order to promote greater ball speed in an attempt to minimize mis-hits. Results gathered by TaylorMade Golf from thousands of golf club fittings revealed that 76% of all iron shots are mis-hits struck outside the center of the face (where the fastest ball speeds are produced). This discovery led the company to the development of a revolutionary new technology, designed to improve consistency and distance.
Say "Hello" to the RSi family of irons. Available in three models RSi 1, RSi 2 and RSi TP these new irons from Taylormade were developed to get you on the green in fewer shots more often. With a net result of lower scores. Sound too good to be true? Well, before you make up your mind one way or the other – lets take a look as some of the new features that RSi brings to the table.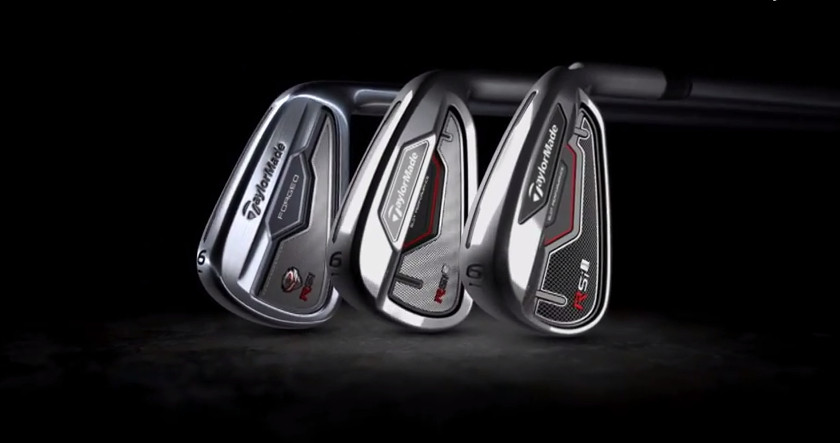 RSi 1 Key Features: 
NEW Face Slot Technology in the 3-8 iron:
Two slots located near the heel & toe of the clubface that provide uniform flexion across the face.

Protecting ball speed and generating more consistent distance on off-center hits.
Improved Speed Pocket with ThruSlot Technology in the 3-7 iron:
Provides ball speed protection on shots below the center of the face.
Increases launch angle and ball speed on all shots.
Advanced Face Design—our thinnest face, deep undercut and Inverted Cone Technology combined—promote maximum face speed.
Improved sound and feel through advanced construction & multiple dampening systems.
New Reax 90 steel shaft from True Temper helps to optimize ball flight for ultimate distance and performance.
"Face Slot Technology provides greater consistency across the face, giving players improved performance on mis-hits, no golfer is perfect, not even the best players in the world hit the center of the club every time. So with RSi, we're giving all golfers a technology that can help their mis-hits perform more like pure strikes." -Tomo Bystedt, TaylorMade's Director of Product Creation for Irons, Putters & Wedges. 
For an up close look at Taylormade's new RSi in action, check out the video below – in which Sean Toulon, Gary McCord and Dr. Mark Broadie of Columbia University breakdown the RSi 1, RSi 2 and RSi TP Irons in all their glory.
Both RSi 1 ($799 steel; $899 graphite) and RSi 2 ($999 steel; $1199 graphite) will be available to demo at select TaylorMade retailers on October 15, 2014. Sets (3-PW) can be purchased beginning on November 14, 2014. Individual gap, sand and lob wedges will be available in the RSi 1; while only gap and sand wedges will be available in RSi 2. RSi TP ($1199) will be at retail on January 15, 2015.
Have questions about the new RSi Irons? Head over to mis-hitshappen.com to learn more & join the conversation. On 10/15/14, Taylormade will be answering your questions at 6am PT / 9am ET / 2pm GMT…in the meantime, check out our FAQs.