Let's be honest, we're all looking for a little more distance, accuracy and consistency off the tee…  am I right? While there are a lot of marketing campaigns that will lead you to believe that every new driver that hits the market will deliver exactly what you need, that simply can't be true. Depending on your skill level, handicap and swing speed there is a perfect driver out there for you. It just takes time and money to find it. That's why we take the time to test the equipment hands-on and ignore the hype.
Over the years we've tested a lot of equipment from TaylorMade. While their clubs traditionally have a lot of hype surrounding them, we've actually found their drivers and irons to be very impressive. And this season we're taking on one of their newest drivers – the M1. This driver features a ton of technology and some pretty awesome specs. Over the past two months we've gotten to know this driver intimately. Througout out our testing sessions we've hit more than 1,500 balls, landed in more than 20 bunkers and hit hundreds of fairways. Now that we're finished testing it's time for the official review. And here's what we learned…
Key Features:
Carbon Composite Crown
Personal Fit System: featuring loft sleeve and T-Track
Multi-Material Construction
Available in 2 head models (460cc and 430cc) and 3 after-market stock shafts.
Testing Specs:
9.5° loft
460cc head
Fujikura Pro 60 (stiff flex) shaft
TaylorMade M1 Driver Review Breakdown
Design:
Ascetically, this wasn't one of our favorite drivers to look at. The two toned crown takes some time to get used to and in our opinion isn't nearly as handsome as previous TaylorMade drivers. But after a few sessions at the driving range our eyes adjusted and the complaints about the crown were rarely brought up again.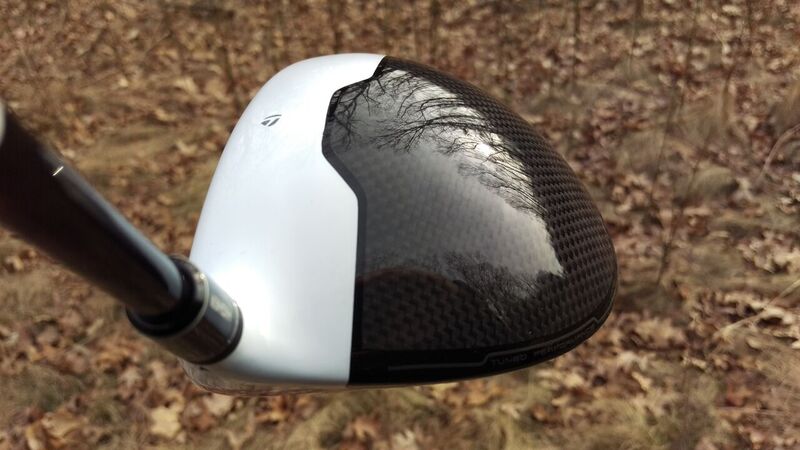 Beyond the physical looks of the M1, this driver has a lot going on. Starting with the carbon composite crown which was designed to lower the overall weight of the club and up your swing speed. Then you have the T-Track system integrated in to the bottom of the club head. The T-Track features two movable weights that allow you to tinker with fade/draw and higher/lower launch angle and spin RPM. You can also adjust your loft up to four degrees utilizing the loft sleeve. To say this is an adjustable driver is an understatement. However, if you really want to get the most out of the M1 you're really going to need to spend some quality time on the driving range. This is not a club to be tinkered with on the golf course. Put in the work on the range, make your adjustments and you'll be prepared for the links.
Overall, we dig the design and engineering that has gone into the M1. It's kind of amazing really, the only flaw we can really point out is the adjustment time it take for some players to get used to the two toned crown.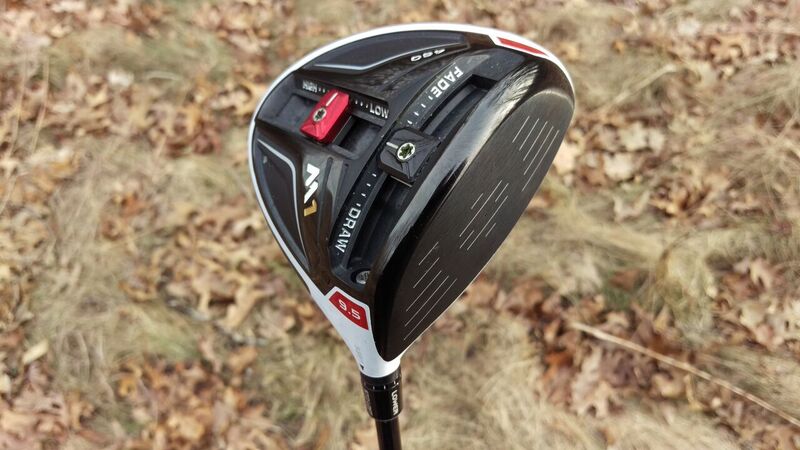 Feel: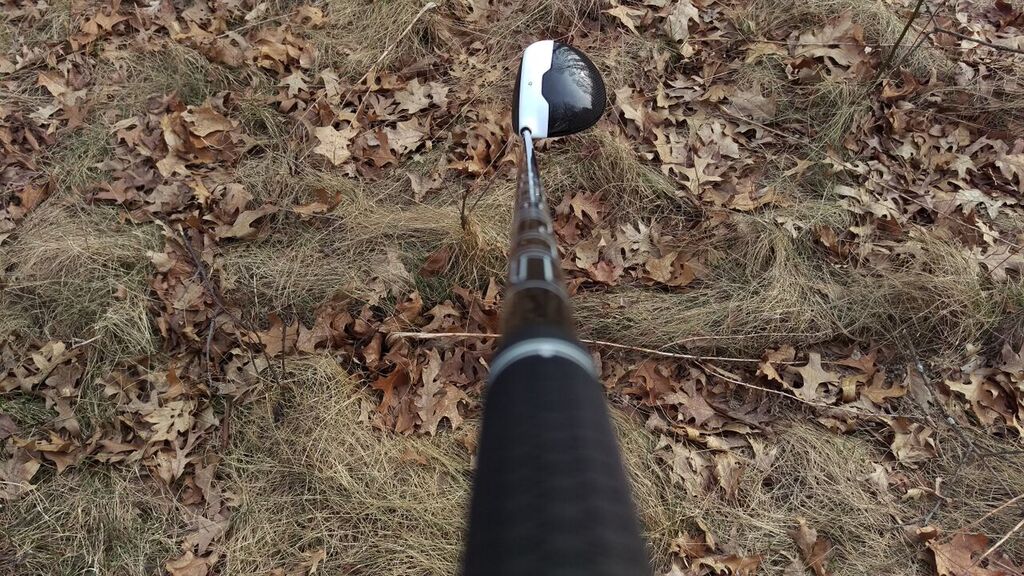 Obviously 'feel' is a very personal and subjective category, but we think it is important to address it in our reviews of golf equipment and at least let you hear our opinions.
Anyways, the M1 has a nice weight to it. In your hands it feels balanced and incredibly quick. Through the golf swing the M1 is a dream. This club feels very aerodynamic and stable through impact. The stock grip is also nice. However I did choose to upgrade to a larger diameter grip. Overall, from a feel perspective, our crew didn't have any complaints about the M1.
Distance:
This is a great driver with a ton of adjustability, but we wouldn't say it is the longest driver out there right now. It's above average for sure but didn't knock our socks off throughout our testing sessions. On average I was hitting the ball 244 yards with the M1. I've hit consistently longer with other drivers we've tested in the past and with drivers we're currently testing. That being said, typically i'm in the neighborhood of 260 yards on a good day.
While we'll tell you this wasn't the longest driver we've ever tested we are still really happy with it… and that's where this next category comes into play.
Accuracy:
The M1 is all about adjustability. If you take the time to tune the T-Track to your swing and find the optimal loft placement you will be in the short grass more consistently.  However this does take some time. Don't expect to pull this driver off the rack at your local pro shop and be bombing tee shots down the center. If you really want the M1 to benefit you the most you'll really want to spend some time shagging balls at the range.
For me, personally, it took 3 medium buckets of balls total to get the M1 fine tuned.  My swing required adjusting the horizontal slider three dashes closer to the draw side and then adjusting the vertical slider two dashes closer to the lower trajectory. I kept the loft at 9.5°, which is perfect for my swing. Now that I'm finished with the homework I'm actually hitting the ball a lot more consistent than I did last season and I'm really happy with that.
Value:
This incredible piece of engineering doesn't come cheap, at $499 the M1 is one of the most expensive drivers on the market. The value of this driver is in the adjustability. If you have a consistent slice or hook this is a driver that can help straighten that out. I'm not going to say your golf swing also couldn't use a few lessons as well, but the M1 can really make a difference when it comes to tuning your ball flight. The price tag is steep, but what you're getting is a truly high quality driver. If you're looking for a more consistent tee ball the M1 is an excellent choice. It may not be the longest driver in golf but it's the one I'm putting in my bag for the foreseeable future. And I can't give a better recommendation than that.
Buy Now: $499 or to learn more, go to: TaylorMade.com
TaylorMade M1 Driver - Range Review
If you're in the market for a top of the line driver this season TaylorMade's M1 is a club to put at the top of your list for consideration. The adjustability if off the charts and after a few sessions on the range tinkering you'll likely experience more consistent drives just like we did.
The Good:
Extremely adjustable
Consistent
Swings effortlessly
The Not so Good:
Average in the distance department
The two toned crown can take some time to get used to.