As David Spade said to Chris Farley in Tommy Boy: "Did I catch a '9-er' in there?  You callin' from a walkie talkie?"  Yes, we certainly are!  The Motorola Talkabout T460 Two-Way Radios are super handy and rugged enough to keep up with our outdoor adventures.  Perfect for biking, camping, long hikes, the ski hill, and any location where a cell phone just won't cut it.   These radios have a big range and simple yet powerful features that make this a must have item in our travel pack.  Although these are not exactly professional grade radios, the rugged body and list of features make this a top shelf consumer radio, ready to go out of the box.
Features:
22 Channels (Each with 121 Privacy Codes)
Dual Power NiMH/AA Batteries
Built-in Flashlight
PTT Power Boost (Extends Range)
VibraCall™ Alert
Weather Proof
Real Time Weather Alerts
Tech Specs:
Up to 35 mile range (in optimal conditions)
7.54 in. H x 2.6 in. W x 1.37 in. D
0.43 lbs (with battery)
Channel Monitor
Quiet Talk Interruption Filter
Auto Squeltch
11 Weather Channels (7 NOAA) with alert
Talkabout T460 Review Breakdown
Design:
Weighing in at 0.43 pounds and standing tall at 7.54 inches, the T460 is among the elite in Motorola's consumer line-up.  Because this radio is weather resistant (rain, snow – NOT full submersion into water), the antenna is fixed so you cannot remove it.  All ports are sealed using a rubber flap that can be opened when charging or connecting an earpiece for hands free communication.  As you grip the T460 (with your right hand) the fingers align nicely to the four main buttons on the left side, which includes the flashlight, Push-to-Talk (High), Push-to-Talk (Low), and Emergency Button. The flashlight itself is at the top of the T460 and is a handy feature.  Although it is not super bright, it is bright enough to light the path in front of you and read a map.  The rest of the interface buttons are on the front, which include Mode, Menu, Scan/Monitor, and Call Tone.  The Display Screen is not overly complicated but since the options are all icons (some hard to decipher) taking 10-20 minutes to familiarize yourself with the manual is not a bad idea.  From the interface, you can view multiple icon settings such as Call Tone, Battery life, Vibracall, Roger Tone, iVOX / VOX, Noise Filtering (QT), Keypad Tone, Weather Alert, LoHi Power, TxRx Status (transmit/receive), Scan, and Lock.  The belt clip could have a stronger grip, but besides that, the design is simple, sturdy, and functional.

Usability: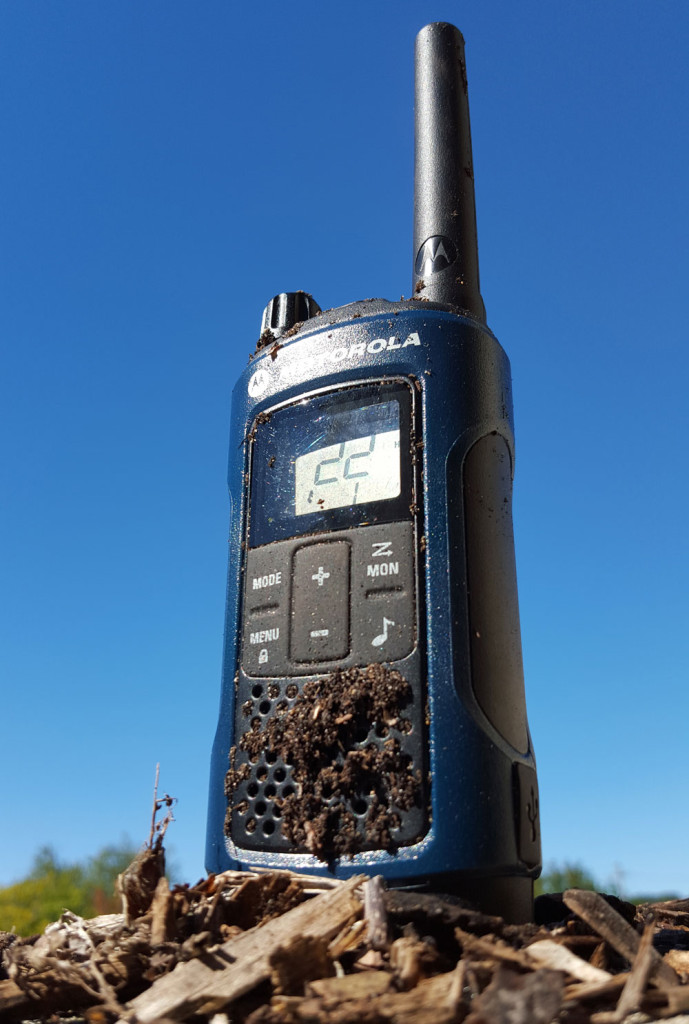 While the range on the box says "up to 35 miles", it should be known that this is under optimal conditions and unobstructed line of sight from Mountain to Valley.  Although we were unable to test that range specifically in those conditions, we were able to get roughly 3 miles of clear audio in the hiking trails of Manistee National Forest.  In downtown, we were getting really fuzzing transmissions at 1.5 miles.  The range will vary depending on several factors such as terrain, weather, electromagnetic interference, and other obstructions filling the space between line of site.
Operation is intuitive and simple enough for first time users. By pressing the "mode" button, you can seamlessly switch between two-way and NOAA weather mode. Hitting the "Menu" button and the "+/-" buttons will allow you to change channels.  Or select the "MON" button to scan through available channels or to scan several pairs of radios on different channels. The "Call Tone" button will send out a ring to all radios on the same channel.
Once you have all your settings dialed in to your liking, you can lock it by pressing and holding the "Menu" button for a couple seconds.  This is a neat little feature so you don't have to worry about accidentally pressing down a button and changing channels.
Battery:
Battery life for a product such as this is pretty important considering most of the time while using these, you will be away from any available charging.  We were able to get a full days worth out of the internal NiMH rechargeable batteries (10 hours), but these units can also be powered using three AA batteries (up to 26 hours) when recharging isn't an option. That's definitely a bonus point on battery versatility. To recharge the battery, you can use ANY micro-USB charger or an external battery pack.  Simply plug one end into the side USB port of the T460 (no need to remove the battery) and the other end into an outlet, vehicle adaptor, or your computer.  Another point on recharging versatility.  The T460 consumes only half a watt of power during its idle condition while recharging to solve for the energy that would normally be wasted during a typical mobile charge.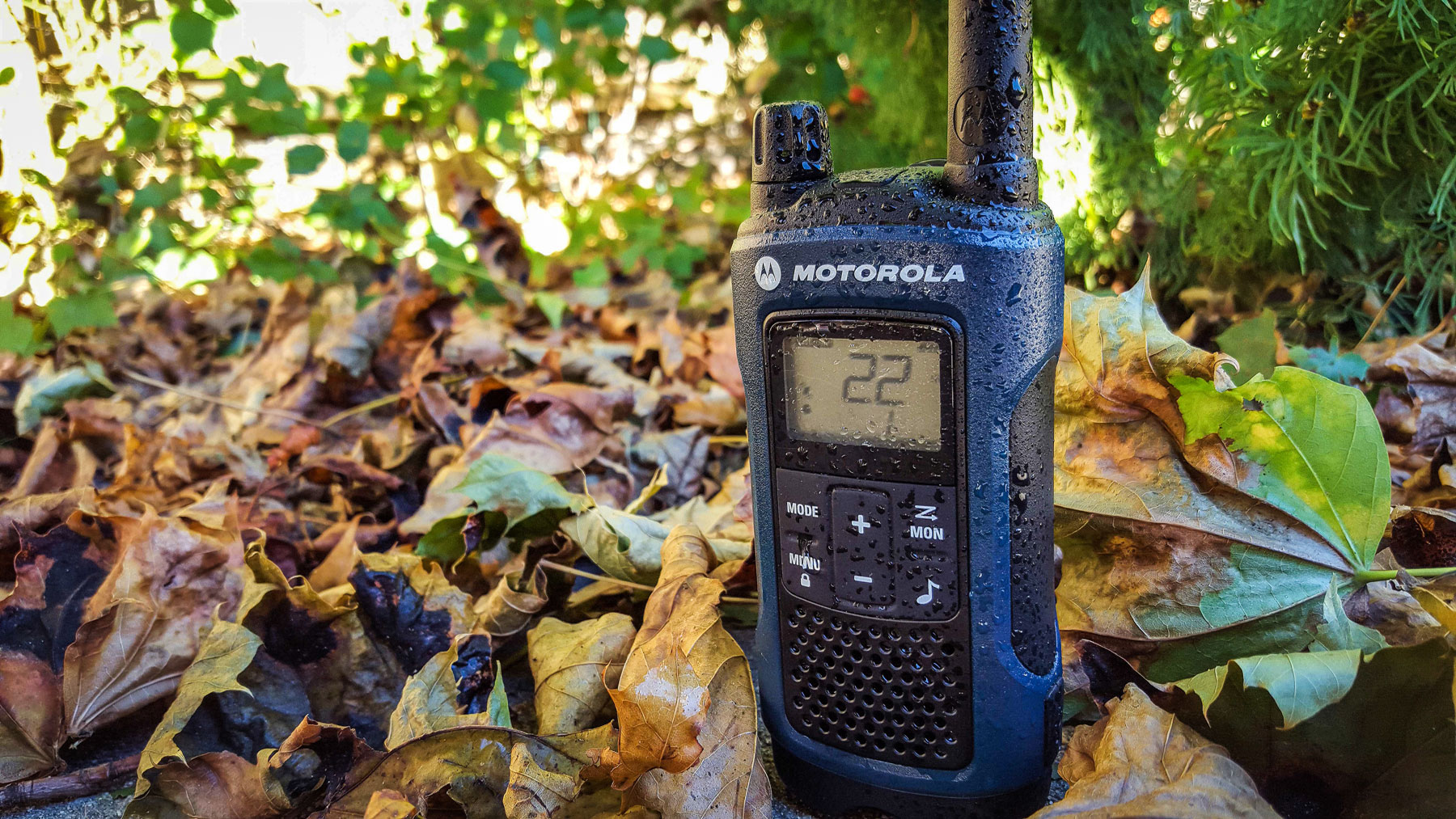 Value:
Motorola is currently selling the T460 on Amazon with a 12% discount at $79.00.  Between the durable design, ease of use, and excellent built-in features, we say the T460 is a good value for a those looking to purchase a Two-Way Radio.
Buy Now: $79.00 or to learn more, check out: MotorolaSolutions.com
Talkabout T460 Two-Way Radios - Tech Review
Perfect for biking, camping, long hikes, the ski hill, and any location where a cell phone just won't cut it. These radios have a big range and simple yet powerful features that make this a must have item in our travel pack.
The Good
Easy to use
Built in flashlight
Weather and Emergency buttons
The Not so Good
No cradle charging
Does not come with earpiece