ONEHOPE Pink Glitter California Chardonnay - Drink of the Week
Having a glass of a wine at the end of a long day or a long week feels pretty great. Wouldn't you feel even better if drinking that glass of wine helped make the world a better place? Stay with us here. ONEHOPE Wine does just that.
ONEHOPE was founded by eight friends who wanted to create an exceptional product that would inspire people to indulge while doing good. Since its start 10 years ago, ONEHOPE has made more than $2 million in donations, provided over 1.5 million meals in effort to end childhood hunger, planted over 80,000 trees, provided over 42,000 people with clean drinking water and much more. Impressive!
Not only do they give back with each bottle sold, they make a pretty tasty selection of wines. The first time we ran into ONEHOPE wines was during our time at Camp No Counselors last year. While their label hosts a variety of whites and reds, our friends over at ONEHOPE asked our tasting panel to give their Pink Glitter California Chardonnay to try. Here's what we thought!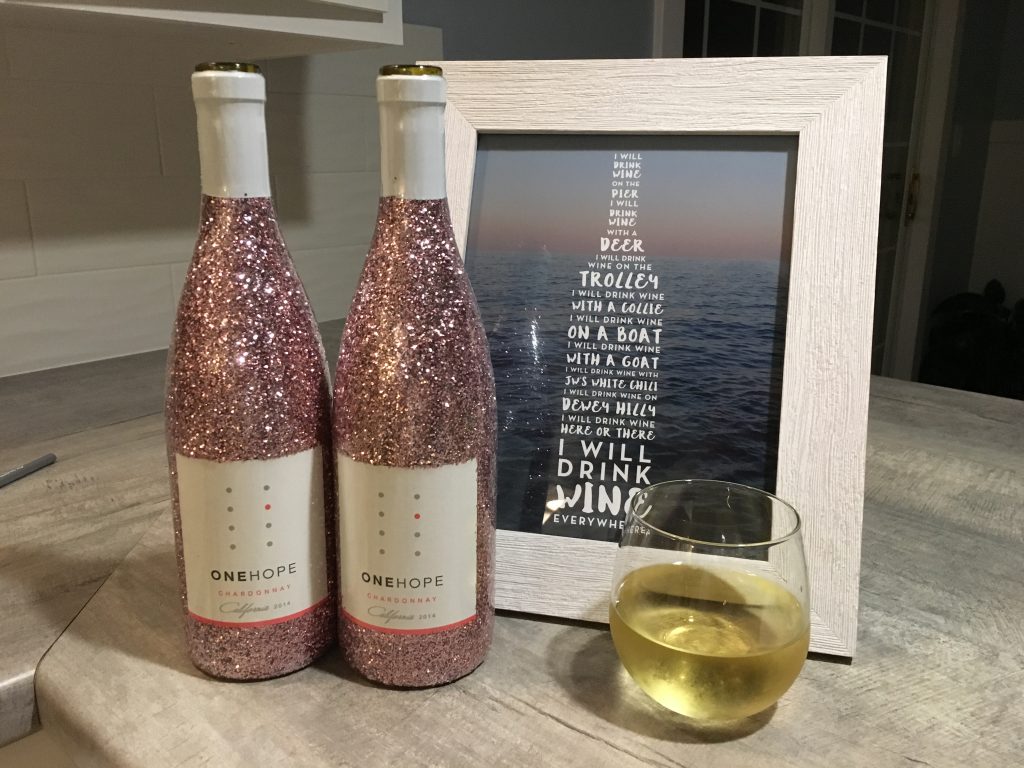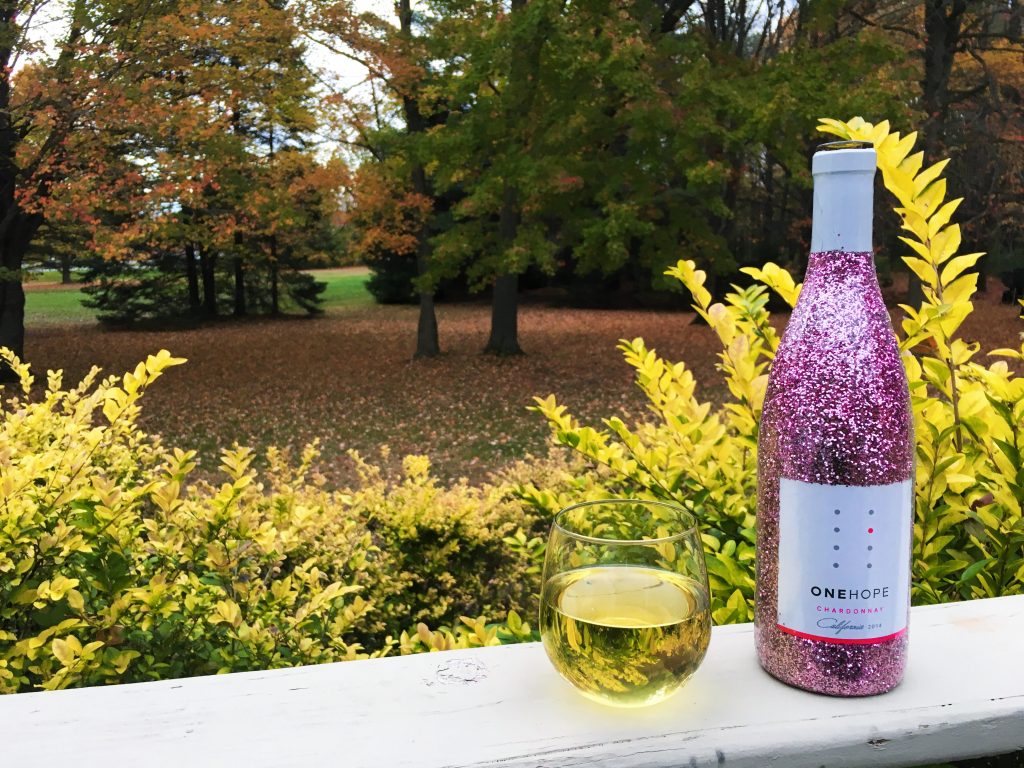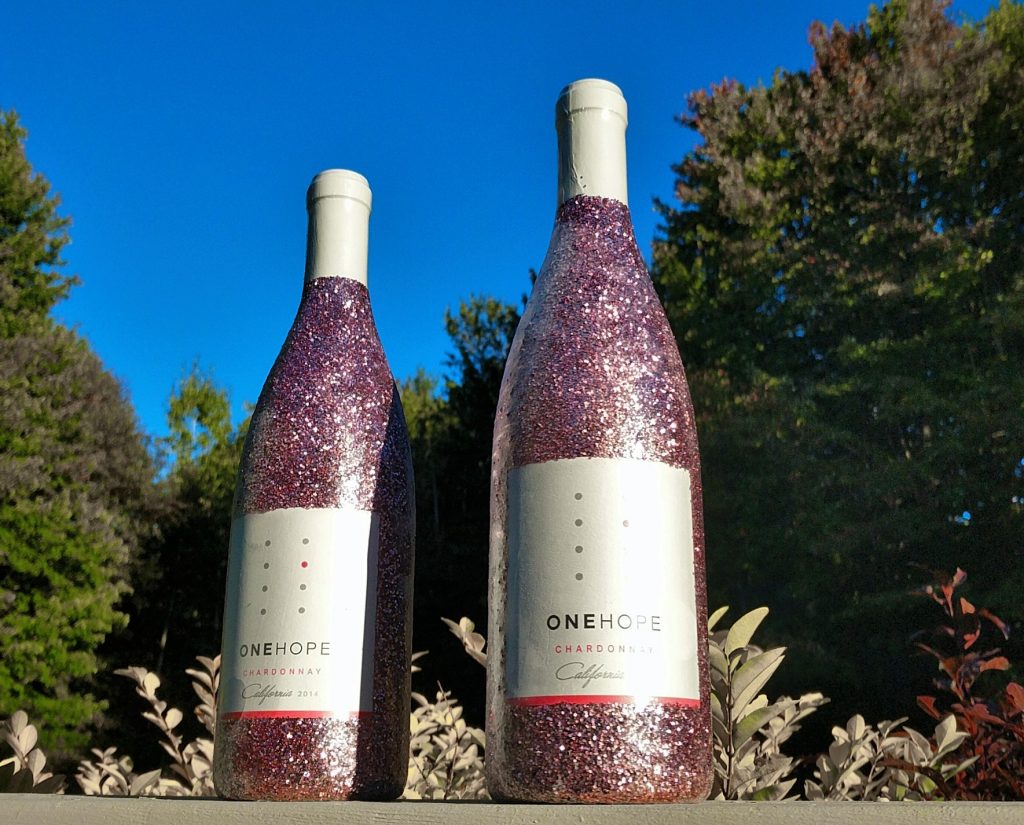 Variety: Chardonnay
Vintage: 2014
Aging: N/A
Region: Napa, California
Nose: Baked apple pie, nutmeg, crushed cloves, and vanilla
Flavors: Butterscotch, vanilla and toffee
Body: Crisp
Alcohol: 13.5%
Price: $59.00
ONEHOPE Pink Glitter California Chardonnay is a showstopper in a decked out pink glitter bottle that Elle Woods herself would approve of. On the nose it has aromas of baked apple pie, nutmeg, crushed cloves, and vanilla. Warm butterscotch, vanilla and toffee flavors add volume and length to the mid palate. A cleansing finish echoes with a touch of green apple. Even though I'm a dry red kind of girl, I really enjoyed it! Nice and refreshing.
What's even better about the Pink Glitter California Chardonnay is that helps fight breast cancer. On the front of the bottle, you will see 8 dots – 7 grey and 1 pink. This signifies the fact that 1 out of 8 women will be diagnosed with breast cancer in their lifetime. Every two bottles of ONEHOPE Pink Glitter California Chardonnay fund a clinical trial for one woman with breast cancer. Unfortunately, it's likely we all know someone who has been diagnosed with breast cancer. It's good to know there are companies like ONEHOPE who are giving back – one bottle at a time.
Order the Pink Glitter California Chardonnay at ONEHOPEwine.com for $59 and be sure to check out the rest of their wines.